If you're planning a trip to Koh Samet then I'm guessing you love beaches (I mean, who doesn't?!)
You're in luck because Koh Samet has a range of beautiful white sandy beaches that look almost too good to be true.
I visited Koh Samet recently and spent a day visiting as many of these beaches as possible and, guess what, some were completely empty!
In this guide, I'll cover all of the best beaches on Koh Samet including key things to know, who they're ideal for and how to get there.
Koh Samet Beaches
I personally think that the best beach on Koh Samet is Sai Kaew Beach as it's where all the action happens.
You'll find everything you could ever need here including restaurants, shops, bars, live music, performances and more.
Koh Samet has many other beaches though that all offer something different.
Here's an overview of Koh Samet's best beaches:
Best for families: Sai Kaew Beach
Best for couples: Ao Wong Duean
Best for nightlife: Sai Kaew Beach
Best for sunset: Ao Phrao
Most interesting beach: Ao Cho
The best beach for sunset in Koh Samet is Ao Phrao as it's one of the only beaches located on the west side of the island.
Sunsets here are pretty great and it's easy to access from the main area of town.
Koh Samet Beaches Map
Here's a handy map that I put together to help you visualize where all the beaches are in Koh Samet…
Most of Koh Samet's beaches lie along the eastern shore of the island and it's pretty easy to hop from bay to bay.
There's always loads of speedboats hanging around who will be happy to take you to any of Koh Samet's beaches or you could try walking like I did although it was pretty tiring in the heat.
The busiest beaches are located in the north and as you head south, the beaches generally get quieter and more peaceful.
If you're looking for lively bars, beachfront restaurants and live music then the north is the place to be.
There are fewer amenities on the beaches in the south but this does make them feel more unspoiled and untouched.
I actually spent an entire day of my vacation exploring Koh Samet trying to see as many beaches as possible and one thing that really stuck out to me was just how different each one was. Each one had a completely different feel to it!
All of Koh Samet's beaches are open to the public except for one, Ao Kui Na Nok, which forms part of the Paradee Resort.
💡 Helpful Tip: The further south you go, the more empty and less developed the beaches will be. You'll often find stunning white sandy beaches completely empty like I did.
Sai Kaew Beach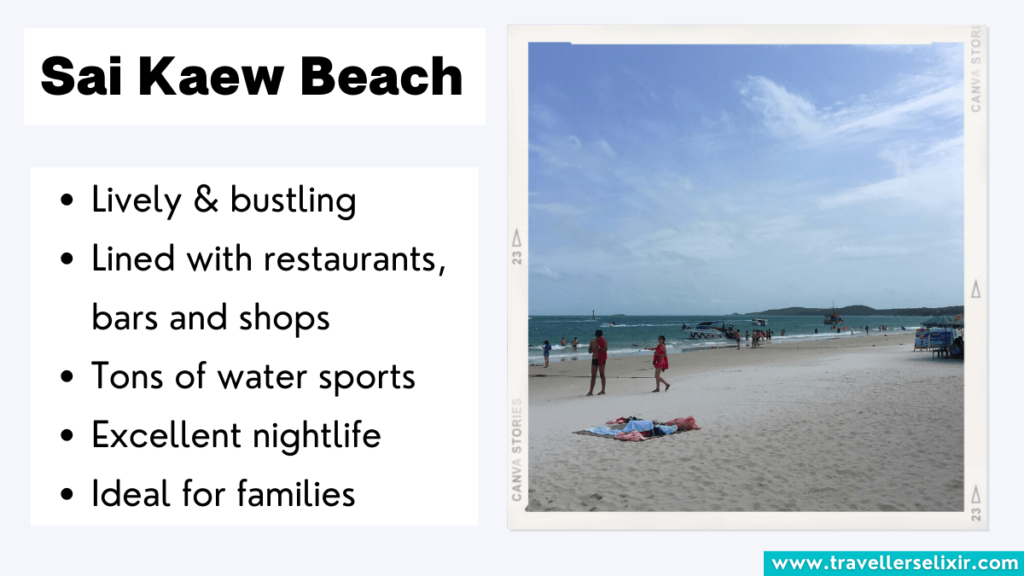 Sai Kaew Beach is definitely the 'main beach' on Koh Samet as it's where you'll find tons of bars and restaurants lining the sand, lively music and even fire shows late at night.
If you're coming to Koh Samet from Bangkok or Pattaya then you'll take the main ferry from the mainland to Nadan Pier on the north of the island.
Just a 10-minute walk from the pier and most of the hotels is where you'll find Sai Kaew which is, hands down, the biggest and most popular beach on the island.
It's around 900 meters long and is much more developed than other beaches in Koh Samet.
You'll find tons of beachfront restaurants and bars situated right on the sand itself so you can dine right on the shore with your feet in the sand. I did this a few times and loved it.
Expect lively music, live bands, beach BBQs, fireshows and more. Sai Kaew has a lively atmosphere all year round.
Sai Kaew is also the best beach for nightlife as it features a range of bars where the party goes on all night long.
The bar staff are super friendly and fun so will make sure you have a good night. I'm actually still in touch with some of them to this day as we became pretty good friends.
It can get very busy and loud at night in some of the bars so if that's not your thing then you might want to take a seat on one of the bean bags situated right on the sand.
Sai Kaew Beach can get crowded, especially during peak season, however it also has the best amenities by having endless rows of restaurants, plenty of space and is close to the shops.
It's also lined with palm trees that provide some much-needed shade.
You can take part in a range of water sports here including jet skiing, banana boating, canoeing and scuba diving.
These areas are roped off for swimmers to separate them from the boats and keep them safe.
Ao Hin Khok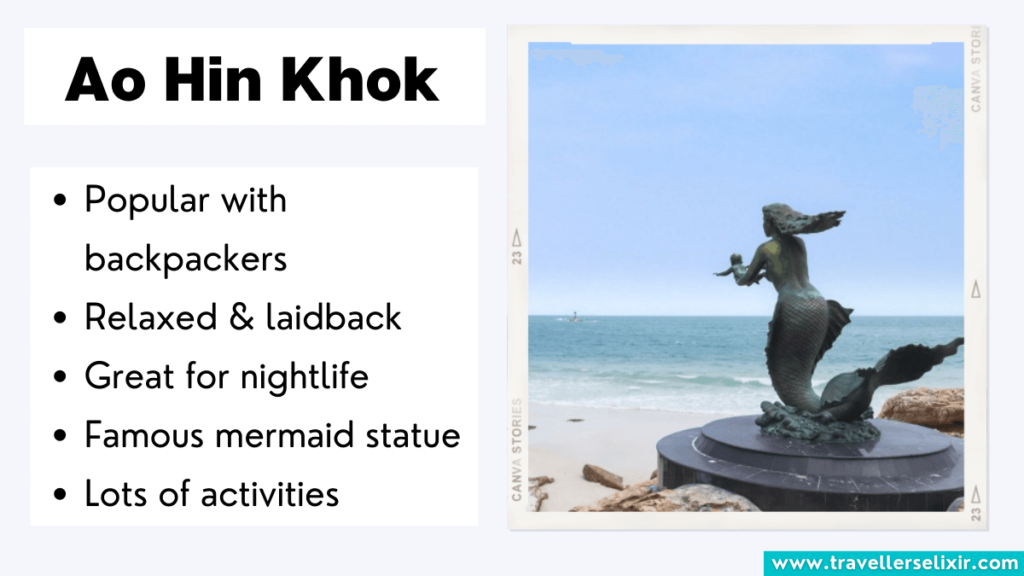 Right at the end of Sai Kaew Beach, you'll find Ao Hin Khok which is another beach that's popular with backpackers.
You'll know you've reached it when you see the giant statue of a mermaid holding a child.
This statue is pretty famous so definitely add it to your list of things to do in Koh Samet.
It is one of Koh Samet's smaller beaches but it does have a more relaxed and laid back feel compared to the others.
Ao Hin Khok is the place you go if you want to grab an ice cold drink and lay on the beach or relax in a hammock.
This beach feels a lot more empty compared to Sai Kaew as the hotels and restaurants are built back, away from the sand so you won't find any beachfront restaurants here.
It tends to be popular with backpackers due to the budget accommodation options and laid back feel.
The ocean here is great for swimming and although it's generally very relaxed, it does get a bit more lively in the evenings.
I actually did a night out here at Naga Bar which is the best place to meet other travelers. You'll get cheap (but strong) drinks, fun music and a lively atmosphere.
I made so many friends here including both backpackers and locals that I'm still in touch with to this day!
Ao Phai
If you walk down south from Ao Hin Khok, you'll come to Ao Phai beach which is another beach popular with backpackers.
It's pretty close to Sai Kaew & Ao Hin Khok but is separated by a low, rocky area.
When I visited, I found that Sai Kaew Beach was often a little bit too busy for me and I just wanted some peace and quiet so I wandered down to Ao Phai.
It doesn't take long to get there and there are still plenty of restaurants and bars lining the beach but it's much quieter and more peaceful than Sai Kaew.
It's Thailand after all so expect lots of white sand and crystal clear waters.
This beach does get a bit more rowdy in the evenings when it comes to life as many of the bars turn into nightlife hotspots and fire shows pop up on the beach.
You can also take part in a range of water sports like jet skiing and windsurfing. You could also hire a kayak for an hour and paddle around the bay.
Ao Wong Duean
Ao Wong Duean is a relaxing, crescent-shaped bay that's also popular with tourists as many of Koh Samet's best hotels are located nearby.
If you're staying in the north of the island and want to visit this beach then you can either walk or take a songthaew (taxi pick-up truck).
It takes around 35-minutes by foot which might be a bit long in the hot sun. I actually tried it but it really tired me out so I'd recommend taking a songthaew instead.
Ao Wong Duean has an excellent range of restaurants and bars on the beachfront itself and features a more relaxing feel compared to Sai Kaew.
It's ideal for couples looking for a relaxing vacation. You'll find no rowdy, loud music here.
I stopped by here for a bowl of spaghetti after my long walk and it was really delicious.
Ao Wong Duean definitely has fewer amenities compared to Sai Kaew but it has all you'll need and is much less crowded.
The hotels located close by are a little bit more pricey than those in the north but they do offer some really premium-looking villas and bungalows so it could be worth it.
Ao Wong Duean is great if you want somewhere a little bit more relaxed and calm but somewhere that still has a good range of activities, restaurants and bars.
It definitely has a more sophisticated feel compared to Sai Kaew and has a much more calm nightlife scene. You definitely won't find backpackers partying all night long here.
Ao Cho
Ao Cho is the perfect beach if you're looking for something that feels very natural and undeveloped.
This is actually my favorite beach on Koh Samet mainly because when I got there, it was completely empty so I was the only person there!
I definitely felt like I'd washed up on some deserted island.
One of my favorite features of the beach was the long wooden pier that stretches out into the ocean. It looked cool but also very rickety and unsafe so I wouldn't try to climb it.
It also has soft white sand and crystal clear waters making it very beautiful indeed.
Ao Cho definitely has a slightly more untidy feel compared to the other beaches on the island.
You'll see things like old faded signs and broken down boats along the shore but that's actually what I loved about it the most.
If you're located on the north of the island then you'll need to take a songthaew to get there. These taxi-style pick-up trucks are one of the best ways to get around Koh Samet.
Don't try to walk there like I did (it's way too tiring).
Ao Wai
Ao Wai is one of the most southern beaches on the whole island meaning it is much more remote but still not completely isolated.
It's quite difficult to get to if you're staying anywhere else on the island so you'll probably want to jump into a songthaew and travel down the long bumpy dirt road.
If you're staying near Ao Wong Duean then it will take around 30 minutes to walk.
I promise it's worth the trip though as Ao Wai is a really calm and secluded beach that will probably be empty when you get there (I can't make any promises though).
It's a dreamy escape from the noise of Sai Kaew and as there is only one resort here.
It kinda feels like you're on your own private island as there's not much here at all other than stretches of sand, the ocean lapping at your feet and a few palm trees.
Ao Phrao
Another one of the best beaches in Koh Samet is Ao Phrao which is located on the west side of the island.
It's actually the only beach on the upper western shores of the island.
This beach is lined with luxury resorts and villas that look out onto the beachfront meaning it has a very upmarket feel. This does mean that it's much more expensive than other areas.
Ao Phrao is Koh Samet's best beach for sunset as it's western facing. The sunsets here are just magical so it's worth making the trip down here at least once or twice.
If you're not staying in the area then you can still easily visit. You'll find a wooden path that leads from Ai Phai all the way to Ao Phrao. The walk takes just 20 minutes.
If you choose to stay here, it's worth knowing that there are less amenities on this side of the island so you'll have to venture over to the east side if you need to visit a shop.
There is also a range of water sports available and the sea is great for swimming.
Ao Nuan
Ao Nuan is a tiny sandy cove that is only reachable by trekking down a hillside. I kinda discovered this one by accident but I'm so glad I did.
This one is quite rocky by the shore but it's still a breathtaking beach as it's generally pretty quiet (if not empty) due to the effort involved in reaching it.
My favorite thing was the rope swing that's located by the beach. It makes for a pretty fun Instagram photo so make sure you have your best Thailand Instagram captions on hand.
This beach is super quiet even though it's close to the busier areas in the north so it's actually pretty easy to access by foot. You won't have to walk far from Sai Kaew.
It is a very small cove so there's not a lot of space but it does have a real secluded feel as it's hidden behind the hills, out of sight.
My verdict is that it's definitely worth trekking down the hill for this little slice of paradise!
Ao Kiu Na Nok
Ao Kiu Na Nok is the most southern beach on Koh Samet as it's located right on the tip of the island.
It's actually a private beach so only guests at the luxurious Paradee Resort can use it. For this reason, it feels very exclusive and upmarket.
The Paradee Resort is the most expensive place to stay on Koh Samet and it's actually the island's only 5-star hotel.
Don't expect backpacker prices here. One night at this resort will cost easily over $500 and sometimes up to $700 during the busiest times of year.
If you do decide to sell one of your kidneys to afford a stay here then congrats! You can now access the elusive Ao Kiu Na Nok beach (let me know what it's like!).
When I visited Koh Samet I was still a broke student so I didn't fancy coughing up the cash to stay here so I didn't get a chance to visit this beach.
---
And that's it!
Thanks for reading this post on the best beaches in Koh Samet, Thailand.
Many other Thai islands also have stunning beaches but some are more built up than Koh Samet. It's hard to know which you'll like more.
I've actually visited both Koh Samet and Koh Samui so I did a comparison of the two to help you decide which is better.
Related Posts: