Koh Samet is one of the closest Thai islands to Pattaya making it the ideal spot for a weekend getaway.
Traveling there can be tricky though if you've never done it before. That's why I've put together this handy guide as I actually spent a few months living in Thailand so I know it well.
This ultimate guide explains exactly how to go to Koh Samet from Pattaya by bus, car and ferry including things like cost, timings, timetables and more.
Pattaya To Koh Samet Distance
The distance from Pattaya to Koh Samet is 73.8 km (45.8 miles) so the two locations are pretty close.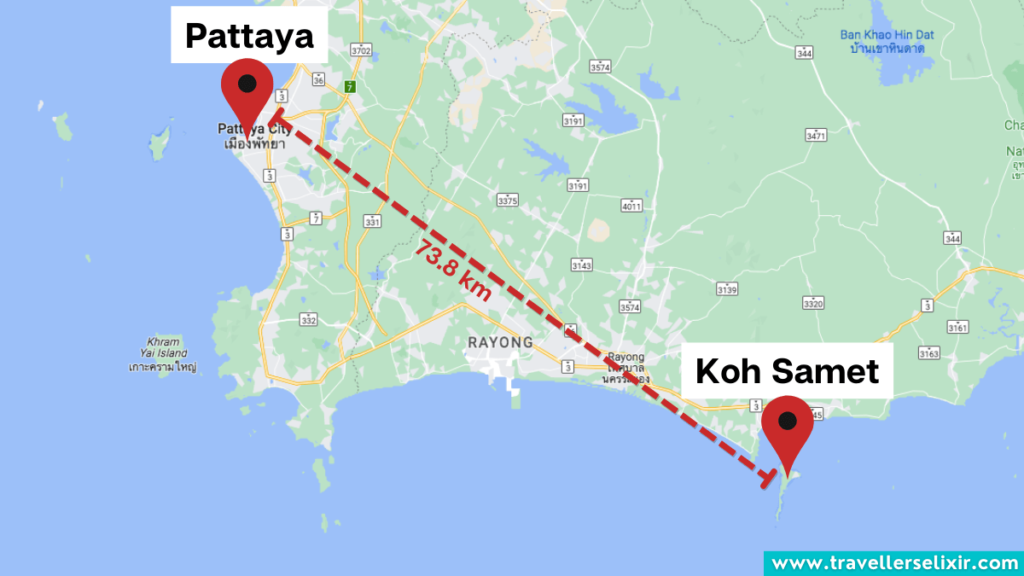 The journey time is around 2 hours meaning a day trip is actually possible (more on that later).
How To Get From Pattaya To Koh Samet
As Koh Samet is a Thai island, it's not connected to the mainland.
This means that you'll firstly have to travel from Pattaya to Ban Phe pier and then take the ferry from there over to Koh Samet.
Here's a brief overview of the travel options:
Bus + ferry: 2 hours, 190 to 270 baht ($5 – $8)
Taxi + ferry: 2 hours, 770 to 1,170 baht ($22 – $33)
Bus + speedboat: 1.5 hours, 320 to 700 baht ($9 – $20)
Taxi + speedboat: 1.5 hours, 900 to 1,600 baht ($26 – $46)
It's actually pretty easy and in the rest of this post I'll explain how you can actually do it for yourself.
How Long Does It Take To Get From Pattaya To Koh Samet?
It takes between 1.5 and 2 hours to get from Pattaya to Koh Samet but this does depend on the type of transport you take.
If you take the slowest form of transport, it'll take 2 hours but if there's a lot of traffic then it could take up to 3 hours.
Koh Samet Day Trip From Pattaya
As Pattaya is only 2 hours from Koh Samet, it is actually possible to do a day trip.
Now I'll start off by saying that it will be more difficult if you organize the trip yourself. This is mainly because there's not many departure times each day for the bus/ferry.
If you're happy to get a taxi and pay for the speedboat then it'll be much easier but this will cost a lot.
If you do want to do a day trip then I'd recommend booking a full day tour from Pattaya. This includes round-trip transportation, food and a full day in Koh Samet.
It's the easiest way to visit for just the day. You'll have plenty of time to lounge around on the beach, do some water sports, go snorkeling or explore the island.
Check Price For Full Day Tour From Pattaya
From Pattaya To Koh Samet By Car
The first step of the journey is getting from Pattaya to Ban Phe which is where you'll catch the ferry over to Koh Samet.
Getting from Pattaya to Ban Phe takes between 1 and 1.5 hours depending on traffic.
The easiest and most comfortable way to get there is by taxi. You can either pre-book a taxi on a website like 12Go Asia or use an app like Grab.
Grab is Asia's version of Uber and it's super easy to use. I use this app exclusively whenever I'm in Thailand as I know I'm getting a good price and I don't have to waste time looking for taxis.
Additionally, a lot of drivers in Thailand will try and rip you off. If you ask for a price they'll often quote 5x the normal price.
Grab offers great prices and is pretty much always cheaper than a traditional taxi.
If you book a Grab, you'll likely pay between 700 and 1,000 baht ($20 – $28) for the journey (this is total price and not per person).
You'll pay a bit more if you book a traditional taxi. The cost can be up to 1,100 baht ($31.50).
I checked the prices for this trip on 12Go Asia and they quoted around 520 baht ($15) per person so this might end up cheaper if you're a solo traveler.
Taking a taxi is by far the most comfortable option but it is also the most expensive so it really depends what your budget is.
From Pattaya To Koh Samet By Bus
If you want to save a bit of money then you can travel from Pattaya to Ban Phe by bus.
Obviously, it won't be quite as comfortable as the taxi and you will have to share with other passengers but as a whole, it's a pretty good deal.
The main downside is that there's no direct bus from Pattaya to Ban Phe.
You first have to take a bus from Pattaya to Rayong and from Rayong you need to take another bus or taxi to Ban Phe which is where the ferry pier is.
Nakhonchai Air operates a bus that you can take from their bus station in Pattaya to Rayong. It departs 5 times per day.
This journey takes around 1 hour and you'll arrive at the Rayong Bus Terminal.
You can then catch a local bus from this bus terminal to Ban Phe. Alternatively you can take a tuk tuk or taxi instead. This journey will take around 30 minutes.
The total cost for both buses will be between 120 and 200 baht ($3.50 – $5.70).
Once you arrive in Ban Phe, you then need to take a ferry or speedboat over to Koh Samet.
There are a few different ferry points at Ban Phe but the most popular one is Nuan Thip Pier.
Ferry To Koh Samet
Once you arrive at Nuan Thip Pier in Ban Phe you now need to take the ferry over to Koh Samet.
The ferry ride lasts for 45 minutes and they depart once an hour from 7am until 6pm.
I actually took this ferry ride recently and overall I thought it was ok. It was very windy on the day I used it so my hair was constantly blowing all over the place and I could barely see a thing.
It is an open ferry so if it's rainy or windy then you'll feel it.
The ferry ticket from Ban Phe to Koh Samet costs 70 baht ($2) which is pretty cheap.
You can purchase your ferry ticket when you get there either as you board the boat or from the ticket office.
The ferry will drop you off at Nadan Pier on Koh Samet.
Koh Samet Ferry Times
The ferries to Koh Samet depart once an hour from 7am until 6pm.
The ferries generally depart once every hour but sometimes, often during low season, they might wait for more people to arrive before setting off.
This happened when I took the ferry recently but we only ended up waiting an extra 10 minutes.
If you'll be arriving after 6pm then you won't be able to take the ferry. There is another more expensive option of taking a speedboat if the ferry isn't available.
Speedboat To Koh Samet
Taking the speedboat is a lot faster than taking the ferry but it is also a lot more expensive.
If you arrive at the pier after 6pm then taking a speedboat will be your only option. They run 24/7 so whatever time you arrive, the speedboats will be available.
Speedboats take just 20 minutes to take you from Ban Phe pier to Koh Samet which is half the time of the ferry.
They do cost a lot more though and there isn't really a standard price so you'll have to haggle with the driver.
As a general rule, the later you arrive, the more they'll try to charge you.
A speedboat to Koh Samet will cost anywhere between 200 and 500 baht per person ($5.80 – $14.50) but could be more if you arrive in the middle of the night.
For that cost, you're looking at a shared speedboat so you'll probably be sharing with a few other passengers.
If you want a private speedboat just for you and your group then you'll pay a lot more. Prices range from 1,000 to 2,000 baht ($29 – $58).
Although the speedboats are pricey, one bonus is that they'll drop you off anywhere you like.
The ferries all stop at Nadan Pier at the northern tip of the island. If you're staying elsewhere on the island, you may prefer taking a speedboat directly to your hotel.
Can You Get A Boat From Pattaya To Koh Samet?
Unfortunately you're not able to take a speed boat from Pattaya to Koh Samet as there is no direct route.
If you look on a map then it looks like it wouldn't take too long just to hop on a boat and go directly from Pattaya to Koh Samet.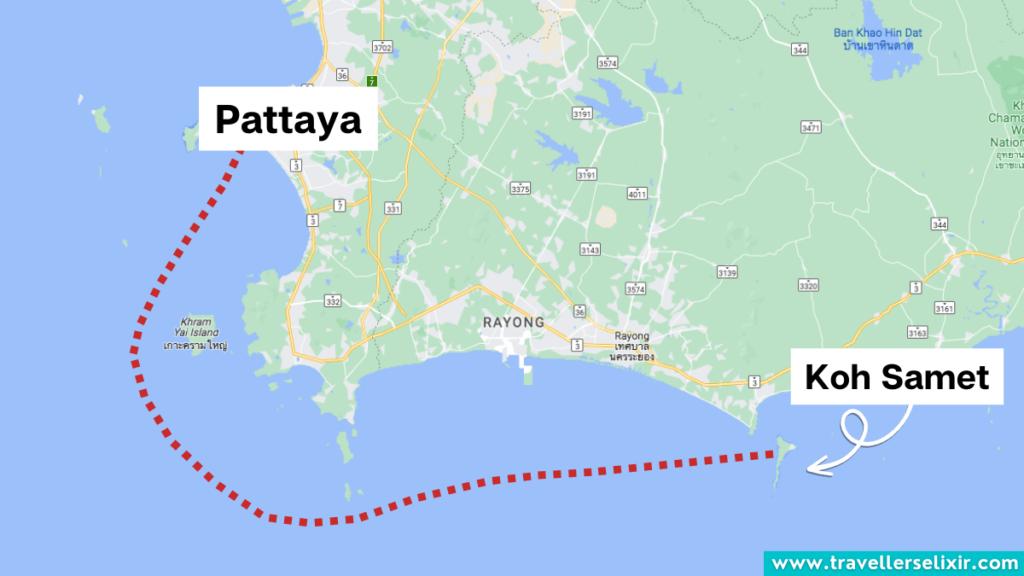 Unfortunately it just isn't a service that's currently available. I'm not sure exactly why but it's likely that there just isn't enough demand.
To get to Koh Samet from Pattaya, you'll need to take a bus/car to Ban Phe and take the boat from there.
Arriving In Koh Samet
As mentioned, the public ferries will drop you off at the main pier on Koh Samet, Nadan Pier, which is located on the northern tip of the island.
You'll know you've arrived because you'll be greeted by a huge ogre statue coming out of the water!
From Nadan Pier, there is just a single road that runs from the north to the south of the island so it's pretty easy to get around Koh Samet.
Most of the hotels in Koh Samet are located within walking distance from the pier. It took me just 5 minutes to walk from the pier to my Airbnb.
It's also just 10 minutes away from the main beach, Sai Kaew.
There are tons of taxis usually waiting around near the pier if you need one. Taxis generally cost between 50 baht and 200 baht ($1.50 – $5.70) depending on the distance traveled.
Koh Samet Entrance Fee
One final thing to know is that Koh Samet forms part of the Khao Laem Ya-Mu Koh Samet National Park which means that everyone arriving onto the island needs to pay an entrance fee.
You're not able to exit the pier without paying a security guard. It was a pretty quick and easy process.
At the moment, the entrance fee is just 200 baht ($6) each and you only have to pay it once when you arrive. Children pay 100 baht ($3).
---
And that's it!
Thanks for reading this ultimate guide on how to get from Pattaya to Koh Samet.
Koh Samet really is a beautiful island so I would really recommend adding it to your Thailand bucket list if you have the time.
Related Posts: