Porto is a charming city that lies along the banks of the Douro River in northern Portugal. But with so many amazing destinations to choose from, why visit Porto?
I actually spent an entire month living in Porto recently so I got the chance to explore pretty much everything Porto has to offer.
I'll be telling you all the key reasons to visit Porto, what Porto is famous for and why it's a must-see destination.
Is Porto Worth A Visit?
Yes, Porto is definitely worth visiting as it's one of Portugal's oldest and most beautiful cities.
This place is pure magic, nestled up in the north of Portugal, and it's unlike any other city you'll come across.
I'm talking port wine galore, stunning historic buildings, bridges that'll make you go 'wow' and food that'll make your taste buds do a happy dance.
The city's historic center is straight-up jaw-dropping and has even snagged that fancy UNESCO World Heritage status.
And let's not forget about the seafood that'll make you weak in the knees, the epic francesinha sandwich and those heavenly pastel de nata pastries.
Insider Tip: I'd recommend joining this Porto walking tour as your expert guide will take you to all of the city's top spots and tell you all of the history behind it (which is super interesting).
Here's some more reasons why you should pack your bags and travel to Porto immediately…
1. Cheaper & Less Touristy Than Lisbon
I spent a month living in Porto and then I spent a month living in Lisbon and one thing that stuck out to me the most was that Porto was so much cheaper and way less touristy compared to Lisbon.
In Lisbon, at times, I was struggling to move through the streets due to the crowds. I'd always end up walking in the road trying to dodge getting hit by a car or a tuk tuk.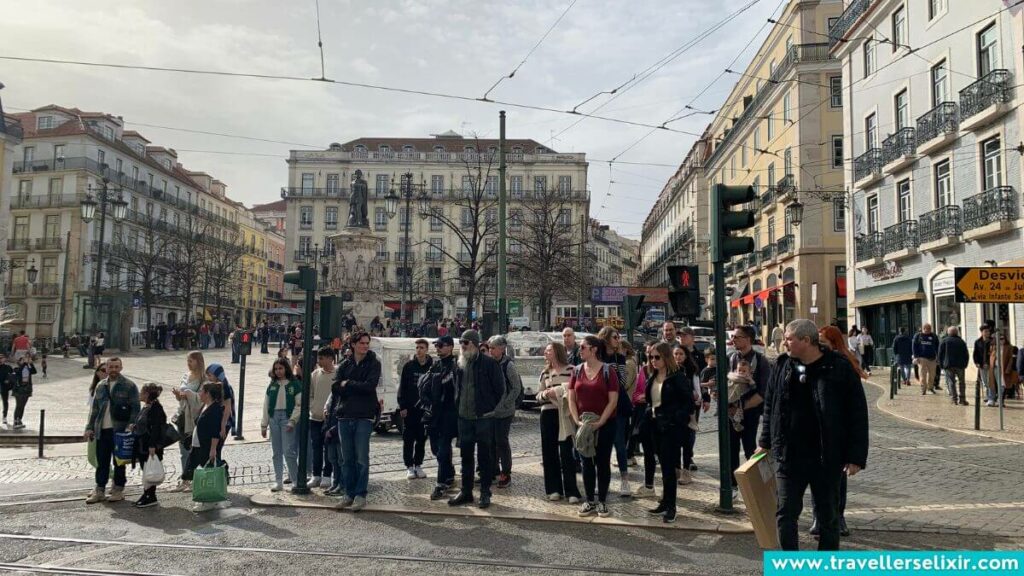 It was actually one of the main things I disliked about Lisbon, it was too busy and touristy and didn't really feel like an authentic Portuguese city.
Porto was the complete opposite though. It felt like a true Portuguese town, way less tourists and it was also way cheaper than Lisbon.
2. Amazing Views
Probably my favorite thing about Porto was the incredible views! I've genuinely never been anywhere that has so many incredible viewpoints (aka miradouros). It was truly mesmerizing.
Miradouro da Serra do Pilar is a real gem that offers a panoramic view of the river, the historic center of the city and the Douro River.
But if you're looking for something closer to the water, Miradouro da Vitória is another great option that offers a peek at the Douro River and the Dom Luís I Bridge. 
If you're up for some climbing and you're not too claustrophobic, you can climb the 240 steps of Clérigos Tower which gives you a dazzling view of the city from above.
3. Eiffel Tower-Inspired Bridges
Did you know that some of the bridges in Porto have an Eiffel Tower connection?
Yup, that's right! Gustave Eiffel, the mastermind behind the iconic Eiffel Tower in Paris, also had a hand in designing some of Porto's most famous bridges.
The most famous one is the Dom Luís I Bridge with its signature metal arches, unique design and impressive height. It was actually a student of Gustave Eiffel's who designed it.
But Mr Eiffel himself did design the Maria Pia Bridge in Porto, which was the longest single-arch span in the world when it was completed in 1877. 
4. Historic Majestic Cafe
Another one of the best reasons to visit Porto is the stunning Art Nouveau-style Majestic Cafe which is actually over 100-years old!
Majestic Cafe Porto opened its doors in 1921 and over the years has played host to many famous writers, artists and intellectuals, making it a true icon of the city.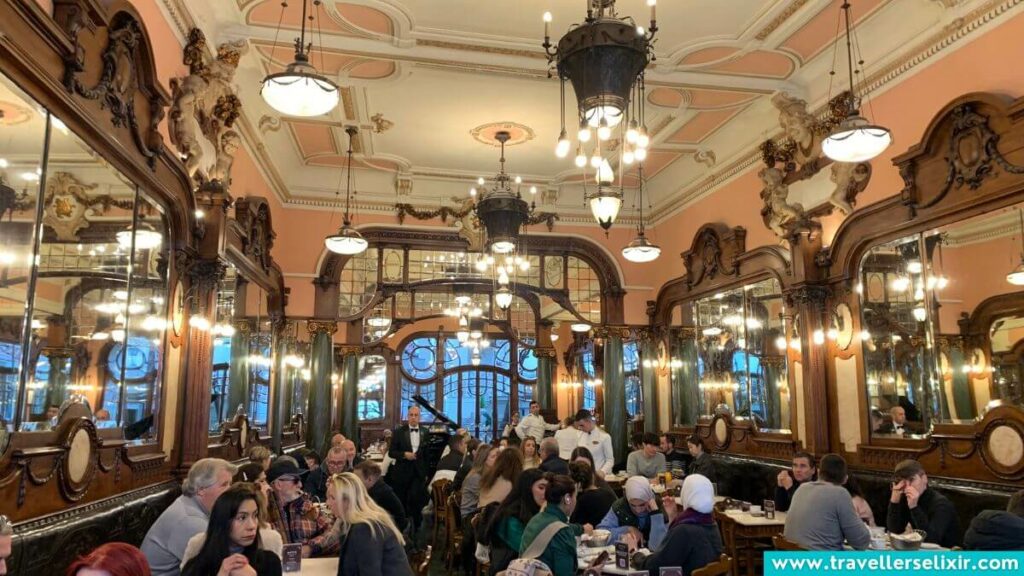 J.K. Rowling even said herself that she wrote some of the first Harry Potter book in here!
Today it still retains many of the original features and looks just like a cafe straight out of the 1920s. Make sure to try their French toast, it's super yummy!
5. Amazing Day Trips
Porto is the beating heart of northern Portugal but it's not the only place to see in the region.
There are so many amazing Porto day trips to choose from including the Douro Valley, Coimbra, Aveiro, Braga, Guimaraes and so many more.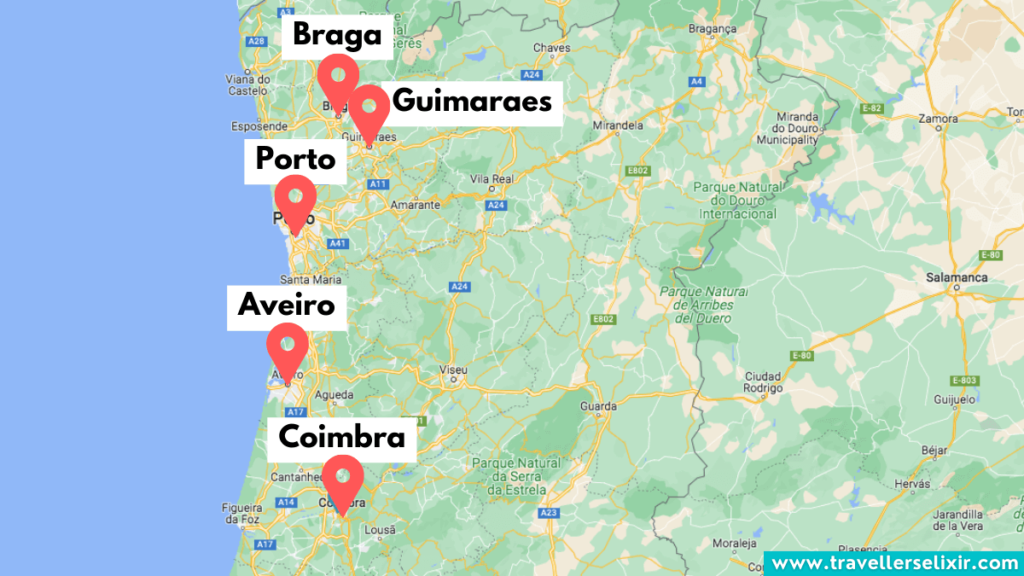 The Douro Valley is a must-visit with its stunning vineyards, picturesque villages, and of course, delicious Port wine. This Douro Valley wine tour is one of the best rated!
And if you're into history and culture, head over to Coimbra which is one of Portugal's oldest cities.
Coimbra was the former capital of Portugal and is also home to one of Europe's oldest universities which you can explore for yourself.
This tour from Porto takes you on a full day trip to both Coimbra and Aveiro so it's a pretty sweet deal.
I took a day trip from Porto to Coimbra recently and really enjoyed exploring the town's medieval architecture and taking in the incredible views.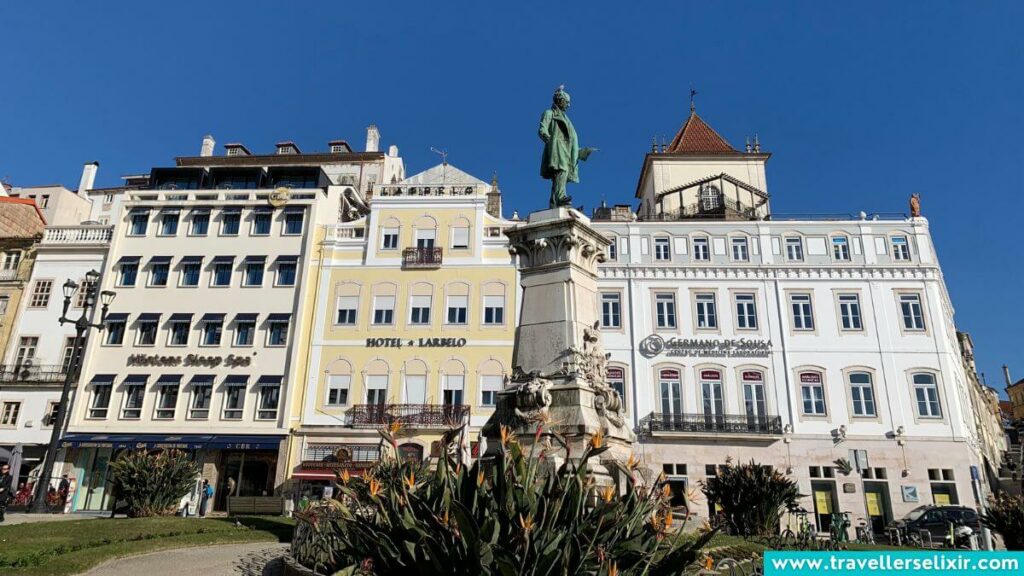 You could even do a day trip to Sintra from Porto if you really want to (it involves a lot of travel though).
These day trips are a great way to explore more of Portugal and get a taste of the country's rich culture and heritage.
6. Ribeira District
The Ribeira district is the historic center of Porto, the entire area has been designated as a UNESCO World Heritage site.
It's full of winding streets, old buildings and authentic cafes and restaurants. I really enjoyed just wandering around the streets of Ribeira as it feels super Portuguese and there's tons of hidden walkways and cafes.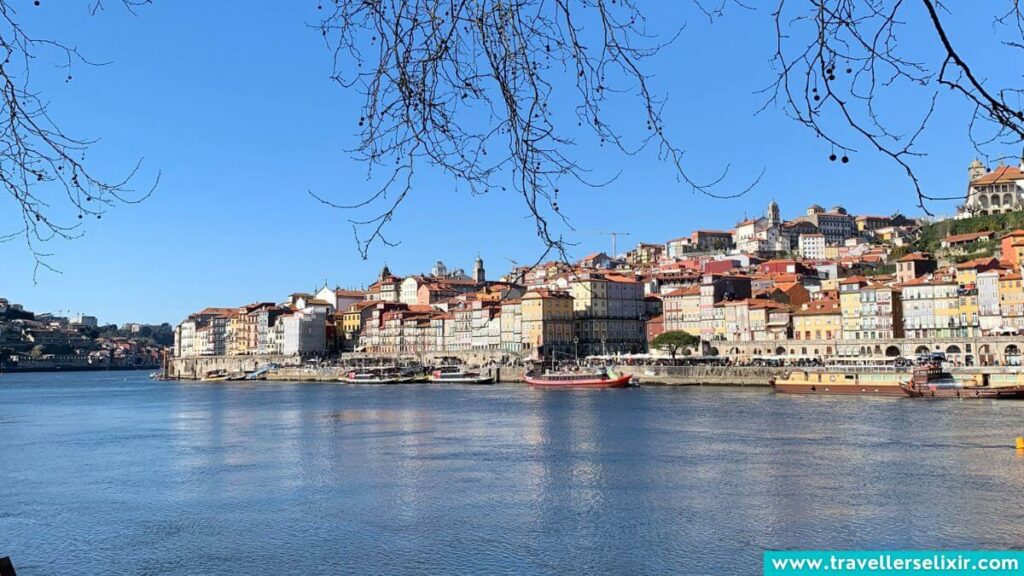 It's located right on the riverfront so you can soak up the views and watch the boats go by. It's by far one of the most picturesque parts of the whole city.
To get the best views of Riberia I'd recommend joining a Douro River cruise as you'll get fantastic views of the entire district from the boat.
7. Home Of Port Wine
Porto is the place where they make Port wine (if the name didn't give it away).
This sweet wine has been a staple of the region for centuries with a history that dates back to the 17th century.
The wine is produced in the nearby Douro Valley and transported down the river to Porto where it's aged and bottled.
If you're a fan of wine, be sure to visit some of the famous Port wine cellars in Vila Nova de Gaia where you can taste some of the best Port wine in the world!
You could even join a wine tour like this one to learn more about the wine making process. It also includes a river cruise, wine tastings, lunch and features small group sizes.
8. Beautiful Architecture & Buildings
If you're into architecture then Porto is definitely the place for you! The city is full of beautiful and unique buildings, from colorful townhouses to ornate churches and historic landmarks.
One of the most famous buildings is Clérigos Tower, a Baroque church which offers stunning views of the city if you can be bothered to climb its 240 stairs.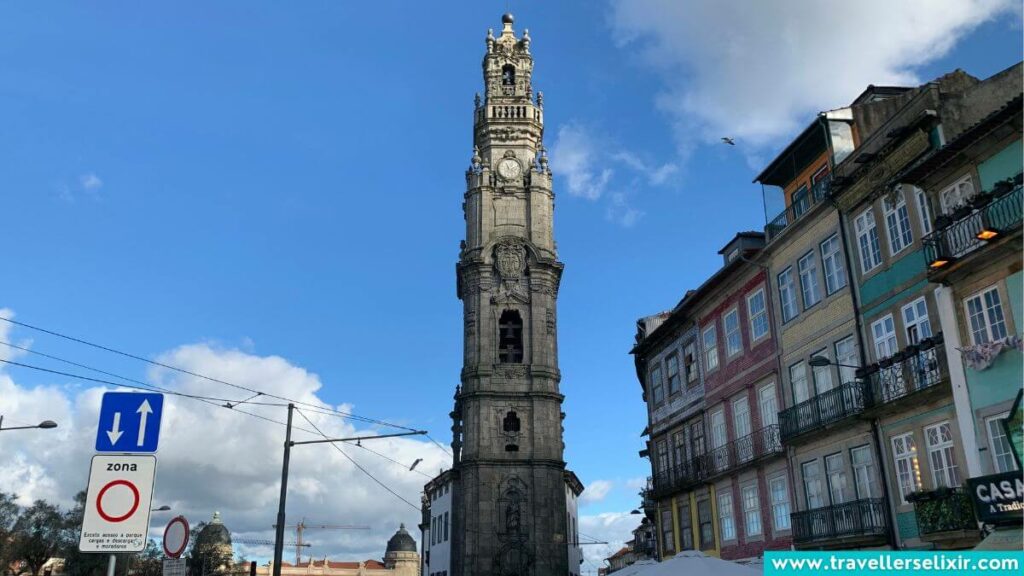 I also really loved the Igreja do Carmo & Igreja dos Carmelitas churches which sit side-by-side and have a teeny-tiny house located in between them (it's literally 1-meter wide!).
And it's not just the churches and cathedrals that are beautiful in Porto, even just the regular buildings in Porto are super stunning. 
I genuinely felt like I was living inside of a dream when I first arrived in Porto, every street was jaw-dropping and filled with these towering colorful buildings with flower-covered balconies.
9. Historic Livraria Lello
Livraria Lello is a 100-year old bookstore located right in the heart of Porto. It is frequently rated as one of the most beautiful bookstores in the entire world.
The architecture is straight out of a fairytale with its grand red staircase, intricate woodwork and those stunning stained glass windows.
Be warned, the bookstore does get extremely crowded and you do have to buy a ticket to get inside.
I'd highly recommend pre-booking your ticket online like I did so you can skip the queue. I heard that people who just show up without a ticket often have to wait 1-2 hours to get inside.
10. Harry Potter Links
As a huge Harry Potter nerd, I was really drawn to Porto due to its numerous Harry Potter links.
In Porto every other shop and cafe will claim some sort of Harry Potter link and it can be difficult to separate fact from fiction.
For example, many people (including the staff that work there) will tell you that J.K. Rowling was so inspired by the Livraria Lello bookstore that she based Hogwarts on it.
J.K. Rowling herself dismissed this rumor on Twitter saying she never visited the bookstore and never even knew it existed so that one is completely false.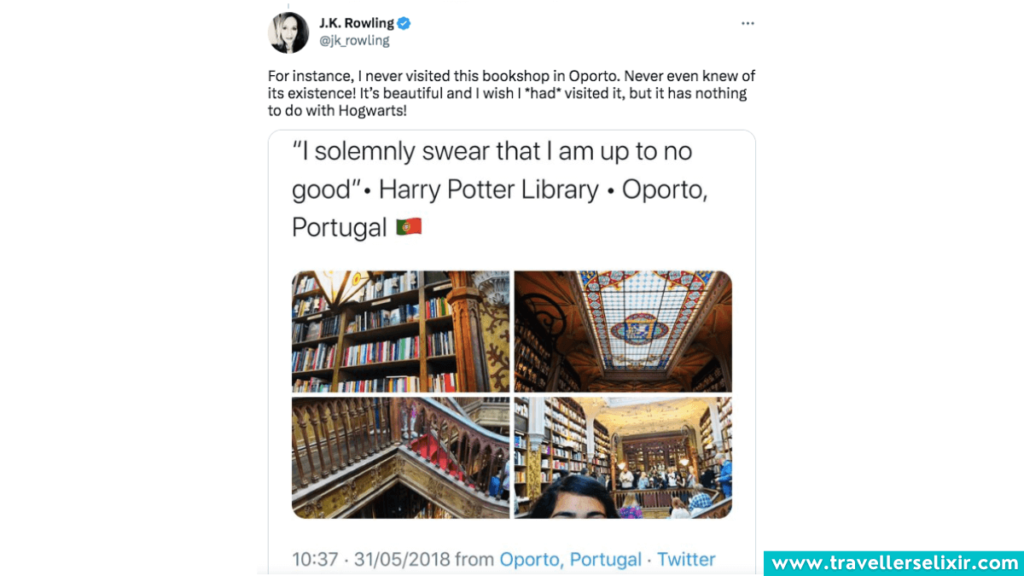 Some rumors are true though as J.K. Rowling did live in Porto for many years when she was writing the first Harry Potter book. 
She was surely inspired by some things she saw in Porto and did admit that she wrote some of the first book in the stunning Majestic Cafe.
11. Incredible Sunsets
On my first day in Porto, I walked along the upper level of the Dom Luís Bridge at sunset and boy was I shocked!
Within minutes, the sky turned to a mesmerizing orange, golden color that lasted for at least half an hour and as time went on the colors only got stronger.
Heading out for sunset became one of my daily rituals when I lived in Porto and I was lucky enough to witness some breathtaking sunsets during my time there.
Some of my favorite sunset spots in Porto include the Dom Luís I Bridge, Mosteiro da Serra do Pilar and Jardins do Palácio de Cristal.
12. Azulejo Tiles
Alright, let's talk about the azulejo tiles in Porto! These little squares of white and blue awesomeness are everywhere you look.
They're like the colorful tattoos of the city, adorning buildings with vibrant patterns and telling stories of Portugal's rich history.
Walk through the streets and boom! There's a blue tile masterpiece right in front of you.
It's like taking a stroll through an open-air museum except you don't need to be quiet or worry about touching the art.
13. Super Walkable
I don't know about you but I hate when a city is too spread out because I always end up spending more time traveling between attractions than actually enjoying them.
Porto is extremely walkable with most of the main attractions being within close walking distance to each other. You'll rarely be walking more than 10 minutes to get to the next attraction.
Be warned though, Porto is really hilly so be prepared to put some work in!
14. Dom Luís I Bridge
The famous Dom Luís I Bridge is kinda the symbol of Porto so no list of reasons to visit Porto would be complete without mentioning it.
This bad boy is like the James Bond of bridges, all sleek and suave with its double-decker design and intricate details.
It's the perfect spot to channel your inner daredevil and walk across the top level which will make you feel like you're on top of the world (or at least the Douro River).
Plus, the views from up there? Absolutely mind-blowing!
15. Nearby Beaches
Just a hop, skip and a splash away from Porto, you'll find several epic beaches. You can literally get to a beach within 10 minutes from the city center.
Matosinhos is a surfer's paradise with large waves and a chilled, laid back vibe. It's my personal favorite beach in the Porto region.
Foz do Douro feels more rugged and wild. It features a mix of wide sandy stretches of sand and rocky outcrops making it perfect for long beach walks and exploring.
And if you're feeling adventurous, Espinho is the place to be with its vibrant beachside atmosphere and epic water sports.
16. Most Beautiful Train Station In The World
Porto is home to the São Bento Train Station which is often rated as the most beautiful train station in the world.
As soon as you step inside, you'll be greeted by a jaw-dropping sight – the walls are covered in stunning azulejo tiles that tell tales of Portugal's history. It's like walking into a giant mosaic!
So even if you're not catching a train, make sure to swing by São Bento.
17. Perfect Weather
Another thing I love about Porto is that there's really no bad time to visit weather-wise.
I actually visited Porto in January and I was initially worried that it would be too cold and rainy…boy was I wrong! There were blue skies and sunshine almost every single day.
I took the below photo in January:
Spring and fall are the best times to visit as you can expect mild temperatures perfect for strolling around and exploring the city's hidden gems.
Porto turns up the heat in summer giving you beach-worthy temperatures that'll make you want to dive into the nearest ice cream stand.
Winter brings a cozy sweater weather vibe where you can sip on a hot cup of cocoa while admiring the city's views.
Rain? Who is she? It doesn't rain often in Porto and snow in Porto is almost unheard of.
Who Should Visit Porto?
Porto is the ideal location for people who love history, beautiful views, stunning architecture and smaller, walkable cities.
If you're a history buff, you'll be blown away by the stunning architecture, ancient landmarks and stories that echo through the cobblestone streets of the city.
I'd recommend joining a Porto walking tour so your expert guide can tell you all of the interesting history about the places you're visiting.
Foodies will also adore Porto as the city offers several unique dishes that you literally can't find anywhere else like the Franceshina. It's also one of the best places to sample authentic Portuguese food.
And let's not forget the wine lovers – Porto is your paradise. It's literally the birthplace of Port wine so what's not to like.
You can take a tour to the Douro Valley and spend the day sampling as many of them as you can.
What Is Porto Famous For?
Porto is famous for several things. Its historic city center is a UNESCO World Heritage Site that is known for its beautiful architecture, narrow streets and historic landmarks including Clérigos Tower and the São Bento Train Station.
Porto is also the home of port wine, a fortified wine produced exclusively in the Douro Valley region of Portugal.
The city is famous for its iconic bridges, including the Dom Luís I Bridge, which spans the Douro River and offers stunning views of the city.
Additionally, Porto is known for its delicious cuisine which includes various seafood dishes, the francesinha and pastries like the famous pastel de nata.
FAQ
Is Porto Worth A Day Trip From Lisbon?
Porto is definitely worth a day trip from Lisbon if you have the time but it would be more suited to an overnight trip.
It is a bit of a distance away (about 3 hours by train) however it's worth it as Porto is a beautiful and historic city that offers a unique experience that is very different to Lisbon.
Additionally, the train ride from Lisbon to Porto is very scenic and offers beautiful views of the Portuguese countryside.
So, if you have the time, I would definitely recommend taking a day trip to Porto from Lisbon.
How Many Days In Porto Is Enough?
I'd recommend spending at least 3 to 4 days in Porto to fully experience the city's charm and tick off all of the top things to do in Porto.
This amount of time will allow you to fully explore the historic center, visit all of the city's iconic landmarks like the Dom Luís I Bridge and Livraria Lello bookstore, indulge in delicious food and port wine and even take a day trip to nearby destinations like the Douro Valley or Coimbra. 
You can do Porto in 2 days but this won't give you enough time to cover everything the city has to offer and you'll have to miss out on a few things.
If you have more time to spare then 5 days in Porto would give you the chance to delve even deeper into all that Porto has to offer and explore more of the surrounding area.
Is Porto Better Than Lisbon?
I have spent time living in both Porto and Lisbon and in my personal opinion, I prefer Porto over Lisbon.
Porto is cheaper, less touristy and more authentic compared to Lisbon. I found that Lisbon had a lot of tourist traps and everything was really overpriced.
Porto was completely different and it felt super authentic and I didn't feel like I was getting ripped off constantly.
I also just personally thought that Porto was more beautiful than Lisbon as it had incredible views on every street corner but Lisbon just didn't give me the same vibes.
Is Porto Worth Visiting In December?
Porto experiences really mild winters and it doesn't rain that often so it's the perfect place in Europe for a city break during the winter.
I visited Porto during the winter and was pleasantly surprised with how good the weather was. I experienced very little rain and the sky was blue and sunny most days.
---
I hope that this blog post has convinced you that Porto is definitely worth visiting.
This city really does have something for everyone. Whether you're a history buff, a foodie, an art enthusiast, a music lover, a beach-goer or even a wine connoisseur!
I'm sure you'll fall in love with Porto, just like I did!
Related Posts: