I recently spent a whole month living in Porto and I visited the beautiful Majestic Cafe a couple of times (I just couldn't help myself).
I was initially attracted to the cafe due to its history and Harry Potter links but the cafe actually has so much more to offer than just that.
In this post I'll give an honest review of the cafe and I'll include everything you need to know about it including the prices, the menu, the history and more.
About Majestic Cafe In Porto
Opening Hours: Monday to Saturday, 9AM to 11PM, (closed on Sundays)
Majestic Cafe is located on Rua de Santa Catarina which is one of the main pedestrian walkways in the city.
It easily stands out from all the other buildings on the street with it's fancy-looking exterior.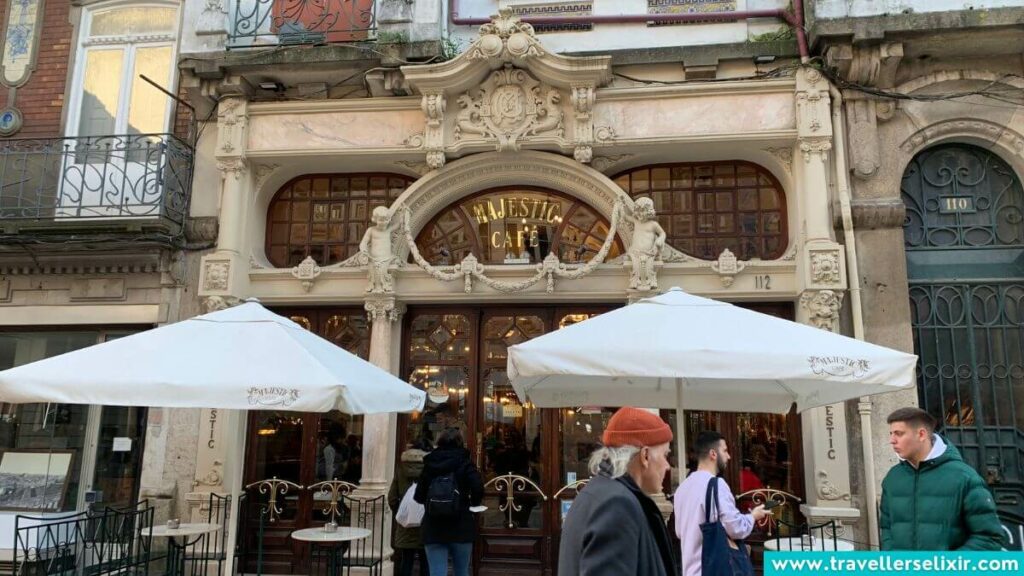 Style
The cafe was built to resemble a Parisian cafe from the early 1900s and it certainly does it well.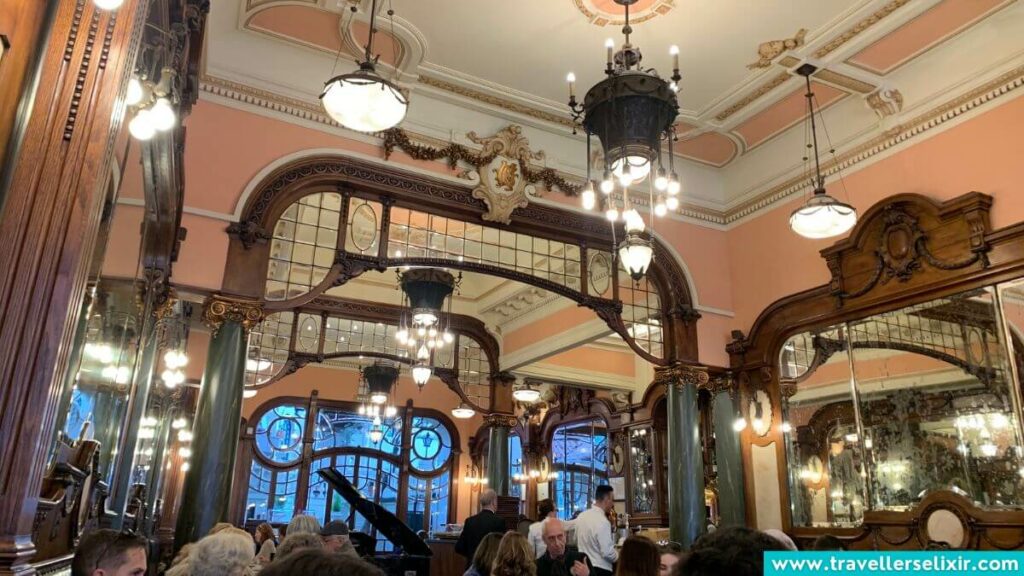 Inside the glamorous cafe you'll find marble topped tables complete with intricately designed wooden chairs.
The walls are covered in large mirrors that have seen better days. The mirrors are starting to deteriorate and don't look as good as I'm sure they once did.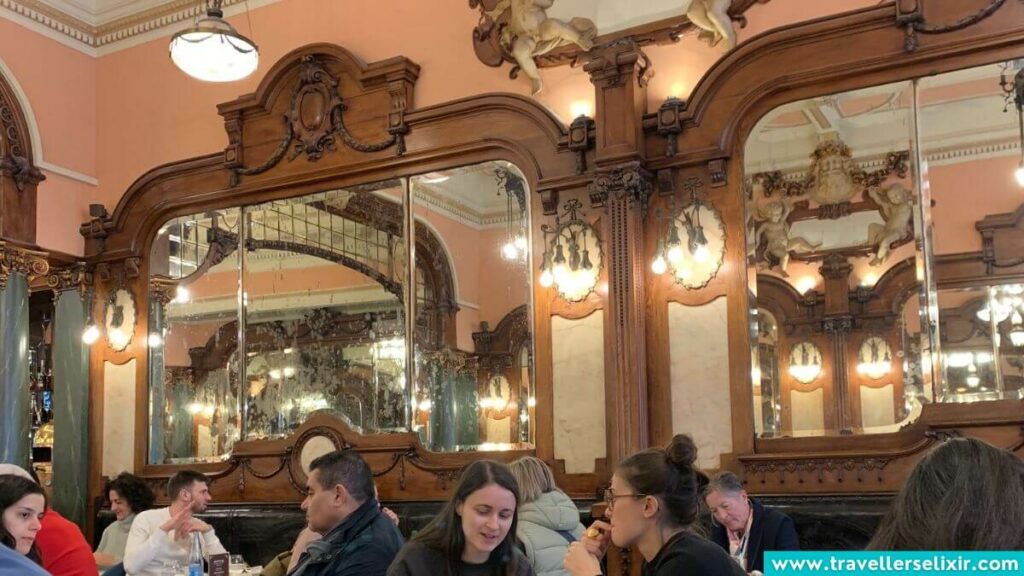 The rest of the interior makes up for it with embossed leather benches lining the edges of the room, a grand piano in the center, intricately sculpted statues and ceilings covered in chandeliers.
It really does make you feel like you're back in the 1920s when the cafe first opened.
I thought the interior was really beautiful and I must have sat there for at least 10 minutes with my mouth wide open as I took it all in.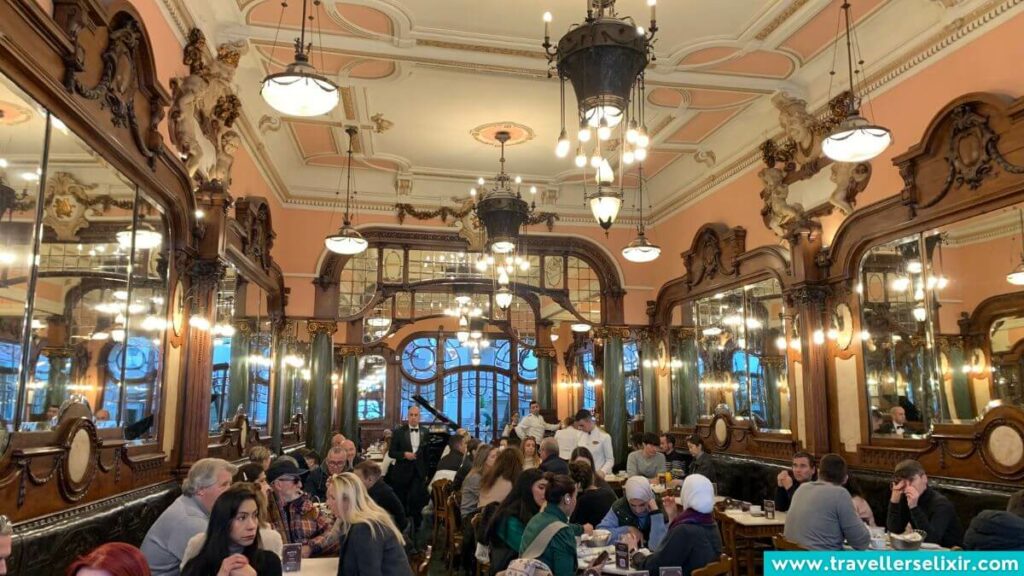 Although the furniture isn't the original, it has been designed to look very much like the original furniture that was in the cafe when it opened back in 1921.
What To Expect
Porto's magnificent Majestic Cafe often appears in lists of the best things to do in Porto meaning that it's very touristy and due to its popularity they charge a lot.
I'll go into further depth on the prices later in the post but as an example, a single coffee costs €5 which, to be completely honest, I thought was a bit of a rip-off.
The cafe does get pretty busy with queues forming outside in the peak tourist season between June and September.
It's much quieter on weekdays and during the off season. I visited several times during January and it was still busy inside but it was easy to get a seat and I didn't have to queue up at all which I appreciated.
Although you can make reservations on their website, Cafe Majestic is the type of place where you just walk in and sit down. You don't have to wait for one of the servers to seat you.
When To Visit Majestic Cafe
Early morning and late night are the best times to visit the cafe if you want to avoid the crowds (it's open from 9AM until 11PM).
Majestic Cafe is busiest from 11AM till 12PM and then again from 3PM until 6PM. Try to avoid these times if you can.
From 9AM until 10AM and from 7PM until closing at 11PM are the quietest time to visit Cafe Majestic.
Languages
All of the waiters speak English as well as Portuguese so you should have no problem ordering from the menu.
The menu is also printed in English too which makes it super easy to read and understand.
I was pretty impressed that all of the waiters/waitresses speak several languages.
I overheard one waitress speaking 3 different languages (English, Portuguese, French) in the space of just a few minutes which was amazing.
No doubt the waiters collectively speak a few others as well.
Dress Code
There's no dress code thankfully so wear whatever you like.
The staff are well dressed with white gloves, fancy jackets and even bow ties which makes you feel like you're in a very upper class establishment.
Enter me in my Puma hoodie, puffer jacket and black skinny jeans. Luckily for me, there's no dress code and nobody really dresses up (apart from the staff) so you can wear whatever you like.
I didn't feel out of place at all.
Majestic Cafe Menu
I was pretty pleased with the menu at Majestic Cafe.
Ok confession time, as a vegetarian and a picky eater, I'm often disappointed by menus in cafes that just don't cater to my needs at all.
Luckily I wasn't disappointed at Cafe Majestic; their menu was actually pretty good apart from the prices (the prices made me wanna throw up haha).
Porto's Majestic Cafe has a wide menu that suits every type of person. It features coffees, teas, soft drinks, hard drinks, dessert items, lunch meals and some snack items.
I was actually pretty impressed with how wide their menu was! They even had Super Bock (the local beer) which my dad was pretty stoked about.
Here's a quick look at part of the menu (not the full menu):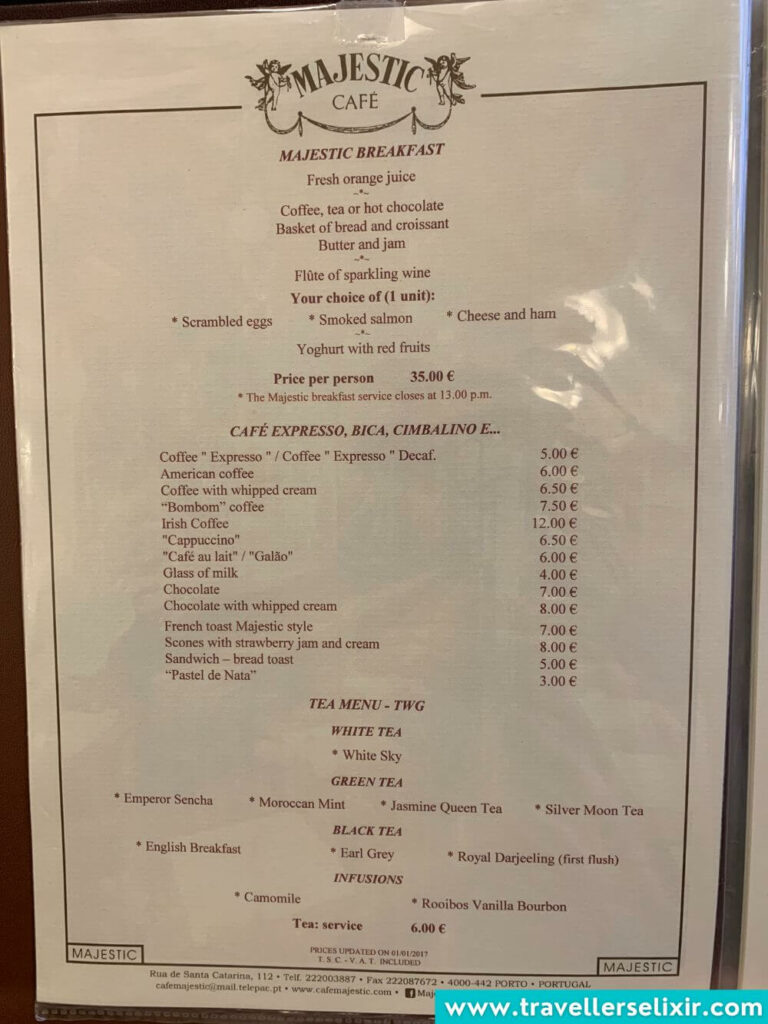 Here's a brief overview of what you can order:
Drinks
Coffee e.g. expresso, cappuccino etc
Tea e.g. green tea, black tea etc
Hot chocolate
Water inc. still and sparkling
Orange juice
Ice tea e.g. peach, lemon
Soda e.g. Coke, Seven Up etc
Beer
Wines e.g. white, red etc
Spirits e.g. whiskey, vodka, gin etc
Cocktails
Food
French toast
Pastel de nata
Sandwiches including francesinha, tuna, smoked salmon etc
Scones with jam & cream
Croissants
Soups e.g. vegetable, seafood
Salads inc. cesar
Omelet
Pasta inc. spaghetti bolognese
Fish e.g. codfish, grilled bass
Meats e.g. steak, duck
Cakes e.g. chocolate cake, cheese cake, apple tart
Cheese board
Ice cream
Peanuts
They also do an afternoon tea package which comes with a hot drink, sandwiches, scones with cream, jam and pastries.
My Review Of Cafe Majestic Menu
At this point, I've tried a few different items from the menu as I've visited the cafe a couple of times.
My personal favorite menu item is the hot chocolate (it's listed as just 'chocolate' on the menu).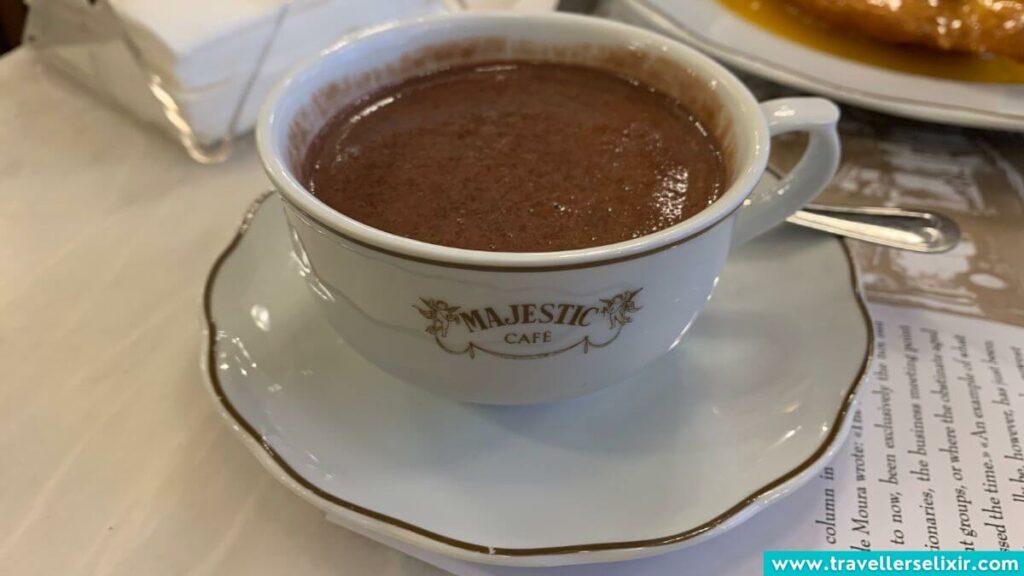 The hot chocolate at Majestic Cafe is super thick and creamy. It was really chocolatey and was ready to drink straight away when it arrived.
I always hate it when cafe's serve me a drink that's too hot to drink but it was the perfect temperature so I slurped it down pretty fast.
They serve all the drinks, including teas and coffees, in elegant little cups with the Majestic Cafe logo on them and they always come with a saucer.
I thought they looked very pretty and it did add a touch of elegance to the whole experience.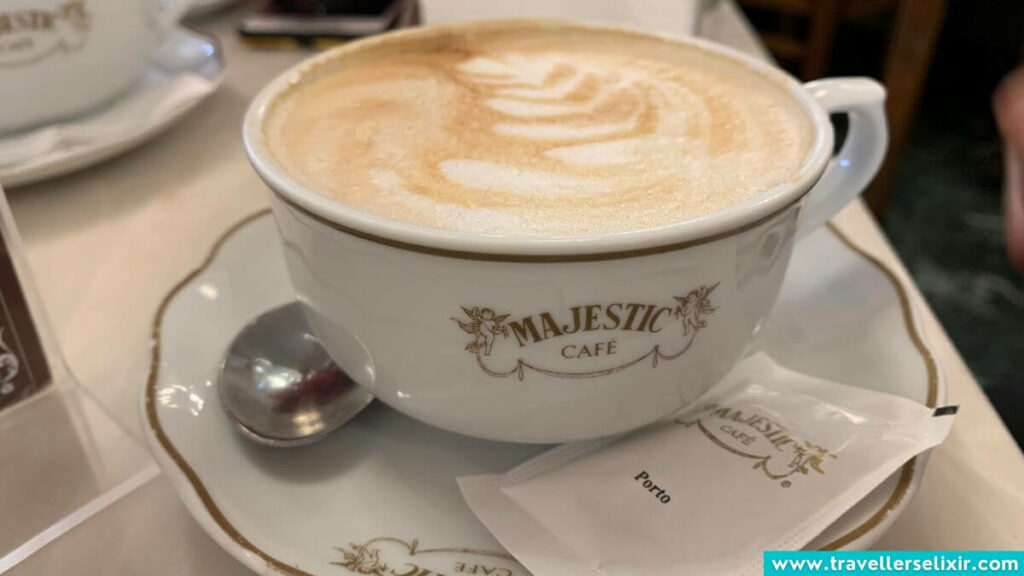 My boyfriend tried the cappuccino and he enjoyed it. He likes his coffee really hot and thought that the coffee was a bit colder than he'd have liked.
I also took my mom along to the cafe and she tried the English breakfast tea. She liked it and said it had a flowery flavor but was a bit different to what she was used to back home in England.
Other items we tried were a pastel de nata and the french toast. Both were really delicious and felt like they were made with really high quality ingredients.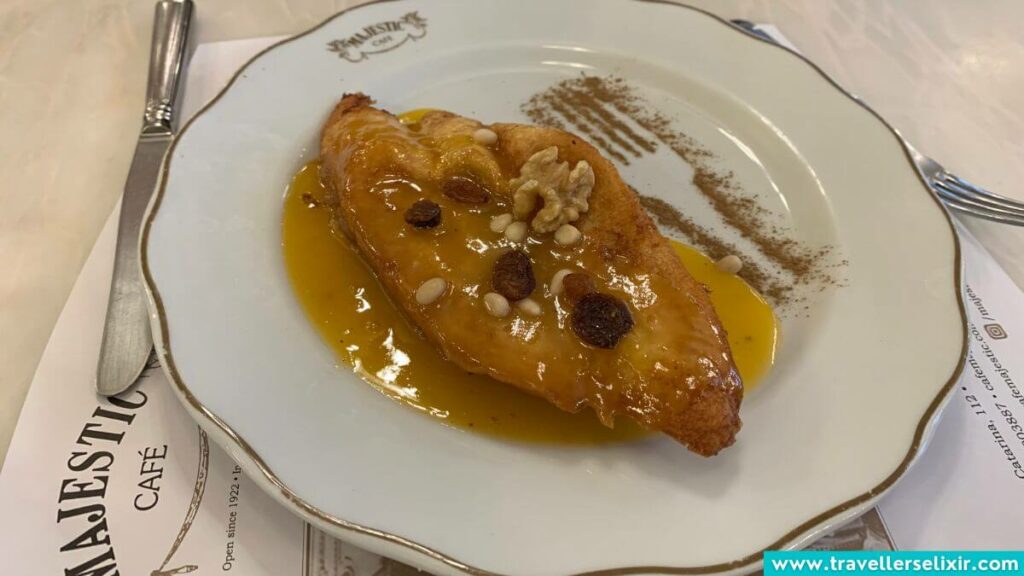 Majestic Cafe's french toast was thick, covered in a sweet syrupy custard and topped with nuts & raisins. It was so delicious and very luscious. I'd say it's ideal for anyone with a sweet tooth.
I was also impressed with how fast the service was. After we ordered, the food and drinks came really quickly to the table even though the cafe itself was really busy.
They definitely didn't compromise on the quality at all as everything was perfectly presented and well-made.
Majestic Cafe Porto Prices
Ok so it's fair to say that the prices at Majestic Cafe in Porto are pretty high. It is an expensive place to visit but part of the price reflects the experience of sitting in the 100 year old cafe.
It's not the sort of place you'd go every morning for your daily coffee but it's worth visiting once or twice.
If you're on a budget, my advice is to just order a pastel de nata which is the cheapest thing on the menu at just €3. Just don't drop it on your foot like my dad did.
Here's some example prices to give you an idea of how much things cost at Cafe Majestic:
Coffee – €5
Hot chocolate – €7
Tea – €6
Pastel de nata – €3
French toast – €7
Scones with jam & cream – €8
Afternoon tea – €30 per person
Sandwiches – €18 – €26
Salad – €22 – €26
Omelet – €22 – €25
Pasta – €29 – €35
Meat – €32 – €33
Cheese board – €20
Slice of cake – €7
Bottle of water – €3 – €4.50
Orange juice – €7
Soda – €5
Beer – €6
Glass of wine – €7 – €9
Bottle of wine – €28 – €38
Cocktail – €10
It's pretty expensive and I kinda felt a bit ripped off paying €7 just for a hot chocolate but I'd say the whole experience was worth it and I'm glad I visited the cafe.
On my first visit, I went with my boyfriend. I got a hot chocolate (€7) and he got the french toast (€7) so our bill came to €14.
On my second visit, I took my parents and we ordered 1 beer (€6), 1 tea (€6), 1 cappuccino (€5) and 2 pastel de natas (€3 each) and the bill came to €23.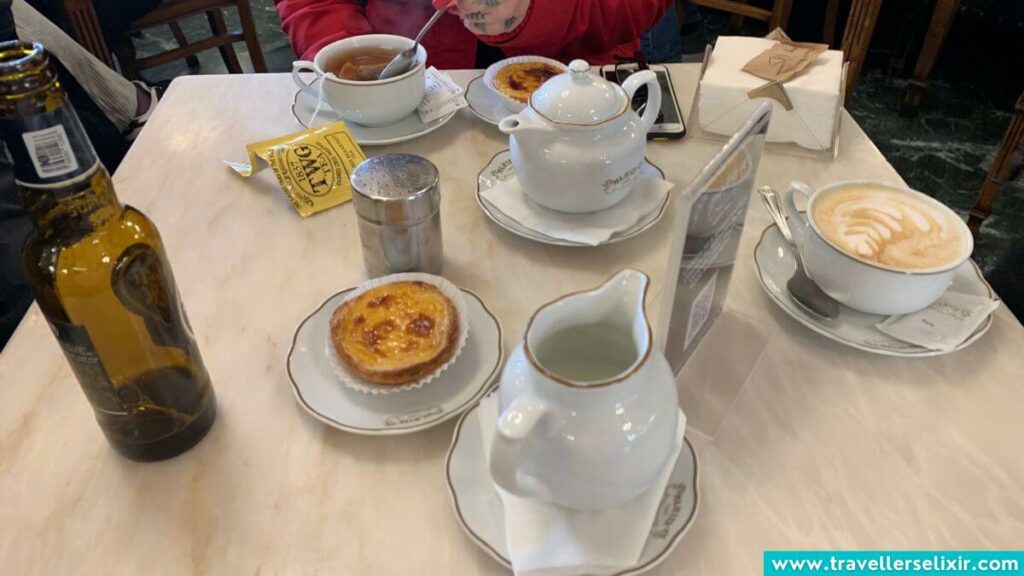 It's a lot of money for not a lot of food, but hey, that's what you get with these touristy cafes.
Personally, I wouldn't have ordered a meal as some of the dishes are really expensive (e.g. €30 for some pasta) but I didn't mind splurging a little bit on a drink and a snack.
Just a heads up, there's no service charge at Cafe Majestic and you can pay by card.
Tipping isn't common in Portugal as workers get paid fair wages so don't feel like you need to leave a tip (you can if you've just won the lottery).
I know you US folks feel like a criminal if you don't leave a tip but it's just not as much of a thing on this side of the pond. I promise that nobody will give you a dirty look if you don't leave one.
Do You Need A Reservation For Majestic Cafe In Porto?
When I visited Cafe Majestic, I didn't make a reservation and I didn't need one.
Although the cafe was pretty busy both times I visited, there were a lot of tables packed into a small space and people tended to move along pretty fast.
I'd say most people only stayed in the cafe for around half an hour so new tables became available all the time.
I visited the cafe twice, once on a Saturday and once on a Tuesday.
I did notice that the cafe gets much busier on weekends but there were still a few tables spare so I still didn't need to make a reservation. I didn't have to wait at all to get a seat.
Although I never had any trouble trying to get a seat in Majestic Cafe, I did visit during the off season in January.
During peak season, between June and September, the cafe can get much busier as tourist numbers rapidly increase in the city.
I've heard some people say that they had to queue up outside so it might be worth making a reservation if you're visiting during this time.
Nobody wants to queue up in the sweltering summer heat do they?
You can reserve a table on the Majestic Cafe website. It's pretty easy so I'd recommend doing it if you're in a large group or if you're visiting during peak tourist season.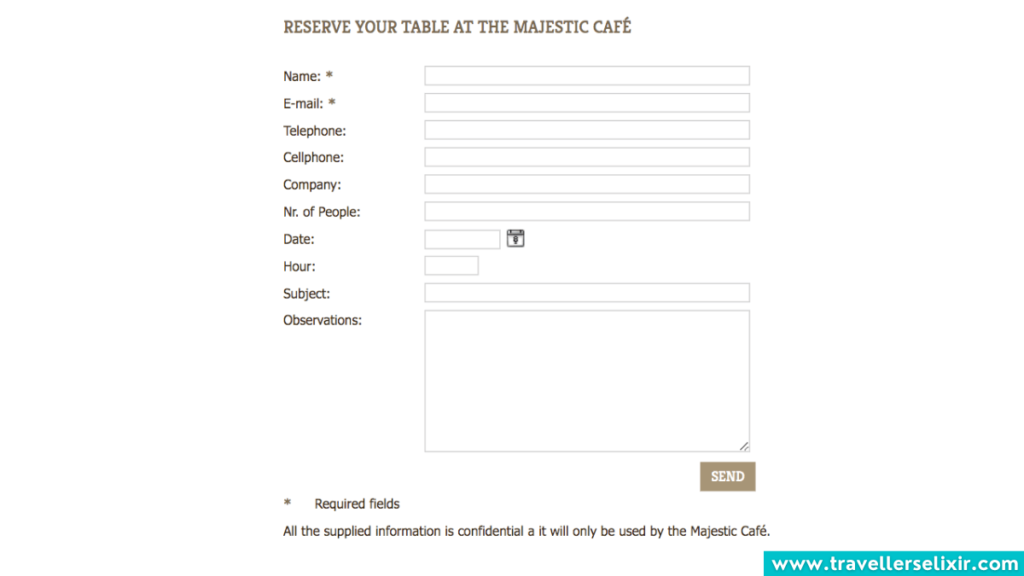 Majestic Cafe Harry Potter Links
Every other cafe and shop in Porto claims to have a Harry Potter link but not many actually do.
I even found this Harry Potter Porto tour that will take you all over the city to see all the spots that supposedly inspired J.K. Rowling (just a heads up, most of the claims are false).
The reason for all of this is because J.K. Rowling actually lived in Porto for a few years back in the 90s when she was writing the first Harry Potter book (she was married to a Portuguese man).
Many people claim that the red staircase in the 100-year-old Livraria Lello bookstore inspired the staircase in Hogwarts but this has been proven to be untrue (J.K. Rowling said so herself).
Interestingly, J.K. Rowling did confirm one of the other rumors and it relates to Majestic Cafe.
In a tweet, J.K. Rowling confirmed that she used to visit Majestic Cafe all the time when she lived in Porto and she even wrote some of the first Harry Potter book in here.
She also went on to say that it was one of the most beautiful cafes that she ever wrote in.
Here's the receipt:
Majestic Cafe Porto History
I personally felt like I got more out of the cafe when I knew a bit about its history. I wouldn't pay €7 for a hot chocolate in any old cafe so here's why this place is so special…
The cafe originally opened in 1921 making it over 100 years old.
It originally opened with the name 'Cafe Elite' as it was only intended for the most elite members of society but the name was changed 2 years later to Majestic Cafe.
It was designed by an architect named José Pinto de Oliveira and he gave it a distinct Art Nouveau theme that was inspired largely by the glamorous French Belle Époque era which lasted from late 1871 until 1914.
The cafe featured leather seating, dark varnished wood, detailed moldings on the ceiling, numerous Flemish mirrors and it even had a little garden at the back.
All of these features still remain in the cafe today. Some parts of the cafe are now replicas of the original including the lamps and furniture but other parts are original, having been restored.
When it first opened, it was a very upmarket and exclusive cafe that was often visited by the most influential people of the time.
It was basically a meeting point for the most elite members of society including writers, artists, politicians, poets and philosophers to discuss their ideas.
Famous visitors to Cafe Majestic over the years include:
José Régio – a famous Portuguese writer
Teixeira de Pascoaes – a Portuguese poet
Juscelino Kubitschek – former President of Brazil
Romy Schneider – a famous 1950s actress
Fafá de Belém – Brazilian singer
Leonardo Coimbra – philosopher and politician
J.K. Rowling – author of Harry Potter
In its early years, the cafe was incredibly successful but it was hit hard by World War II due to hefty taxes.
Consequently, the cafe had to fire most of its staff and they sold a lot of the original furniture. Despite all this, the cafe remained open.
Over the following decades, the cafe lost its appeal, slowly deteriorated and was barely able to survive.
It wasn't being looked after at all and by the 1980s it was in a really poor condition.
In 1992, the cafe was closed for refurbishment and when it reopened in July 1994, it was back to its former glory.
The floors had been replaced, the furniture had been restored and the whole place had been given some much needed love and care.
The new owner had looked at photos of the original cafe when it opened in the 1920s and tried to recreate it as best he could.
This even included making exact replicas of the original lamps that had been sold off during the Second World War.
He did a pretty good job as if you look at old photos of the cafe, it does look almost exactly the same as the cafe today.
Here's today's cafe to compare:
Majestic Cafe Porto Review
So what's my verdict?
I personally really enjoyed visiting the Majestic Cafe in Porto particularly because of its history, its beauty and, to be completely honest, I'm a big Harry Potter fan.
This place is really pricey (way more expensive than cafe's I'd usually go to) so, after visiting a couple of times, I probably wouldn't go again.
If it was a bit cheaper then it's the sort of place that I'd go to all the time but the food and drinks, while they are really nice, they just aren't worth the price tags attached to them.
The cafe is also really touristy and busy which makes it feel a bit more inauthentic. I love finding the secret hangouts of the locals so I can feel like I'm one of them and Majestic Cafe just doesn't offer that.
I do love the history behind the cafe which is why I wanted to visit in the first place and I can honestly say that I'm glad I went a couple of times to really take it all in.
It's a beautiful cafe and really does deserve its title as one of the most beautiful cafes in the world!
---
And that's it!
Thanks for reading my review of the Majestic Cafe in Porto. If you're planning a trip to Porto soon then I hope it helps.
Majestic Cafe is one of the many reasons to visit Porto. I cover 16 other reasons to visit Porto in my complete guide.
Related Posts: