I recently spent a month living in Porto and during that month I did pretty much everything there is to do in Porto.
Yep, I hit up all of the best Porto attractions and I can honestly say that some were great and some not so great.
That's why I'm putting together this ultimate guide of the best things to see in Porto so you don't waste any of your time.
Let's jump straight in…
1. Porto Cathedral
The first stop on your Porto sightseeing itinerary should be the Porto Cathedral which is also known as Sé do Porto in Portuguese.
This colossal Roman Catholic cathedral is actually one of the city's oldest monuments as it's over 800 years old. It's pretty impressive up close!
The original construction of the cathedral began during the 12th century but it has been renovated several times over the years which is why it's in such good condition.
Look out for the old city walls which are located right next to the cathedral. Hundreds of years ago, these ancient walls enclosed and protected the city from attack.
The Porto Cathedral is also one of the best places in Porto to catch the sunset as it has a viewpoint just in front of the cathedral which overlooks the city.
This is the perfect place to relax and watch the sunset. When I visited, there was someone playing the violin which made it feel super magical.
It's also possible to go inside the cathedral and you can even visit one of the turrets (is that what they're called?) for an even better view of Porto from up high.
The Porto Cathedral is included as a stop on pretty much every Porto walking tour (btw, I'd recommend booking onto one to make the most out of your time).
2. Dom Luís I Bridge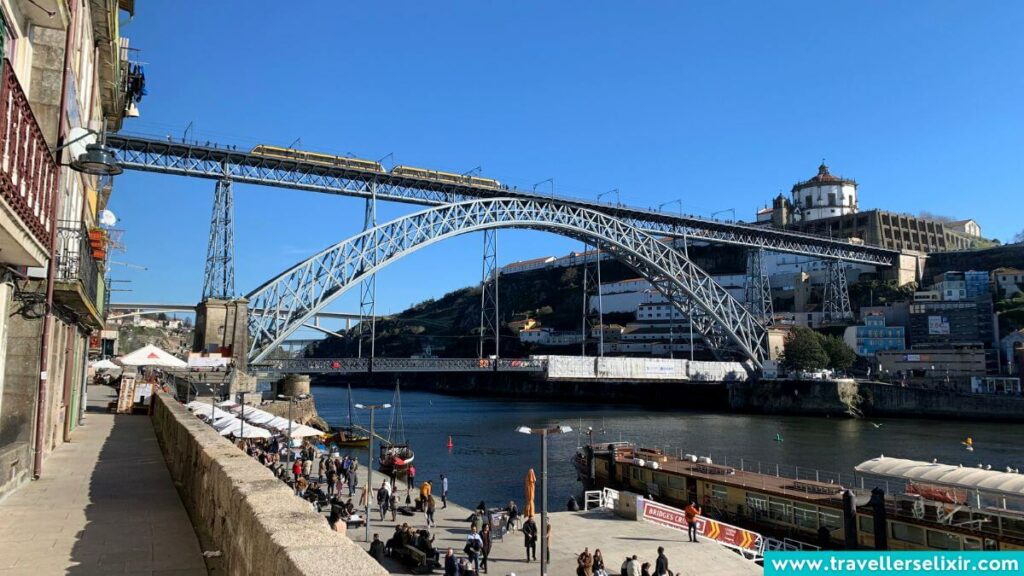 Another one of Porto's must see attractions is the Dom Luís I Bridge which crosses over the famous Douro River providing epic views of the city.
This is actually my favorite thing to do in Porto and, to be completely honest, I must have visited this bridge at least 15 times!!!
You can admire the bridge from the riverfront but the best way to experience it is by walking along the upper level.
The top level of the bridge offers panoramic views of Porto, the Douro River and the surrounding area. I spent ages up there just listening to the sounds of the river and watching the world go by.
You can see so much from up there including several other bridges, the Ribeira riverfront, Vila Nova de Gaia and it's also another great spot for sunset.
Another great way to see the bridge is from the water itself. You can book onto a river cruise and sail right beneath it, giving a really unique perspective of the bridge.
Beware though, the bridge does get ridiculously busy around sunset time so visit earlier in the day to beat the crowds.
The metro train also runs along the top level of the bridge and you do need to keep an eye out for it so you don't get squished (don't worry, it comes pretty slowly and has a bell).
3. Majestic Cafe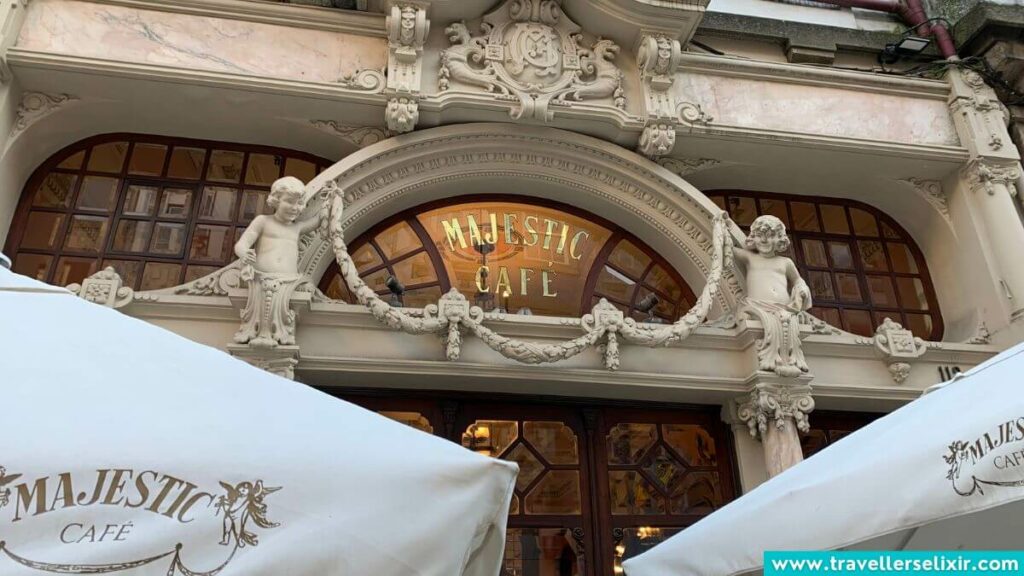 Another one of the best activities in Porto is visiting the Majestic Cafe located on Rua de Santa Catarina.
This 100 year old cafe originally opened in 1921 as a place for the most elite members of society to meet.
It was originally designed to resemble a Parisian cafe of the early 1900s so it features intricate crown moldings, embossed leather seats, opulent-looking mirrors, dazzling chandeliers and a grand piano.
It's very beautiful and you do kinda feel like you're back in the 1920s (even though I was sitting there in my skinny jeans and a hoodie).
If you've got a sweet tooth then I'd recommend trying their french toast. It's thick, creamy and very delicious.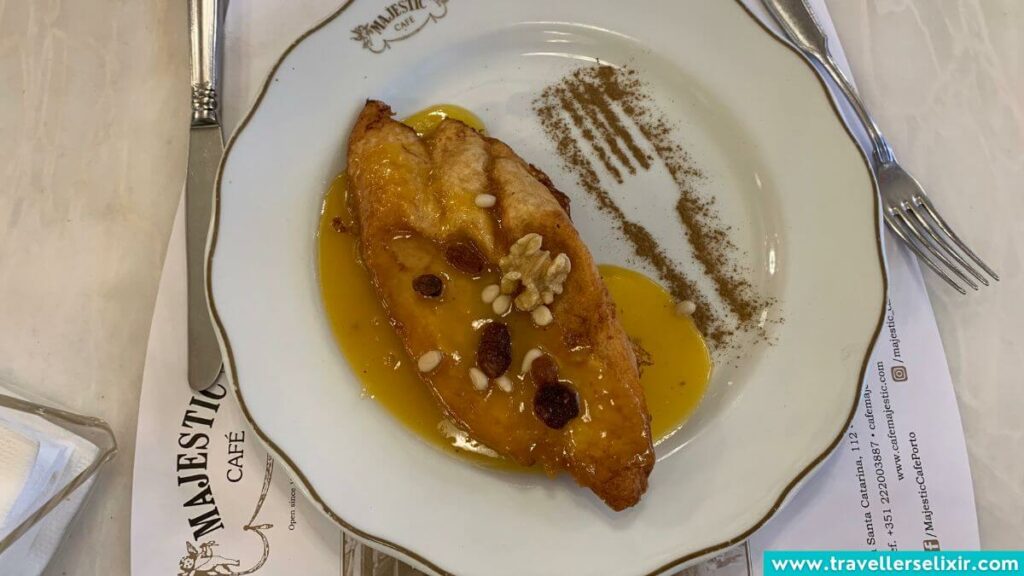 Opening Times: 9AM – 11PM, Monday to Saturday. Closed on Sundays.
Tips For Visiting Majestic Cafe
This cafe is very expensive. They charge €5 just for one cappuccino, €7 for a hot chocolate, €30 for a bit of pasta and €5 just for a can of coke.
If you're on a budget (or you don't fancy emptying out your kid's college fund) then I'd recommend just getting one drink or a snack.
They do sell pastel de natas for €3 which is one of the most cost effective things to order off the menu and they are very good quality.
The cafe does also get very busy during peak tourist season. I'd recommend visiting before 10AM or after 6PM to avoid the crowds.
4. Livraria Lello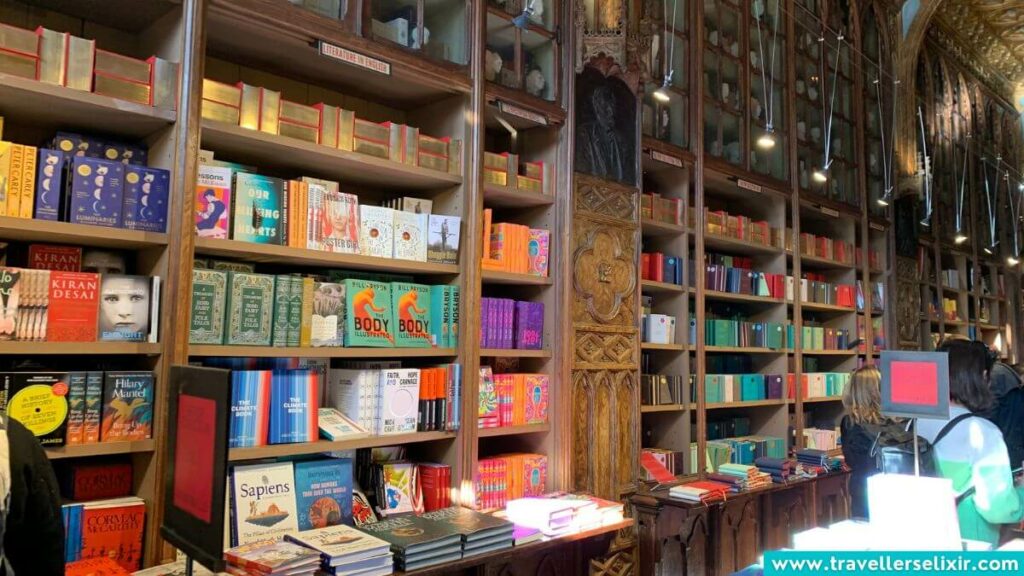 Another one of the best places to visit in Porto is the hugely famous Livraria Lello bookstore. In fact, it's worth visiting Porto just for this bookstore alone!
This bookstore, located on Rua das Carmelitas, is actually over 100 years old as it originally opened back in 1906.
For starters, the neo-gothic building it's housed in is absolutely stunning. I personally have never seen anything like it and it did really feel like something out of a mythical fairytale.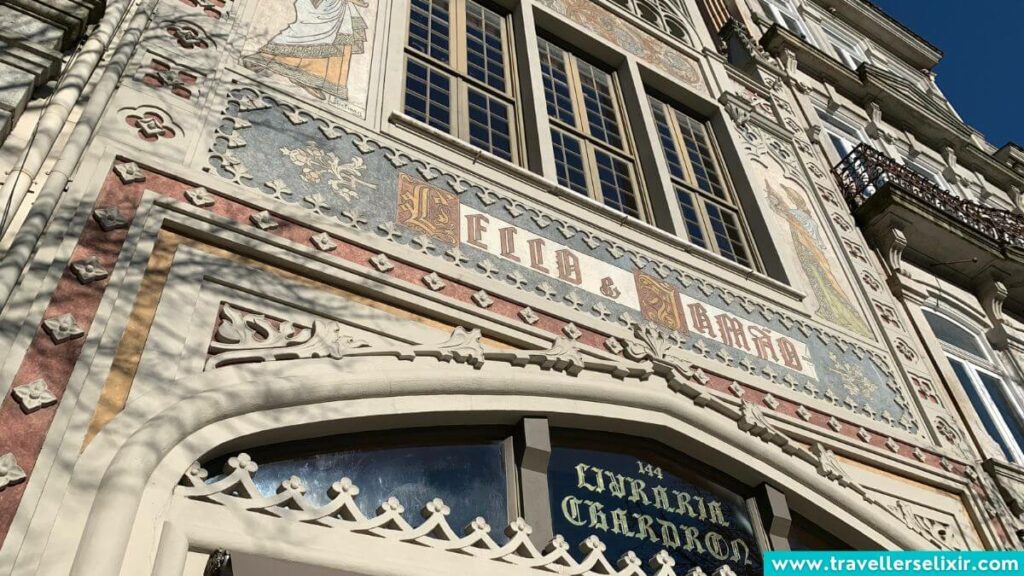 The inside of the store is even better. The walls are covered with pretty books and wooden paneling and in the center of the store you'll find a magical-looking red staircase which leads you to the upper level.
Livraria Lello gets very busy so it's very hard to get a good photo inside, especially on the staircase (believe me, I tried).
I visited during the off season so it wasn't as busy as normal but it was still packed and hard to move around.
Everyone and their aunt will tell you that J.K. Rowling used to visit this bookstore all the time when she lived in Porto in the 90s and was so inspired that she made Hogwarts look just like it.
Even the staff at the shop will tell you that if you ask them.
Well I'm sorry to break it to you folks, but that's all a huge lie as J.K. Rowling herself confirmed in a tweet that she never knew the bookstore existed when she lived in Porto and never set foot inside.
Here's the proof: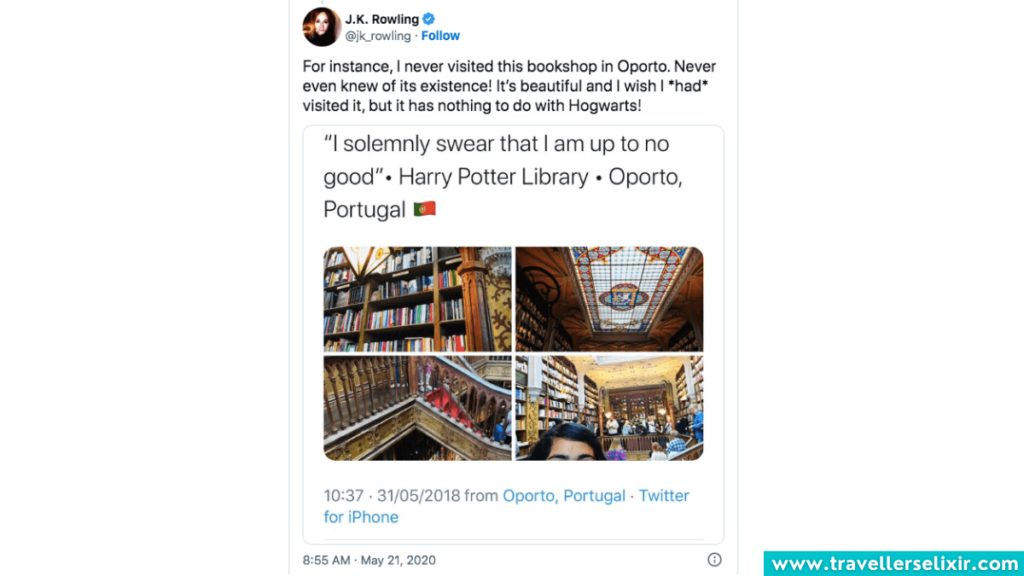 Although it's busy and touristy, this is actually one of the top things to do in Porto so make sure to add it to your itinerary.
How To Visit Livraria Lello
Visiting Livraria Lello used to be free but they were getting over 4,000 people visiting the store every single day and barely anyone purchased a book so that had to change.
Today, you do need to pay an entrance fee to visit and if you don't pre-book your ticket, you'll need to wait in a really long queue outside.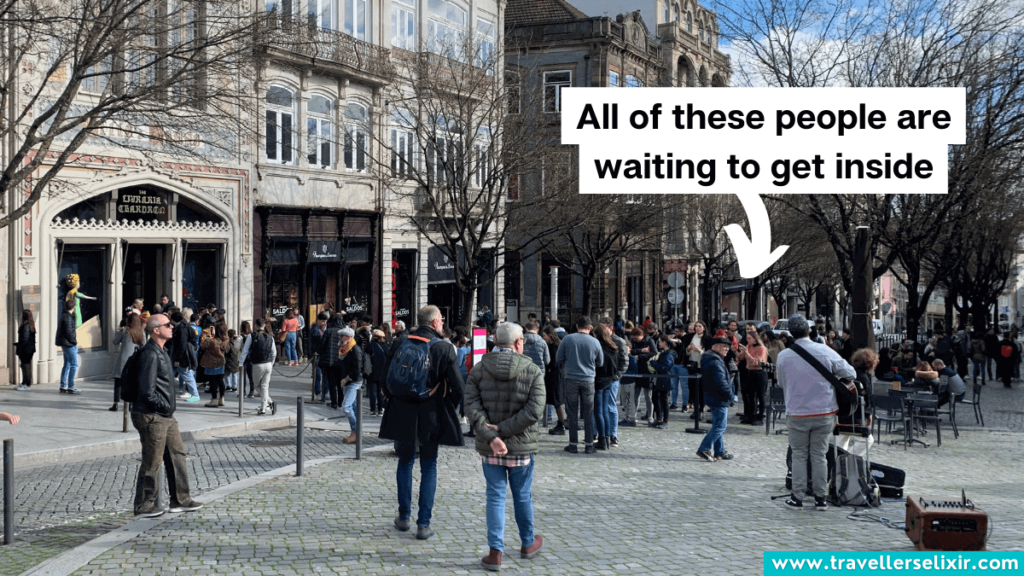 I've heard that in peak tourist season, some people have waited in the queue for up to 3 hours!!
The best way to see the bookstore (and avoid the queue) is by joining a Porto walking tour that includes a skip-the-line ticket.
These are great because your guide will show you all of Porto's best sights and you get to see the inside of the bookstore without waiting in that long queue.
If you just want to visit by yourself then you can still pre-book your ticket online. It's cheaper than purchasing on the door and you don't have to wait in the monster queue.
Online it costs €5 per person to enter and you can reserve a time-slot (it costs €6 on the door). When you arrive, just walk straight to the front of the queue and you'll be let straight in.
I kinda felt like some sort of VIP to be honest when I did this.
If you choose to purchase a book when you're inside then the €5 entrance fee will be deducted from the cost of the book.
It kinda seems like a bit of a marketing scam to me as they've inflated the book prices really high so I don't think you're getting much of a saving.
My mom bought a really small Jane Eyre book and it cost €20 (so she paid €15 after the discount).
Opening Times: 9:30AM – 7PM, Monday to Sunday
5. Jardins do Palácio de Cristal
One of the best places to visit in Porto that few people know about is Jardins do Palácio de Cristal.
This huge set of landscaped gardens stretches on for 8 hectares so there's plenty of space for everyone.
It's basically a series of gardens, each with a different theme, that connect together. There's so much here to explore including several amazing viewpoints, a tower that you can climb, flower gardens, a scenic pond, a church and more.
One of my favorite things about these gardens is that it's home to a variety of animals. You'll see ducks, chickens, cockerels and peacocks just wandering around the park.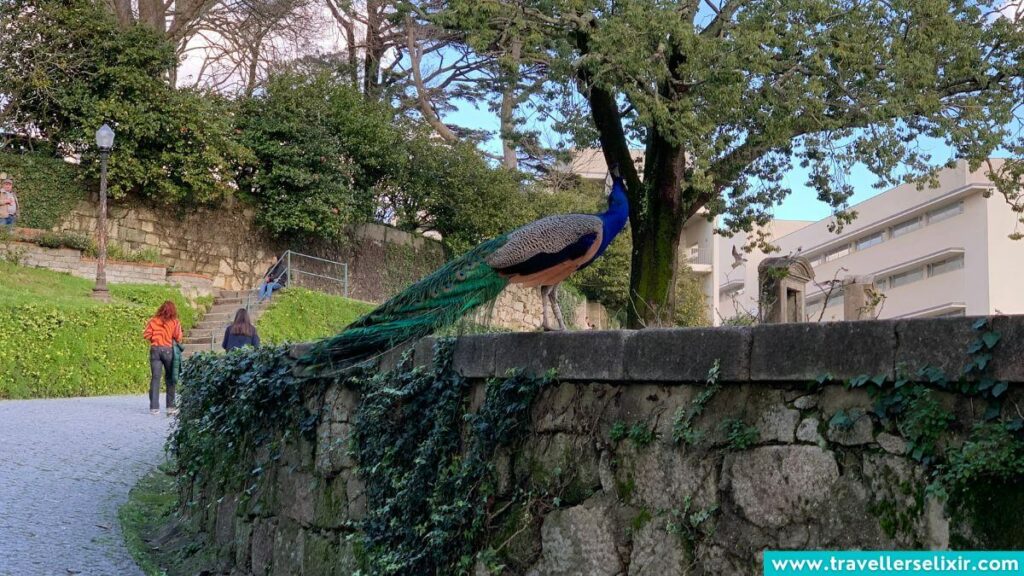 I've visited Jardins do Palácio de Cristal three times now and each time I've found a new area of the park that I missed the other times.
Because the gardens are so big, it's never crowded. I always feel really at peace here and it's nice to get away from the crowds for a while.
6. Mosteiro da Serra do Pilar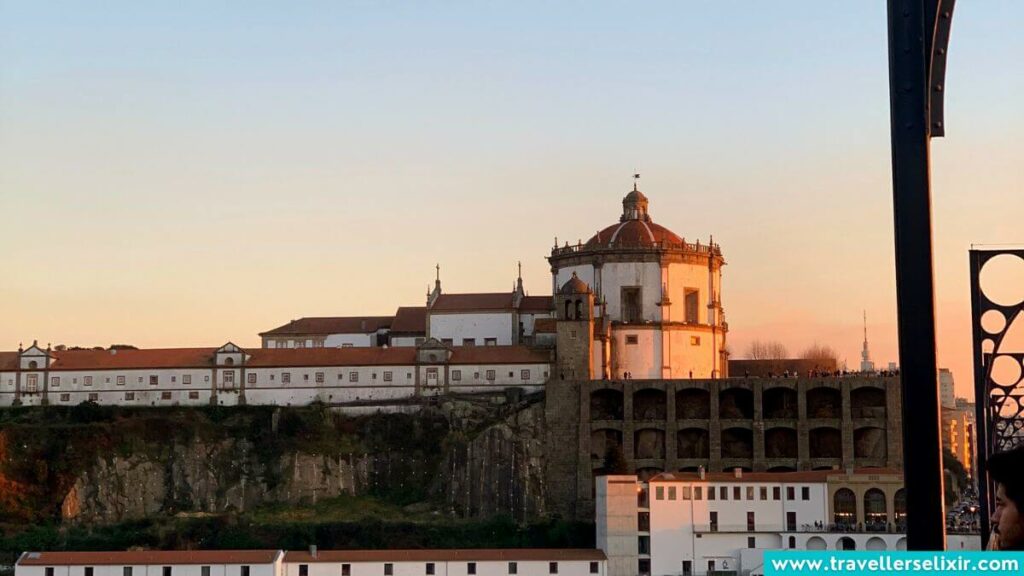 Next on the list of things to do in Porto is the Mosteiro da Serra do Pilar which is a former monastery that's located on top of a hill in Vila Nova de Gaia.
You'll probably be able to see the monastery from all over the city – it's that circular white building sat on top of a hill.
Due to its location, it actually makes a very scenic viewpoint as it's one of the highest points in the city. It's so high that it makes the Dom Luís I Bridge look small!
The monastery itself was originally built in 1672 however during the Peninsular War (1807 – 1814), it was taken over by the military due to its strategic location.
Makes sense right?! It's literally sat on top of a hill and you can see for miles and miles so during the war they used it to launch a surprise attack on the French who were trying to invade Porto.
Today, although the monastery is still owned by the military, it's now just one of Porto's tourist attractions. You can go inside but there's not much to see.
I personally think that it's worth visiting the outside area for the incredible views of Porto and the Dom Luís I Bridge below.
How To Get To Mosteiro da Serra do Pilar
Getting to the monastery can be confusing if you've never visited before as when you're standing below it, there's no clear route.
After you've crossed the upper level of the Dom Luís I Bridge, keep walking straight, going past the monastery.
Eventually you'll come to an entrance where you'll find a steep path that leads you back the way you just came, but upwards towards the monastery's hilltop location.
The walk can be tiring for some people so if it doesn't sound like your idea of fun then book a private tour of Porto in a vintage car.
You'll ride around town in a replica of a 1920s Model T Ford seeing all of Porto's best attractions including the monastery (avoiding the steep climb to the top).
7. Clérigos Tower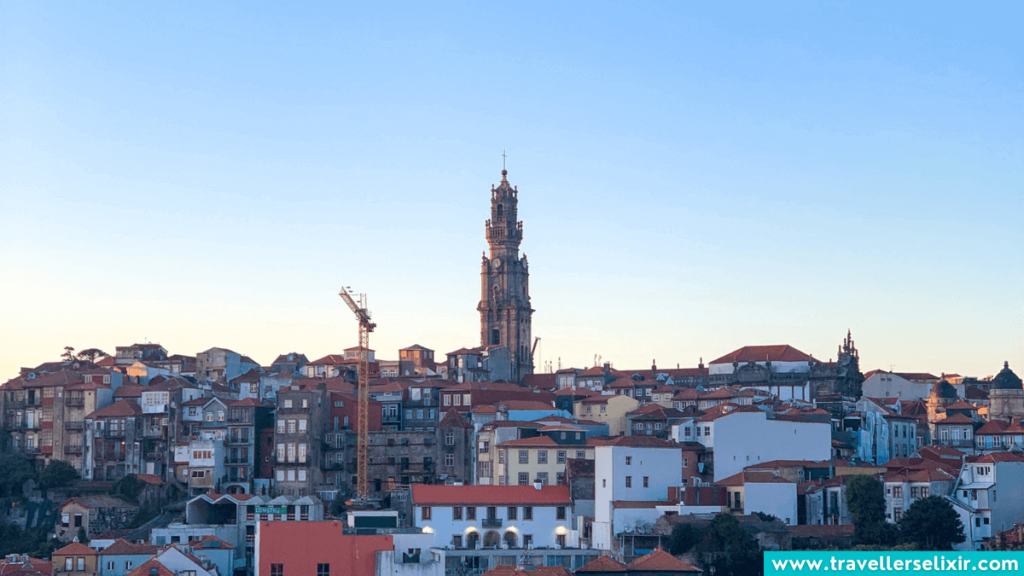 Another must do in Porto is to see Clérigos Tower which is a Baroque church that can be seen from all over the city.
The tower itself was built between 1735 and 1748 and it stands at an impressive 249 ft (76m) tall.
There's a park located right beside the tower which offers really great views of the tower from the land but, if you're feeling up to it, you can also climb to the top of the tower.
The views from the top of Clérigos Tower are really spectacular.
I was so glad that I made the effort to go right to the top as you get a really unique perspective of the city and you can see lots of Porto's most famous landmarks including the Porto Cathedral.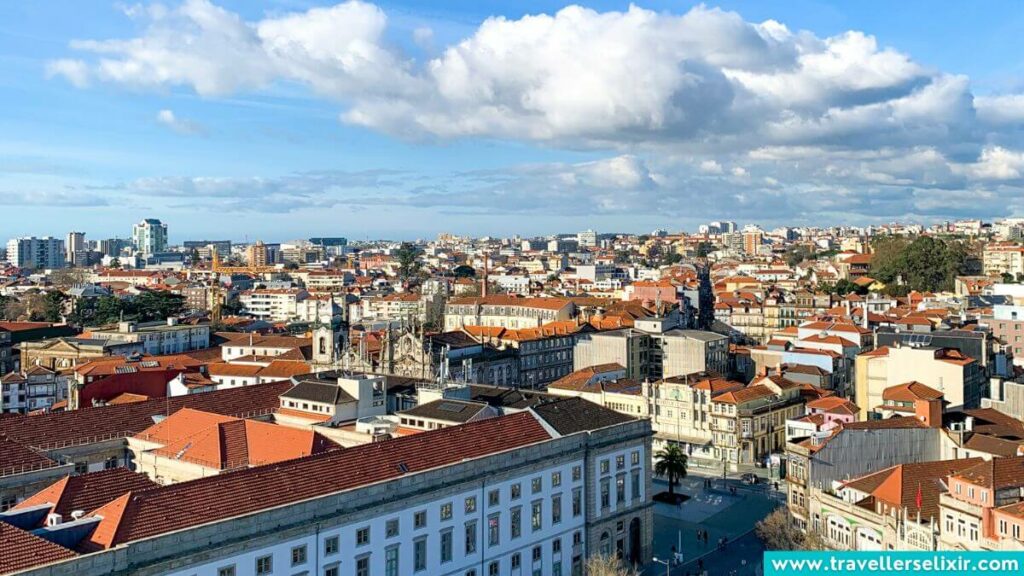 If you want to climb to the top of the tower then make sure you pre-book your ticket online so you can avoid the queue and head straight inside.
I wish I'd done this as I ended up waiting around for half an hour before I could go in!
If you choose to go inside, you'll also be able to see the church on the lower level. There's a free organ show every day at 12PM which you can enjoy.
(That's an organ show as in the music, not someone showing off their liver)
I also heard that apparently there's 49 bells inside the tower. Personally when I visited, I only saw about 3 though.
As I said, you can climb Clérigos Tower like I did but there are a few things you should know first.
What To Expect
There's no elevator to take you up to the top so you will need to climb all 200 steps by yourself. Based on this, it's not a great activity for anyone with mobility issues.
I also wouldn't recommend the climb for anyone who is claustrophobic as the staircases are fairly small and they get very crowded.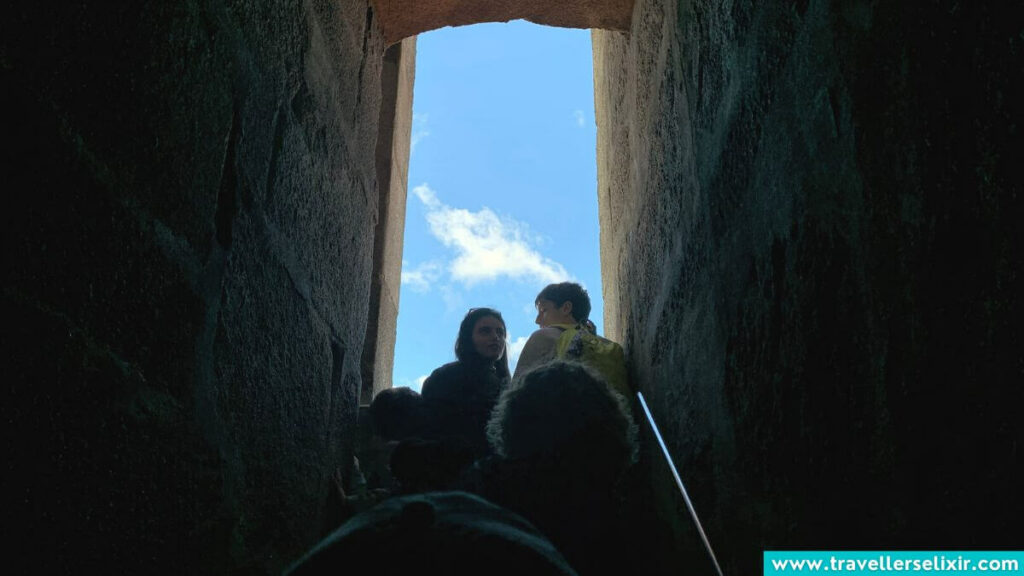 Unfortunately there's just one staircase that leads people up and down the tower and there's no system in place meaning you just get constantly stuck on the stairs.
You'll be climbing up the stairs and suddenly someone will appear from above and you can't go back down because there's 10 other people behind you so they will try to awkwardly squeeze past you.
Tickets cost €8 each and this also gives you access to the museum. I personally didn't really enjoy the museum (it was a bit boring) but I enjoyed climbing the tower and seeing the views.
As I mentioned, I'd recommend pre-booking your ticket online to save yourself having to queue up when you get there. The queues can be really long in peak tourist season.
8. Ribeira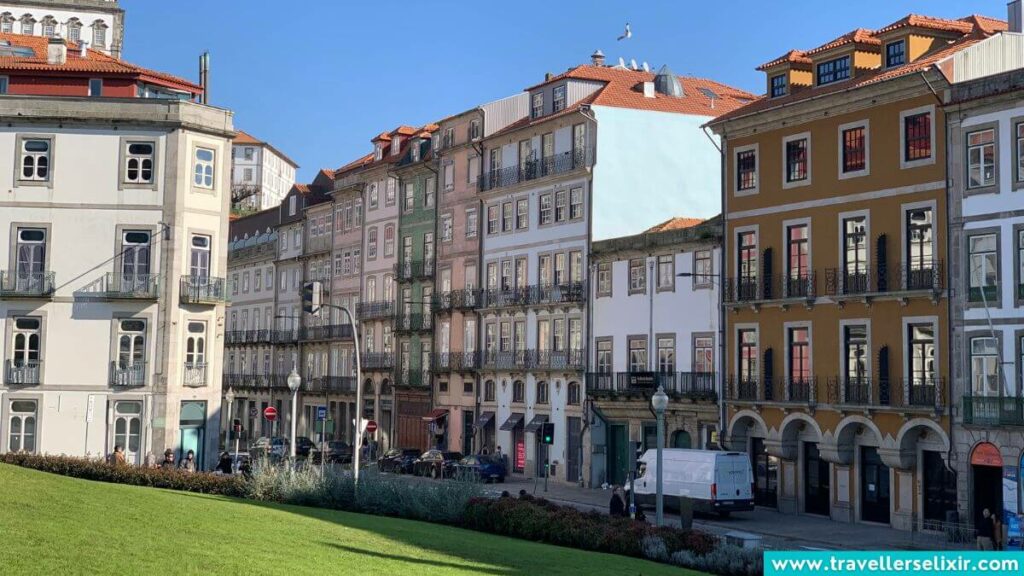 The Ribeira neighborhood is one of the oldest and most beautiful parts of the city and you'll likely spend a good few hours exploring it.
The riverfront, which lines the Douro River and is filled with colorful houses, tiny cafes and lively music, is actually one of the best Porto tourist attractions.
You can also explore the narrow, cobblestone streets that run parallel to the river where you might stumble across an authentic-looking Portuguese restaurant or a bar that serves port.
This area of the city is absolutely stunning and you can easily take a seat and enjoy the views of the river.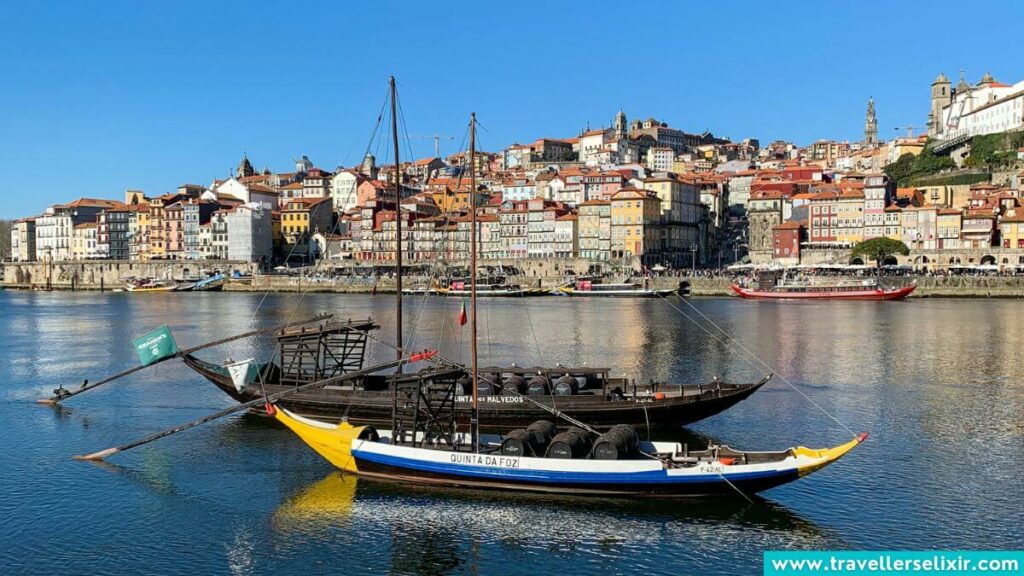 I'd recommend booking onto a Douro River cruise if you have the time. You'll cruise down Porto's famous river drinking port, passing by the most famous sights and admiring Ribeira from the water.
You'll also find tons of restaurants lining the river. I'd recommend trying a francesinha if you're feeling adventurous.
This odd-looking sandwich is originally from Porto and it's made with bread, ham and sausage which is then covered in melted cheese and a hot tomato and beer sauce.
Yep, you read that right, there is beer in the sauce. I personally haven't tried it because I'm a veggie but I've heard good things.
Along the riverfront, you'll also often find people playing music or putting on dance shows that draw in large crowds. You could literally spend hours in this area as it's so busy and bustling.
Here's a lil insider tip for you…
The riverfront area does get really busy and crowded, especially on weekends. Not many people know that there's a little walkway that leads you one level up at the end of the riverfront.
Take this walkway and you'll basically get a private viewing platform of the whole riverfront!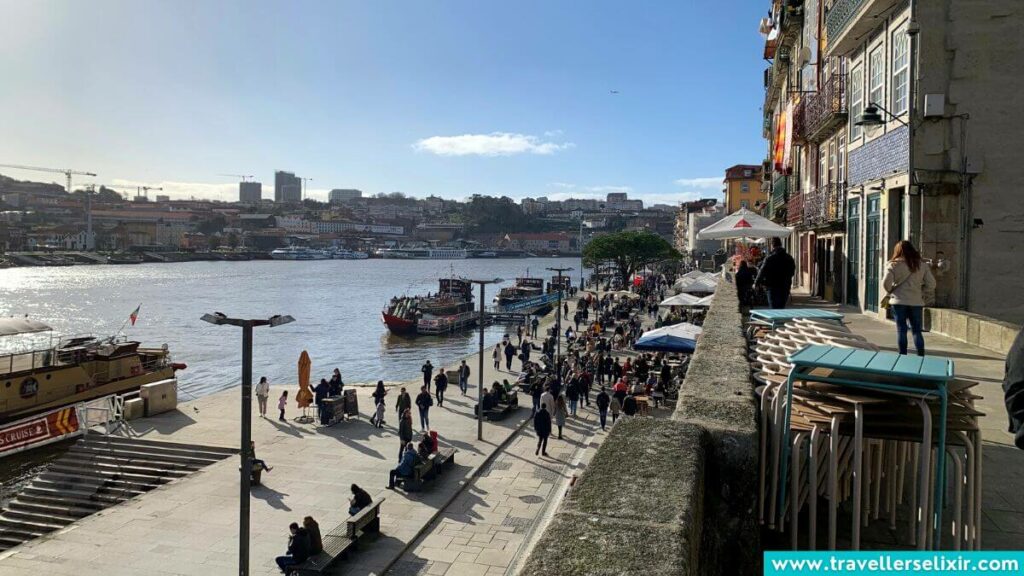 I've been up there several times and there's barely anyone there. I just get to enjoy the views, the music and the atmosphere without being bashed by all the crowds. It's pure bliss.
(But shhhhh, keep it a secret please!)
9. Jardim do Morro
Next on my list of the best places to see in Porto is Jardim do Morro which is a scenic garden that offers amazing views of Porto from above.
As Porto is really hilly, there's tons of amazing viewpoints all over the place but Jardim do Morro is certainly one of the best.
This blissful little park has tons of seating, grassy areas, a playground (ideal if you have kids), a restaurant and a wide viewing platform.
It connects to the cable car station so if you're on the riverfront then you can take the cable car up the hill to reach it easily.
One of the best times to visit this garden is at sunset as you get a really great view from here.
Be warned that the garden does get ridiculously busy around sunset so arrive early if you want a good view (or don't, your choice).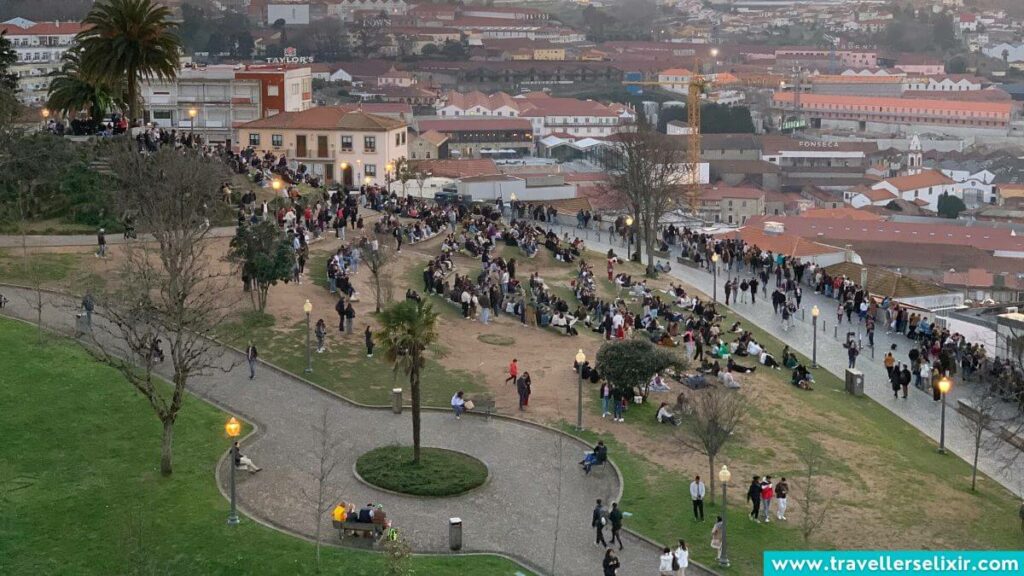 I have also visited the restaurant inside the garden, Esplanada do teleferico, and can only say positive things about it.
The food is really delicious (try their 'batata brava', I promise you won't be disappointed) and it's located right along the edge so you get great views of the city.
They have an outdoor seating area where you'll be able to munch on your food or sip your cocktail with one of the best views in town and it's not too pricey either.
10. Igreja do Carmo & Igreja dos Carmelitas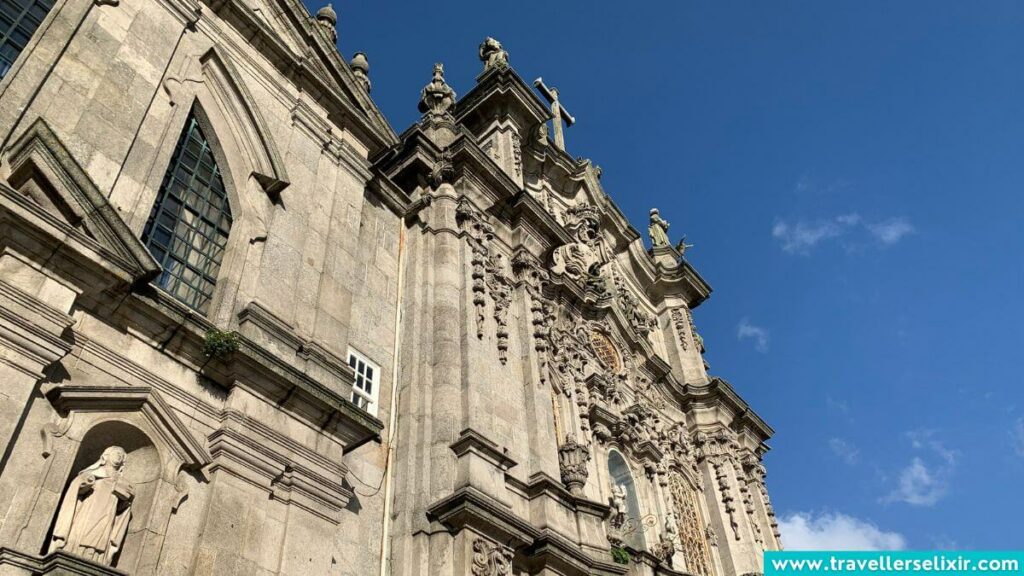 Here's one for you history buffs as I'm sure you didn't come all the way to Porto just for the views (or maybe you did, I don't judge).
My top history picks in Porto are Igreja do Carmo and Igreja dos Carmelitas which are basically just two churches which stand right next to each other.
They've very beautiful (what else would you expect) and are covered in those pretty white and blue tiles that you'll see all over Porto.
If you look very closely, you'll notice a really thin building in between the churches. It's very narrow, just 1 meter wide at the front!
This little 3-storey house is known as Casa Escondida (or 'Hidden House') and someone actually lived there until the 1980s.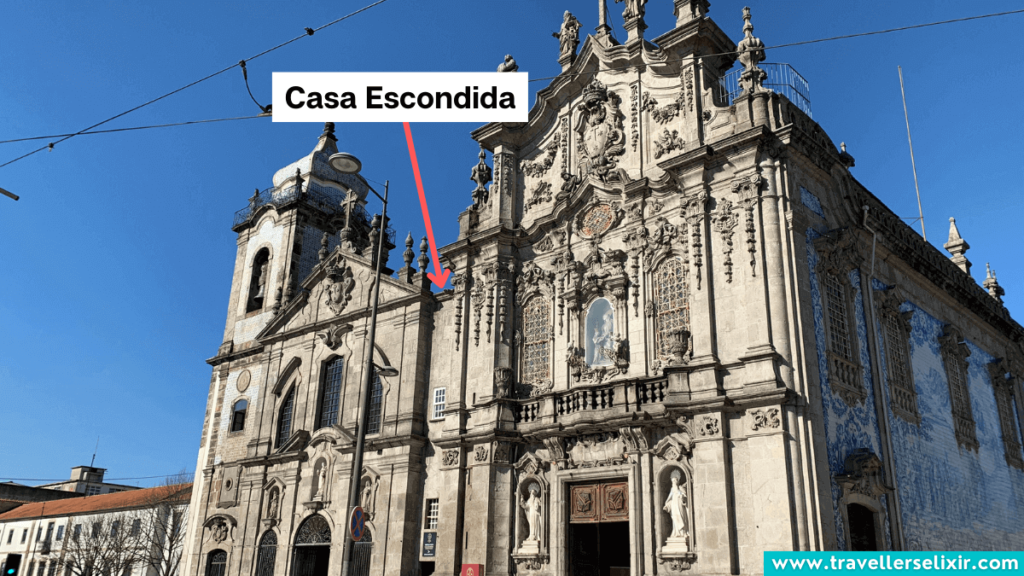 Nobody is really sure why they bothered building this tiny little house but there are a few theories.
The fun but less likely theory is that nobody wanted the nuns of Igreja dos Carmelitas to have any 'relations' with the monks of Igreja do Carmo.
The boring but more likely reason is that they didn't like the ugly gap between the two churches so they had it filled in.
You can pay a small fee to enter the house and see what it's like on the inside. There are several tiny bedrooms, a living room and a kitchen.
You'll pass by these churches and the hidden house on pretty much every single Porto walking tour which I'd really recommend if you want to get the most out of your trip.
11. Vila Nova de Gaia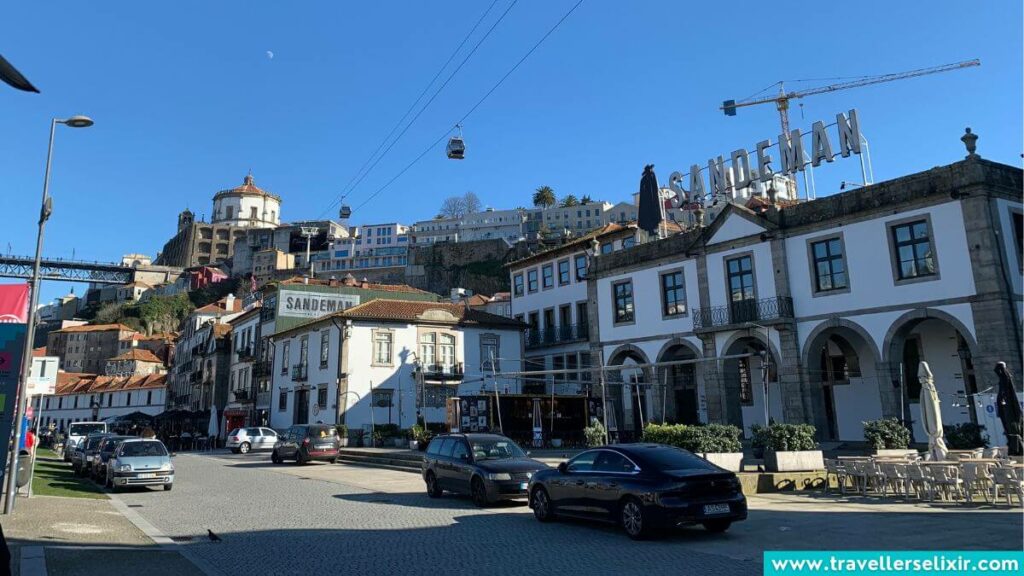 Not many people know this but when you cross over the Dom Luís I Bridge onto the other side of the Douro River, you're no longer in Porto.
You're now in Vila Nova de Gaia (or just Gaia for short) which is actually a completely different city to Porto.
Although Porto is literally named after its namesake red wine, all of Porto's port is actually made in Gaia and not in Porto.
You can walk along the riverfront on the Gaia side and look out onto Ribeira. The views from this side of the river are even better as you can take in all of the colorful houses and it's much quieter than the Porto side.
You'll also find a lot of wine cellars in Gaia so feel free to stop by at one, get a tour of the cellar and try some of their delicious port wine. Sandeman is a popular one.
If you're really into wine then you can join a wine tasting tour like this as it includes 7 wine tastings, a tour of various wine cellars and an expert wine guide to teach you about the wines.
Whilst in Gaia, I'd also recommend visiting the 'Mundo Fantástico das Conservas Portuguesas' which is basically a circus crossed with a canned sardine shop.
I know it sounds crazy but trust me on this one…
They basically just sell loads of decorative cans of sardines, but the whole shop looks like a circus. It's like if Disneyland had canned sardines.
After you're done marveling at all that fish, take a look next door at 'Casa Portuguesa do Pastel de Bacalhau' where you can grab yourself a tasty cod-fish cake and a glass of port.
This shop is super fancy with a winding red staircase, a dazzling chandelier and a balcony that overlooks a historic organ.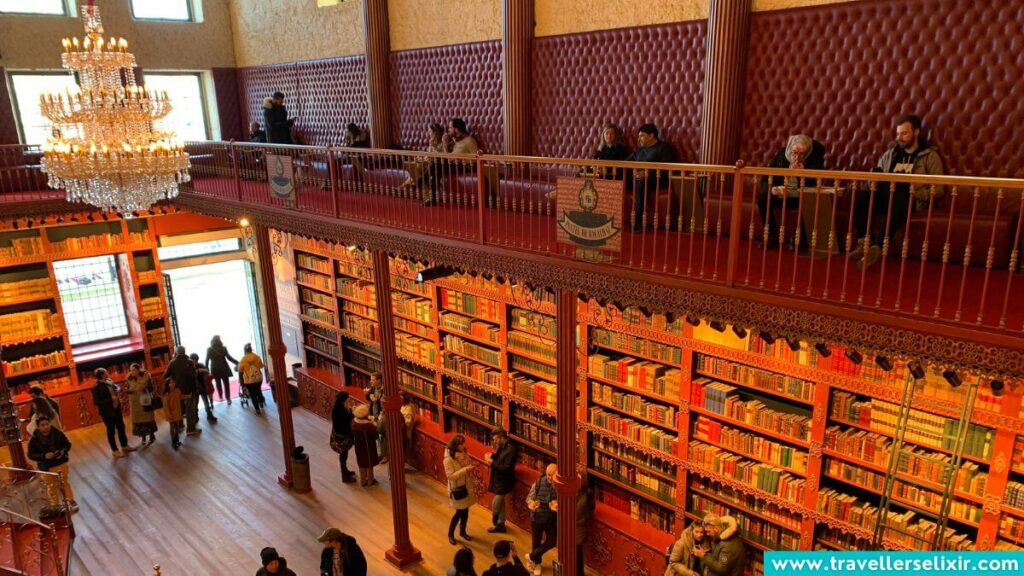 Every half an hour or so a guy pops up and plays the organ for a while.
He'll dazzle you with his rendition of the Indiana Jones or Jurassic Park theme tune then he'll casually move on to something more serious from an opera and you'll wonder if the Indiana Jones bit was just a dream.
It's kinda fun so make a stop here if you have the time.
12. Miradouro da Vitória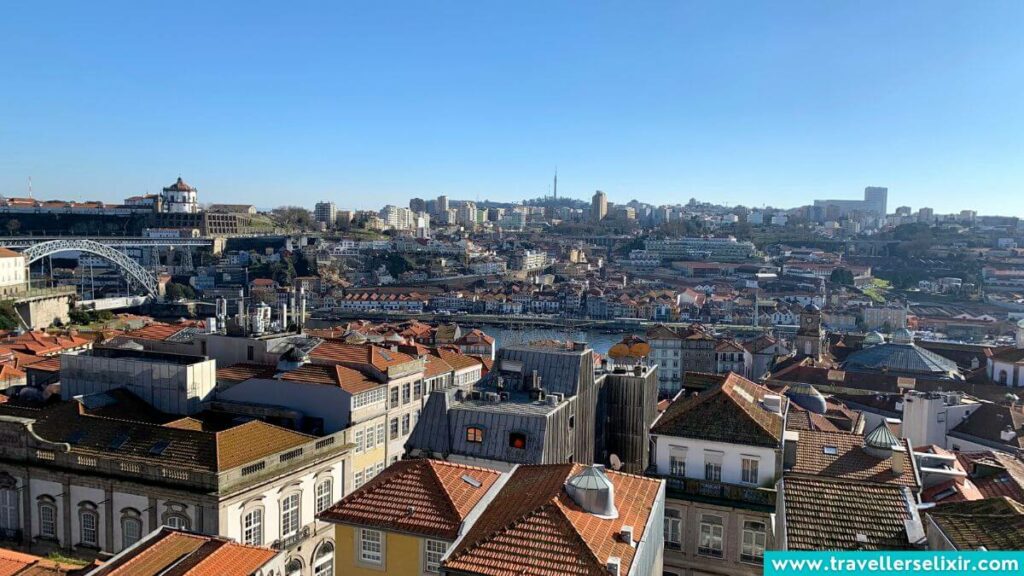 Who doesn't love a good viewpoint? I do, so here's another one.
Miradouro da Vitória is one of my favorite viewpoints in Porto. I love it because it's much quieter than some of the other viewpoints as not many people know about it.
You won't have to elbow someone in the stomach for a good view like on Dom Luís I Bridge.
I'm not gonna lie, Miradouro da Vitória isn't in the best shape. The floor is pretty much made of just rubble and stones and the walls are all covered in graffiti.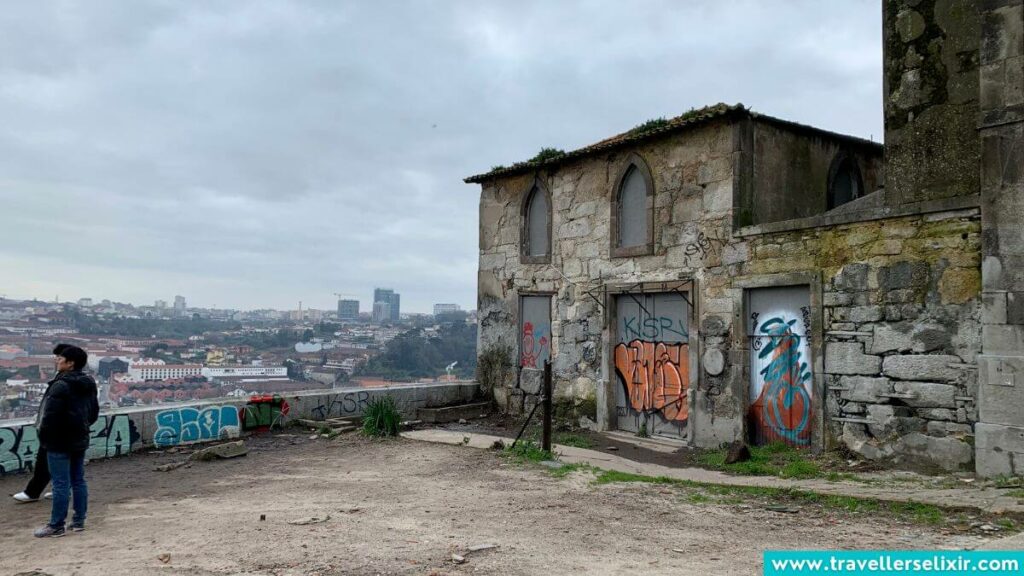 The unobstructed views of the city more than make up for it though. You can look out over the rooftops of Porto, getting a great view of Porto Cathedral and the Douro River.
13. São Bento Train Station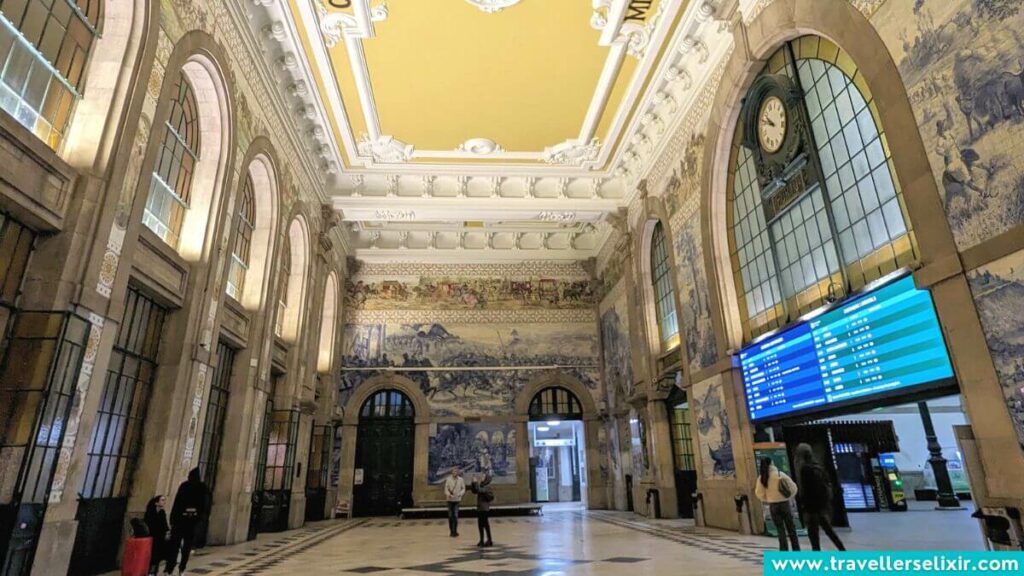 Ok, hear me out on this one.
I know train stations aren't often listed on things to do posts like these but I promise you that São Bento train station is different (and have I ever lied to you?).
Inside the entrance hall, you'll find just over 20,000 hand painted blue and white tiles that depict the history of Portugal over the years.
This includes the famous Battle of Valdevez (1140) and the Conquest of Ceuta (1415).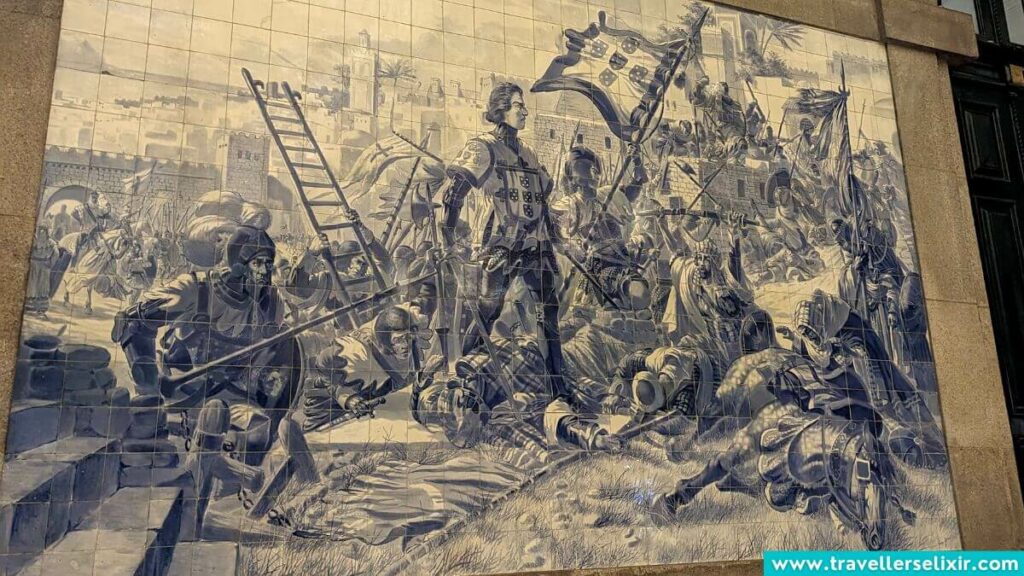 It really is a sight to behold. I first took a peek inside when I'd just arrived in Porto. It was late at night and I'd just finished up at the nearby McDonalds for a late dinner and thought I'd pop inside.
I'm so glad I did because it was super quiet inside the train station and I was able to stand there for ages admiring the tiles and trying to figure out what was happening in them.
Above the blue tiles at the top, you'll see some multi-colored tiles that wrap around the top of the walls. These depict the history of transport in Portugal over time.
I'd recommend joining a Porto walking tour to see the train station as your knowledgeable tour guide will be able to explain some of the historical events depicted in the tiles.
14. Palácio da Bolsa
Another famous Porto attraction that you should add to your list is the Palácio da Bolsa which is a palace that used to serve as the stock exchange for the city.
It's pretty fancy both on the inside and outside. The outside certainly does make you think that some sort of royal must certainly live there (surprisingly, they don't).
And the inside is even better. You'll find one room that's covered in gold leaf, known as the Arab Room, which is an exquisitely decorated Moorish style room that apparently took 18 years to complete.
If you're interested in stepping inside the palace for yourself then you do need to book a guided tour of Palácio da Bolsa. Unfortunately, you're not able to just wander around by yourself.
If you don't pre-book then you'll end up standing in a really long queue waiting for a tour. I've heard that some people waited up to 2 hours!!
15. Chapel Of Souls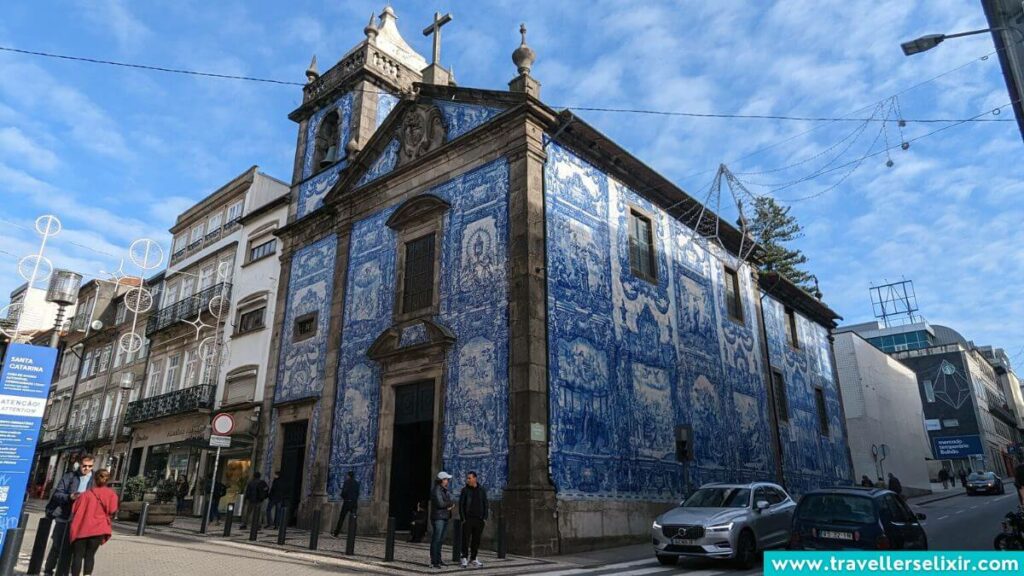 The final thing that I'd recommend adding to your list of things to do in Porto is the Chapel of Souls, also known as the 'Capela das Almas' in Portuguese.
Located on Rua de Santa Catarina, this stunning 18th century chapel is famous for the 15,947 tiles that cover its exterior.
The blue and white tiles (known as 'azulejos') depict the lives of saints and they really are a sight to behold.
I actually discovered this place by accident. I was just wandering along down the street one day on the hunt for a new pair of slippers (it was winter and my feet were cold!) when I bumped into this pretty chapel.
To be honest, I just couldn't believe how beautiful it was. I've seen a lot of churches in Porto that are covered in pretty tiles but this one really does top them all.
It's literally covered from head to toe in tiles.
Porto Attractions Map
To make things super easy for you, I've put together this Porto attractions map which shows where each attraction is located in relation to each other.
It makes it pretty easy to plan a walking route.
Whether you're spending 2 days in Porto or you're extending your trip to 5 days, you can easily fill your time with this list of things to do.
---
And that's it!
Thanks for reading my guide on the best places to visit in Porto.
Related Posts: