Let's set the scene…you're planning your Portugal trip and you've set aside 5 days for Porto.
Is that too much, too little or just right? Who knows!?
Well, I actually lived in Porto for a month earlier this year so I know the city pretty well.
In this post I'll let you know if 5 days in Porto is too long and I've also included a suggested 5-day Porto itinerary to help you plan your trip.
Is 5 Days In Porto Too Long?
No, 5 days in Porto isn't too long. 5 days allows you to fully explore the city, see all of its top attractions, enjoy the local cuisine, visit Porto's beaches and take a day trip to the Douro Valley.
Ok so the short answer is no, 5 days isn't too long in Porto. In fact, 5 days is the perfect amount of time to spend in Portugal's second city.
2 days is enough to see Porto if you don't mind missing out on a few things and rushing around, trying to cram everything in.
People that only stay in Porto for 2 or 3 days miss out on so much good stuff like attending an authentic fado show, enjoying Porto's beaches and visiting the wine-producing Douro Valley region.
And although Porto is a fairly small city (it only has just over 200,000 residents), it does pack a lot into a small area.
From an 800-year old cathedral to a vibrant riverfront and a huge double-decker bridge, Porto really does have a lot of things to do.
Plus as Porto is hilly (like really hilly), you'll want to take it slow or you'll just tire yourself out.
There's also so many tiny little hidden cafes and restaurants in Porto that you'd easily miss if you went too fast.
In fact, there's actually one restaurant I really wanted to visit and it took me three attempts to find it!!!
Exploring the city at a leisurely pace is the best way to ensure you're fully absorbing everything and experiencing all the city has to offer. 5 days gives you the opportunity to do just that.
If you've got 5 days to spend in Porto, here's what I'd do:
3 days in Porto itself exploring the city
1 day visiting the Douro Valley
1 day exploring Porto's beaches
If you're visiting in the winter then you can swap the beach for another day trip (like a day trip to Coimbra, Braga or even Sintra) or spend another day in Porto.
Here's my exact 5 day Porto itinerary that you can steal (yes, please steal it!!!!!)
5 Day Porto Itinerary
Ok so I'm not gonna bore you with a really long, detailed itinerary telling you every single tiny fact about each location.
I hate when websites do that so I'll get straight to the point & only give you the good stuff.
Ok let's go….
Day 1
Morning
Join a 3-hour walking tour to see all of Porto's most famous sights including the Dom Luís I Bridge, Porto Cathedral, São Bento train station, Clérigos Tower, Igreja do Carmo, Palácio da Bolsa and more.
Inside the São Bento train station, you'll find over 20,000 hand-painted tiles that show Portugal's history throughout the years.
Your guide can explain the tiles, what they mean and how they're significant.
You'll also pass Porto Cathedral (also known as Sé do Porto), which is an 800-year old cathedral and one of Porto's oldest monuments, as well as several beautiful churches covered in intricate white & blue azulejos.
After 3 hours of walking, you'll want to take a little rest so stop off at a café for a snack.
I personally love 'Nata Sweet Nata' as they have some of the best pastel de natas in town.
Afternoon
Explore the Ribeira neighborhood. This is Porto's pretty riverfront area where you'll find colorful houses, boats lining the river, authentic restaurants, lively music and more.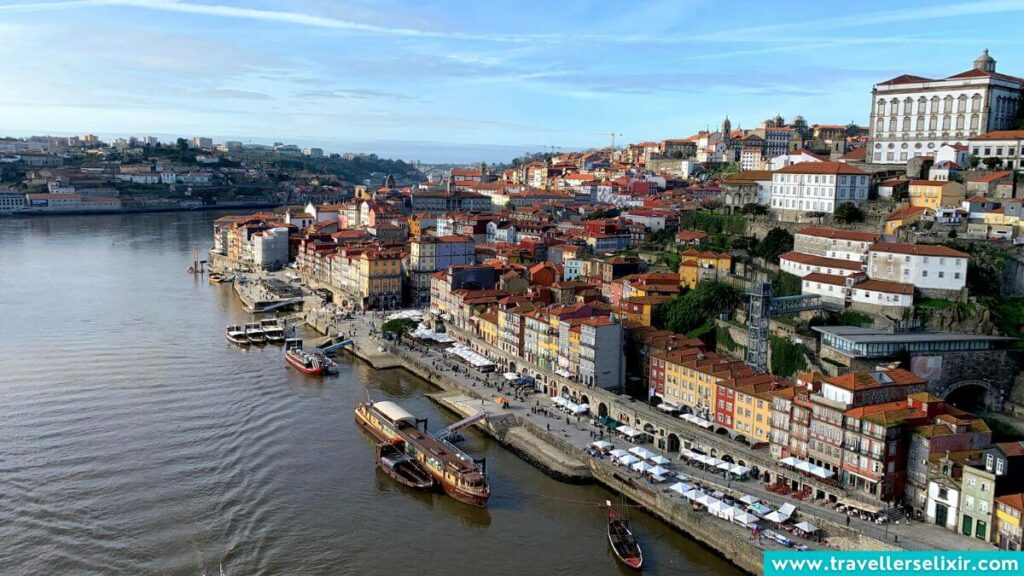 You can spend an hour or two just wandering around, taking in the views and exploring some of the little hidden backstreets.
After you're done in Ribeira, walk up to the Miradouro da Vitória located nearby which is a viewpoint that offers one of the best views of Porto from above.
Finish the day by walking along the Dom Luís I Bridge for sunset. It's one of the best sunset spots in the city.
Here's a photo of a pink sunset I watched on the Dom Luís I Bridge recently:
Swoon-worthy, right?!
Day 2
Morning
Join a food & wine tour to try out all of Porto's yummiest foods. You'll get to taste pastel de natas, fish cakes, port wine and so much more.
Next head over to Clérigos Tower and climb all the way to the top for excellent views of the city (you can see all the way to the ocean from up here).
This tower is actually the tallest campanile in Portugal. As well as climbing the tower, you can explore the museum and church on the lower level.
If you're not too full from your food tour, stop at a café for a rest and a snack. I'd recommend stopping by at the very famous Majestic Café which is actually over 100 years old.
J.K. Rowling actually said herself that she used to sit in there all the time writing Harry Potter!!!
Afternoon
Cross the Dom Luís Bridge over to the other side of the river to explore Vila Nova de Gaia (actually a different city to Porto).
Here you'll find wine cellars, canned sardine shops (not as boring as they sound) and the famous Casa Portuguesa do Pastel de Bacalhau where you can grab yourself a fish cake and listen to someone playing the organ.
Take a cable car up the hill and walk up to the Mosteiro da Serra do Pilar which is an old monastery that overlooks the city.
From here, walk over to Jardim do Morro which is a peaceful garden with lots of seating that offers views over the Douro River.
I'd recommend sticking around until sunset as this is also a prime sunset spot.
Day 3
Morning
Take a stroll over to the Jardins do Palácio de Cristal where you'll find 8 hectares of landscaped gardens with panoramic views.
You can easily spend an hour or two exploring these intricate gardens. There's fountains, flower beds, look-out points, tall towers, winding paths and lots of peacocks!
Walk back over to the historic part of the city for a look inside Livraria Lello.
This world famous bookstore is often considered to be one of the most beautiful in the world and it's actually over 100 years old.
Don't listen to anyone that tells you that J.K. Rowling used to visit all the time and used it as the inspiration for Hogwarts as it's untrue.
J. K. Rowling said so herself:
Stop by at a café for a rest and a snack. I'd recommend visiting Chocolataria das Flores for anyone with a sweet tooth.
Afternoon
Get out onto the river by joining a Douro River cruise. You'll pass beneath several of Porto's most famous bridges, enjoy a glass of port wine and look out for hidden churches and wildlife.
After you're done on your cruise, find a spot along the Ribeira riverfront for sunset.
Day 4
Take a day trip into the Douro Valley which is the country's picturesque wine making region where Porto's famous namesake red wine 'port' is produced.
This region is absolutely stunning. Expect rolling hills, terraced vineyards, amazing views and delicious wine.
The easiest and best way to visit is by booking onto a Douro Valley wine tasting tour.
Not only does the tour include pick-up and drop-off from your hotel, it includes a traditional lunch in the scenic village of Pinhão, a visit to 2 different wine estates to try their wines and a sightseeing boat cruise along the river.
It's also a small group tour meaning there's a limit of 8 people in the group so you'll get a more personalized and intimate experience (no fighting for the attention of the guide).
Day 5
Morning
On your final day in Porto, it's time to hit some beaches!
Take a 15-minute taxi ride over to Jardim do Passeio Alegre, a pretty 1800s garden located right on Porto's coastline.
From the garden you can walk down to the Praia das Pastoras beach. Alongside this beach is a long pier with a lighthouse at the end (you can walk all the way up to the lighthouse if you like).
The beach features a long boardwalk so I'd recommend walking along the beach until you come to Praia dos Ingleses which is one of the best beaches close to Porto.
From here, you can either keep walking up the coast admiring more of Porto's pretty beaches or you can plonk your towel down here and have some beach fun for a few hours.
Afternoon
Back in Porto, take a tour around the Palácio da Bolsa which used to be the city's stock exchange.
It's very fancy inside (like very fancy). There's even a completely gold-plated room.
Finish off your evening by attending a fado concert. Fado is a Portuguese music genre that originated in the 1800s.
Here's a taste of what you're in for:
---
And that's it!
Thanks for reading this post about if 5 days is too long in Porto (it's not) and a suggested 5 day Porto itinerary.
Once you're done in Porto, why not find out how to get from Porto to Lagos which is one of the Algarve's most beautiful towns and deserving of a visit too!!
Related Posts: