I'm a big fan of walkable cities, what's not to like?
I'm actually living in the center of Porto at the moment (and I don't have a car) so I know quite a bit about how walkable Porto is as a city.
In this post, I'll give my honest opinion on how walkable Porto is, how hilly it is, including tons of insider tips (from a local that lives there).
Is Porto Walkable?
The answer is yes. Porto is extremely walkable as all of the city's top attractions are located within close walking distance to each other.
Pretty much all of Porto's best attractions can be found within 15 to 20 minutes of each other meaning you'll not be walking for too long between each location.
In fact, the historical part of the city is located within a 4km (2 mile) radius and if you're just here for a few days, you won't need to venture outside of it.
As an example, one of Porto's most popular activities is walking along the Dom Luís I Bridge which is located along the Ribeira riverfront.
This area is also a popular place for tourists as you'll find tons of riverside restaurants, wine cellars and you can jump onto a boat tour along the Douro River.
This lively area of Porto is just a 10 minute walk from Clérigos Tower which is at the heart of the historic old town area of the city.
Just minutes away from this tower, you'll find other famous Porto attractions like the Livraria Lello (the famous historic bookstore), the Igreja do Carmo (huge church covered in pretty tiles) and Sé do Porto (aka Porto Cathedral).
Here's the walking distance between various different Porto landmarks:
Porto Cathedral to Livraria Lello – 9 minute walk
Livraria Lello to Clérigos Tower – 3 minute walk
Jardim do Morro to Clérigos Tower – 20 minute walk
Dom Luís I Bridge to Jardim do Morro – 1 minute walk
São Bento Station to Ribeira – 4 minute walk
Jardins do Palácio de Cristal to Porto Cathedral – 24 minute walk
As you can see, everything is pretty close together in Porto making it extremely walkable.
I have also put together this map to help you visualize where everything is: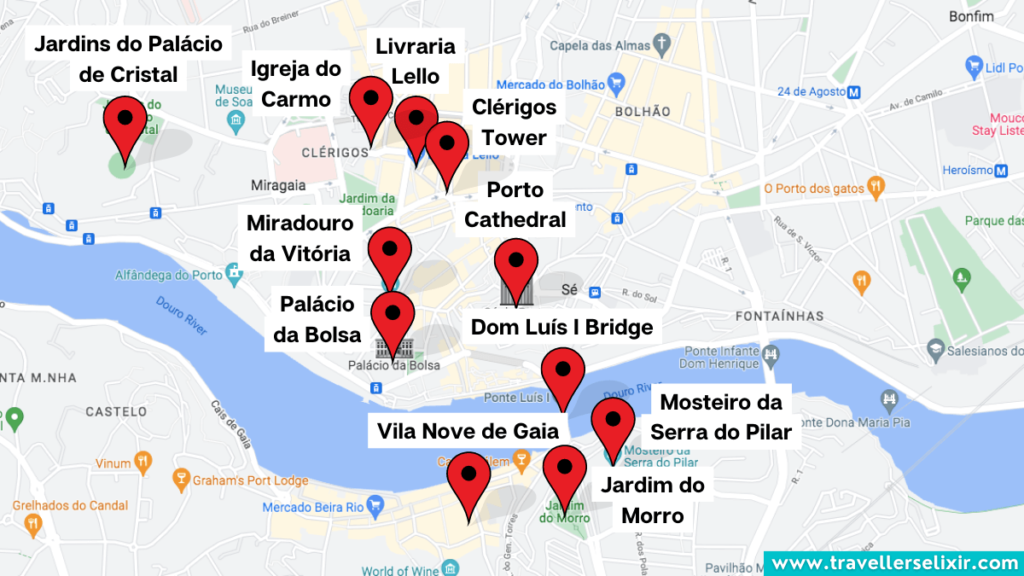 I'd say the main things that are a little bit out of the way are the Vila Nova de Gaia riverside and the Jardins do Palácio de Cristal.
Vila Nova de Gaia is the city on the other side of the Douro River. You have to cross over the Dom Luís I Bridge to get to it and you could easily spend an hour or so wandering around this area.
The Jardins do Palácio de Cristal is a large landscaped garden that stretches up to 8 hectares. It's located on a hilltop so offers panoramic views of the city but it's a little bit out of the way.
Here's a photo I took recently of the views there: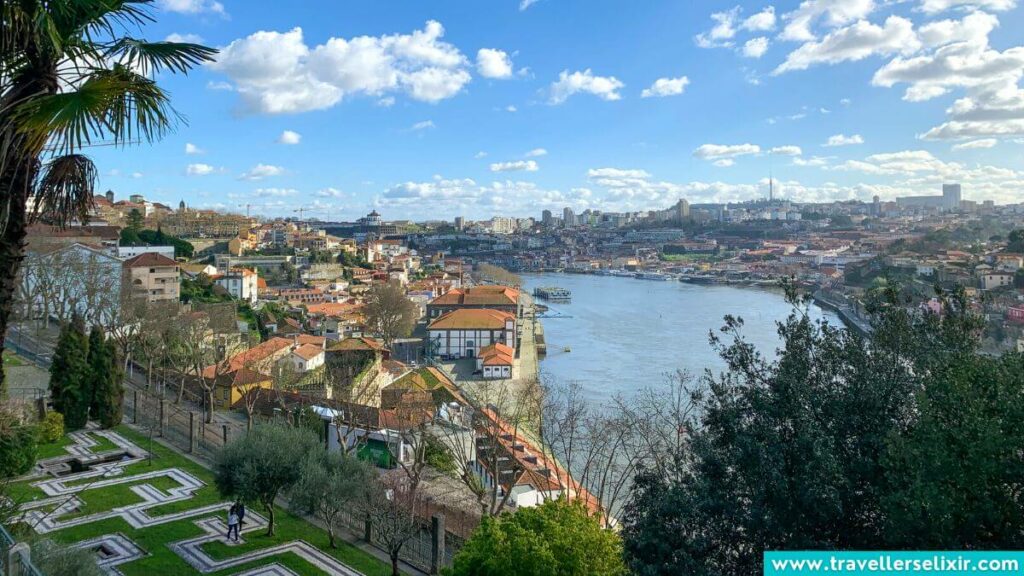 If you're fit and healthy then you'll probably have no trouble walking to the park. It's around a 24 minute walk from the historic old town.
If you think that might be a bit too much for you then you can grab an Uber or Bolt (I've used Bolt many times in Porto and it's super easy and not too expensive.
You can also use the metro if you want to save some money.
💡 Helpful Tip: There's so much to see and do in Porto that planning a route can be overwhelming. I'd recommend joining a Porto walking tour as the guides know everything there is to know about each monument and will show you all of the city's hidden gems.
My Experience Walking Around Porto
When I first arrived in Porto, I spent a day walking around the city by foot with absolutely no plans. I just wanted to explore and didn't particularly want to see anything.
I ended up walking past pretty much all of Porto's most famous attractions by accident.
I stumbled across most of the churches and the cathedrals and headed down a street only to find the Dom Luís I Bridge at the end (I had no idea where it was).
I'd say that you could easily walk around and see all of Porto's top attractions in a couple of hours.
One thing I will add about Porto is that the streets in the city center are mostly made of cobblestone.
This means that they're not the most comfortable thing to walk on and you will trip up a lot if you're not careful.
The first time that I tripped on a cobblestone in Porto, I felt so embarrassed and hoped that nobody saw but now I'm just leaning into it. It's a daily occurrence for me so all shame has gone out of the window.
I'd suggest bringing along a good pair of walking shoes. You definitely don't want to be wearing heels in Porto.
If you just mind your step when you walk and take it slow, you'll be fine.
Another thing about Porto is that it experiences year-round good weather (no snow, little rain, sunny days). I walked around in January (aka the coldest month) and I felt comfortable.
Is Porto Hilly?
Yes, Porto is very hilly. Porto is actually known for being hilly so you'll spend a lot of time going up and down steep streets.
Sorry to anyone with bad knees but Porto is extremely hilly. You'll constantly be going up and down and, I'm afraid to break it to you but, your legs will ache.
The city is actually built around two main hills (Sé and Vitória).
There are many steep streets and long staircases in Porto that seem to go on forever. Several times I've found myself walking uphill for at least 10 to 15 minutes. This city is far from flat.
The historic old town which includes the famous Clérigos Tower, the Porto Cathedral and many of the old churches is located higher up on the top of one of the hills.
You'll walk downhill from this area as you walk towards the riverfront. The Ribeira riverfront area is the lowest part of the city.
Once you're done at the riverfront, get ready because you'll be walking uphill for a while and, let me tell you, it gets tiring!
💡 Insider Tip: A cheat is to take the funicular for €4 from the riverfront up the hill back to the top. This is an easy and relaxing way to get back up the hill without breaking your legs.
One thing I will say is, although the hilly nature of Porto can be tiring, without it we wouldn't get so many incredible viewpoints.
My favorite viewpoint is up at the top of the Mosteiro da Serra do Pilar (it's a long walk up but it's worth it!).
It offers the highest view in Porto and you can even see the famous Dom Luís I Bridge below.
💡 Helpful Tip: I came up with some fun Porto captions for Instagram including some pretty ridiculous puns. Feel free to use them for any pics you post to Instagram.
How To Survive Porto's Hills
Porto can be tiring but there are some alternate, less tiring ways to explore it.
You can try joining an electric bike tour of the city, join a segway tour around town or join a private tuk tuk sightseeing tour of Porto for an even more relaxing experience.
All of these experiences give you the chance to explore Porto with a knowledgeable guide that knows everything there is to know about Porto and its history.
And they're not as tiring so it's a win-win.
My personal favorite is the segway tour. It's particularly great for families or large groups as it's super fun and unique.
There are so many amazing reasons to visit Porto so you definitely shouldn't let the hills put you off!
Is Porto Pedestrian Friendly?
Yes, Porto is very pedestrian friendly. It has tons of traffic lights with zebra crossings which make it easy for pedestrians to cross busy streets. Additionally some streets have been completely pedestrianized.
I've been to mega cities like Bangkok before where it's pretty difficult to cross the street unless you don't mind being run over by a car.
It always made me miss being back home in England where zebra crossings are everywhere and you'll fail your driving test if there's a pedestrian anywhere in the vicinity and you don't stop (we take zebra crossings VERY seriously).
Since arriving in Porto, I have been so pleasantly surprised at how easy it is to get around as a pedestrian.
I don't fancy driving a car here and, to be honest, I don't need one as the city is so compact.
There are so many zebra crossings and traffic lights with the little green man to tell you when it's time to cross.
The city streets are actually not too busy with cars anyway so sometimes you'll find that you can easily cross the road before any cars come without having to use the traffic lights (yep, Americans 'jaywalking' isn't a thing on this side of the pond).
Additionally, a lot of the most popular streets have been completely pedestrianized so there's no cars around anyway.
This includes the Ribeira riverfront area, Rua Santa Catarina (the main shopping street) and Rua de Cedofeita which is a trendy area filled with shops and restaurants.
From personal experience I can tell you that I'm constantly wandering around coming across random little backstreets that are completely pedestrianized.
Even the backstreets that aren't pedestrianized tend to be quiet anyway i.e. not too many cars.
How Do You Get Around In Porto?
The easiest way to get around Porto is to walk. As I mentioned, everything is really close together and the city isn't huge so the best way to get around is by foot.
Having said that, it can get tiring if you're on your feet all day and for some people, walking just may not be possible.
If you have any type of back/knee/leg issues or a type of disability that affects mobility, you may find Porto difficult to get around.
I mean even for people without issues, it's tiring so hey, you're not alone.
Don't worry, there's a few other ways that you can get around the city easily without having to walk.
Here are some of my favorite tours that don't require walking:
I personally would recommend joining a guided segway tour of the city.
This is a good alternative to a walking tour as you'll still get to see the city through the eyes of a pedestrian but you won't get tired at all.
Segways are super fun, especially if you're traveling with kids. The electric bike tour is another good option if you're not a fan of segways.
For anyone that would find standing on the segway or sitting on the bike difficult then the tuk tuk sightseeing tour is your best option.
Tuk tuks are such a fun way to get around the city. Another plus is that someone else is completely in control of driving so you can focus on enjoying the sights and not maneuvering yourself.
Public Transport
If you're not interested in walking or taking a tour then you can also use public transport.
The public transport in Porto is excellent. It's clean, modern and easy to use.
Firstly, Porto has a well-connected metro system that you can take to get all around the city.
It costs €1.20 for a single journey or €7 for a tourist day pass on the metro.
If you're planning on using the metro the whole time then I'd recommend purchasing an Andante card which covers all your travel on both the metro and buses.
There's also plenty of buses all over the city that can pick you up and drop you off wherever you want to go.
Finally, if you've just won the lottery or something, you can travel around the city using Bolt or Uber. I personally use Bolt in Porto and I've found it to be fast, efficient and reasonably priced.
There's tons of drivers in the city so if you order a Bolt, you'll likely be picked up in minutes (or less!).
When I arrived at the airport and ordered a Bolt, it literally arrived in less than 30 seconds!
Is It Worth Renting A Car In Porto?
No, the honest answer is that it's really not worth renting a car in Porto.
The city center is small as it is and it's extremely walkable. Additionally, a lot of the roads are really narrow making driving kinda difficult.
It's really hard to get around Porto by car. I'd actually go as far to say that for some trips, it would be quicker to walk than take a car!
If you drive around the city center, you'll find that you'll get stuck in traffic jams, get clogged on one-way streets, have trouble parking and it's not comfortable either.
Most of the streets are made from cobblestone which, let me tell you, doesn't make for a comfortable ride!
A lot of the streets in the center are narrow and often one-way meaning getting around the city is usually long and slow. You'll probably never be going more than 20mph here!
Here's what one of those streets looks like:
I actually live on one of those cute, cobblestone side streets and I can't tell you how many times I've heard cars beeping because a car has stopped and blocked the road (there's only room for one car so you can't go around if a car stops).
The only time that I'd say renting a car is worth it is if you're planning on doing lots of day trips.
You can take a day trip to Coimbra easily from Porto or to other cities like Braga. Having a car would make the journey more comfortable and on your own terms.
But remember that the train system in Porto is also pretty good so you could just take a train and save yourself the hassle.
---
And that's it!
Thanks for reading this post all about if Porto is a walkable city and how you can get around for yourself.
Need more help planning your Portugal vacation?
Related Posts: