Hands up, who likes saving money? I sure do so when I started planning my Portugal trip I spent ages figuring out which city to fly into – Lisbon or Porto.
I'm literally sitting in Porto right now as I write this.
In this post, I'll share my research with you & my own experience to help you decide which airport to book your flight to.
Is It Cheaper To Fly Into Lisbon Or Porto?
In general, it's cheaper to fly into Lisbon rather than Porto as flight prices tend to be cheaper from most cities around the world. There are some exceptions though (explained below).
By flying into Lisbon instead of Porto, you could save yourself, on average, between $20 and $280.
I spent hours plugging various different cities into Google Flights, looking up flight prices to figure this out (so count yourself lucky!).
So obviously I don't know where you live (I'm not psychic) so I can't tell you the exact prices from your city but I'll do my best.
Here's some return flight prices from various popular destinations across the globe:
London: $100 to Porto, $80 to Lisbon = $20 cheaper
New York: $635 to Porto, $610 to Lisbon = $25 cheaper
Los Angeles: $1,170 to Porto, $890 to Lisbon = $280 cheaper
Miami: $805 to Porto, $730 to Lisbon = $75 cheaper
Atlanta: $1,380 to Porto, $1,390 to Lisbon = $10 more expensive
Chicago: $870 to Porto, $795 to Lisbon = $75 cheaper
Toronto: $730 to Porto, $680 to Lisbon = $50 cheaper
Sydney: $1,660 to Porto, $1,640 to Lisbon = $20 cheaper
*Note: these prices are for a return flight, not one-way.
As you can see, it tends to be cheaper to fly into and out of Lisbon rather than Porto,
However, in the words of Michael Scott, it depends.
When checking flight prices to make the above table, I found several examples of times when it was actually cheaper to fly into Porto over Lisbon.
For some locations like Atlanta, flying into Porto was pretty much always cheaper than Lisbon.
Keeping this in mind, I'd definitely recommend checking flight prices for both cities before booking anything (I tell you exactly how to find the best deals later in the post).
Things To Consider
One thing you need to consider is that the 'cheapest' flight isn't always the best flight.
You can sometimes find some pretty amazing deals to Porto but they might be twice as long as the Lisbon flight and have 2 or more stopovers.
You need to weigh up which flight actually suits your needs.
With that in mind, I'd recommend that you check for yourself to see which airport is cheaper to fly into.
You also might want to consider which city you actually want to visit first and the weather. Porto is a bit colder than Lisbon so take this into account.
How To Find The Best Flight Deal To Portugal
Here's exactly how I did it:
(p.s. this method will find you the cheapest possible flights to Portugal, it's how I travel so much on a budget)
Step 1: Head over to Google Flights and input your home airport.
The great thing about Google Flights is that it lets you add multiple departure airports.
This is great if there's several airports that you're willing to fly out from as you don't have to check each individual one to find the best price.
Just click on the + sign to add more than one airport.
Step 2: Add both Porto and Lisbon as the possible destination (use the + sign to add a second destination) and click on the dates box.
If you have fixed dates for the trip then select your dates.
If your dates aren't fixed then you can use this box to find the best deal. Select the month you'd like to travel in e.g. June and take a look at the prices.
Google Flights will show you which dates are the cheapest to fly on.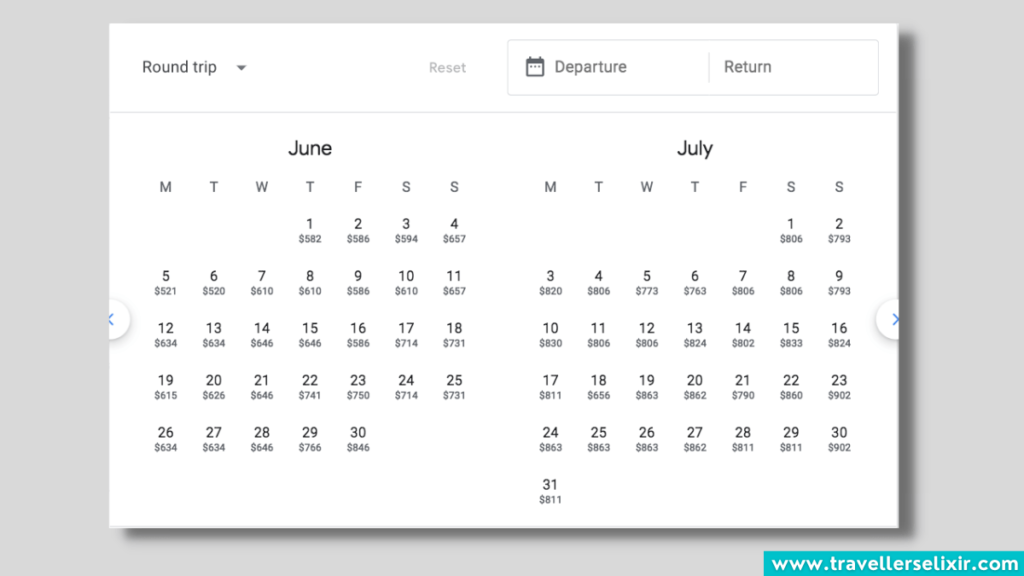 Using this example, it looks like June 6th to June 9th look good.
Step 3: Select your dates and hit search.
Google Flights will bring up the cheapest flight options for your selected dates.
As you can see, it's bringing up the cheapest flight as a flight from New York to Porto at $520 for a return.
This flight is pretty long though (17 hrs+) and has 2 stopovers so I can scroll down to find other better options.
For me, I'd say the best flight is the New York to Lisbon flight at $610 as it only has one short layover.
Why Is It So Cheap To Fly To Lisbon?
As I said, generally it's cheaper to fly to Lisbon compared to Porto (but not always).
The reason for this is mainly because Lisbon is a more popular destination and there's more demand for flights.
This means that airlines are able to offer cheaper prices. More flights generally equals cheaper prices.
As an example, 3.64 million tourists visit Lisbon every year but only 2.49 million visit Porto in the same time period.
Additionally, more and more cheap flights to Lisbon keep popping up thanks to the airline, TAP Air Portugal.
This low-cost budget airline regularly offers some astonishing prices for both Lisbon and Porto.
For example, I managed to find a direct return flight from New York to Porto for just $405!!
What Is The Cheapest City In Portugal To Fly Into?
Lisbon is the cheapest city in Portugal to fly into, followed closely by Porto. In fact, for some starting points Porto may actually be cheaper.
You can also find some pretty good deals to the Algarve especially if you're flying from the UK or Europe. Lagos and Albufeira are the most popular towns there.
You can also sometimes find some cheap flight deals from all over the world to Madeira and the Azores.
These islands are not part of the mainland, they actually sit in the middle of the Atlantic Ocean but are owned by Portugal.
Which Airport Is Better – Lisbon or Porto?
Once again, it depends.
The Lisbon Airport is much bigger than the Porto one. In fact, it's kinda like a maze so good luck not getting lost.
Although it's huge, Lisbon Airport is older whereas Porto Airport is much more modern and comfortable.
From my own experience, I found that Porto Airport is much quieter than Lisbon. When I arrived at Porto earlier this year, I must have been out of the airport within 15 minutes from landing.
There was almost no queue for immigration and my bag was already waiting for me when I got to baggage claim.
Being the capital of Portugal, the same can't be said of Lisbon Airport. Lisbon is much busier so naturally the airport is a bit more crowded and it can take longer to get in and out.
How Much Does It Cost To Go From Lisbon To Porto?
Before I get into the nitty gritty details, here's a quick summary of your options:
Coach: $6 – $11 (3 hrs 15 mins)
Train: $18 – $37 (3 hrs 23 mins)
Taxi: $250 – $420 (3 hrs 14 mins)
Coach
I traveled from Porto to Lisbon by coach and it cost me a grand total of $6. Prices range between $6 and $11 for the coach.
Yep, it's pretty cheap to get around in Portugal and the journey was 3 hours 15 minutes so I'd say that was a bargain.
Bear in mind that the bus station in Lisbon is right on the edge of the city. I got dropped off at the Oriente Station.
I then took a Bolt to my Airbnb in the city center which cost $10 (I know right, this 10-minute car ride cost more than my bus ticket!!!).
You can use the metro instead to get to the city center if you're on a tighter budget.
Oriente Station is connected to the city center via the Red Line and it should only cost you a few euros to get to the city center using the metro.
I did a lot of research into different transport options for getting between Lisbon and Porto and settled on the coach because it was the cheapest option by far.
Train
You can also take a scenic train ride between Lisbon and Porto but it'll cost you a lot more than the coach.
Tickets start at $17 and can cost as much as $37. You won't really save much time by taking the train over the coach as most trains get you there in 3 hours 23 minutes (longer than the coach) with some taking even longer.
There is one fast train option that will get you there in 2 hours 58 minutes but these are less common.
Most of the trains drop you off at the Santa Apolónia Station which is a bit more central than the Oriente Station.
There are several other train stations in Lisbon though so check exactly where it is before confirming your ticket.
To book a train or a coach between Porto and Lisbon, I'd recommend using Omio. It's really easy to use and they gave the best prices for this journey.
They also allow you to easily compare train and coach options which I love. It makes the whole thing super quick and easy.
Taxi
Your only other option of getting between Porto and Lisbon is by taking a taxi. Now it's a 3 hour+ drive so expect to pay high prices (but if you've just won the lottery or something it could be worth it).
I checked on the Bolt app and it quoted me $250 for this journey. I don't know about you but I'd much rather take the $6 coach!!
Pre-booked taxi transfers are even worse – I was quoted $420 for this journey!
If you're traveling in a group or you don't mind emptying out your life savings then it could be worth it for you if you'd prefer the comfort of a private car.
What Is The Cheapest Way To Travel In Portugal?
The cheapest way to travel around Portugal is usually by coach. As I said in the previous section, I took a 3 hour 15 minute coach for just $6.
As an example, I checked prices for getting from Porto to Lagos which is located in the Algarve on Portugal's southern shore.
On the coach, this journey will take you 7 hours 50 minutes but only costs $13! That's crazy value.
Alternatively, the train takes 7 hours 28 minutes and costs $35 (and can be up to $55).
As you can see, traveling by coach in Portugal is super cheap as for just $13 you can travel across the entire country.
That being said, the trains are also pretty good here and for some journeys the train might actually be cheaper so it's worth checking both options before booking.
I'd recommend using Omio to book your travel as it will show you both train and coach options when you input your destination.
This is useful as you can easily compare the different prices and journey times without having to do a separate search.
---
And that's it!
Thanks for reading this guide all about if it's cheaper to fly into Lisbon or Porto and how you can get around Portugal cheaply.
There are plenty of day trips that you can do from both Porto and Lisbon to various pretty Portuguese towns.
One of my favorite one is Sintra which kinda looks like something out of a fairytale.
Related Posts: