I don't know about you but the weather is, hands down, one of the key things I look at when choosing where to visit.
Portugal is a long, thin country that experiences a range of climates meaning that not all the cities are the same weather-wise.
In this post, I'll be comparing the weather in Porto and Lisbon to help you decide which one to visit.
Is Porto Colder Than Lisbon?
Yes, Porto is generally colder than Lisbon. If you look at the average temperatures across the year, Lisbon is pretty much always warmer by a few degrees.
Porto has a cooler climate than Lisbon as it's more northern. It's as simple as that.
Take a look at the map below to see their locations in relation to each other: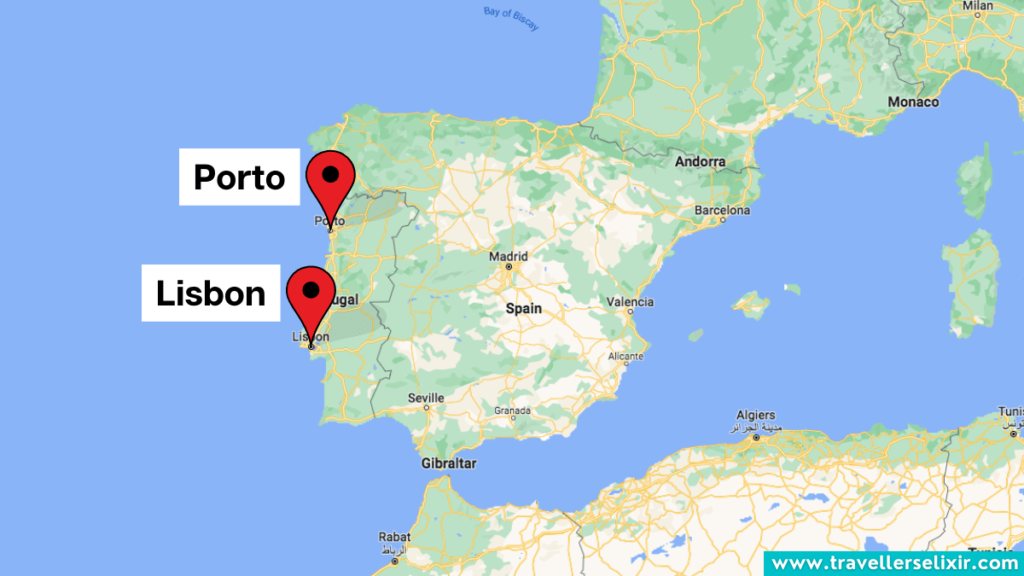 As I'm sure you learned in geography class at school, as a general rule the further north the city, the colder the climate is (in the northern hemisphere anyway).
Although Porto is more northern, Porto and Lisbon aren't that far apart so the difference in temperature isn't too drastic. Lisbon sits just 332 km (206 miles) south of Porto.
On average, the weather is a few degrees warmer in Lisbon at any given time.
For example, right now as I write this post, it's 50ºF (10ºC) in Porto and 53.6ºF (12ºC) in Lisbon.
Looking at the average temperatures throughout the year according to holiday-weather.com, Lisbon is up to 7ºF (4ºC) warmer than Porto.
Here's the average temperatures each month in both Porto and Lisbon:
| Month | Porto Average Temp. | Lisbon Average Temp. | Difference |
| --- | --- | --- | --- |
| Jan | 50ºF (10ºC) | 52ºF (11ºC) | 2ºF (1ºC) |
| Feb | 51ºF (11ºC) | 54ºF (12ºC) | 3ºF (1ºC) |
| Mar | 54ºF (12ºC) | 57ºF (14ºC) | 3ºF (2ºC) |
| Apr | 55ºF (13ºC) | 58ºF (15ºC) | 3ºF (2ºC) |
| May | 59ºF (15ºC) | 64ºF (18ºC) | 5ºF (3ºC) |
| Jun | 64ºF (18ºC) | 69ºF (21ºC) | 5ºF (3ºC) |
| Jul | 67ºF (20ºC) | 74ºF (24ºC) | 7ºF (4ºC) |
| Aug | 66ºF (19ºC) | 73ºF (23ºC) | 7ºF (4ºC) |
| Sep | 66ºF (19ºC) | 73ºF (23ºC) | 7ºF (4ºC) |
| Oct | 61ºF (16ºC) | 65ºF (19ºC) | 4ºF (3ºC) |
| Nov | 55ºF (13ºC) | 57ºF (14ºC) | 2ºF (1ºC) |
| Dec | 53ºF (12ºC) | 53ºF (12ºC) | 0ºF (0ºC) |
Table showing the average monthly temperatures in Porto and Lisbon.
I also made this handy little graph to help you visualize the difference (how helpful am I?):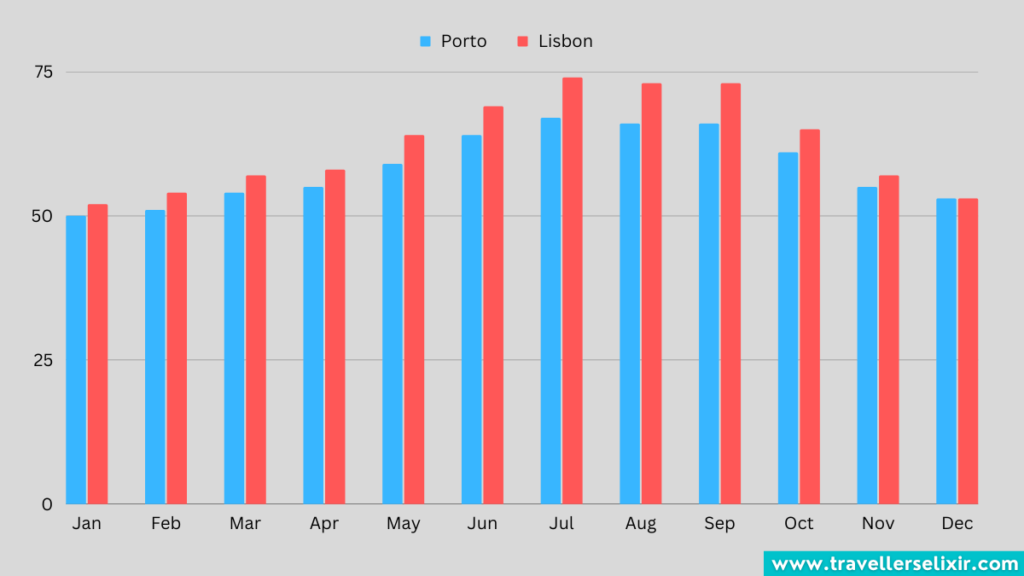 The difference in temperature largely depends on the time of year.
As you can see, the difference in temperature between Porto and Lisbon is higher in the summer compared to the winter.
As an example, in December there's no difference in temperature between the two cities (on average) however in July, August and September, Lisbon is around 7ºF (4ºC) hotter.
This means that if you're visiting in winter then you'll find that there's little difference between the two. If anything, Lisbon will be a degree or two higher.
If you're visiting in summer though, you might notice a stark difference. Lisbon may be 7ºF (4ºC) hotter.
One other thing to note is that it's generally more windy in Lisbon compared to Porto which may make it feel a bit cooler.
According to weatherspark.com, the average wind speed in Lisbon is 17.5 kilometers per hour but just 11 kilometers per hour in Porto.
They also said that in Lisbon, the windier part of the year lasts for 9.6 months from October to August but in Porto it lasts just 6.4 months from October till May.
The higher wind speeds will certainly make it feel a bit colder in Lisbon.
Does It Get Cold In Porto?
Yes, it does get moderately cold in Porto during the winter but its winters are much milder than most other European cities. The average winter temperature in Porto is 53ºF (12ºC).
As I'm writing this, it's January and I'm in Porto. January is the coldest month of the year here and personally, I'd describe it as cold.
The average low temperature in January is 43ºF (6ºC) whilst the average high temperature is 57ºC (14ºC).
Most days, it's been hovering around 54ºC (12ºC) in the day which isn't too bad.
When I go out during the day, I usually wear a jumper with my coat on top and that keeps me warm enough.
The good thing about winter in Porto is that it's still super sunny. It's clear, blue skies most days and the shining sun tends to warm you up a bit.
It never snows in Porto, even during the deepest parts of winter and it rarely rains.
Once you get walking, you soon warm up. Porto is really hilly so it's easy to work up a sweat.
Which Part Of Portugal Is The Coldest?
The coldest part of Portugal is the northern part around Porto. The coldest place specifically is Bragança.
Bragança is super northern as it sits right near the border with northern Spain.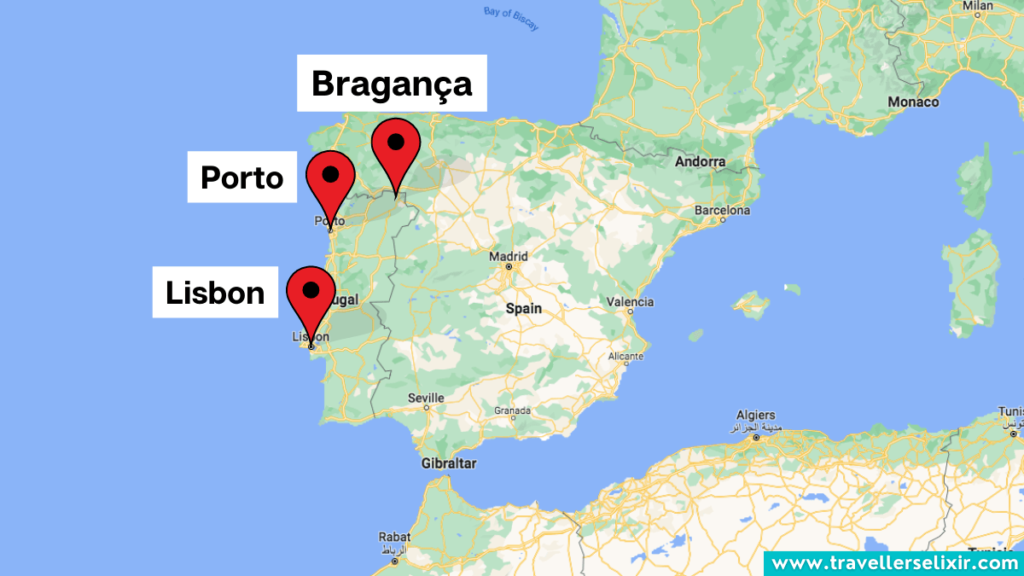 This town sits on a plateau meaning it's located on high ground amongst the mountains. Being very northern and on high ground makes it easily the coldest part of Portugal.
Although Bragança isn't too far from Porto (it takes just over 2 hours to get there by car), it gets much colder in the winter due to its mountainous location.
In the winter, the average temperature in Bragança is up to 9ºF (5ºC) colder than in Porto.
For example, in January the average temperature is 50ºF (10ºC) in Porto but just 41ºF (5ºC) in Bragança.
Interestingly, in the summer Bragança gets hotter than Porto but only by a few degrees in July, August and September.
Which Part Of Portugal Has The Best Climate?
This one's kind of a tricky question to answer because it's a bit of a subjective question.
I personally love the climate of Porto because it doesn't get too cold in the winter and it doesn't get too hot in the summer.
It's a similar story with Lisbon.
Many people would argue that the Algarve has the best climate in Portugal (and I can understand why).
The Algarve sits on Portugal's southern shore. It's popular with tourists due to its scenic beaches, rocky coves and mesmerizing sunsets.
It's true, I visited Lagos a few years ago and absolutely fell in love!
The Algarve doesn't get quite as cold as Porto or Lisbon in the winter and it gets a bit hotter in the summer.
This makes it pretty much ideal all year round but spring, summer and autumn are the best times to visit.
It does depend on the kind of vacation you're looking for. The Algarve does get very hot in the summer (it averages 75ºF/24ºC) meaning you won't want to be on your feet all day.
For example, I got really hot and sweaty when hiking the Ponta da Piedade rock formations in Lagos during the daytime.
Those kinds of temperatures are perfect for lounging around on the beach though (and that's probably what you'll mostly be doing in the Algarve anyway).
It does get super windy in Lagos though (like insanely windy) which does help you cool down a bit.
---
And that's it!
Thanks for reading this post on whether or not Porto is colder than Lisbon. I hope you now have your answer.
If you're planning a trip to Portugal soon then you may also want to know if it's cheaper to fly into Porto or Lisbon (the answer may save you up to $280!!).
Related Posts: