Are you ready for an adventure of a lifetime? Imagine swimming alongside sea turtles in the crystal clear waters of Honolulu.
In this post, I'll tell you all of the best spots to see turtles in Honolulu and I'll give you all the details that you'll need to plan your own turtle-watching excursion, including the best time of year to visit.
So grab your snorkel gear and let's dive in!
Best Place To See Turtles In Honolulu
I often get asked where to see sea turtles in Honolulu and the first place that always comes to mind is Turtle Canyon.
The place is literally swarming with turtles and other interesting sea life. I'd actually go as far to say that it's one of the best snorkeling spots in the whole of Oahu.
The best way to experience Turtle Canyon for yourself is by booking onto a snorkeling tour.
It's kinda hard to find Turtle Canyon by yourself as it's away from the shore. You don't want to be swimming around in the open ocean for hours and not be able to find a single turtle, right?!
For that reason, I'd really recommend going with a guide who can show you where to find turtles without fail. Tours like this one are also super educational so you'll learn a lot about the turtles.
As well as Turtle Canyon there are plenty of other turtle beaches in Honolulu where you have a super high chance of spotting a sea turtle.
I list them all below giving you all the information you need to find them for yourself!
1. Turtle Canyon
The absolute best place in Honolulu to see turtles is at Turtle Canyon which is a snorkeling spot located just off the coast of Waikiki.
This nature reserve is the ultimate sea turtle hangout and is a popular snorkeling destination.
Not only will you find a ton of turtles gliding through the water and munching on seagrass, but you'll also come across schools of fish and a colorful coral reef. It's a marine paradise!
Just a heads up, you won't be able to get to Turtle Canyon on your own, but don't worry – there are plenty of snorkeling excursions and boat tours that will take you there.
Trust me, it's worth the trip!
I personally recommend booking onto this 2-hour snorkeling excursion which takes you over to Turtle Canyon from Waikiki and includes a knowledgeable guide and all the necessary snorkeling equipment.
You'll likely see tons of other animals too including spinner dolphins and maybe even a flying fish (it's a real thing, look it up!).
Check out the video below to see the kinds of sights you can expect at Turtle Canyon in Honolulu:
If you don't want to get into the water yourself but you still want to see the turtles then join this glass-bottom boat tour instead.
Turtle sightings are actually guaranteed on this boat tour which shows just how common turtles are at Turtle Canyon.
It's also pretty common to spot dolphins and at certain times of year you can even see whales.
Sit back and relax from the comfort of the boat whilst looking through the glass viewing panels beneath you for awesome sea life!
See if you can spot a reef triggerfish, also known as humuhumunukunukuapua'a by the locals (I know, try saying that 3 times over!)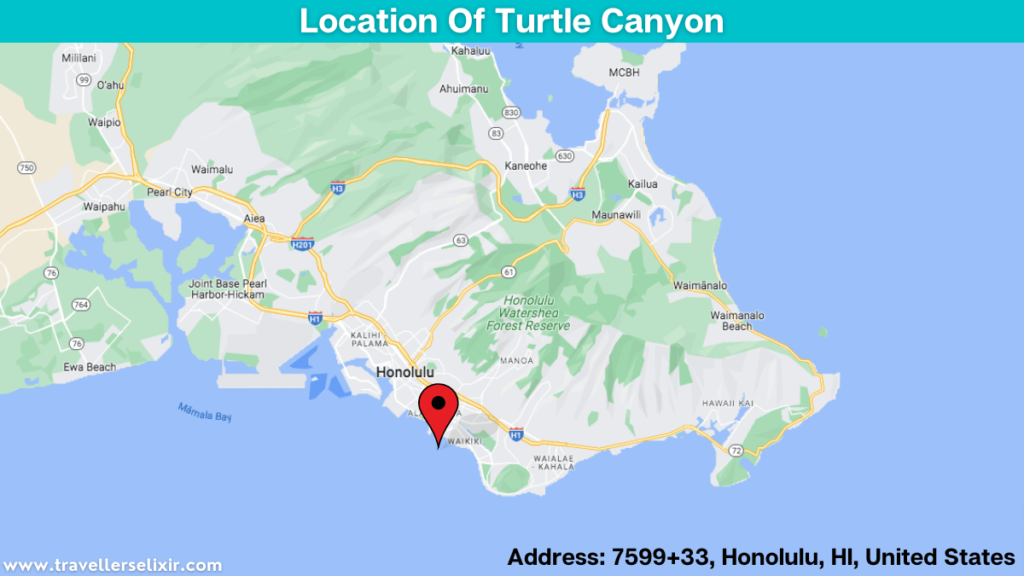 For more info on getting to Turtle Canyon, check out my complete guide on how to get to Turtle Canyon.
2. Waikiki Beach
Waikiki Beach is one of the best places to see turtles in Waikiki which is a popular neighborhood in Honolulu.
Picture this: you're standing on the beach surrounded by palm trees, the sun is shining, and you hear the sweet sound of a ukulele in the distance.
Suddenly, you spot a turtle swimming in the water! It's like they're dancing to the music, literally. That's Waikiki Beach in a nutshell.
Jump aboard a glass-bottom boat tour for the best views of the turtles. This is a super fun way to get out onto the water itself and see the marine life up close without disturbing it.
Alternatively if you want to stick to dry land, you can increase your chances of seeing a turtle by hanging out around the pier for a while and keeping your eyes peeled. Trust me, it's worth the wait.
And here's a little tip from me to you: the early bird catches the turtle! Showing up before the crowds arrive in the morning will give you the best chance to see these guys in action. Sunset is also a prime turtle-spotting time.
Once you're done spotting turtles, why not learn how to surf by booking a surfing lesson at Waikiki Beach? Is there anywhere more iconic to learn to surf than Hawaii?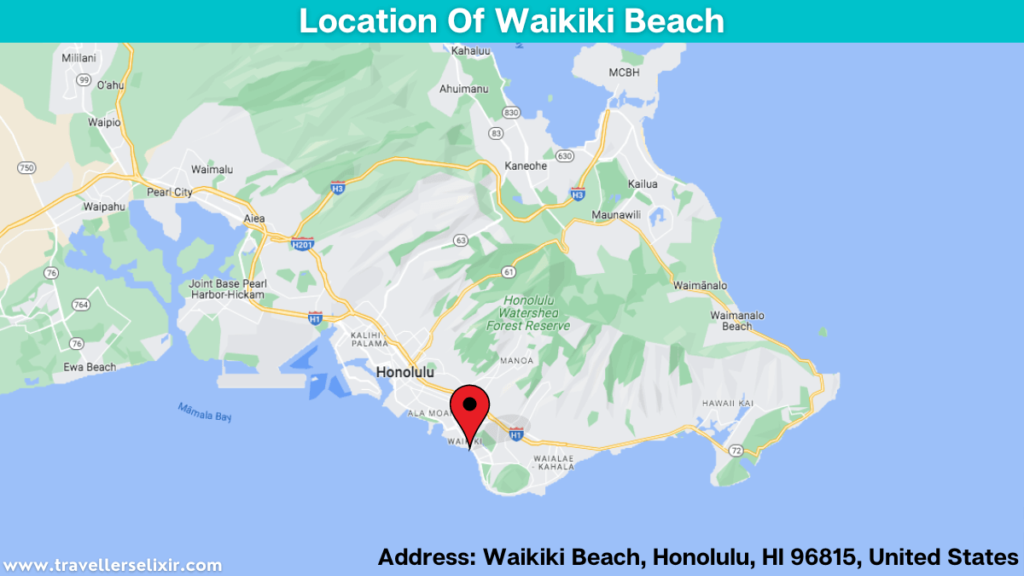 3. Hanauma Bay
Another one of the best places to see turtles in Honolulu is at the Hanauma Bay Nature Reserve which is actually my personal favorite spot for turtle sightings on this list.
Hanauma Bay is a protected marine conservation area, which means a team of experts is working hard every day to preserve and protect the marine life and ecosystems in the area.
And did you know that the bay is located inside an ancient volcano? How cool is that?
Snorkeling in Hanauma Bay is like diving into a tropical paradise. The water is crystal clear and you'll likely come face-to-face with turtles, tropical fish, colorful corals and more.
And the best part? Turtles are super common in the bay, making it one of the best places to snorkel with turtles in Honolulu.
Here's what you can expect from snorkeling at Hanauma Bay:
This spot is perfect for beginners and families, as the water isn't too deep and the visibility is excellent.
If you want to make the most out of your experience, I highly recommend joining a snorkeling tour like this one.
It includes pick-up and drop-off from your hotel and all the snorkeling equipment you'll need.
Plus, the tour is super educational, so it's a great way to introduce your kids to marine life. You'll get to watch videos about the animals and learn from the staff about their conservation efforts.
4. Halona Beach Cove
Halona Beach Cove, also known as Cockroach Cove (don't know why, don't want to know why), is another amazing place where you can swim with turtles in Honolulu.
Surrounded by jagged cliffs and mountains, this unique cove is an excellent place to spend the day discovering marine life.
Plus, it's right next to the famous Halona Blowhole where you can watch water gush out of the top.
It's all thanks to volcanic activity which has created a hole in the rock that connects to an underground tunnel.
When the waves come in, water is forced into the tunnel and comes gushing out of the rock through the hole. It's pretty impressive!
Take a look at how the Halona Blowhole works in the video below:
You'll also have the chance to swim with turtles in the surrounding waters. Turtles pop up all the time so it won't be too difficult to spot a few.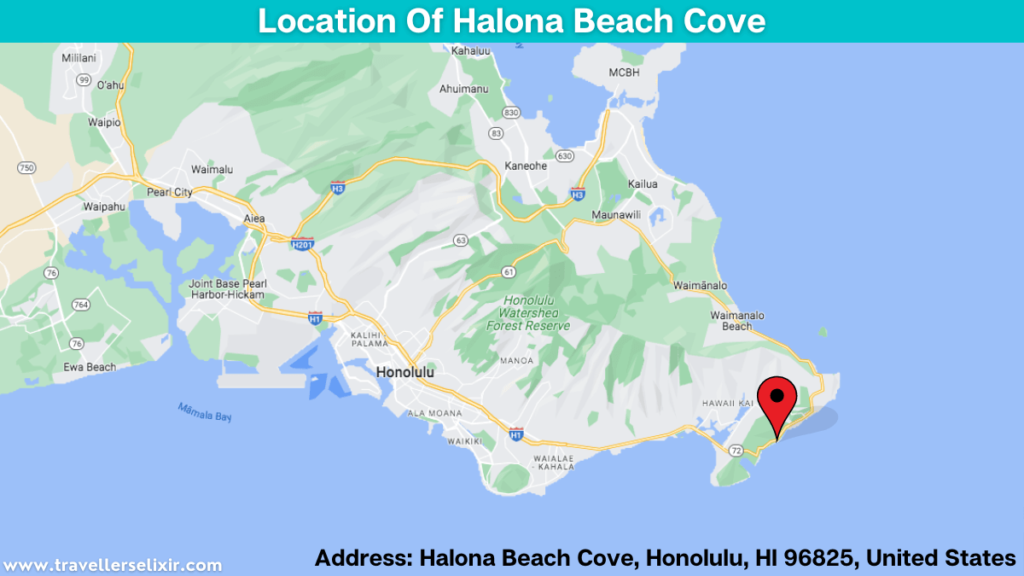 5. Fort DeRussy Beach
Another place where you can see turtles in Honolulu is at Fort DeRussy Beach.
This popular beach in Waikiki is much less touristy than other nearby beaches meaning you'll be able to get some peace and quiet away from the crowds.
The south side of the beach is the most reliable place to spot turtles as this is where you'll find a shallow reef.
In particular, the pier is a favorite turtle hang out so take a walk to the end of the pier and keep your eyes peeled.
This beach virtually never appears on lists of the best places to see turtles in Oahu and I have no idea why! I guess that makes it a hidden gem.
Turtles are very commonly spotted here swimming around within the reef. Just take a look at the huge sea turtle spotted at Fort DeRussy Beach in the video below:
It's actually pretty common to see groups of turtles of 5 or more all at once. If you get into the water for a swim, it's only a matter of time before you come across one.
The water is super calm here making it ideal for families with kids and less confident swimmers. Additionally, visibility is excellent making it super easy to spot those magical creatures.
6. Kaimana Beach
Another one of the best turtle beaches in Honolulu is Kaimana Beach which is located right next to the iconic Diamond Head volcano meaning you can expect scenic views from this beach.
As well as mesmerizing views, this beach is also home to a vibrant and healthy coral reef which has become a popular snorkeling spot.
Take a look at the stunning sea turtle spotted at this turtle beach in Honolulu:
You'll be able to swim alongside turtles, other tropical fish and more at the reef here.
In fact, there's actually a resident population of turtles that call this place home so make sure you stop by to say hi.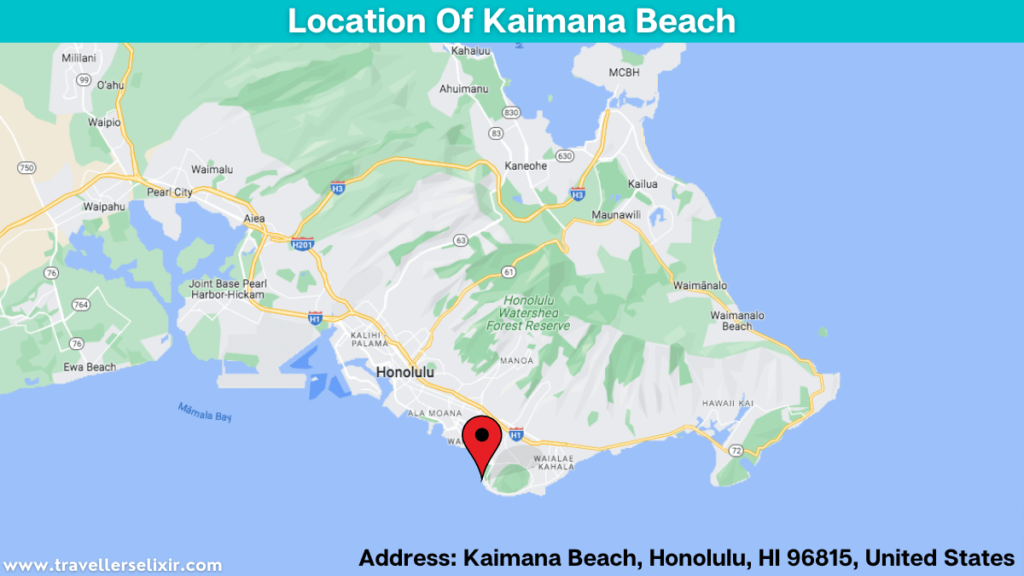 7. Ko Olina Lagoons
Although not in Honolulu, the nearby Ko Olina Lagoons are another great place where you can see and swim with turtles.
These lagoons sit just 30-minutes west of Honolulu in southwest Oahu so you can easily visit them on a day trip.
Ko Olina consists of four man-made lagoons that were created back in the 1980s, complete with soft white sand imported from nearby Lanai.
Over the years, turtles have made a home here and today many can easily be spotted within the lagoons. Don't forget your snorkeling gear!
Check out the turtle in the video below who was spotted having some lunch in one of the Ko Olina lagoons:
My personal favorite is Ko Olina Lagoon 4 (I know, really inventive with the name guys) and here's why.
There's plenty of parking (something the other 3 lagoons lack) and it's much quieter than the other 3 lagoons, mainly because it's the only one that doesn't have hotels lining it.
Although man-made, the lagoon is still open to the ocean meaning it is regularly visited by ocean creatures including Hawaiian green sea turtles, a variety of tropical fish, eels and maybe even the odd seal.
8. Electric Beach
Although not technically in Honolulu, another amazing place close to Honolulu where you can swim with turtles is at Electric Beach which lies on Oahu's southwestern shore.
Although this beach is a 30-40 minute drive from Honolulu, I promise that the drive is totally worth it!
The name 'Electric Beach' is actually just a nickname. The real name is Kahe Point, but most people know it as Electric Beach because of the power plant nearby.
But don't worry, the water is totally safe and it's super warm thanks to the power plant (they release warm water nearby).
It makes for a great snorkeling spot, especially in the winter, and the turtles just can't get enough of it! Plus, the visibility is amazing so you'll get a great view of the turtles.
Check out the super cute turtle spotted at Electric Beach in the video below:
But that's not all – it's also common to spot dolphins from this beach too! (Hint: I have a post on all the best places to see dolphins in Oahu too.)
Another bonus is that it's much quieter than other beaches on the island, like Laniakea Beach on Oahu's north shore, meaning you'll have a bit more room to yourself.
Plus, it's absolutely stunning with crystal clear waters and a beautiful view of the nearby islands. Trust me, it's definitely worth the drive!
When Can You See Turtles in Honolulu?
You can easily see turtles in Honolulu all year round however the summer months from May to September are definitely the best time of year to see them.
During the summer, the water around Hawaii becomes warmer and calmer which provides the ideal environment for turtles meaning their numbers increase.
Don't worry if you're not visiting between May and September though as there are resident populations of turtles in Honolulu that stick around all year long.
You'll often spot turtles soaking up the sun on the beaches, swimming around near the shore looking for food or munching on their favorite snack (seagrass).
Best Time of Day to See Turtles in Honolulu
The best time of day to see turtles in Honolulu is in the morning time and early afternoon from around 7AM until 2PM.
This is when the turtles are most active so you have a higher chance of seeing one around this time.
They also tend to be a bit more active around sunset too.
It is definitely possible to see turtles at any time of day in Honolulu however you'll have a higher chance of seeing turtles if you visit the locations listed in this post in the morning or early afternoon.
If you book onto a snorkeling excursion in Honolulu then you'll find that most of them take part in the morning anyway due to high turtle activity.
Tips For Swimming With Turtles In Honolulu
If you're going to be swimming with turtles in Honolulu then there's a few things you need to know.
Remember that all of the different turtle species present in the waters around Oahu are endangered so it's really important that we do everything we can to protect them.
Here's a few tips:
Don't be too loud. Try to be as quiet as you can when swimming up to a turtle as loud noises might scare them away.
Do not touch the turtle. Turtles are wild animals and should be respected.
Wear reef-safe sunscreen. Regular sunscreen damages coral reefs which negatively impacts turtles. Wear a reef-safe sunscreen to protect them.
Do not get too close. This will scare the turtle and they may even bite you if they get really scared (don't worry this is pretty rare!).
Do not feed the turtles. They don't need help finding food.
Always approach a turtle from the side. This gives them a clear view of you and a clear path ahead of them if they want to swim onwards.
Don't disrupt the turtle's natural behavior. You can enjoy the turtles by watching them do their thing but try not to disturb them.
These key tips aim to protect both you and the turtles so keep them in mind.
---
So there you have it, that's all the best spots to see turtles in Honolulu!
Whether you're looking to swim and snorkel with these majestic creatures or just catch a glimpse of them out in their natural habitat, you're sure to have a memorable time.
And don't forget to bring your underwater camera to snap some amazing turtle selfies!
Mahalo for reading and happy turtle-spotting!
Related Posts: