Welcome to the beautiful island of Oahu where the crystal clear waters are home to some of the most playful and intelligent creatures on earth – dolphins!
When I began planning my first ever Oahu trip, seeing dolphins was right at the top of my list and now that I've visited, I'd love to share my experience with you.
In this post, I'll take you on a journey to discover the best places to see dolphins in Oahu. So, let's dive in!
Swimming with Dolphins in Oahu
The most common type of dolphin present in Oahu is the Hawaiian spinner dolphin however Oahu is home to other species too including bottlenose, spotted and rough-toothed dolphins.
In Oahu, you can either see the dolphins from a dolphin viewing boat tour or you can book onto a swim with dolphins experience and get into the water yourself.
You will need to book onto a tour to see or swim with dolphins in Oahu as they can rarely be seen from the shore. They usually swim at least a mile out from the beach.
Here are the best rated tours in Oahu that give you the chance to see dolphins up close and personal:
I'd recommend booking one of these tours as they are operated by companies that specialize in swimming with dolphins so the guides know how to find them without fail.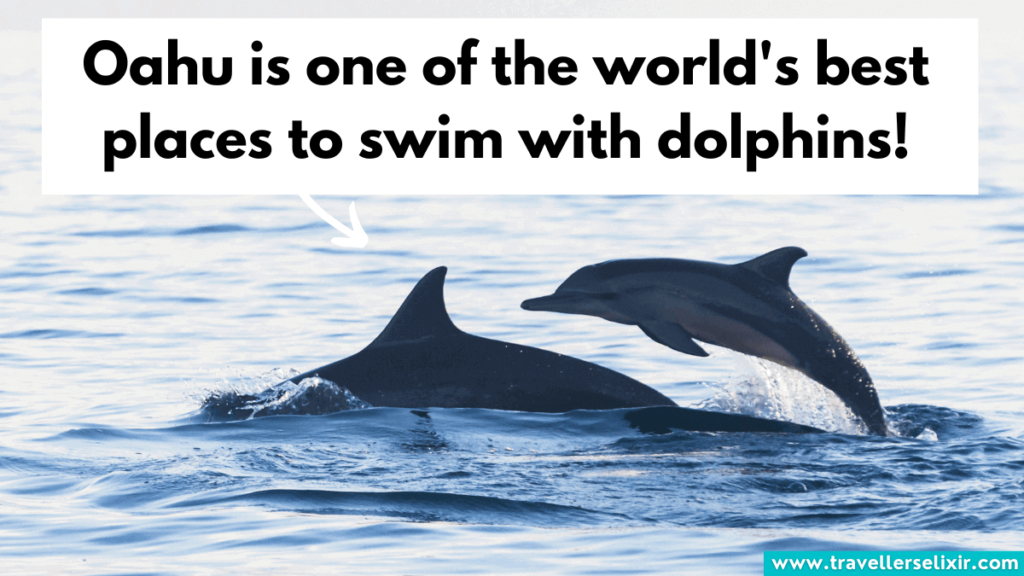 During these tours, you'll get the chance to see the dolphins in a variety of ways.
The dolphins have to come up to the surface every now and again to breath. When they do this, you'll see their heads poking up out of the water for a moment.
They also sometimes splash their tails to get the attention of other dolphins and even sometimes perform magnificent leaps out of the water.
💡Helpful Tip: Optimize your trip by booking a tour which includes seeing dolphins AND swimming with turtles like this one.
This saves you money and allows you to get two amazing experiences in one. It's especially great for those with limited time in Oahu.
Below I've listed all of the exact locations where you can see dolphins in Oahu including handy links to the best rated tours.
Best Places To Swim With Dolphins In Oahu
Dolphins can mainly be found on the west side of Oahu all the way from Yokohama Bay to Waianae.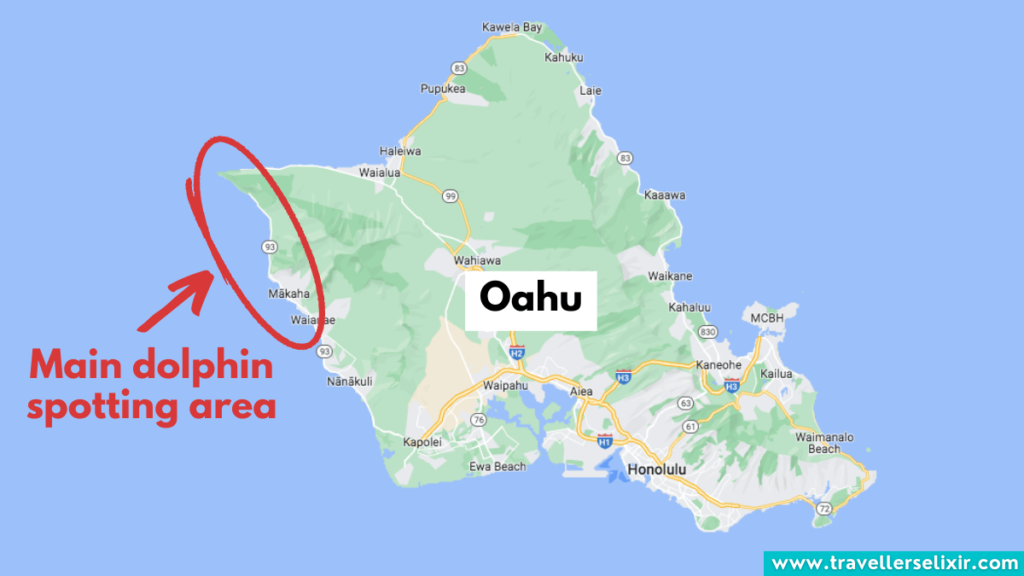 There is a resident population of around 200 dolphins on this side of the island (most of which are spinner dolphins).
You can swim with both wild dolphins and dolphins held in captivity in Oahu – I'll give details on both of these options.
I personally prefer swimming with wild dolphins over those held in captivity as you get to observe the dolphins in their natural habitat with their families and it's just so much more fulfilling.
💡Helpful Tip: Bring along an underwater camera like the GoPro Hero 10 to snap some memorable photos and videos of you and the dolphins.
1.Waianae
Based on firsthand experience, I found that the best place to swim with dolphins in Oahu was in Waianae, specifically Waianae Boat Harbor. 
The dolphins don't come super close to the shore so you'll need to get out onto the water to be able to see them. 
After swimming around for around 5 minutes here, I came face to face with a couple of dolphins who were playfully jumping in and out of the water. It felt pretty magical.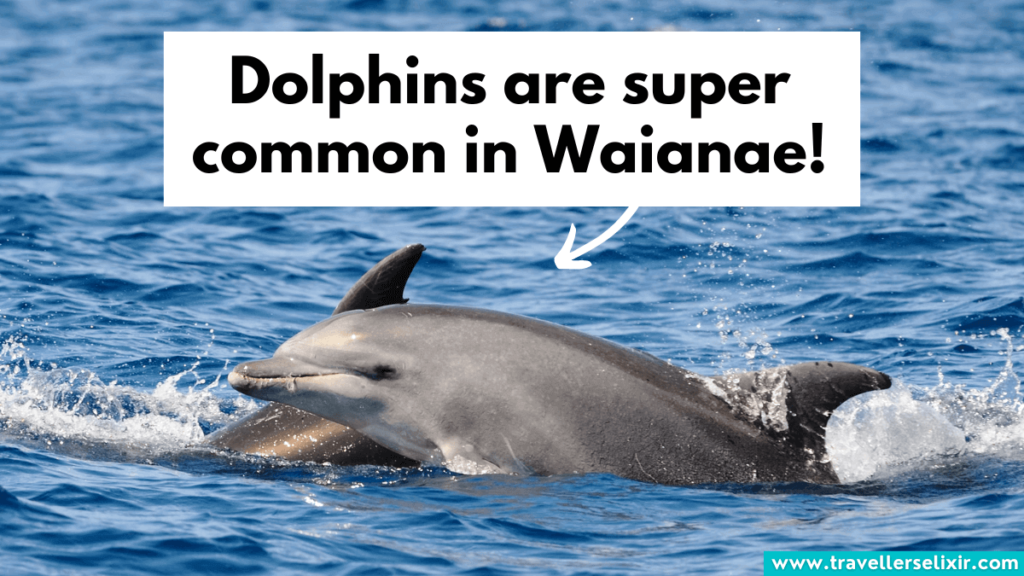 I'd recommend joining this top-rated swim with dolphins activity in Waianae like I did.
The guides take you out into the ocean and allow you to get into the water and swim right alongside the wild dolphins. It's truly a magical experience that you'll never forget.
💡Top Tip: Book your dolphin tour earlier in the day as dolphins tend to be most active during the mornings.
If you'd rather just see the dolphins and not swim with them then I'd recommend this dolphin viewing boat tour for the best possible chance of seeing a dolphin.
This tour cruises up Oahu's western coast giving you the chance to spot dolphins along the way.
This tour is one of the best and also includes a turtle snorkeling activity and hotel pickup.
If your budget is a little tighter then this dolphin snorkeling tour is super affordable and gives you the chance to get out onto the water and see the dolphins up close.
Check out the video below and see how close you can get to the dolphins on a Waianae boat tour:
Did you know that Hawaii also has seals? Find out where to see seals in Hawaii in my complete guide.
2. Makua Beach
If you are a good swimmer then you may be able to swim with dolphins at Makua Beach.
Makua Beach is located on the far west side of Oahu and is set at the base of a set of majestic mountains.
It's super common to see dolphins in the ocean at Makua Beach however they are often quite far out, away from the shore.
I visited here recently and did manage to spot a few but they were so far away so it was hard to see them. I would definitely bring along a pair of binoculars next time for a better view.
If you're a good swimmer then you can swim out a bit further and see them closer but I'd only recommend this if you're a strong swimmer and in a group.
If you do venture out, you'll get a great view of the dolphins as the water is super transparent at Makua Beach.
Check out the video below which shows some amazing dolphins spotted from Makua Beach:
Did you know that you can see turtles in Waikiki? (I explain where in my guide).
3. Dolphin Quest Oahu
Another place where you can swim with dolphins in Oahu is at Dolphin Quest Oahu. The dolphins here are held in captivity.
Dolphin Quest Oahu is located at the luxurious Kahala Hotel & Resort which is a well-known celebrity favorite (royalty, presidents and various Hollywood icons have stayed here over the years).
Dolphin Quest offers a range of different packages that all give you the chance to interact with dolphins one-on-one.
Their best package is the dolphin adventure which gives you a whole hour to interact and get to know the dolphins.
I didn't personally visit here but I have a friend that did and she said it was incredible. She took along her 4 year old son who thought the whole thing was pretty impressive.
4. Sea Life Park Hawaii
Another place where you can take part in a dolphin swim in Oahu is at Sea Life Park Hawaii. The dolphins here are also held in captivity.
This park prides itself of offering fun and educational experiences so it's great if you have children.
Their packages gives you 30 minutes with the dolphins. You'll get the chance to get up close and personal with the dolphins and learn about caring for them, conservation efforts and more.
Sea Life Park Hawaii is located in the Honolulu region. Did you know that you can also see turtles in Honolulu?
How Much Does it Cost to Swim with Dolphins?
The cost for swimming with dolphins in Oahu ranges from $90 to $200 per person.
The most expensive tours usually give you more time with the dolphins and usually in smaller groups.
For the best value, I'd go with this swimming with wild dolphins tour as it's super affordable and gives you a decent amount of time with the dolphins.
Best Time of Year to See Dolphins
Oahu is a great year-round destination as the weather is perfect all year round.
It's pretty much always sunny and temperatures range between 77ºF and 86ºF throughout the year.
There is literally no bad time to visit Oahu and dolphins can be seen at any time of year.
During the winter months between November and March, the water does get a bit cooler and rougher so this time of year tends to be favored by experienced swimmers and surfers.
From April until October, the waters are warmer and the sea is calmer so it's ideal for everyone.
Tips for Swimming with Dolphins in Oahu
First time swimming with dolphins?
To ensure the dolphins remain safe, there's a few key things to bear in mind when swimming with them in Oahu.
Don't touch wild dolphins. These are wild animals and should be respected. Touching the dolphins may scare them as they are not used to it.
Do not get too close. This might scare the dolphins. It's recommended that you swim near them and they will approach you if they want to.
Stay calm and don't panic. If you panic this will likely scare the dolphin causing them to swim away. Try to stay calm so they approach you.
Wear a life jacket. For your own personal safety, it's always recommended you wear a life jacket.
These key tips protect both you and the dolphins.
---
And that's it!
Thanks for reading this post on where to see dolphins in Oahu, Hawaii.
Oahu is a fantastic location for swimming with dolphins as they have a resident population of dolphins that can be seen at any time of year.
Did you know you can also go whale watching in Oahu at certain times of the year. Yep, and Oahu's North Shore is a sea turtle haven!
Related Posts: