Are you ready for the adventure of a lifetime? Imagine swimming alongside sea turtles in the crystal clear waters of Kona, Hawaii.
In this post, I'll tell you all of the best spots to see turtles in Kona and I'll give you all the details that you'll need to plan your own turtle-watching excursion, including the best time of year to visit.
So grab your snorkel gear and let's dive in!
Can You See Turtles in Kona?
You can definitely see turtles in Kona. In fact, there's actually several different spots located within Kona where you can easily see sea turtles both on land and in the water.
Kona, well officially Kailua-Kona, is one of the most popular resort towns on Big Island in Hawaii.
If you're looking for the best turtle beach in Kona then I can't recommend Kealakekua Bay enough.
This stunning turquoise blue bay is a hotspot for turtles as well as tons of other marine creatures including tropical fish, eels, the odd dolphin and, at certain times of the year, whales!
The best way to explore Kealakekua Bay for yourself is by joining a snorkel tour from Kona. This one has small groups so you get more 1-on-1 time with the turtles.
Your knowledgeable guide will show you where you can find turtles without fail giving you that once-in-a-lifetime chance to swim alongside them so you can really feel like you're one of them.
And if that wasn't enough, you'll also get to enjoy scenic views of Kona's coastline from the water, see the famous Captain Cook Monument and explore the sea caves of Kona's coast.
Alternatively you could book onto a sea kayaking tour like this one (hint: it also includes a swim with turtles activity!!).
Check out the video below to see exactly what it's like to snorkel at Kealakekua Bay:
Where To See Sea Turtles In Kona
So aside from Kealakekua Bay (which is my personal favorite place in Kona to see turtles) there are a range of other amazing beaches in Kona, Big Island where you can easily see turtles.
Below I've covered all of them including everything you need to know before you go.
1. Kiholo Bay
Also commonly referred to as 'turtle bay', one of the best places to see turtles on Big Island is at Kiholo Bay which is located along the Kohala coastline.
Ok so technically this one's not in Kona but it is close to Kona so you can easily visit on a day trip.
Kiholo Bay is a secluded bay with a black sand pebble beach where you can often see Hawaiian green sea turtles. This stunning bay has a lot of ancient Hawaiian history too.
It's one of the best places to get an up close view of the turtles (don't get too close though).
It takes about 40 minutes by car to get from Kona to Kiholo Bay which sits on the northern shore of Big Island. And let me tell you, the drive is totally worth it!
The bay is pretty shallow making it an ideal place to snorkel and with a healthy turtle population, it's not a matter of if you'll see a turtle but when.
You'll usually see the turtles munching on algae (their fave snack) or having a little swim.
There's also a little sandbar in the middle of the bay where the turtles love to lounge around.
As this place does require a bit of a drive to get there, you will be rewarded. Very few people bother to come which means it's usually very quiet (you might even get the place to yourself if you're super lucky!).
You could join a snorkeling tour like this one when you get there. These are great as the expert guides know where to find turtles without fail.
At certain times of year, Kiholo Bay is also one of the best places to go whale watching on Big Island.
Insider Tip: There aren't many facilities at Kiholo Bay so make sure you bring along everything you'll need e.g. water, reef-safe sunscreen, snacks etc.
Here's what it's like to snorkel at Kiholo Bay:
Kiholo Bay is super beautiful. If you don't mind spending a bit of dollar then you can see it from above on this Kona helicopter tour!
I'm not gonna lie, you probably won't be able to spot the turtles from up there but it's super memorable and gives you a unique chance to see Kona from above.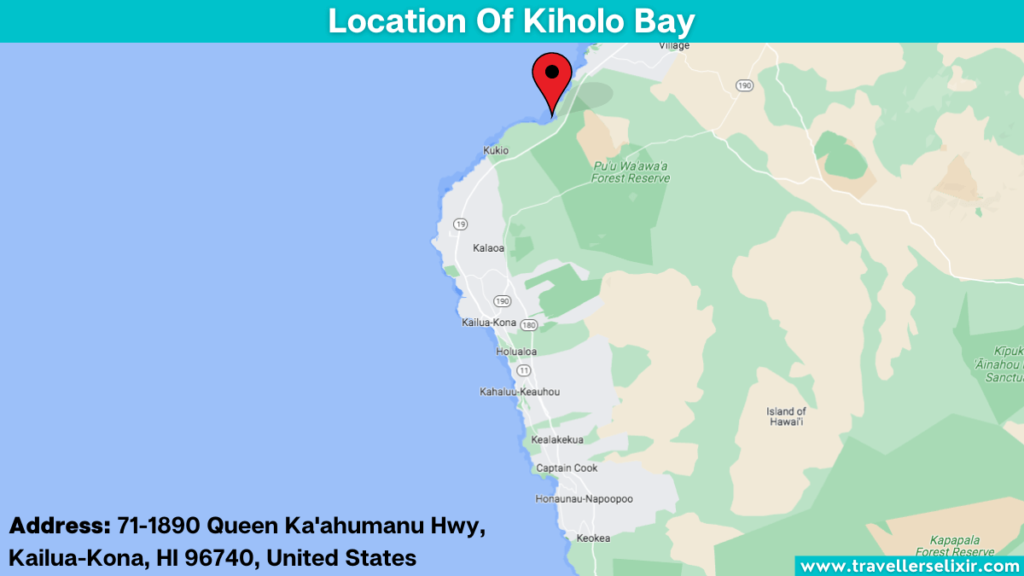 2. Anaehoomalu Bay
Another amazing place near Kona where you can spot turtles is at Anaehoomalu Bay, also known as A-Bay, which is a picturesque crescent-shaped bay.
This bay is actually a 30-minute drive north of Kona but it's well worth visiting due to the abundance of sea turtles that can be found swimming close to the shore.
Check out the huge sea turtle spotted on the sand at this bay in the video below:
Sightings of 12 or more sea turtles are not uncommon at A-Bay. It's also super easy to spot them as the water here is crystal clear.
You'll also find several tiny little coves that are fun to explore. Both snorkelers and scuba divers find this place an absolute haven!
In fact, I'd say it's one of the best places to snorkel with turtles near Kona.
If you want to swim with turtles at Anaehoomalu Bay then I'd recommend joining a snorkeling cruise like this one.
The knowledgeable guides will show you where to find turtles without fail and you get the chance to explore Big Island's stunning coastline aboard a catamaran.
Alternatively, if you don't fancy getting too wet then join a glass-bottom boat tour like this and gaze at the turtles from the comfort of the boat.
After you're done snorkeling, take a walk along the beach where you'll also often find turtles sunbathing on the sand, having a well deserved rest.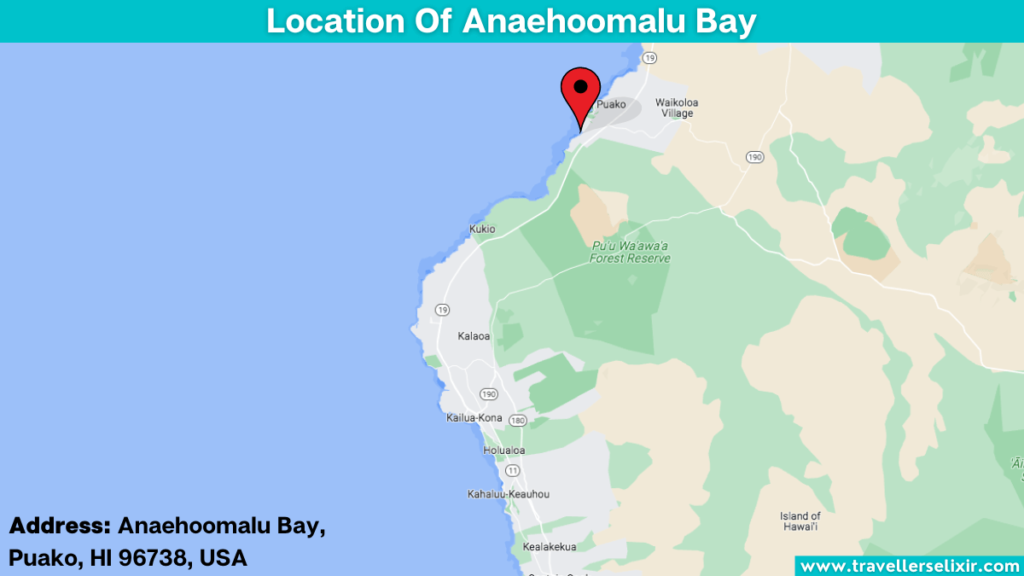 3. Kaloko-Honokohau National Historical Park
One of the best green turtle beaches Kona has to offer is at Kaloko-Honokohau National Historical Park.
The exact beach within the park where you'll basically be guaranteed to see a turtle is Honokohau Beach. You can access the beach easily from the south entrance of the park.
Turtles can usually be spotted on the sand itself or swimming close to the shore.
You'll find the beach just north of the boat harbor. The turtles here love to sleep along the shore, basking in the hot Hawaiian sun all day long.
You'll have to keep your eyes peeled though as you can easily mistake the turtles for a rock if you're not careful (their shells are the same color as the rocks).
Take a look at the super cute turtle spotted at this park in the video below:
The turtles love this beach because it has a lot of algae on it which happens to be one of their favorite foods.
This park could easily take the whole day to explore as it's almost 2.5 km long. Remember that it's only open from 8:30AM until 4PM so plan your trip accordingly.
The best way to explore it is by booking onto a day tour around Kona.
Your knowledgeable guide will take you across Kona to see everything it has to offer including the turtles of Kaloko-Honokohau National Historical Park.
Inside this national park, you'll also find a famous archaeological site where you can find out how the early Hawaiians used to survive along the Kona coastline.
💡Helpful Tip: Admission to this national park is actually completely free! How cool is that?!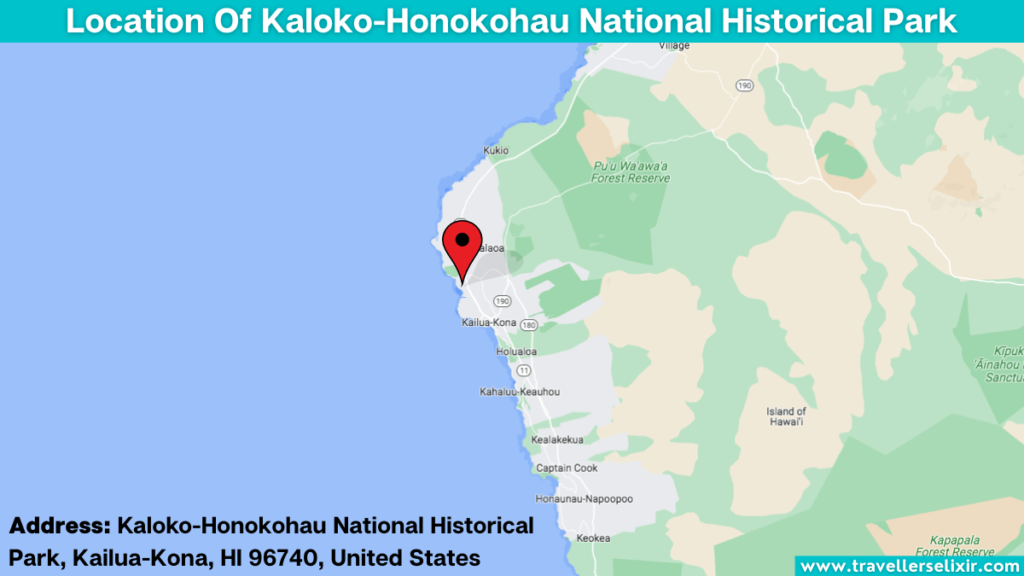 4. Kahalu'u Beach Park
Another one of the best places to see sea turtles in Kona is at Kahalu'u Beach Park.
This small turtle beach in Kona comes complete with a healthy coral reef which is a popular snorkeling spot (it's literally like a real-life aquarium).
As well as turtles, you'll be able to see a wide variety of marine life here including octopus, sea urchins, eels and tons of tropical fish. In fact, this beach is known to be home to over 100 different marine animals.
As it's a protected bay, the water here is generally very calm making it ideal for all levels of swimmers including children. The water is also pretty shallow (no more than 5 ft).
I'd go as far to say that this is the most family-friendly beach on Big Island as there are tide pools filled with marine life close to the shore and there are lifeguards on the beach to keep everyone safe.
You'll find tons of seagrass and algae growing here which has attracted a huge population of turtles to its shores.
Kahalu'u Beach Park is one of the most reliable places to see turtles in Kona itself.
See exactly what it's like to snorkel with turtles at Kahalu'u Beach Park in the video below:
And once you're done swimming with turtles, why not book a beginners surfing lesson (this beach is one of the best for beginner surfers due to its calm waves!).
Insider Tip: The entrance to the water is pretty rocky and not very feet-friendly. For this reason, I'd recommend you wear water shoes to protect your feet.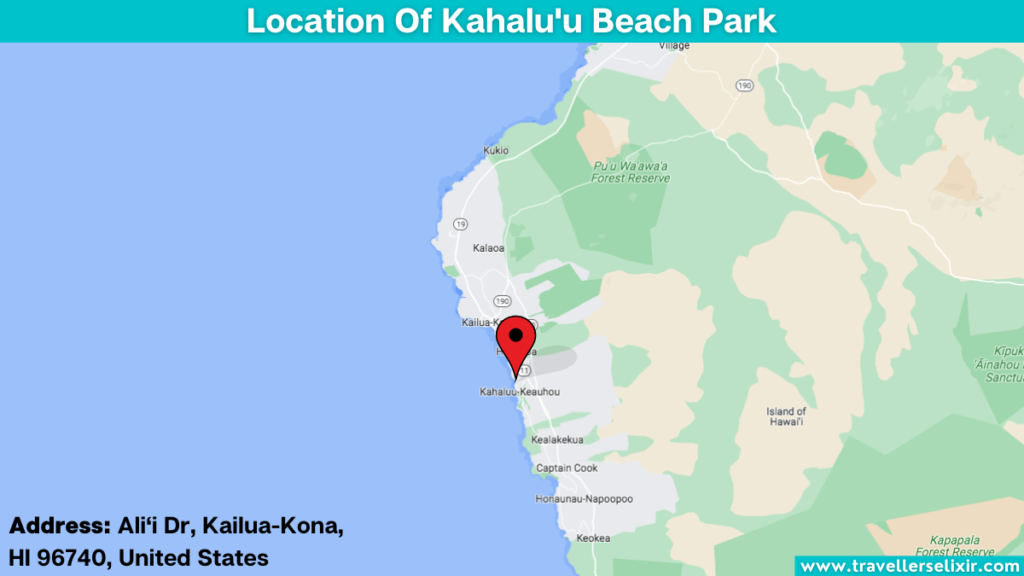 5. Kekaha Kai State Park
Another great turtle beach in Kona is the Kekaha Kai State Park which is located along Kona's northern coastline.
In a nutshell, this beach is a snorkelers paradise! Not only is the water super calm here, the water is packed to the brim with interesting sea life.
See if you can spot a reef triggerfish, also known as a humuhumunukunukuapua'a by the locals, or one of the many other tropical fish that call this place home.
You'll also get the chance to swim with turtles and maybe, if you're lucky, even see an elusive Hawaiian monk seal (there's only a few spots in Hawaii where you can see these!).
Here's exactly what it's like to snorkel here:
This one really is a hidden gem as barely any tourists know about it (and I'd like to keep it that way).
Additionally, not many people bother to make the trip out here as it's located at the end of a 2.9 km unpaved road which puts off a lot of people (it's worth it, trust me!).
The park closes at 7PM and you need to make sure you've left by then as they do close the gates making leaving impossible (luckily, this didn't happen to me but I heard from others that they got locked in!!!)
Insider Tip: Kekaha Kai State Park isn't very developed meaning there are basically zero amenities nearby so make sure you bring along everything you might need including food & drinks.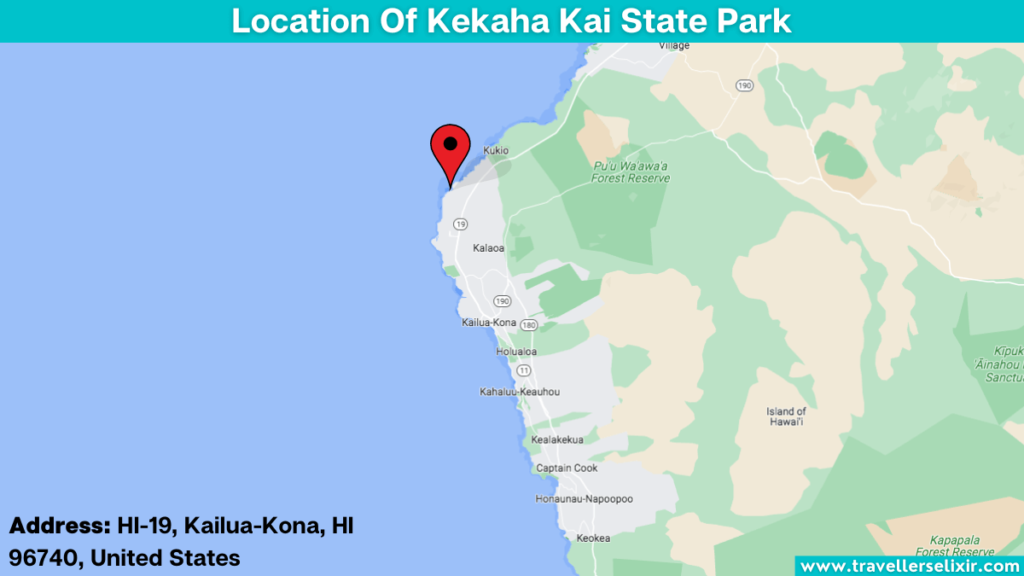 6. Two Step Beach
Two Step Beach, also known as Honaunau Bay, is another one of the best places to see turtles near Kona (it's just outside of Kona).
It's a top snorkeling spot so bring along your snorkeling gear for that once-in-a-lifetime chance of swimming alongside turtles (or 'honu' as the Hawaiians call them).
The marine life is super vibrant here – expect bright corals, huge shoals of fish, octopus, sea horses and maybe even a *harmless* whitetip reef shark.
At first glance, I thought I'd been transported into Finding Nemo.
Take a look at this turtle spotted at Two Step Beach:
This picture-perfect 'beach' has some of the bluest waters I've ever seen in Hawaii and the turtles really seem to dig that as they show up here constantly.
Although it literally has 'beach' in the name, it's not really a beach as there is no sand here.
Instead, you get to walk on some lovely hard rocks (bring some water shoes to keep your feet safe).
These rocks are natural but they kinda resemble steps that lead you down into the water (it's where the name 'Two Step' comes from).
Aside from turtles, spinner dolphins are also known to show up at Two Step Beach from time to time.
7. Honokohau Small Boat Harbor
Another spot in Kona where you can easily see sea turtles is at the Honokohau Small Boat Harbor.
You can easily see the turtles from the land so if you don't fancy getting wet then come along to the harbor where you'll be able to see turtles swimming within the harbor itself.
This little marina is filled with boats and you can easily take a peaceful stroll around but make sure you keep your eyes on the water.
There is actually a resident population of turtles that live in the harbor permanently so you can usually see them easily at any time of year.
As well as turtles, you'll probably be able to see some colorful little fishies swimming around near the boats.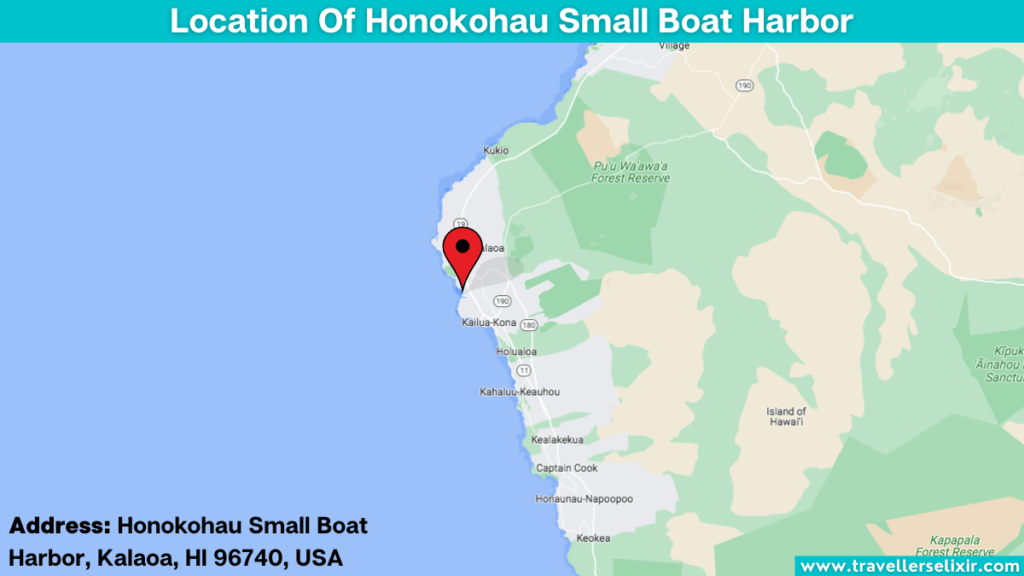 Best Time Of Year To See Turtles In Kona
You can see turtles year round in Kona however the best time to see them is in the summer, between May and October.
During these months the water temperature rises and the sea becomes a bit calmer which attracts more turtles to the shore.
That being said, there are resident populations of turtles that live in and around Kona on Big Island all year round so there's really no bad time to see them.
Did you know that you can also see turtles in Hilo (aka the largest town on Big Island)?
Best Time of Day to See Turtles in Kona
Turtles in Kona are usually most active in the morning and early afternoon.
I'd recommend visiting the locations listed in this post anywhere between 7AM and 2PM for the best chance of seeing turtles.
This doesn't mean that you can't see turtles at other times of day though. Turtles can be spotted at any time of day or night but they're most active in the morning/early afternoon.
Tips For Snorkeling With Turtles In Kona
If you're planning on going for a snorkel with turtles in Kona then there's a few things you need to know.
Remember that all of the different turtle species present in the waters around Big Island are endangered so we gotta do all we can to protect them.
Here's a few tips:
Don't be too loud. Try to be as quiet as possible when swimming up to a turtle as loud noises will scare them away.
Do not touch the turtle. Turtles are wild animals and should be respected.
Wear reef-safe sunscreen. Regular sunscreen damages coral reefs which negatively impacts turtles. Wear a reef-safe sunscreen to protect them.
Do not get too close. This might scare the turtle and they could bite you if they get really scared (don't worry this is super rare!).
Do not feed the turtles. They don't need help finding food.
Always approach a turtle from the side. This gives them a clear view of you and a clear path ahead of them if they want to swim onwards.
Don't disrupt the turtle's natural behavior. You can enjoy the turtles by watching them do their thing but try not to disturb them.
These key tips aim to protect both you and the turtles.
---
So there you have it my friends, that's all the best spots to see turtles in Kona!
Whether you're looking to swim and snorkel with these gentle giants or just catch a glimpse of them in their natural habitat, you're sure to have a turtle-tastic time.
And don't forget to bring your underwater camera to snap some memorable photos!
Mahalo for reading and happy turtle-spotting!
Related Posts: