Hawaii is home to a population of ~1,400 Hawaiian monk seals that just love to bask on the beaches under the sun.
In this guide, I'll cover exactly where you can see seals on all of Hawaii's main islands including Oahu, Maui, Big Island and Kauai.
Kauai has the largest population of seals but it's easy to see them on every single Hawaiian island.
Best Tours For Seeing Seals In Hawaii
As a quick summary, I've listed the best tours and excursions available on the various Hawaiian islands that all include seeing Hawaiian monk seals in the flesh.
Oahu
Sunset Tour (small group) – hit up several of Oahu's best sunset spots including one of the famous seal beaches.
Maui
Seal Kayaking Tour – row alongside the monk seals and see sea turtles, dolphins and rays too.
Kauai
Snorkeling Tour – snorkel along Kauai's shores & watch the seals lounging on the beach.
Island Tour – tour the island and stop off at the famous seal beaches.
Big Island
South Kona Tour – includes a stop at Big Island's best seal beach to see the seals and sea turtles.
Now let's take a look in a bit more detail at all of the best places in Hawaii where you can see seals!
I've covered a range of different locations in Kauai, Oahu, Maui and Big Island.
Use these links to jump to the right section:
Best Places To See Seals In Kauai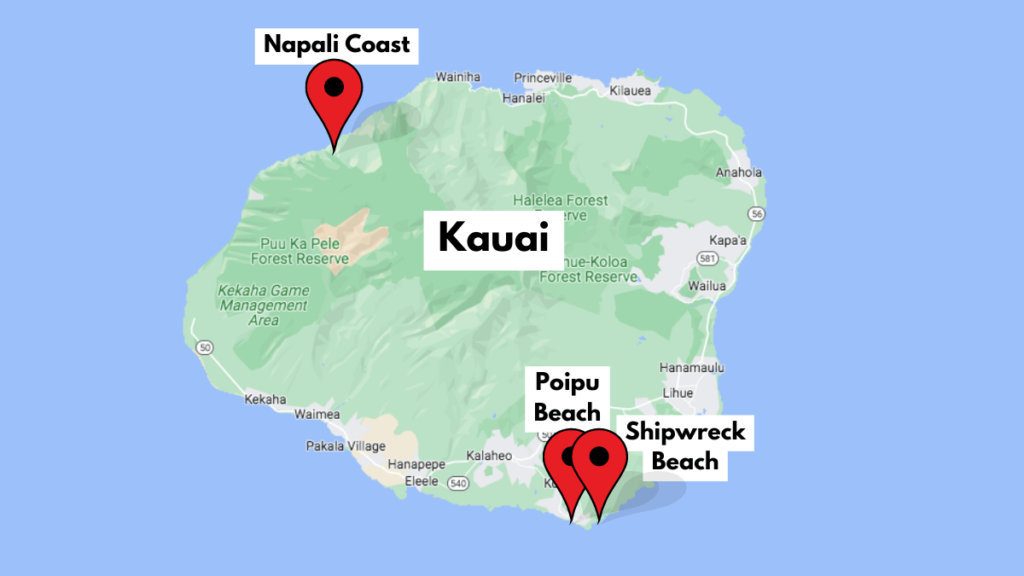 Kauai is the best place in Hawaii to see Hawaiian monk seals because it is very close to the seal's main feeding grounds so has the highest population of seals.
Here's exactly where you'll find the seals…
Poipu Beach
Poipu Beach is a popular crescent-shaped beach located on Kauai's southern coast.
The beach features crystal clear waters and soft golden sand. It's a well known Hawaiian monk seal hotspot and the seals can often be seen sunbathing and lounging on its shores.
Based on my own experience, I'd say it's actually the best place in the whole of Hawaii to see the seals.
The last time I visited, I must have seen at least 12 seals or more!! I couldn't believe my eyes.
Snorkeling is a popular activity at the beach and a great way to spot the seals. I'd recommend joining a snorkeling tour for the best possible chance of seeing one.
Check out the video below of a monk seal spotted on Poipu beach:
Napali Coast
The Napali Coast spans 17 miles along Kauai's northern shore.
This stunning coastline features mountainous terrain, emerald cliffs and hidden beaches.
These remote, tucked away beaches are favorites of the Hawaiian monk seals and sightings on their shores are common.
There's tons of beaches along this coastline to choose from including Miloli'I Beach, Ke'e Beach, Nualolo Kai Beach, Honopu Beach and many more.
I've explored this coastline several times and every single time without fail I've seen seals on many of the beaches. It's really not difficult at all to find them.
Shipwreck Beach
Shipwreck Beach is located on the southern shore of Kauai, close to Poipu beach. This beach is famous for having wrecked numerous ships over the years (hence the name).
It's popular for walking, swimming and surfing. Every time I've visited this beach, I've seen seals sunbathing on the sand here. 
Best Places To See Seals In Oahu
If you're going to be vacationing in Oahu then you'll be glad to know that you can also see Hawaiian monk seals in Oahu.
Below I've listed the best places in Oahu to see seals including several monk seal beaches where you can get up close and personal with them!
Did you know that you can also see dolphins in Oahu?
Waikiki
Hawaiian monk seals can sometimes be spotted on the shores of Waikiki, a vibrant neighborhood in Honolulu.
Waikiki is a popular tourist spot where you'll find high-rise hotels lining the shore, surfing beaches and tons of fancy restaurants and bars.
Head to the beaches for a potential glimpse of a seal. As well as seals, it's really common to spot sea turtles in Waikiki too.
I've been to Waikiki more times than I can count at this point so I know it pretty well.
From firsthand experience, I'd personally say that the best monk seal beach in Oahu is Kaimana Beach.
You could join a beginners scuba diving tour for an epic up close view of the seals – it's suitable for beginners so don't worry if you've never dived before.
You can often spot a seal basking in the sun on Kaimana Beach in Waikiki and if you're lucky you may even spot a pup like the one in the video below:
North Shore
This long stretch of coastline is known for big waves and is popular with surfers. It's also pretty famous for it's resident population of sea turtles that bask on the sand all day long.
Some of Oahu's best monk seal beaches can be found along this coast as well.
I've found that the best spot to catch a glimpse of a rare Hawaiian monk seal along the north shore is at Kaena Point.
Kaena Point sits at the western most tip of the island. The best option is to hike along the coastal trail up to Kaena Point, this will give you plenty of opportunities to spot seals on the various beaches that you'll pass.
Check out the monk seal in the video below spotted on Oahu's north shore whilst hiking to Kaena Point:
Nanakuli Beach Park
This stunning beach park on the west coast of Oahu features over 40-acres of land, a white sandy beach and tons of activities to enjoy.
If you're interested in learning more about the seals then join a seal tour which teaches you all about the Hawaiian monk seals and allows you to see them up close in the wild at Nanakuli Beach Park.
The beach here is one of the best monk seal beaches in Oahu!
Lanai Lookout
Lanai Lookout, located on the southeastern point of Oahu, is a popular lookout point that offers panoramic views of the ocean, cliffs and nearby islands.
It's a popular sunset spot offering daily, glorious sunsets.
You can join a sunset tour to make sure you experience this to the fullest. This tour is also one of the best ways to see the seals as the expert guides know where to find them without fail.
I did this tour recently and really enjoyed it. Not only was the sunset breathtaking but I also saw a ton of seals so what's not to like!?
The Lanai Lookout overlooks the beautiful Kaiwi coastline below where you're often able to spot seals, whales and sea turtles too.
Best Places To See Seals In Maui
If you're taking a trip over to Maui then you're in luck as you can easily see Hawaiian monk seals if you know where to find them.
Lahaina Harbor
From my own experience, I'd say that the best place in Maui to see Hawaiian monk seals is at Lahaina Harbor. 
Lahaina Harbor is a small harbor located on the northwestern coast of Maui. It's well known for its wide range of ocean activities, such as sailing and snorkeling.
It's also one of the best places for whale watching in Maui so if you're here between November & April then you'll likely be able to see whales too!
Hawaiian monk seals can often be seen here all day long. You can take part in a wide range of water activities at Lahaina Harbor which gives you a chance of seeing the seals up close.
Here's some of my favorite tours:
Ho'okipa Beach Park
Ho'okipa Beach Park is a spacious park featuring a white sandy beach and fantastic ocean views.
It is actually a very popular surfing destination but many people also come to the park to see seals.
It's a great place to see marine life including whales, sea turtles, starfish, seals, seahorses and more. The last time I visited I saw at least 10 seals, a sea turtle and a bright pink starfish.
For the best chance of seeing the Hawaiian monk seals, join this waterfall & jungle tour which includes a stop of Ho'okipa Beach Park to see the seals.
You'll head all over the island to see Maui's most beautiful natural landscapes.
Check out the video below showing a seal resting on the beach at Ho'okipa Beach:
Makena Bay
Makena Bay, located in southwestern Maui, features a small bay and crystal clear waters.
It's famous for its large sea turtle population but also features a range of other marine animals including seals.
I went to Makena Bay for the first time recently and really enjoyed it. I saw several seals as well as sea turtles.
It was really relaxing and I spent at least an hour just wading around in the water enjoying the scenery.
For the best chance of seeing seals, join a kayaking and snorkeling tour where you'll get an up close and personal view of the seals and you might also spot sea turtles, dolphins and manta rays!
Best Places To See Seals On Big Island
Sightings of Hawaiian monk seals on Big Island are rare but there is one place in particular that you have a decent chance of seeing one.
Honokohau Beach
The best place to see Hawaiian monk seals on Big Island is at Honokohau Beach which sits on the west side of the island. This is actually the only place on Big Island that I've ever seen seals.
This beach is part of the Kaloko-Honokohau National Park and is a popular spot for surfers and sunbathers.
At the south end of the beach is a small reef where animal sightings are frequent including seals, sea turtles and more. If you're lucky you might spot a monk seal lounging on the beach.
For a stress free day, I'd recommend booking South Kona day tour that stops off at Honokohau Beach giving you the opportunity to try and spot a monk seal.
About Hawaiian Monk Seals
All of the seals found in Hawaii are Hawaiian monk seals.
Hawaiian monk seals are currently considered an endangered species with only approximately 1,400 seals remaining.
Ancient Hawaiians referred to the seals as "ilio holo I ka uaua' which translates to 'dog that runs in rough water'.
Here's some quick facts about Hawaiian monk seals:
They eat reef fish, squid, octopus, eels and crabs.
They can weigh up to 600 pounds!
You can often find them on beaches with shallow waters and sandy shores.
May is the peak birthing season for the seals (but you can spot them all year round).
In the past, Hawaiian monk seals were only really seen on the island of Kauai but in recent years, the seals have also been spotted on all of Hawaii's main islands.
Kauai is still the best place to see seals in Hawaii and offers the most frequent sightings. You can often find seals resting and sunbathing on the shore here.
About 1,100 of the 1,400 seals are found in the northwestern Hawaiian islands (close to Kauai) and the remaining 300 are found around the main Hawaiian islands!
If you are lucky enough to spot a seal please remember these quick tips:
You should not touch the Hawaiian monk seals.
Try not to get too close to the seals (as this may disturb them).
You can still get amazing views of the seals without disturbing them.
You should never feed the seals.
Following these simple tips will help protect this endangered species and help ensure their survival.
---
And that's it! That's all of the best places where you can see seals in Hawaii.
If you're lucky enough to spot one of these incredible creatures then it really will be a moment to cherish for a lifetime as not many people can say the same.
Did you know that you can also see wild seals & sea lions in California?
Related Posts: