Oahu's North Shore is home to some of the best turtle watching spots onw the whole island.
Can you imagine lounging on the sand and spotting a sea turtle gliding through the waves?
Not only is it a mesmerizing sight but it's also a chance to learn about and appreciate these ancient creatures.
Below I'll list all of the top turtle beaches on the North Shore, tell you the best time to see the turtles and share some insider tips to make your turtle-watching experience even more memorable.
So grab your snorkel gear and let's dive in!
Best North Shore Oahu Turtle Beach
If you're looking to see sea turtles on the North Shore in Oahu then you certainly won't be disappointed as there are tons of different beaches where spotting turtles is easy.
Having said that, there's only one beach on Oahu's North Shore that could possibly deserve the title of 'turtle beach' and that is Laniakea Beach.
This beach is pretty famous as it's usually swarming with turtles who love to rest on the sand (it's common to see 15+ turtles resting on this beach!).
If you want to explore Oahu's North Shore and meet turtles at Laniakea Beach yourself then I'd recommend joining this North Shore adventure tour.
Not only will you get that once-in-a-lifetime chance to snorkel with turtles in Oahu but you'll also get a full tour of the island including a visit to Diamond Head, Makapu'u Beach, the Halona Blowhole and sooooo much more.
There's actually a whole lot of other turtle beaches on Oahu's North Shore aside from just Laniakea Beach, some of which are really unknown (so are usually very quiet).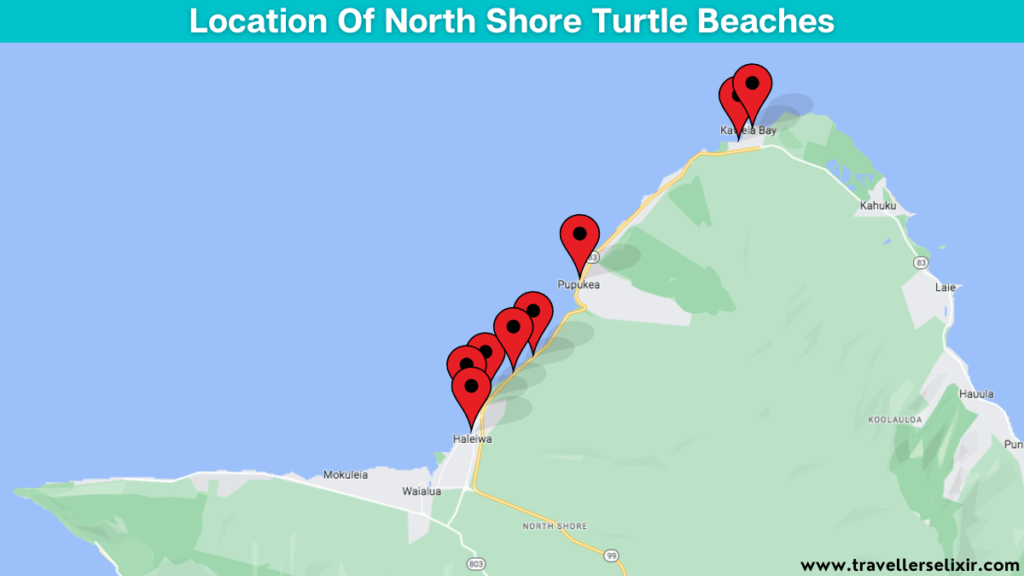 In the rest of this post, I'll go into more detail on exactly where you can find turtles on Oahu's North Shore including more info on Laniakea Beach and 7 other turtle beach options.
1. Laniakea Beach Turtles
Laniakea Beach is, hands down, the best North Shore turtle beach in Oahu.
You'll find the turtles basically covering the sand here, basking in the sun and having a well-deserved rest.
Their numbers are especially high in the summer (May to September) but you can see them all year round.
If you really want to see turtles on the North Shore then Laniakea Beach is your best bet as turtle sightings are basically guaranteed (don't sue me though).
You may notice some signs and red rope marking off certain areas of the beach. These have been placed by volunteers and aim to protect the turtles so don't cross them.
You can see what I mean in the video below:
The ropes don't really get in the way too much and you still get a really great view of the turtles.
The best way to visit Laniakea Beach is by booking onto a snorkeling excursion like this one.
It includes all of your transportation, snorkeling equipment and a knowledgeable guide who knows where to find turtles without fail.
Insider Tip: This beach does get very busy as it's pretty famous so arrive early if you can.
The best time to visit Laniakea Beach is in the morning time as this is when the turtles are most active. Anywhere from 7AM to 2PM is best.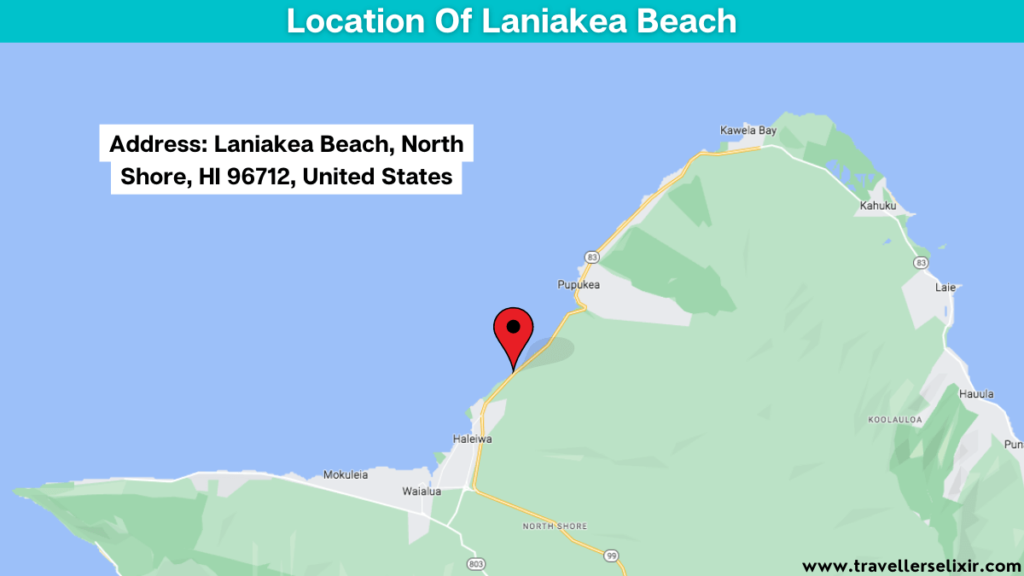 2. Haleiwa Beach Park
Another North Shore Oahu beach with turtles is Haleiwa Beach Park.
The water is super clear here meaning spotting turtles is very easy if you go for a swim.
Turtles can easily be spotted in the water close to the shore munching on some algae or resting on the beach itself.
You'll also be able to see tons of other tropical fish here. Keep your eyes peeled for a reef triggerfish, also known as a humuhumunukunukuapua'a by the locals (yep, I didn't make that up).
The Haleiwa Beach turtles are not scared of humans at all as they often come onto the sand itself and don't seem phased by the tourists (don't get too close though!).
To see them for yourself, I'd recommend booking onto this Oahu island tour which includes a stop at Haleiwa Beach Park to swim with the turtles.
Check out the huge turtle spotted at Haleiwa Beach Park in the video below:
This beach is super family-friendly with calm waves, lots of parking and soft sand. It's also super spacious meaning there is plenty of space for everyone even during peak travel season.
The beach boasts a picturesque view with a wide stretch of sand and lush tropical plants. Head over to the west side for snorkeling where you'll find a large coral reef.
3. Shark's Cove
Another one of the best North Shore Oahu sea turtle spots is at Shark's Cove.
Now I don't want you to worry as, contrary to its name, you won't find any sharks here. In fact, the name came from the shape of the main reef here which looks a bit like a shark.
This is a locals secret meaning tourists don't really know about it but the locals rate it highly and say it's a great spot for snorkeling.
Shark's Cove is insanely beautiful with its dramatic jagged cliffs, white sand and crystal clear waters.
My favorite thing about this beach (aside from the stunning views) is that it has a range of tide pools which are filled to the brim with marine life.
You'll find tons of sea life here from huge schools of fish to green sea turtles, sea urchins and even the odd reef shark (don't worry, they're harmless).
These tide pools are ideal for kids, especially little ones who are learning about marine life for the first time.
I'm not gonna lie, getting to this cove on your own is a bit of a nightmare. It's hard to find, there's no parking and you will have to walk a bit (erm did I say a bit, I meant a lot).
For that reason, booking a tour is soooo much easier.
To snorkel with turtles at Shark's Cove, you can join this North Shore day tour.
As well as taking part in tons of other activities, like seeing majestic mountains, you can choose to visit Shark's Cove for a swim.
The guides know the easiest way to access the cove making getting there so much less stressful.
Check out the amazing sights you can expect at Shark's Cove in the video below:
The snorkeling at Shark's Cove is absolutely fantastic. In fact, it's one of my favorite snorkeling spots on the whole island and turtles are super abundant. What's not to like?
It's also pretty good for scuba diving.
💡Helpful Tip: Water shoes are an absolute must at this beach! It's pretty rocky so you could easily get a foot-related injury if you're not careful. Don't say I didn't warn you.
4. Puaena Point Beach Park
Another place in Oahu where you can see sea turtles on the North Shore is at Puaena Point Beach Park.
I'm not sure why I'm telling you about this one as I always said that I'd keep it my little secret but here you go.
Puaena Point Beach Park is located just 5 minutes from Laniakea Beach (aka the most popular turtle beach on the North Shore).
This beach is truly a hidden gem (barely anyone knows about it) so you won't find a ton of people here but what you will find is a whole lot of turtles!
You can go swimming and snorkeling in the ocean here which gives you the chance to meet the turtles face-to-face. Sea turtles can commonly be spotted along the shore and on the sand here.
Take a look at the enormous (in a good way) sea turtle spotted on the beach here:
Insider Tip: You'll find the most turtles on the left side of the beach near the rocky-looking entrance. You might wanna wear water shoes as the rocks aren't very feet-friendly.
This beach is great for families as there's lots of shade (the sun is overrated) and plenty of space so bring along your tiny tots to learn about marine life.
There aren't a ton of amenities here so bring along everything you need. There are restrooms, thankfully, which makes things a bit easier.
Once you're done spotting turtles why not book a surfing lesson at Puaena Point? Is there anywhere more iconic than Hawaii to learn to surf?
5. Kuilima Cove
Another incredible sea turtle hangout on the North Shore in Oahu is Kuilima Cove, also known as Turtle Bay.
This stunning beach has a wild, rugged feel to it and it seems like the turtles really dig that because they show up constantly.
You'll see them lying on the rocks (look closely as they sometimes blend in!) or swimming in the water close to the shore.
The water is crystal clear here making spotting turtles super easy.
And that's not even the best part. If you go snorkeling at Turtle Bay (Kuilima Cove), you'll be able to come face-to-face with more than just turtles.
You'll also be able to see a variety of tropical fish (including some that can only be seen in Hawaii), eels, seals and maybe even a dolphin.
The video below should give you an idea of what it's like to snorkel here (and some of the sights you can expect):
This area is one of the best snorkeling spots along Oahu's North Shore especially for beginners and children as the water is super calm.
This is due to the presence of a natural rock barrier which encloses the bay, protecting it from strong waves.
You'll find this stunning white sandy beach right beside the famous Turtle Bay Resort (which you can stay at if you don't mind spending a bit of dollar).
💡Helpful Tip: Staying in Waikiki? The North Shore is around an hour from Waikiki. I list all the best places to see turtles in Waikiki in my ultimate guide.
6. Kawela Bay
Another spot where the sea turtles of the North Shore love to hang out is at Kawela Bay.
This secluded beach is also situated right next to the Turtle Bay Resort (they didn't name it 'Turtle Bay' for nothing).
The beach itself is crescent shaped which means the water is super calm as the bay is protected from harsh waves.
The water is also incredibly clear here so you'll have absolutely no trouble spotting turtles in the water whether you're on land or in the sea.
Take a look at the video below to see the sorts of sights you can expect if you go snorkeling at Kawela Bay (hint: it's turtle heaven!):
Kawela Bay never gets too crowded so you'll easily be able to get some 1-on-1 time with the turtles.
The bay is home to a large reef which as you can imagine is home to a wide variety of marine life. I'm talking sea turtles, colorful coral, vibrant little fishies and so much more.
Bring your kids (or don't) to learn about the famous Hawaiian green sea turtles (or 'honu' as the locals call them).
This spot truly is a hidden gem on Oahu's North Shore. Explore it by swimming, snorkeling, kayaking or whatever way you want.
7. Papa'iloa Beach
Another place where you can see sea turtles on Oahu's North Shore is at Papa'iloa Beach. In fact, it's kind of a sea turtle haven.
Not many tourists know about this beach (and I'd like to keep it that way) meaning it doesn't get as busy as some of the other North Shore beaches like Laniakea Beach.
The beach itself feels very secluded and private and the views are just mesmerizing (turtles or no turtles, this beach deserves a visit!).
It's also a great snorkeling spot where turtles love to hang out due to the abundance of one of their favorite snacks, algae (I know, tasty right?!).
A shallow reef lines most of the beach and this is where you'll find the turtles. And not just one turtle, probably 5 or more.
Take a look at the cute lil turtle taking a nap on the beach in the video below:
Insider Tip: The waves can get rough here, especially during the winter months, so I wouldn't recommend it for small children or weak swimmers.
For any TV fans, you might recognise this beach as it became kinda famous after the TV show 'Lost' filmed on its shores.
8. Chun's Reef Beach
And last but not least, the final North Shore sea turtle spot that you should visit is Chun's Reef Beach which is just 100 yards from Laniakea Beach.
Although Laniakea Beach is absolutely amazing, it does get really busy which can sometimes put a downer on the trip.
If you find that you're struggling to see the turtles due to the crowds then just walk up towards Chun's Reef Beach past the rocky path.
As it's a little bit of a walk and not many people know about it, it's usually pretty quiet and sometimes, if you're lucky, it can be completely empty!
You'll still be able to see lot's of turtles here resting on the sand but there's less people here making the whole experience much more enjoyable.
You can also go for a swim in the water for the chance to swim right alongside the turtles.
There's even a freshwater pond which is perfect for children where they can get up close to interesting marine life.
💡Helpful Tip: If you're staying in Honolulu then you should know that you can see turtles in Honolulu too! I list all of the exact spots and locations in my complete guide.
When Can You See Turtles On Oahu's North Shore?
You can easily see turtles on the North Shore at any time of year however the summer months between May and September are the best time of year to see them.
During this time, the water around Oahu becomes much warmer and calmer which provides a perfect environment for turtles meaning their numbers skyrocket.
Don't worry if you're not visiting between these months as there are resident populations of turtles on Oahu's North Shore that stick around all year long.
You'll often spot turtles laying under the sun on the beaches, swimming around near the shore looking for food or having a spot of lunch.
Best Time of Day to See Turtles On Oahu's North Shore
The best time of day to see turtles in the North Shore is in the morning and early afternoon from around 7AM until 2PM.
This is when the turtles are most active so you have a higher chance of seeing them around this time. They also tend to be a bit more active around sunset time too.
It is still definitely possible to see turtles at any time of day in Oahu however you'll have a higher chance of seeing turtles if you visit the locations listed in this post in the morning or early afternoon.
If you book onto a snorkeling excursion along the North Shore then you'll find that a lot of them take part in the morning anyway due to high turtle activity.
Tips For Swimming With Turtles In Oahu
If you're going to be swimming with turtles along the North Shore in Oahu then there's a few things you need to know.
Remember that all of the different turtle species present in the waters around Oahu are endangered so it is incredibly important that we do everything we can to protect them.
Here's a few tips:
Don't be too loud. Try to be quiet when swimming up to a turtle as loud noises could scare them away.
Do not touch the turtle. Turtles are wild animals and should be respected.
Wear reef-safe sunscreen. Regular sunscreen damages coral reefs which negatively impacts turtles. Wear a reef-safe sunscreen to protect them.
Do not get too close. This could frighten the turtle and they may even bite you if they get really scared (don't worry this is very rare!).
Do not feed the turtles. They don't need or want any help finding food.
Always approach a turtle from the side. This gives them a clear view of you and a clear path ahead so they can swim onwards if they want.
Don't disrupt the turtle's natural behavior. You can enjoy the turtles by watching them do their thing but don't to disturb them.
These key tips aim to protect both you and the turtles so keep them in mind.
---
So there you have it my friends, that's all of the best spots to see turtles in North Shore, Oahu!
Whether you're looking to swim and snorkel with these lil cutie pies or just catch a glimpse of them in their natural habitat, you're sure to have an amazing time.
Did you know that you can also see dolphins in Oahu? Yep, and at certain times of year you can go whale watching in Oahu too!
Mahalo for reading and happy turtle-spotting!
Related Posts: