Times Square is a place where dreams are made, selfies are perfected and Instagram feeds come alive with the flick of a filter.
If you're looking to capture the essence of this vibrant crossroad on your social media, you've come to the right blog post!
I've come up with the best Times Square Instagram captions that will make your photos pop and your followers swoon.
Best Times Square Instagram Captions
Cute Times Square Captions For Instagram
There's no place like Times Square
When I see Times Square, my eyes turn into little hearts
A tourist trap I don't mind being caught in
These bright lights are my sunshine
I followed the light and this is where it led me
Just a small-town dreamer, lost in the neon jungle of Times Square
I wouldn't want to be anywhere else but here
I'm just a little apple in the Big Apple
Me and Times Square: Love at first sight
The one where I go to Times Square
Alexa, play 'Welcome to New York' by Taylor Swift
Times Square: where taxi horns and dreams collide
People never forget two things: their first love and their first time in Times Square
I'm not the same since seeing Times Square shine at night
My heart burns for the bright lights of Times Square
Lost my way in Times Square, but hey, at least I found a hot dog cart
Life is like Times Square: vibrant, chaotic and full of unexpected characters
I came, I saw, I got photobombed by a giant Elmo
Navigating through a sea of tourists should be an Olympic sport. Gold medal, please!
Me: 'I'm just going to take a quick stroll through Times Square.' 5 hours later Me: 'Help, I'm still here
Times Square's version of 'Where's Waldo?' but with tourists holding selfie sticks instead
They say patience is a virtue but have you tried navigating through Times Square on a Saturday night?
Times Square: the only place where you can get a hot dog, buy a knock-off handbag and witness a marriage proposal – all at once
Note to self: Avoid making eye contact with street performers in Times Square unless you're ready to join their show
Dear Times Square, thanks for reminding me that I'm just one tiny pixel in the city's giant LED display
Up Next: New York City Captions For Instagram
Funny Times Square Captions & Times Square Puns
Times Square's so bright, I need to wear shades
First Timers Square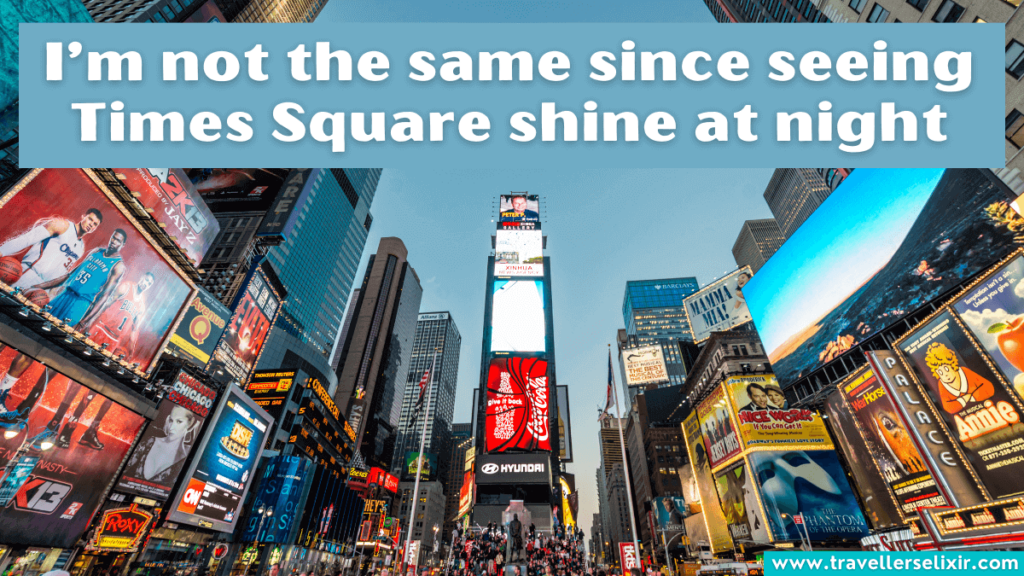 From time to Times Square
I love spending quality Times Square together
Once upon a Times Square
They really dropped the ball this year
Times Square is of the essence
Taking a bite out of the Big Apple
Well, would you look at the Times Square
Be there or be Times Square
It's about Times Square
Times Square – you really light me up
I'm timelessly in love with Times Square
I'm feeling light-headed in Times Square
You May Also Like: Central Park Captions For Instagram
Short Times Square Captions
Meet me in Times Square
New York is not a city, it's a world
Surrounded by beauty
I wonder if Times Square misses me too
A New York minute
Lights, camera, action!
In the heart of NYC
Daydreaming in Times Square
I fell in love. His/her name is New York
Bright lights, big city
Wanderlust and city dust
Neon dreams
Lost in Times Square
Where dreams collide
Take me back to Times Square
Times Square gives me butterflies
P.S. I love Times Square
Go where you feel most alive
Did somebody say Times Square?
Meanwhile, in Times Square…
Up Next: Empire State Building Captions For Instagram
Beautiful & Inspirational Times Square Captions
I'm just a small-town girl with big city dreams
Not leaving anything behind in Times Square but my heart
You can leave Times Square but it will never leave you
In the heart of Times Square, I found a piece of myself I never knew was missing
Times Square, are you shining just for me?
I love places that make you realize how tiny you and your problems are
In Times Square, I discovered that the greatest adventures often begin in the most unexpected places
Remember when you dreamed of being where you are now?
Times Square: where dreams come alive and memories are etched in the brightest of lights
If you can make it here, you can make it anywhere
Being in Times Square made me realize that life is too short not to chase after the things that make us feel alive
Hello Times Square, your lights are fireflies in my heart
Stepping into Times Square felt like stepping into a dream
Times Square: a reminder that life is a grand spectacle, meant to be embraced, cherished and celebrated
You May Also Like: Statue of Liberty Captions For Instagram
Times Square Quotes For Instagram Captions
"It's pretty cliched but Times Square is just incredible. You really feel like you're in the capital of the world." – Timothy F. Cahill
"I want Times Square!" – Betty Who
"Times Square: where time stands still and the world rushes by, leaving behind memories etched in my soul." – Traveller's Elixir
"Amidst the luminous chaos, Times Square whispers tales of a thousand untold stories." – Traveller's Elixir
"There's nothing like the feeling of being in Times Square for New Year's Eve." – Kimberly Guilfoyle
"Wherever you are, be all there." – Jim Elliot
"Times Square can't shine as bright as you." – 'Hey There Delilah' by Plain White T's
"How can you be organized when you're in Times Square?" – Mary-Kate Olsen
"In the embrace of Times Square's dazzling lights, I found my own constellation of dreams." – Traveller's Elixir
"New York, I think of nighttime, I think of Times Square and Broadway and nightlife and the city that never sleeps." – Jimmy Fallon
"It's the rule of life that everything you have always wanted comes the very second you stop looking for it." – Carrie Bradshaw
"People often think of New York as a city, a concrete jungle with soaring skyscrapers and yellow taxis and the bright lights of Times Square." – Daniel Humm
"You can't stop traffic on Times Square." – Sydney Pollack
"I don't mourn the old, romantic, dirty Times Square, although it was more unique." – Lee Ranaldo
"A concrete version of paradise." – Marisa Casciano
"I always have a positive reaction to Times Square – you've got so many people passing through here, so many cultures, and so many people merging into the central community of New York City. This is the hub of America." – Dhani Jones
"Times Square: where every step feels like a dance and every glance holds a story." – Traveller's Elixir
Up Next: Brooklyn Bridge Captions For Instagram
Times Square Hashtags For Instagram Likes
#timessquare
#timessquarenyc
#timessquarenewyork
#timessquareedition
#newyorkcity
#newyorklife
#newyorkcitylife
#newyork_instagram
#newyorkstateofmind
#newyorkcityphotography
#newyorkgram
#newyorktravel
#newyorktrip
#newyorkcityfeelings
#newyorkphoto
#newyorkphotography
#newyorkstreets
#newyorkskyline
You May Also Like: New Jersey Captions For Instagram
---
I hope these Instagram captions have sparked your creativity and added an extra touch of magic to your social media posts.
Whether you're a local New Yorker or a traveler from afar, capturing the spirit of Times Square is an experience like no other.
Related Posts: