Captivating the hearts and lenses of millions, the iconic Statue of Liberty stands tall, proudly proclaiming freedom and hope.
As one of the most recognizable landmarks in the world, Lady Liberty has become a favorite subject for Instagrammers seeking to capture her majestic beauty.
To help you stand out in the sea of stunning snapshots, I've come up with the best Statue of Liberty Instagram captions.
Best Statue Of Liberty Instagram Captions
Cute Statue Of Liberty Captions For Instagram
A photo dump featuring Lady Liberty in all her glory
Not all heroes wear capes – some are made of copper and stand on Liberty Island
It was a fantastic experience to be in front of this beautiful lady
I fell in love. Her name is Lady Liberty
Hanging out with my favorite green lady
It's bad manners to keep the Statue of Liberty waiting
Follow your heart even if it takes you all the way to Liberty Island
The Statue of Liberty: proof that standing tall and holding a torch never goes out of style
Lady Liberty officially has my heart
I want someone to look at me the way I look at the Statue of Liberty
I left my heart with the Statue of Liberty
Don't mind me, just hanging out with the coolest lady in town
Lady Liberty: the original New Yorker with the best panoramic view
Just casually hanging out with Lady Liberty
When I see the Statue of Liberty, my eyes turn into little hearts
Great views are not meant to be captured. They are meant to be experienced
Making memories with Lady Liberty by my side
Exploring the city with my favorite green goddess, Lady Liberty
The one where I go to the Statue of Liberty
Caught between 'oohs' and 'aahs' at Lady Liberty's coppery charm
I can finally tick 'see the Statue of Liberty' off my bucket list
I've got a crush on Lady Liberty
Just hanging out with my copper buddy
Lady Liberty: giving tours since 1886
On a date with Lady Liberty
Found my daily dose of copper cuteness at the Statue of Liberty
Warning: excessive patriotism may occur in the presence of the Statue of Liberty
If Lady Liberty were on Instagram, she'd totally have the most epic #OOTD posts
Up Next: Best New York City Instagram Captions
Funny Statue Of Liberty Captions & Statue Of Liberty Puns
Turn that crown upside down
Spill the Liber-tea
I carry a torch for the Statue of Liberty
Finally made it to the Statue of Liberty. It's a boat time!
The Statue of Liberty is America's crown jewel
She must be a pretty jealous lady because she's green with envy
This view of the Statue of Liberty couldn't be any NYCer
The Statue of Liberty is America's France-iest statue
Sipping on Liber-tea
You know Americans are obsessed with the Statue of Liberty because they put her on a pedestal
US of yay!
Having a monument-al time with the lady of the hour!
Here, Bartholdi my beer
I harbor a lot of resentment because I had to skip the Statue of Liberty
You May Also Like: Times Square Captions For Instagram
Short Statue Of Liberty Captions
The American dream
Lady Liberty
New York state of mind
She's a real American beauty
Statue of dreams
Meet you by the Statue of Liberty
Freedom is not just a dream
Meanwhile, in New York…
Our Lady
Once upon a time in New York
American dreamin'
Lady in copper
Falling hard for Lady Liberty
Give light and people will find the way
New York – the city of dreams
Immortalized in copper
Let the city set you free
Living history
Up Next: Empire State Building Instagram Captions
Inspirational & Beautiful Statue Of Liberty Captions
A universal symbol of freedom and friendship
Just a small human, standing tall beside the grandest lady of them all
Illuminated Lady Liberty is always a special sight
In the embrace of freedom, love blossoms
Life, liberty and the pursuit of happiness
Feeling like a tiny adventurer in Lady Liberty's world
A dream come true, standing beside the beacon of freedom
Freedom means the opportunity to be what we never thought we would be
Somewhere between living and dreaming, there's New York
You only live once, but if you do it right, once is enough
Anything is possible. This is New York
Whispers of freedom echo through the city
Captivated by the grandeur of Lady Liberty, forever etched in memory
Love at first sight: the moment I laid eyes on Lady Liberty
You May Also Like: Central Park Instagram Captions
Statue Of Liberty Quotes For Instagram Captions
"The most powerful visual in America today is actually the Statue of Liberty." – Frank Luntz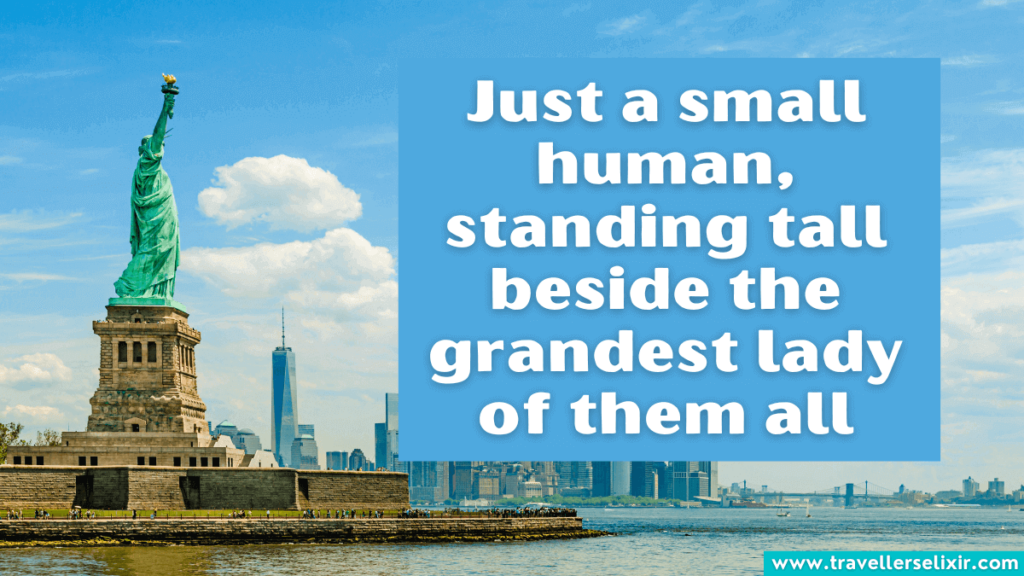 "Wrapped in copper, Lady Liberty stands tall, reminding us that true strength comes from within." – Traveller's Elixir
"It's magnificence was indescribable, and its magnitude was inconceivable. She felt overwhelmed in the presence of its greatness." – Mona Rodriguez
"I've always had a strong feeling for the Statue of Liberty because it became the statue of my personal liberty." – David Antin
"In the shadow of Lady Liberty, we find solace, knowing that freedom's flame can never be extinguished." – Traveller's Elixir
"As I looked up at the Statue of Liberty, I thought at that time, 'What a wonderful country.'" – Elaine Chao
"You sail into the harbor, and Staten Island is on your left, and then you see the Statue of Liberty. This is what everyone in the world has dreams of when they think about New York. And I thought, 'My God, I'm in Heaven. I'll be dancing down Fifth Avenue like Fred Astaire with Ginger Rogers.'" – Frank McCourt
"Lady Liberty, a beacon of hope, lighting our way to a brighter tomorrow." – Traveller's Elixir
"The Statue of Liberty really is profound, I just wish she'd lighten up a bit." – Dov Davidoff
"Freedom is nothing but a chance to be better." – Albert Camus
"Those who deny freedom to others deserve it not for themselves." – Abraham Lincoln
"Living in New York City, I am reminded by the Statue of Liberty that the United States of America has always welcomed those yearning to breathe free and seek a better life." – Charles B. Rangel
"As the sun sets behind Lady Liberty, the sky becomes a canvas, painting a picture of hope and possibility." – Traveller's Elixir
"Many of America's and New York's sons and daughters are around the world fighting for the freedoms that the Statue of Liberty stands for." – Michael Bloomberg
"The first time I saw America was from my perch on the mast of a Spanish naval ship, where I could spot the Statue of Liberty reaching proudly into the open, endless American sky." – Jose Andres
"In the presence of the Statue of Liberty, we are reminded that freedom is a precious gift worth fighting for." – Traveller's Elixir
"Out in the channel, the Statue of Liberty stood alone on her little island, her corroding flame held high in the air as the sun set over the industrial shoreline and skyways of New Jersey." – Andrew Cotto
"United States: the country where liberty is a statue." – Nicanor Parra
"The crime problem in New York is getting really serious. The other day the Statue of Liberty had both hands up." – Jay Leno
"It's not enough for the torch of liberty to be held up high only by one woman, every human must hold the torch up high in every corner of the world." – Abhijit Naskar
"Lady Liberty standing guard at the gateway to New York where the Hudson and East rivers merge." – Unknown
Up Next: Brooklyn Captions For Instagram
Statue of Liberty Hashtags For Instagram Likes
#statueofliberty
#statueofliberty🗽
#statueoflibertymuseum
#statueoflibertycrown
#statueoflibertynyc
#ladyliberty
#ladyliberty🗽
#libertyisland
#libertyisland🗽
#newyorkphotography
#newyorklife
#newyorkcity
#newyorkgram
#newyorktravel
#newyorktrip
#newyorkstateofmind
You May Also Like: New Jersey Instagram Captions
---
The Statue of Liberty embodies the spirit of freedom, resilience and unity that transcends borders and touches the depths of our souls.
So as you share your Statue of Liberty moments on Instagram, let's not forget the powerful message she carries – a reminder of the strength of humanity and the pursuit of liberty for all.
Related Posts: