Welcome to Brooklyn where creativity knows no bounds and every corner features a story waiting to be captured.
Whether you're strolling along the iconic Brooklyn Bridge or immersing yourself in the vibrant street art scene of Bushwick, I've got you covered.
Get ready to sprinkle some Brooklyn magic onto your feed as I unveil my list of the absolute best Brooklyn & Brooklyn Bridge Instagram captions that will elevate your posts.
Best Brooklyn & Brooklyn Bridge Instagram Captions
Cute Brooklyn & Brooklyn Bridge Captions For Instagram
Walking around in my happy place
When I see Brooklyn Bridge, my eyes turn into little hearts
Brooklyn Bridge gives me butterflies
Enjoying every New York minute
I just can't help loving you, Brooklyn
I'm in a New York state of mind
A photo dump featuring Brooklyn Bridge, hot dogs and coffee
Warning: hanging out in Brooklyn may result in excessive hipsterism
Not leaving anything behind in Brooklyn but my heart
I think I fell in love with Brooklyn
Brooklyn Bridge is (not) falling down
If Brooklyn were a person, it would definitely rock a perfectly groomed mustache
Love is the bridge between two hearts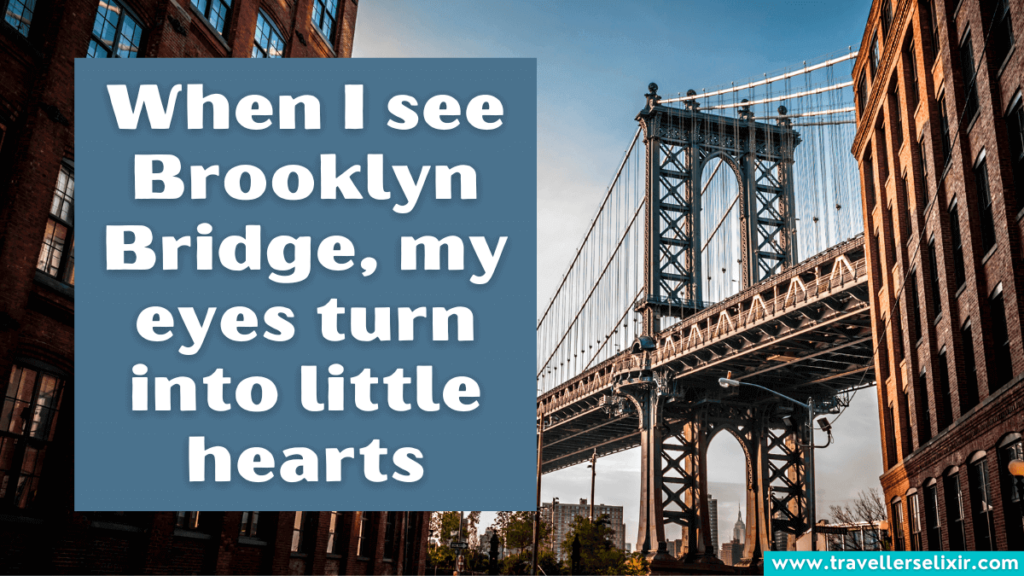 I wouldn't mind living under a bridge if I could experience this sunset everyday
Here for the views and hot dogs
Meet you on Brooklyn Bridge
Dear Manhattan, Brooklyn is like your cooler, more laid-back sibling
You can leave Brooklyn, but it will never leave you
Feelin' like a tourist at Brooklyn Bridge!
This is what dreams are made of
I really, really like Brooklyn Bridge
Warning: Brooklyn may cause severe cravings for avocado toast and vintage vinyl records
Left my heart in Brooklyn, better go back and get it
Let's find some beautiful place to get lost in
Brooklyn, are you shining just for me?
If you follow your heart just right it will get you to New York City
When you just want to run away to the big city
Somewhere between Brooklyn and Manhattan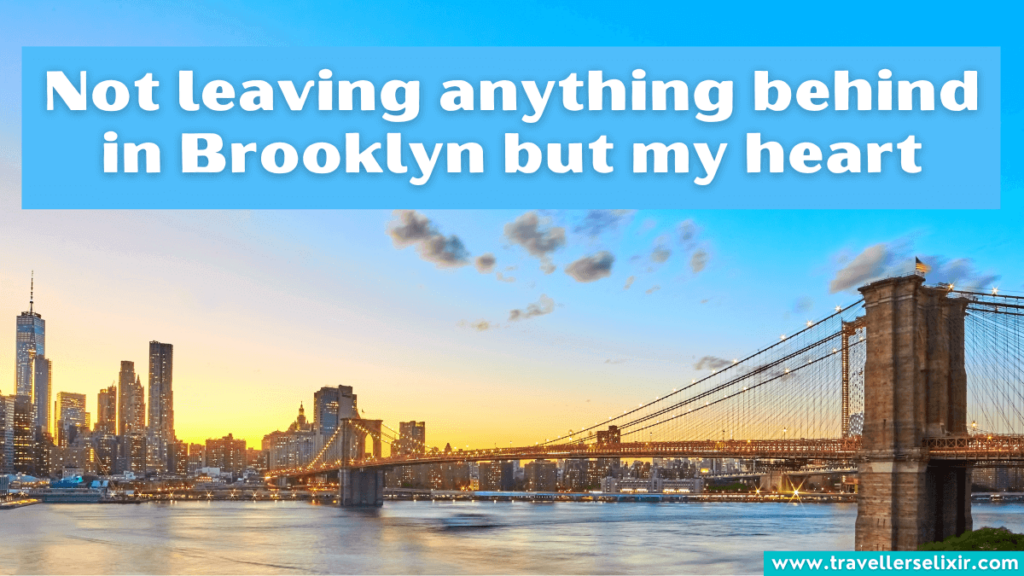 Alexa, play 'Welcome to New York' by Taylor Swift
Hello Brooklyn, your lights are fireflies in my heart
Brooklyn, you're the cream cheese to my bagel
Up Next: Best NYC Instagram Captions
Funny Brooklyn Captions & Brooklyn Bridge Puns
It's just a bridge, get over it
The Brooklyn Bridge is no hidden gem. It's pretty mainstream
When crossing from Brooklyn to Manhattan, remember to say So Long Island
NYC keeps the Brooklyn Bridge spick and span
Could Brooklyn be any NYCer?
Brooklyn is a Bridge too far
Brooklyn stole a pizza my heart
The Brooklyn Bridge really towers over other NYC landmarks
Don't surprise me on the Brooklyn Bridge. The suspension is giving me anxiety
I'm just a little apple in the Big Apple
Brooklyn bridges the gap between dreams and bagels
Wire we not on Brooklyn Bridge already?
I just Brook the rules in Brooklyn
You May Also Like: Best Times Square Captions For Instagram
Short Brooklyn & Brooklyn Bridge Captions
I'm in Brooklyn baby
Bridges don't take sides
Build bridges not walls
Spread love. It's the Brooklyn way
These lights will inspire you
Walk the Brooklyn Bridge
Late nights & bright lights
City lights, Brooklyn nights
Wanderlust is incurable
From Brooklyn with love
Lost in Brooklyn
The most magical city in the world
I left my heart in Brooklyn
Falling hard for Brooklyn Bridge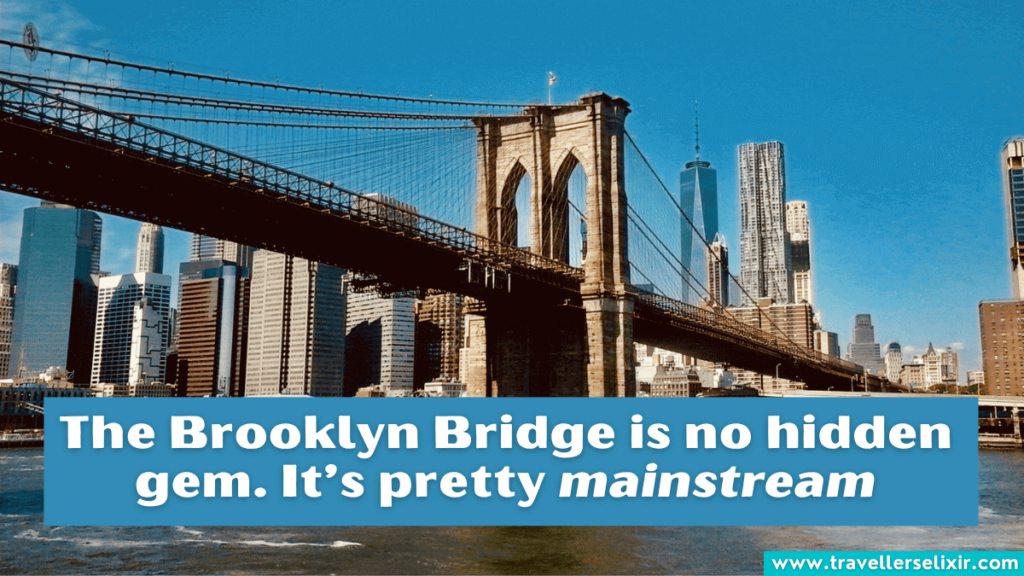 Concrete jungle
Say yes to new adventures
Urban playground
Daydreaming in Brooklyn
Brooklyn, my love
The sky's the limit
Meet me in Brooklyn
Magnifique!
Postcard from Brooklyn
Wanderlust and city dust
Brooklyn Bridge, you look great
Bright lights, big city
You May Also Like: Best Empire State Building Instagram Captions
Brooklyn Quotes For Instagram Captions
"Brooklyn's good. Brooklyn's funky. Brooklyn's happening." – Waris Dirie
"It meant that she belonged to some place. She was a Brooklyn girl with a Brooklyn name and a Brooklyn accent. She didn't want to change into a bit of this and a bit of that." – Betty Smith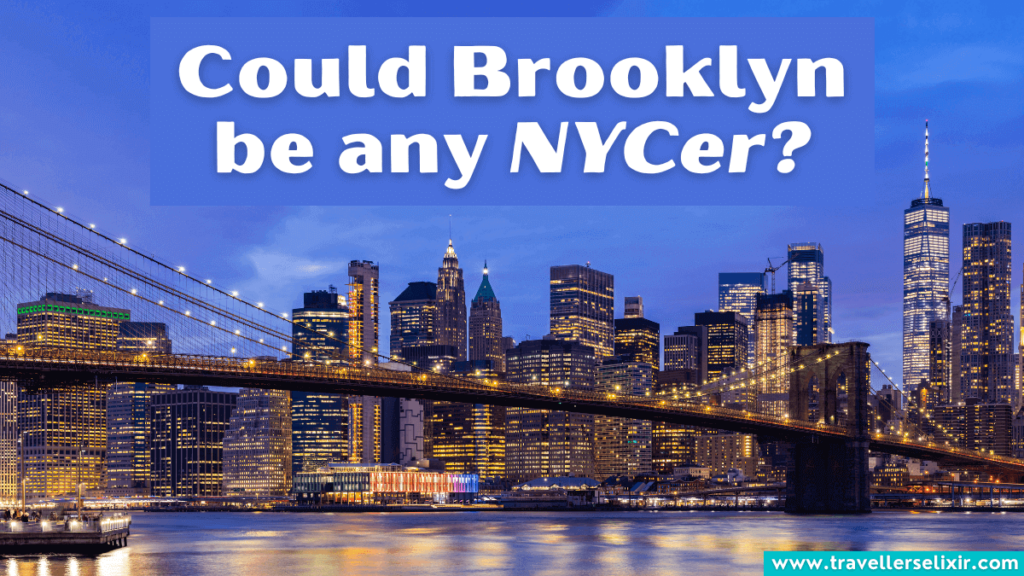 "I've fallen in love with Brooklyn. I'm going to buy a little house in Brooklyn and live there. I'll go to the coast only when I have to make a picture." – Marilyn Monroe
"Brooklyn just got that energy to me that's so hip-hop and so New York City. You know, New York City is the grittiest city in the world." – Statik Selektah
"Born in Brooklyn, got a place in Manhattan, going back to Brooklyn to escape the madness." – Jay Z
"Brooklyn whispers stories of resilience, painted with the strokes of diversity and sung through the voices of a million dreams." – Traveller's Elixir
"Filming in Brooklyn is like opening a time capsule. Nothing has changed. Everything looks like it did in the eighties." – Freddie Prinze Jr.
"One belongs to New York instantly, one belongs to it as much in five minutes as in five years." – Tom Wolfe
"Brooklyn, it's a great town, a great city. It's New York." – Patrick Ewing
"Brooklyn, where the skyline meets the soul and the streets echo the rhythm of untamed creativity." – Traveller's Elixir
"Manhattan is like Beverly Hills. And the soul of New York has moved to Brooklyn, where everything new and exciting seems to be." – Alec Baldwin
"New York!' he said. 'That's not a place, it's a dream." – Ralph Ellison
"Brooklyn was a dream. All the things that happened there just couldn't happen. It was all dream stuff." – Betty Smith
Brooklyn, the sanctuary of dreamers and visionaries, where the boundaries of imagination know no limits." – Traveller's Elixir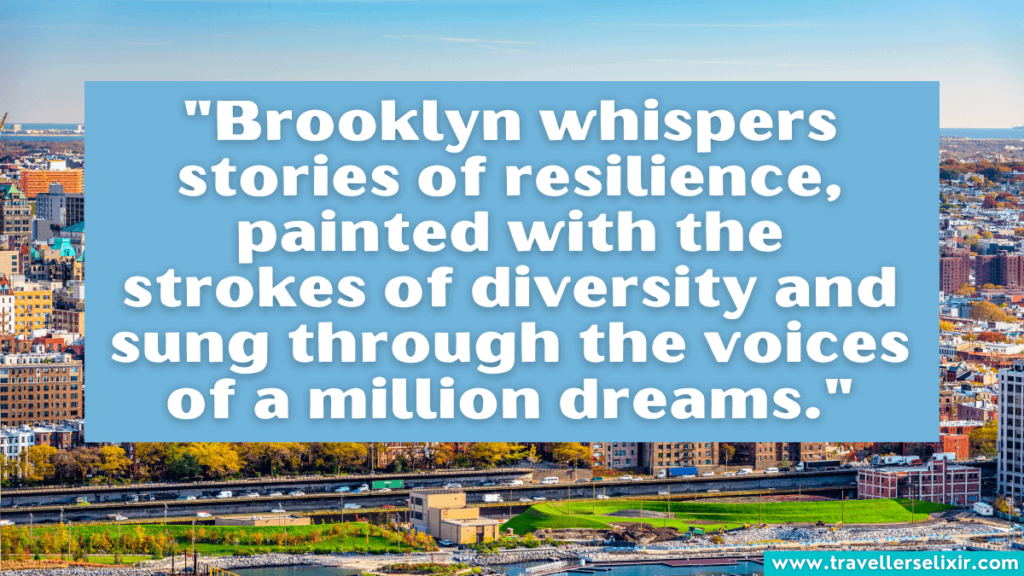 "At all events there is in Brooklyn something that makes me feel at home." – Marianne Moore
"Even with all of its changing, Brooklyn's architecture still feels like home, the language feels like home." – Jacqueline Woodson
"Late June in Brooklyn is like the very beginning of a party, when the music is really good but you know that it's about to get way better, so you just do a little two-step before the real turn-up starts." – Ibi Zoboi
"Mentally been many places but I'm Brooklyn's own." – Jay Z
"I love Brooklyn; it's a part of who you are." – Paul Dano
"I would give the greatest sunset in the world for one sight of New York's skyline." – Ayn Rand
"Spread love, it's the Brooklyn way." – The Notorious B.I.G.
Up Next: Best Central Park Captions For Instagram
Brooklyn Bridge Quotes For Instagram Captions
"Everyone should walk across the Brooklyn Bridge. I did it three days in a row because it was one of the most exhilarating experiences I've ever had. The view is breathtaking." – Seann William Scott
"I would rather be the man who bought the Brooklyn Bridge than the man who sold it." – Will Rogers
"I remember perfectly my first trip to New York when I was on the bridge between Brooklyn and Manhattan when I saw the buildings. It was like an incredible dream." – Diego Delle Valle
"The Brooklyn Bridge: a magnificent thread that weaves together the fabric of New York, connecting hearts and spanning dreams." – Traveller's Elixir
"I once started out to walk around the world but ended up in Brooklyn, that Bridge was too much for me." – Lawrence Ferlinghetti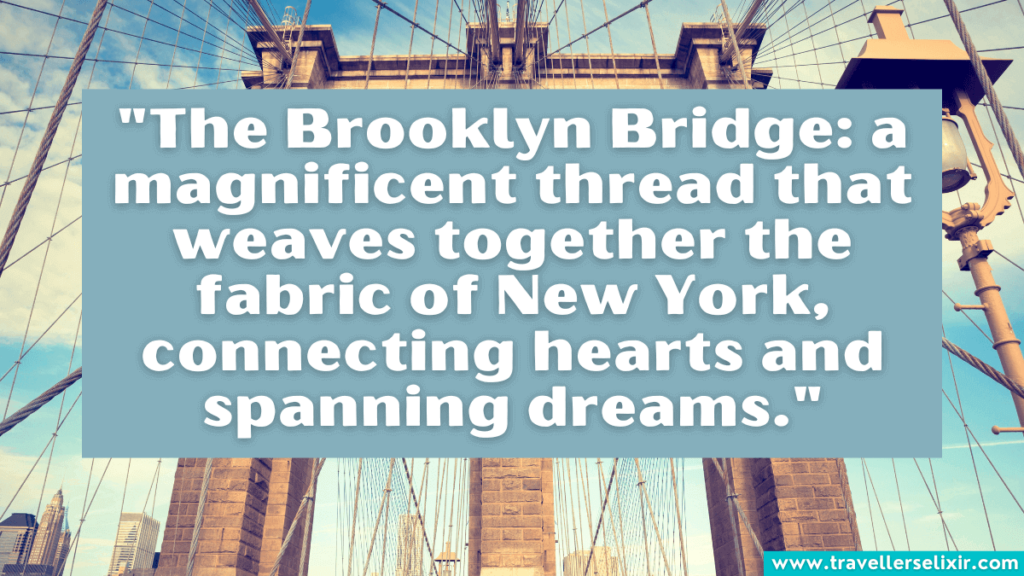 "On the Brooklyn Bridge, I stood suspended between two boroughs, feeling the heartbeat of New York pulsating beneath my feet." – Traveller's Elixir
"You'll miss her most when you roam, 'cause you'll think of her and think of home, the good old Brooklyn Bridge." – Frank Sinatra
"Sure, I know a place right across the Brooklyn Bridge where they'll never find us." – On the Town
"As I walked across the Brooklyn Bridge, I felt the whispers of history, the echoes of thousands who have journeyed before me." – Traveller's Elixir
"The Brooklyn Bridge and I grew up together." – Al Smith
"The Brooklyn Bridge: where steel meets the sky and dreams take flight amidst the gentle sway of the cables." – Traveller's Elixir
"You want the Brooklyn Bridge, all you gotta do is ask for it." – The Roaring Twenties
"We build too many walls and not enough bridges." – Sir Isaac Newton
"Under the arches of the Brooklyn Bridge, I found a portal to another world, where imagination dances with reality." – Traveller's Elixir
You May Also Like: Best Statue of Liberty Captions For Instagram
Brooklyn Hashtags For Instagram Likes
#brooklyn
#brooklynbridge
#brooklynfood
#brooklynart
#brooklynny
#brooklynstreetart
#brooklynqueen
#igersbrooklyn
#brooklynbridgepark
#brooklynfoodie
#brooklynkid
#brooklynbeauty
#brooklynnyc
#brooklynbridgeig
#brooklynlife
#unlimitedbrooklyn
#brooklynpizza
#hellobrooklyn
#brooklynbabe
#brooklynblogger
Up Next: Best New Jersey Captions For Instagram
---
I hope you've found the perfect words to complement your stunning photos of this mesmerizing borough.
From the trendy neighborhoods to the iconic landmarks, Brooklyn offers a captivating backdrop for your Instagram feed.
Related Posts: