With its sprawling lawns and picturesque bridges, this iconic oasis in the heart of New York City is an absolute playground for Instagrammers.
Whether you're strolling with a loved one or simply seeking some tranquility, Central Park offers an array of photo opportunities that are begging to be shared with the world.
To help you perfectly capture the essence of this urban sanctuary, I've come up with the absolute best Central Park Instagram captions.
Best Central Park Instagram Captions
Cute Central Park Captions For Instagram
Not leaving behind anything in Central Park but my heart
Somewhere over the rainbow, you will find Central Park
Somewhere between living and dreaming, there's Central Park
Chasing dreams and hot dog vendors in Central Park
I'm in a good place right now. Not emotionally, I'm just in Central Park
Being among the trees is where I belong
I left my heart in Central Park
Central Park will make you feel brand new
Central Park is where I go to pretend I'm in a romantic comedy montage. Just waiting for the meet-cute moment now
Taking a break from the concrete jungle to find my wild side in Central Park
My heart burns for the city lights but my soul lives for Central Park
Escape with me to the lakes and the trees
Love you, Central Park. Mean it.
Stepping into a green oasis in the concrete jungle
Channeling my inner Blair Waldorf while strolling through Central Park
Making a stop at Central Perk
Not everyone was born to run… some of us just sit in Central park to eat ice cream!
Central Park? That's not a place, it's a dream
Sometimes, all you need is a change in scenery
Do more outdoorsy things, even if you're not an outdoorsy person
The adventure never stops and neither will I
Channeling my inner forest nymph because city life is too mainstream
Get lost in the trees every now and then. It's good for the soul
You never forget your first time in Central Park
Now I understand why New Yorkers love this place so much
Central Park on a sunny day is my idea of heaven
Found my zen in Central Park
Between every two trees is a doorway to a new world
Up Next: NYC Instagram Captions
Funny Central Park Captions & Central Park Puns
I think I'll just Central Park myself over here for a while
Falling for Central Park like a New Yorker falls for a hot slice of pizza
Wandering around Central Park is such a tree-t!
The views from Central Park couldn't be any NYCer
Central Park, you're tree-mendous
Leaf-ing my worries behind in Central Park
Central Park always perks me up
Sweet dreams are made of trees
Attempting a graceful jog through Central Park like a majestic gazelle
I can't help but fall for Central Park
I'm feeling tree-mendous in Central Park
I'd really lake to live by Central Park
I lake Central Park a lot
I'm growing quite pond of Central Park
I'm zoo excited to be visiting Central Park Zoo
After sightseeing all day, I'm Central Park-ing myself down for the rest of the night
You May Also Like: Times Square Instagram Captions
Short Central Park Captions
Let's go to Central Park
Daydreaming in Central Park
Keep close to nature's heart
Strolling through green
Meet me in Central Park
Let's get wild
In love with nature
A beautiful distraction
From Central Park with love
Finding peace in chaos
The trees & me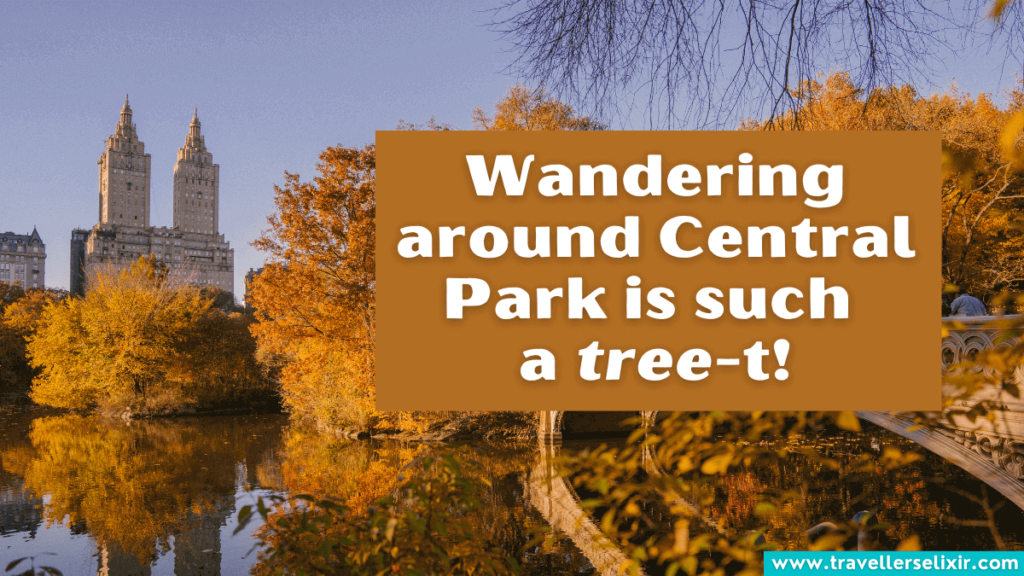 When in doubt, hug a tree
I've got nature vibes
I want a little bit of Central Park
City meets tranquility
Central Park, I'm yours!
Up Next: Brooklyn Bridge Captions For Instagram
Central Park Quotes For Instagram Captions
"The most unusual and surrealistic place in New York City is Central Park." – Christo
"Amidst the skyscrapers, Central Park stands as a gentle reminder that even in the busiest of places, there is always room for tranquility and reflection." – Traveller's Elixir
"I love New York. You can pop out of the Underworld in Central Park, hail a taxi, head down Fifth Avenue with a giant hellhound loping behind you, and nobody even looks at you funny." – Rick Riordan
"You can get the true essence of New Yorkers by just hanging out in Central Park." – Andy Roddick
"In the heart of the concrete jungle, Central Park weaves a tapestry of serenity, where nature's whispers drown out the city's chaos." – Traveller's Elixir
"Joy comes from places you least expect it. It's usually the simple things like watching my son play basketball or going through Central Park when the blossoms are blooming." – Dave Gahan
"I just want to go through Central Park and watch folks passing by. Spend the whole day watching people. I miss that." – Barack Obama
"Wherever you go, go with all your heart." – Confucius
"Central Park's timeless beauty is a canvas painted with nature's brushstrokes, inviting us to pause, breathe and embrace the art of being present." – Traveller's Elixir
"My favorite place is Central Park because you never know what you're going to find there. I also like that when I look out the windows of surrounding hotels, it seems like I'm looking out over a forest." – Haley Joel Osment
"I may be a lifelong 'downtowner,' but Central Park really is the most amazing and the most beautiful part of New York City." – Moby
"The Central Park Zoo is a little gem in the middle of the city. Its penguin exhibit is terrific and the seals are a permanent center of attraction for children." – Newt Gingrich
"In every walk with nature one receives far more than he seeks." – John Muir
"Life moves pretty fast. If you don't stop and look around once in a while, you could miss it." – Ferris Bueller's Day Off
"As the seasons dance through Central Park, the trees become storytellers, whispering tales of rebirth, growth and the passage of time." – Traveller's Elixir
"Central Park is the most amazing gift. It's incredible. You find new spots, new people, new friends for the dogs." – Diana Taylor
"A great day in New York would be to wake up, get a cup of coffee and head up to Central Park for a nice walk." – Emmanuelle Chriqui
"Within Central Park's embrace, the hustle of the city fades and a symphony of colors and scents envelops the senses, leaving behind an indelible sense of peace." – Traveller's Elixir
"Quiet is definitely not how I would describe New York, but if I go outside of the front door, I see the beautiful Central Park, so it's a nice place to be." – Petra Kvitová
"I love Central Park. I feel like I am somewhere else." – Elisabeth Hasselbeck
"I love Central Park. I spend a lot of time in there. I try and get in there whenever I can." – Lili Taylor
"I like to walk around Central Park and take in the vibe, have a picnic if the weather is good, and people watch." – Samantha Barks
You May Also Like: Empire State Building Instagram Captions
Central Park Hashtags For Instagram Likes
#centralpark
#centralparknyc
#centralparkmoments
#centralparkmall
#centralparkwest
#centralparknewyork
#centralparkzoo
#centralparktower
#centralparkbirds
#centralparksouth
#centralparkview
#centralparkny
#centralparkviews
#centralparkphotography
#centralparkreservoir
#newyorklife
#newyorkskyline
#newyorkcity
#newyorkstateofmind
#newyorktrip
Up Next: Statue of Liberty Instagram Captions
---
And there you have it folks!
Central Park, with its timeless charm and captivating allure, has provided us with an abundance of incredible photo opportunities and unforgettable memories.
From the vibrant bursts of spring blooms to the golden hues of autumn, every season paints a different picture, ready to be shared with the world.
Related Posts: