Are you ready to embark on a journey to one of the most mystical places on earth?
Machu Picchu, the ancient Incan citadel nestled high in the Andes Mountains, is a sight to behold.
Whether you're looking for an inspirational, funny or simply awe-inspiring caption, I've got you covered with these awesome Machu Picchu Instagram captions.
P.S. Follow me on Instagram (@travellerselixir) and tag me in your photo for a share on my story!
Best Machu Picchu Instagram Captions
Funny Machu Picchu Captions & Machu Picchu Puns
Going to Machu Picchu? Alpaca my bags
Machu Picchu is Inca-redible
Times hike this
Machu Picchu is the best, I can Peru-v it!
It's just a mountain, get over it
Climbing Machu Picchu is no prob-llama
Nice to Machu
Actions peak louder than words
Peru-plexed by how amazing this place is
Machu Picchu is all the range
I got a whole llama love for Machu Picchu
Machu Picchu is Peru-fection!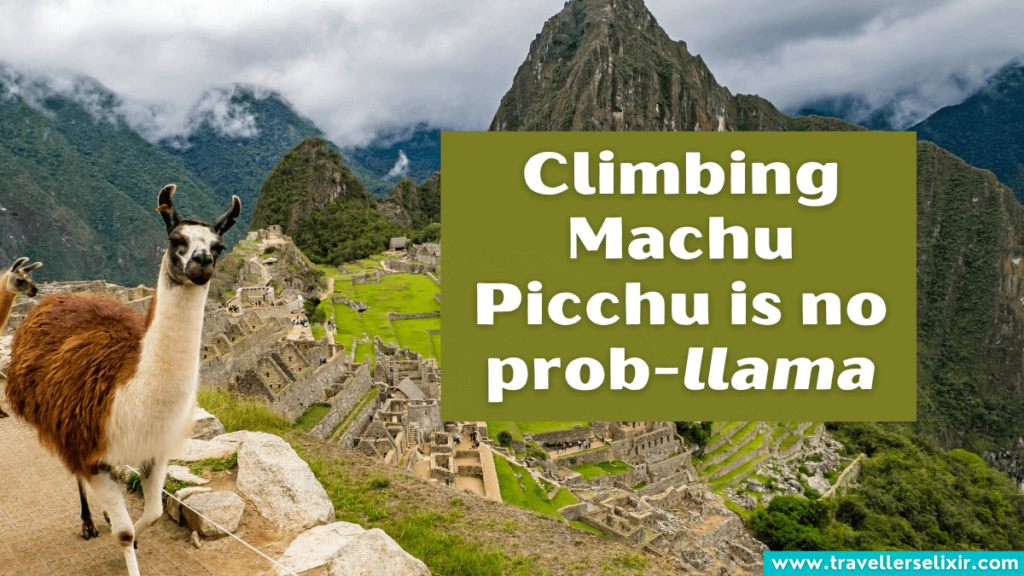 This view has really peaked my interest
Adjust your altitude
I don't trust the owls at Machu Picchu…I reckon they are all Inca hoots
Peru-ving everyone wrong who said I was Inca-pabale of climbing Machu Picchu
Up Next: Colombia Instagram Captions
Cute Machu Picchu Captions For Instagram
The best view comes from the hardest climb
Live for those moments you can't put into words
Machu Picchu: the only place where a llama will photobomb you…
I'm pretty sure I left my breath at the top of Machu Picchu
Machu Picchu is taking my breath away!
I came, I saw, I conquered…well, more like I huffed, I puffed, I conquered Machu Picchu
If you need me, I'll be living out my Indiana Jones fantasy at Machu Picchu
Climbing my way to bigger and better things
Feeling on top of the world, literally and figuratively, at Machu Picchu
Just another day at the office…aka exploring ancient ruins in Peru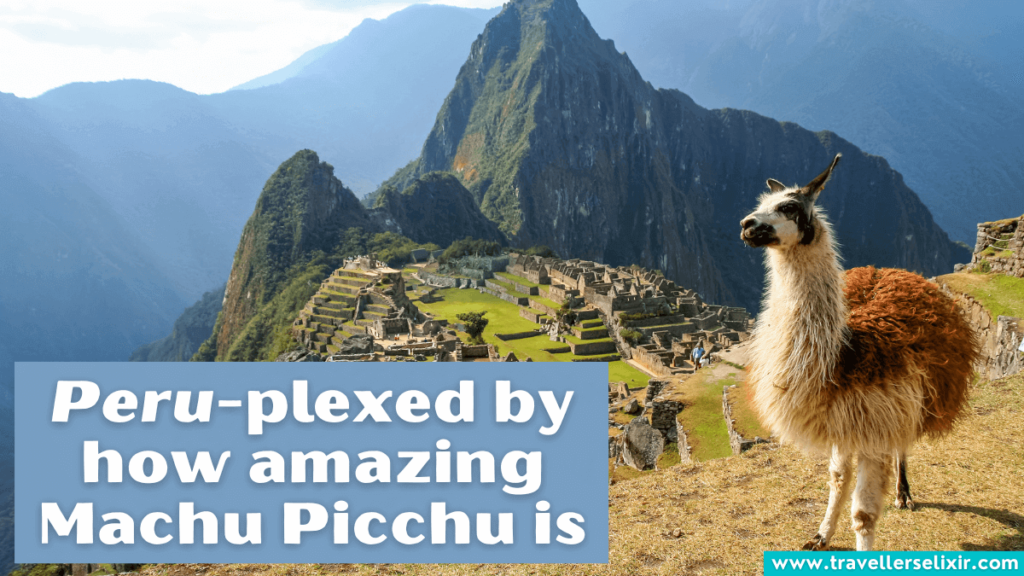 1/7 Wonders of the World completed!
I'm not saying I'm Wonder Woman but have you ever seen me and her hiking Machu Picchu at the same time?
Love this super adventurous journey for me
Can finally tick Machu Picchu off my bucket list!
Machu Picchu: where the views are worth the altitude sickness
I climbed all the way to Machu Picchu and all I got was this lousy caption
Feeling like Indiana Jones, but with better hair, at Machu Picchu
Just a girl, standing in front of Machu Picchu, trying to get the perfect Instagram shot
You May Also Like: Rio de Janeiro Instagram Captions
Short Machu Picchu Captions
Machu Picchu? Completed it
Hike, hike, baby
Inca wonderland
Ancient magic
Where wonder and magic meet
On a date with Machu Picchu
Timeless treasure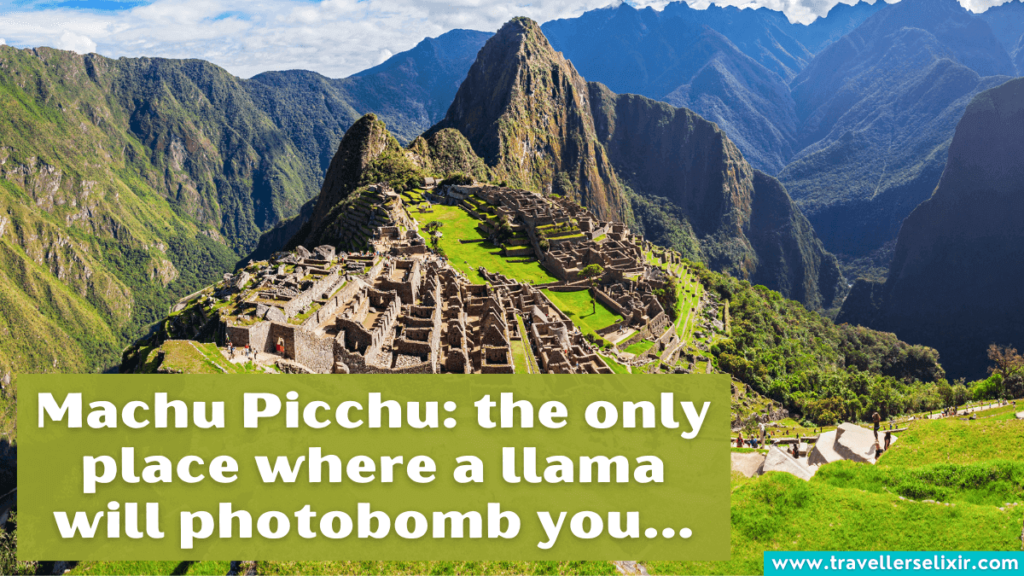 Wonder of the world
Just Machu Picchu things
I'm feeling on top of the world
Eternal majesty
Machu Picchu is my happy place
The land of the Incas
Up Next: El Salvador Instagram Captions
Inspirational & Beautiful Machu Picchu Captions
Better to see something once than to hear about it a thousand times
Standing at the top of Machu Picchu, I feel small but powerful
At Machu Picchu, I found not just ancient ruins but also the beauty and strength of my own spirit
Machu Picchu: where history whispers secrets
At Machu Picchu, I felt a sense of wonder and awe that I will carry with me always
Machu Picchu reminded me that sometimes the greatest adventures are the ones that take us out of our comfort zones
Life should have more mountains and less stress
I lost my breath climbing Machu Picchu but found my soul
Exploring Machu Picchu made me realize how small we are in the grand scheme of things but also how powerful our spirit can be
In the heart of the Andes, I found a piece of my own soul
Machu Picchu: because sometimes you just need to climb a mountain to put things in perspective
Machu Picchu is calling and I must go
Standing in awe of Machu Picchu, I'm reminded of the wonder and magic of the world we live in
Machu Picchu taught me that there is beauty in imperfection
You May Also Like: Mountain Instagram Captions
Machu Picchu Quotes For Instagram Captions
"In the ancient walls of Machu Picchu, we find not just history but also beauty, wonder and the infinite possibilities of human creativity." – Traveller's Elixir
"Few romances can ever surpass that of the granite citadel on top of the beetling precipices of Machu Picchu, the crown of Inca Land." – Hiram Bingham
"Machu Picchu may be ancient but its beauty and majesty remain timeless and eternal. A true wonder of the world." – Traveller's Elixir
"Machu Picchu is not just a place, it's a journey of the soul. A pilgrimage to the heart of our shared humanity, where we find the beauty and magic of our collective history." – Traveller's Elixir
"Machu Picchu is a place where the ancient world whispers its secrets to us and we listen with open hearts." – Traveller's Elixir
"In the sacred citadel of Machu Picchu, we find not just the ruins of an ancient civilization but also the echoes of a timeless wisdom that speaks to us still." – Traveller's Elixir
"I was moved beyond words. The tram ride over the mountains from Lake Titicaca to Cusco reminded me of Africa where I grew up; and 4 days walking on the Inca Trail, then more in the jungle, just magnificent- time, space, and splendor. Our planet is superb." – Jay Woodman
"In the variety of its charms and the power of its spell, I know of no other place in the world which can compare with it." – Hiram Bingham
"Machu Picchu, where the spirit of the past lives on and the soul of nature speaks to us in whispers." – Traveller's Elixir
"Because in the end, you won't remember the time you spent working in the office or mowing your lawn. Climb that goddamn mountain." – Jack Keuroac
"In the shadow of the Andes, Machu Picchu stands as a testament to the resilience of human culture and the majesty of the natural world." – Traveller's Elixir
"Machu Picchu: where the past and present dance together in a beautiful tapestry of culture, nature and the infinite possibilities of human spirit." – Traveller's Elixir
Up Next: Hiking Instagram Captions
Machu Picchu Hashtags For Instagram Likes
#machupicchu
#machupicchutravel
#machupicchuperu
#machupicchumountain
#machupicchupueblo
#incatrail
#incaruins
#incatrek
#perutravel
#peruadventure
#perudestinations
#perutrip
#visitperu
#cuscoperu
#travelperu
#discoverperu
#exploreperu
You May Also Like: Costa Rica Instagram Captions
---
Machu Picchu is a destination that leaves a lasting impression on anyone who visits.
From the stunning ruins to the breathtaking views, it's no wonder that travelers from all over the world come to witness its beauty.
And with the help of my list of the best Machu Picchu Instagram captions, you can capture and share your experience with the world.
Related Posts: