Welcome to the mesmerizing city of Rio de Janeiro where the sunkissed beaches, samba rhythms and stunning scenery combine to create a true paradise on earth!
From the iconic Christ the Redeemer statue to the lively Copacabana beach, Rio offers a wealth of Instagram-worthy moments that are just begging to be shared with the world.
That's why I've rounded up the best Rio de Janeiro Instagram captions that will make your followers feel like they're right there with you.
P.S. Follow me on Instagram (@travellerselixir) and tag me in your photo for a share.
Best Rio de Janeiro, Brazil Instagram Captions
Cute Rio de Janeiro Captions For Instagram
Just a girl who loves Rio de Janeiro
Oh baby, it's a wild world
If you can't go to heaven, Rio is the next best thing
A good beach day keeps the doctor away
I want a little bit of Rio de Janeiro
Rio, you have a special place in my heart. And by special place, I mean a place that's reserved for caipirinhas and churrasco
Dreams are made of sun and feijoada
Just touched down in Rio and already feeling like a samba queen. Somebody hand me a caipirinha!
Follow your heart, even if it takes you all the way to Rio
Rio de Janeiro: where the sun is hot, the drinks are cold and the caipirinhas flow like water
Enjoying life one Carnival at a time
I came to Rio for the beaches but I stayed for the churrasco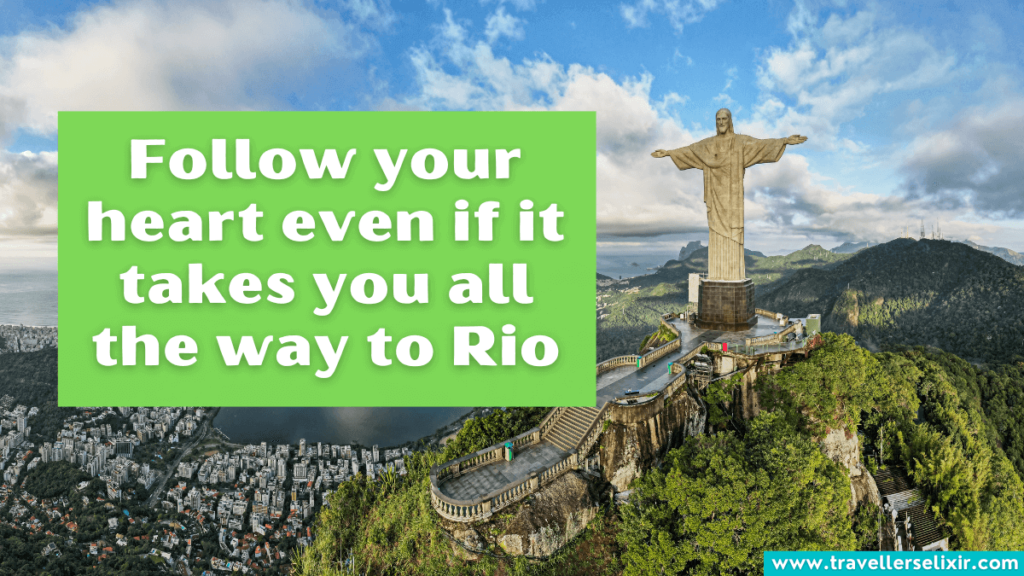 The beaches in Rio are so beautiful, it's like they were filtered with Valencia in real life
Living life in full color
My tan lines may fade, but the memories of Rio will last a lifetime. And probably a few extra pounds from all the feijoada I ate
Up Next: Buenos Aires Instagram Captions
Short Rio de Janeiro Captions
Rocking in Rio
Churrasco love
Life is a Carnival
Sandy toes. Sunkissed nose
Rio by night
Samba & caipirinhas
I'd rather be in Rio
P.S. I love Rio
Sunshine state of mind
Keep calm and Carnival on
Cidade Maravilhosa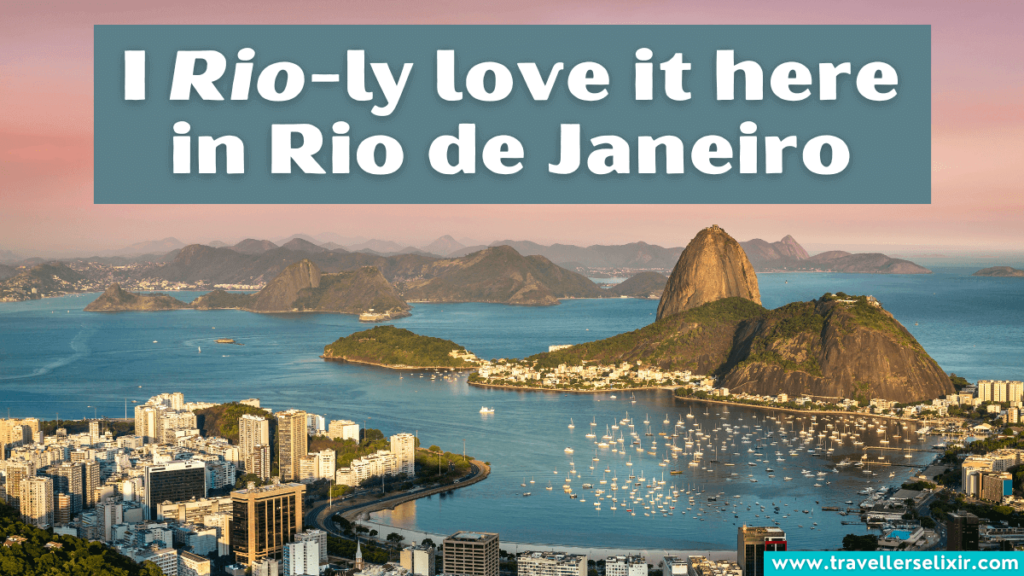 An explosion of color
I really, really like Rio
Coconut water heaven
You May Also Like: Colombia Instagram Captions
Funny Rio de Janeiro Captions & Rio de Janeiro Puns
I'm having an Amazon time in Brazil
I've tried a Brazilian times but I just can't leave Rio!
I Rio-ly love it here in Rio de Janeiro
The only thing I didn't like about Rio was that I couldn't bring the Christ the Redeemer statue home with me
I Rio-ly don't want to leave Brazil
Wow, Christ the Redeemer has really peaked my interest
The mountains in Rio are all the range
In Rio, even the seagulls are tanned
Beach you to it
Be shore of yourself
I came to Rio for the beaches, but I stayed for the churrasco. And the caipirinhas. And the samba. And pretty much everything else
Talk to the sand
Rio de Janeiro: where even the pigeons have more rhythm than me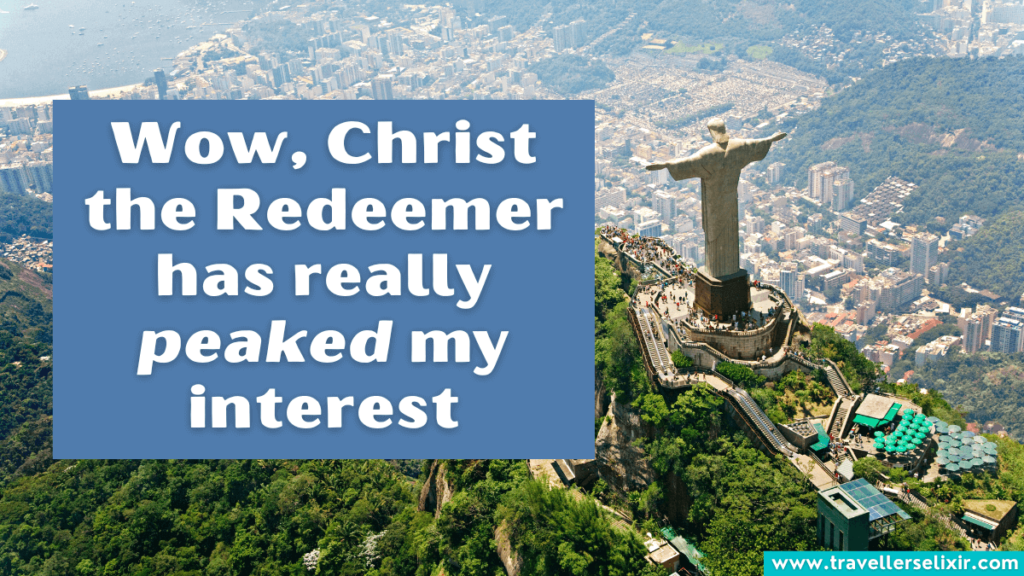 Up Next: Costa Rica Instagram Captions
Inspirational & Beautiful Rio de Janeiro Captions
The most beautiful country in the entire world
When in Rio, you can't just sit and watch the waves. You have to get in there and let the ocean waves wash away your worries
May you always have a shell in your pocket and sand in your shoes
Rio de Janeiro, where every day feels like a carnival and every moment is a celebration. I'm so grateful for the memories I've made here
A walk on the beach soothes the soul
Every corner of Rio de Janeiro is a sight to behold, from the colorful favelas to the lush green mountains. I can't wait to explore more!
Rio de Janeiro, thank you for making me feel so alive
I never knew that paradise existed on earth until I saw the sunset over Ipanema beach. Rio, you've officially ruined all other sunsets for me
On the search for the best viewpoint in Rio de Janeiro
I may have left Rio, but Rio never left me. The memories of the warm sunshine, salty ocean breeze and endless adventures will stay with me forever
Watching the sunset over the Brazilian horizon never gets old
There's something about Rio that just makes my heart sing. Maybe it's the samba, maybe it's the sunshine or maybe it's just the joy of being here
Great views are not meant to be captured. They are meant to be experienced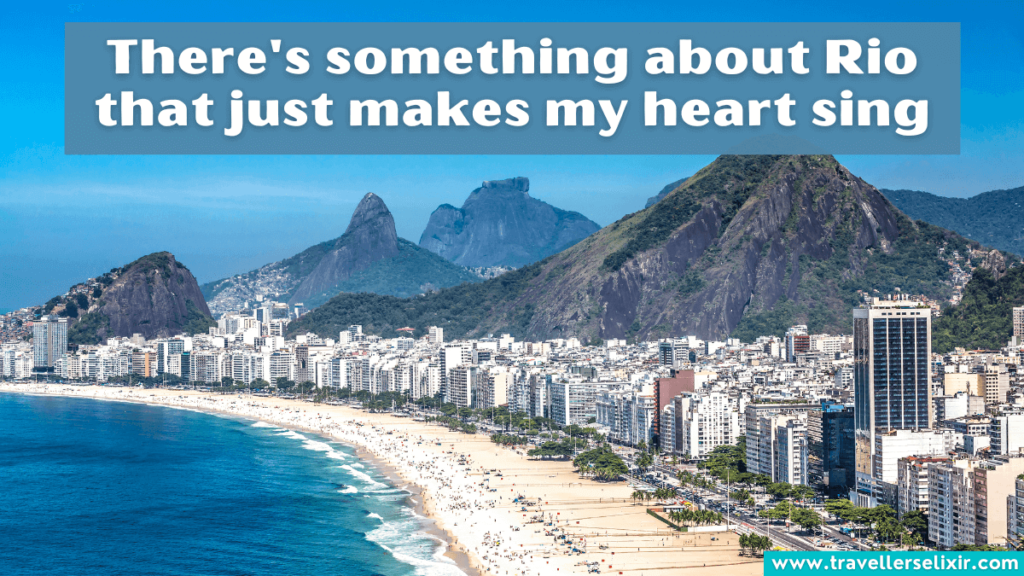 You May Also Like: Machu Picchu Instagram Captions
Rio de Janeiro Quotes For Instagram Captions
"In my heart, I've never left Brazil." – Brent Spiner
"The magic of Rio de Janeiro isn't just in its stunning beaches or iconic landmarks, it's in the way it makes you feel alive and grateful to be here." – Traveller's Elixir
"Rio's a beautiful city, a vibrant place, special place." – Eduardo Paes
"Brazil is where I belong, the place that feels like home." – Dionne Warwick
"In Rio, the sun shines brighter, the breeze is sweeter, and the world feels more alive. It's a city that reminds you of the joy of being alive." – Traveller's Elixir
"Brazil is bigger than Europe, wilder than Africa, and weirder than Baffin Land." – Lawrence Durrell
"Rio de Janeiro is a city that captivates the senses and nourishes the soul. Every visit feels like coming home." – Traveller's Elixir
"I'd like to go to Brazil I think. Do a little South America trip." – Kristanna Loken
"Brazil was, is, and will be in fashion." – Gilberto Gil
"One of my dreams is to dance with the Carnival girls." – Shanola Hampton
"In Rio, beauty isn't just in the eye of the beholder, it's in the rhythm of the samba, the colors of the sunset and the warmth of the people." – Traveller's Elixir
"They have a joy for life in Brazil unlike any country I've ever seen." – Morena Baccarin
"In Rio de Janeiro, it's so exciting to see, no matter where you go" – Barry White
"The Brazilian personality, the brightness, the passion, the laughter, the dancing, the joy." – Oz Clarke
"Rio de Janeiro is more than just a destination, it's a state of mind. A place where you can lose yourself and find yourself at the same time." – Traveller's Elixir
"When things get stale, you get on a boat and sail to Rio" – Doobie Brothers
"Rio de Janeiro is a city that reminds you of the beauty of being alive. It's a place that encourages you to dance, sing, and celebrate the joy of being human." – Traveller's Elixir
"Travel makes one modest, you see what a tiny place you occupy in the world." – Gustave Flaubert
"All right, that's nice, I'm going to Rio" – Jeff Lynne
"I see the future of Brazil as the future of the planet." – Gilberto Gil
"Rio de Janeiro is a city that demands to be explored, savored and remembered. It's a place that leaves a lasting impression on your heart and soul." – Traveller's Elixir
"Look at me and tell me if I don't have Brazil in every curve of my body." – Carmen Miranda
Up Next: El Salvador Instagram Captions
---
I hope these Rio de Janeiro Instagram captions have inspired you to share your experiences and adventures with the world!
Rio is a city that truly captures the essence of Brazil and offers endless opportunities for stunning photos and unforgettable memories.
Related Posts: