Welcome to the vibrant and bustling city of Buenos Aires! This South American gem is famous for its stunning architecture, vibrant street art and tango dancing in the streets.
With so much beauty and culture to capture, it's no wonder that Buenos Aires is a popular destination for Instagrammers looking to up their game.
I'll be sharing the best Buenos Aires Instagram captions that are sure to make your followers hit that like button.
P.S. Follow me on IG (@travellerselixir) and tag me in your photo for a share!
Best Buenos Aires, Argentina Instagram Captions
Cute Buenos Aires Captions For Instagram
I want someone to look at me the way I look at Buenos Aires
Here for the views and empanadas
It feels good to be lost in Buenos Aires
Brb, catching a flight to Buenos Aires
I know exactly where my heart is: Argentina
From now on sweet dreams are made of empanadas and sight-seeing in Buenos Aires
Just a girl who loves Buenos Aires
On the search for the best asado in Argentina
The only thing I love more than traveling is eating. So why not do both at the same time?
If you're not getting lost in the streets of Buenos Aires, you're not doing it right
Up Next: Rio de Janeiro Instagram Captions
Short Buenos Aires Captions
Take me to Buenos Aires
The Paris of South America
From Buenos Aires with love
Colors of Buenos Aires
Enjoying life one empanada at a time
Lost in the city lights
Daydreaming in Buenos Aires
I've got a crush on Argentina
Collecting moments in Buenos Aires
You May Also Like: Colombia Instagram Captions
Inspirational & Beautiful Buenos Aires Captions
People never forget two things: their first love and their first day in Buenos Aires
Oh darling, why don't we just stay in Argentina
I came to Buenos Aires with an open mind and left with a full heart
I love places that make you realize how tiny you and your problems are
If you follow your heart just right, it will get you to Buenos Aires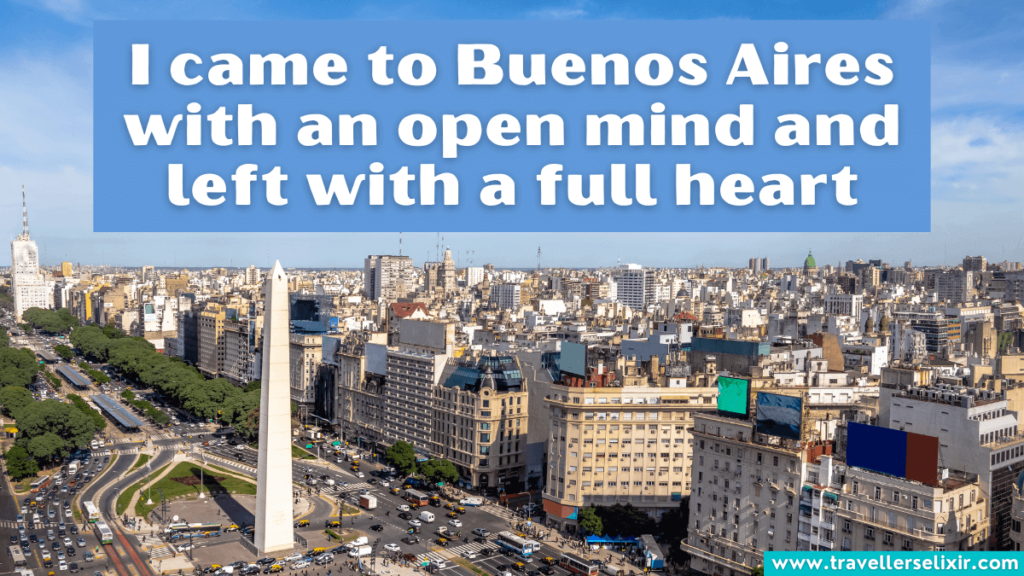 Don't be a tourist, be a traveler
The more I explore Buenos Aires, the more I fall in love with it
I never knew I could fall in love with a city so fast until I visited Buenos Aires
Dear Buenos Aires, I will never get over you
There's no time to be bored in a world as beautiful as this
Don't listen to what they say, go and see it for yourself
There's something about Buenos Aires that makes you feel alive and free
Up Next: Machu Picchu Instagram Captions
Funny Buenos Aires Captions & Buenos Aires Puns
Argentina is surprisingly cold, it's bordering on Chile
I'm never saying adiós to Buenos Aires, it has so much porteño-tial!
Getting Messi in Buenos Aires
When in doubt, just tango it out
It takes two to Tango
I'm stuffed (like an empanada) with love for Argentina
It's official, I'm tango-ver heels in love with Buenos Aires!
Having an en-fun-ada time in Buenos Aires
I came for the sights but stayed for the dulce de leche
You May Also Like: Costa Rica Instagram Captions
Buenos Aires Quotes For Instagram Captions
"Buenos Aires is a city that needs an exclamation point after its name. And maybe all caps. BUENOS AIRES! seems to capture the city's exuberant, exhausting and beautiful urban buzz." – Annie Fitzsimmons
"They say if you come to Buenos Aires and you haven't danced tango, then you haven't been to Buenos Aires!" – Emiline Fara
"Buenos Aires is a city that speaks to the soul, where every corner is a love letter to the heart." – Traveller's Elixir
"Buenos Aires. I'm new, I wanna say I'm just a little stuck on you. And if ever I go too far, it's because of the things you are. Beautiful town, I love you." – Madonna
"Buenos Aires is not just a place, it's an emotion that lingers long after you've left." – Traveller's Elixir
"I had to live my life, and to do that I needed to go to Buenos Aires." – Romina Paula
"The beauty of Buenos Aires lies not only in its stunning architecture but in the stories and dreams that shape the city." – Traveller's Elixir
"Without the streets or dusks of Buenos Aires, a tango cannot be written." – Jorge Luis Borges
"Buenos Aires is a great city for the visitor who enjoys a bit of hip, a bit of grit and a whole lot of street art." – Unknown
"Buenos Aires is easily one of the most stylish cities in the world with its eclectic collection of neighborhoods, each with its own unique charm." – Ben Elliot
"In Buenos Aires, the art isn't just on the walls, it's in the air you breathe." – Traveller's Elixir
"Buenos Aires seems to be a place where people come to figure their lives out." – Unknown
"The two cities I've found very hard to leave in my life were New York and Buenos Aires." – JJ Feild
"Buenos Aires is a city which will win your heart, and once you visit you'll never want to leave." – Unknown
"Buenos Aires is a city that's both a journey and a destination, where every step is an adventure waiting to be discovered." – Traveller's Elixir
"I am completely enamored with the city of Buenos Aires. Is there a word for loving something, finding it beautiful and completely unique, just for being what it is?" – Joy Jones
"The Tango is the natural pulse of Buenos Aires." – Leopoldo Marechal
"Buenos Aires is not just a place to visit, it's a place to experience, to connect, and to fall in love with." – Traveller's Elixir
Up Next: El Salvador Instagram Captions
---
I hope these Instagram captions have given you some inspiration for capturing the city's vibrant spirit and unique charm.
From the bustling streets of San Telmo to the colorful houses of La Boca, Buenos Aires is a city full of endless opportunities for beautiful and captivating Instagram photos.
Related Posts: