Colombia is a country full of vibrant culture, stunning scenery and delicious food that will make you want to capture every moment and share it on Instagram.
But let's be honest, finding the perfect caption to accompany your stunning photos can be a challenge.
That's why I've compiled a list of the best Colombia Instagram captions that will showcase your love for this beautiful country.
P.S. Follow me on IG (@travellerselixir) and tag me in your photo for a share!
Best Colombia Instagram Captions
These captions work for any place you're visiting in Colombia including Bogotá, Medellín, Cali, Cartagena, Barranquilla and more.
Cute Colombia Captions For Instagram
I'm all about the siestas and fiestas
I think I fell in love with Colombia
Take me to Colombia and I won't want to order empanadas anywhere else in the world
When life gives you mountains put on your boots and hike
I came, I saw, I ate all the arepas
From now on sweet dreams are made of arepas and sight-seeing in Bogotá
Colombia: where my travel budget went to empanadas and souvenirs, but mostly empanadas
Money can't buy you happiness, but it can buy you a ticket to Colombia
I never knew a country could be so hot in every sense of the word
If you need me, you can find me in the mountains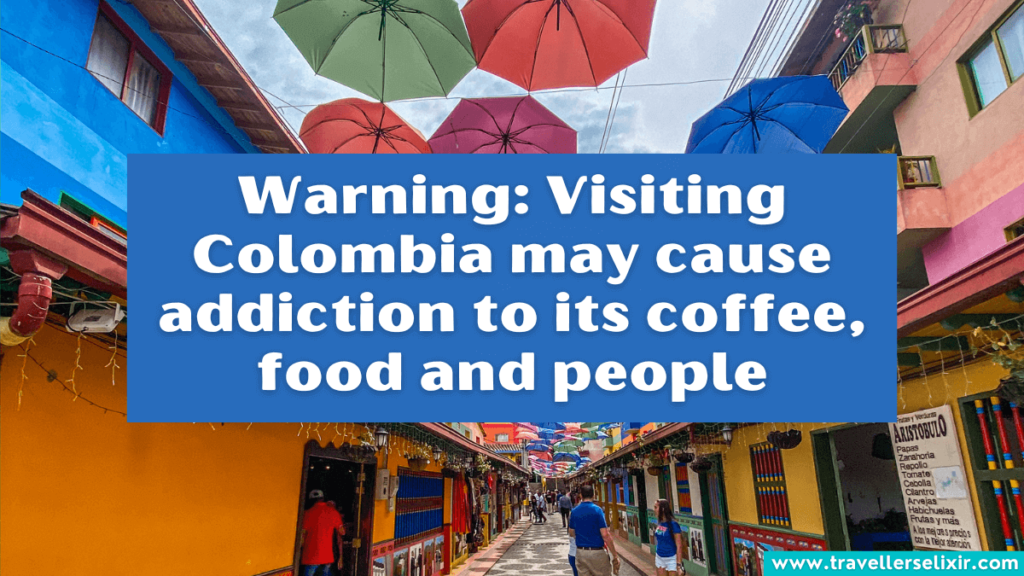 My sneakers aren't white anymore but the scuffs were so worth the views
Warning: Visiting Colombia may cause addiction to its coffee, food and people
I think I need a bigger suitcase for all the souvenirs I'm bringing back from Colombia..and by souvenirs, I mean food
Off to Colombia I go, to lose my mind and find my soul
Colombia has stolen my heart and my stomach. Send help
Up Next: Costa Rica Instagram Captions
Short Colombia Captions
Colombia let's do it
You had me at hola
Coffee, mountains, adventure
Colombia, you have my heart
Living off arepas and siestas
Daydreaming in Colombia
Fiestas & siestas
You May Also Like: Buenos Aires Instagram Captions
Funny Colombia Captions & Colombia Puns
Colombian mountains are all the range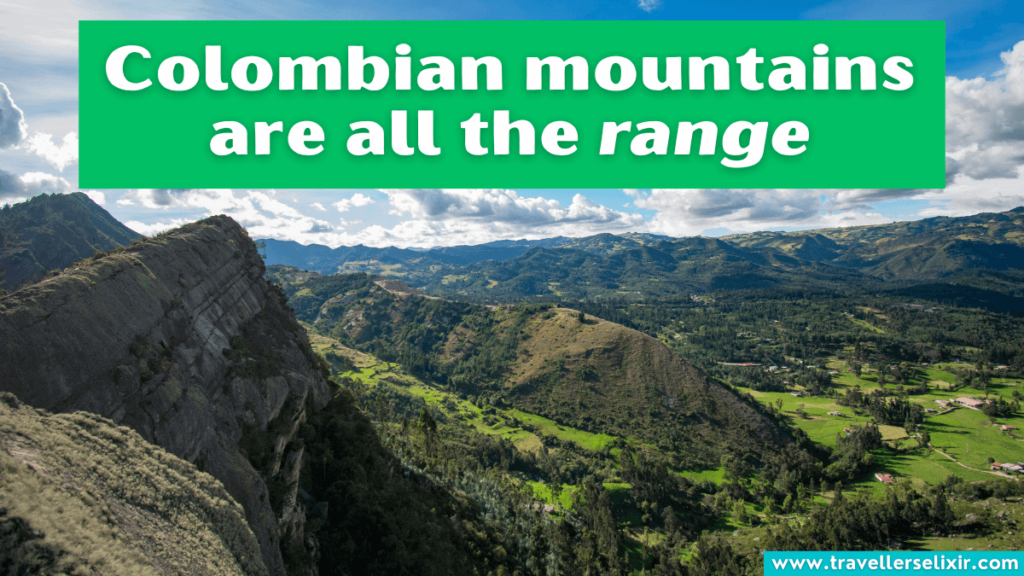 I'm Neiva leaving Colombia
Fiesta like there's no mañana
Words cannot espresso how much I love Colombia
I'm not Medellín in Colombia
What a view, I've lost my terrain of thought
Yuca-n't leave Colombia without trying their food!
That view has really peaked my interest
Super-Cali-fragilisticexpialidocious
Up Next: Rio de Janeiro Instagram Captions
Colombia Quotes For Instagram Captions
"Colombia's vibrant culture and warm hospitality make every visit feel like coming home." – Traveller's Elixir
"Colombia is a canvas of natural beauty, painted with colors of the Caribbean Sea, the Amazon rainforest, and the Andes mountains." – Traveller's Elixir
"Colombia is so different to what I know, and every aspect of the country is different to England, and I loved it. I loved the culture and the food, and the coffee was amazing. The place that we were was stunning, and it really was quite an amazing experience to film out there." – Tom Holland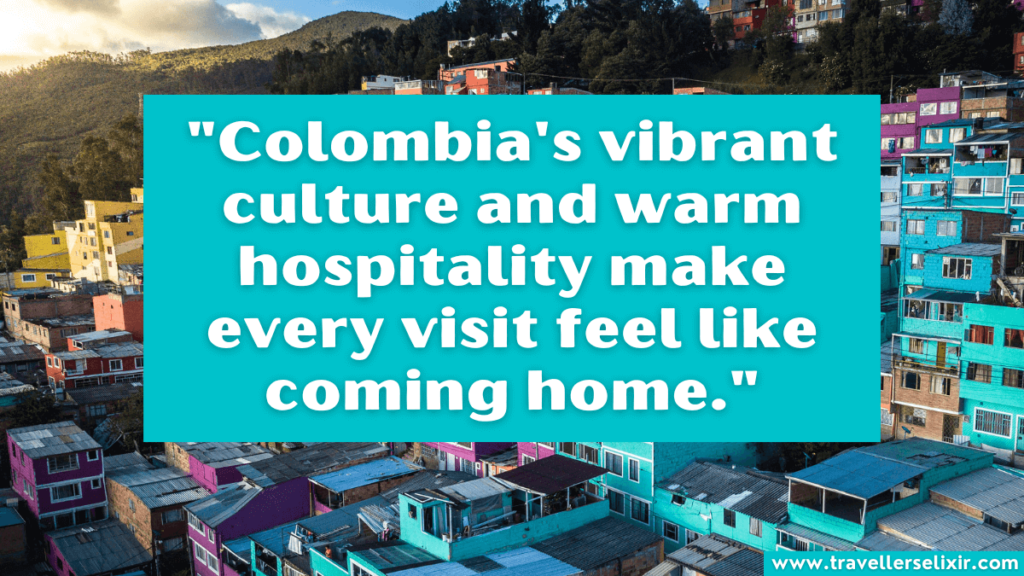 "In Colombia, we have a lot of passion." – Maluma
"The colors of Colombia are not only found in the streets and landscapes but also in the hearts of its people." – Traveller's Elixir
"I miss Colombia. It's a great place." – Camilo Villegas
"To visit Colombia is to fall in love with its rich history, mouth-watering cuisine, and the warmth of its people." – Traveller's Elixir
"I like the mountains because they make me feel small. They help me sort out what's important in life."- Mark Obmascik
"Colombia is a land of magic and wonder, where the mountains, the sea, and the people create a tapestry of beauty and diversity." – Traveller's Elixir
"In Colombia, you'll find not only coffee but also a culture that celebrates life, music, dance and love." – Traveller's Elixir
You May Also Like: El Salvador Instagram Captions
Colombia Hashtags For Instagram Likes
#colombia
#colombiatravel
#colombia🇨🇴
#colombiagrafia
#medellincolombia
#colombia_greatshots
#calicolombia
#travelcolombia
#igerscolombia
#visitcolombia
#vamoscolombia
#colombian
Up Next: Machu Picchu Instagram Captions
---
I hope this list of Colombia Instagram captions has inspired you to share your love for this incredible country with your followers.
From the colorful streets of Cartagena to the stunning landscapes of the Andes, Colombia has something for everyone.
So go ahead, add these captions to your photos, and watch as your followers join you in celebrating the beauty and charm of Colombia.
Related Posts: