Welcome to my guide on where to see manatees in Puerto Rico!
If you're a nature lover and want to catch a glimpse of these gentle giants in their natural habitat, you're in the right place.
On my recent trip to Puerto Rico, I made it my personal mission to find as many marine creatures as possible and I ended up spotting a ton of manatees.
Based on my firsthand experience, Condado Lagoon is the best place to see manatees in Puerto Rico as it has a high population of manatees that show up super regularly.
I'd recommend booking onto a glass-bottom kayaking tour to get up close and personal with the manatees at Condado Lagoon.
In the rest of this article, I'll also cover other places in Puerto Rico where you can see manatees and what to expect on a manatee tour.
Where To See Manatees In Puerto Rico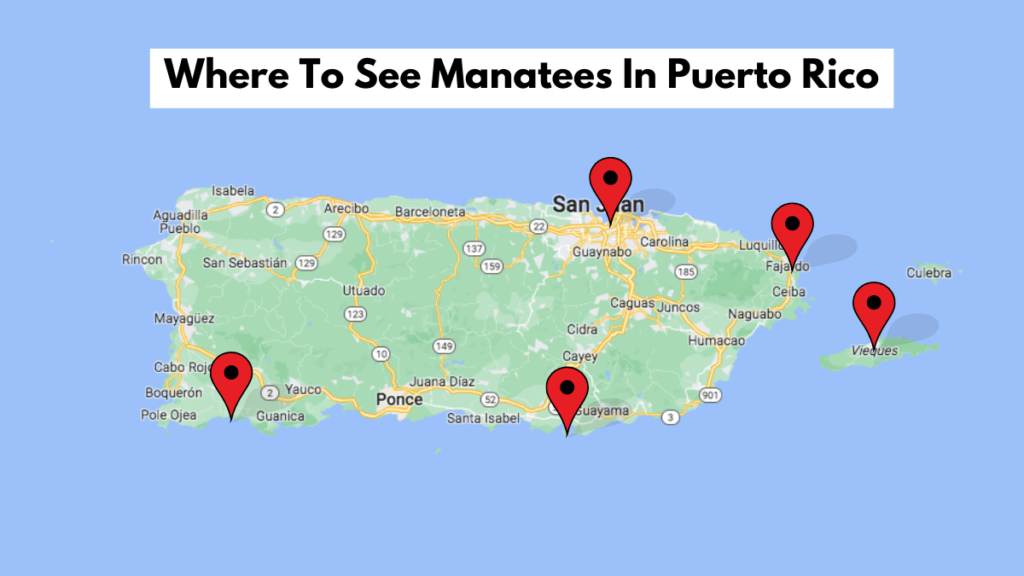 There's currently only around 700 manatees left in the Caribbean Sea and they have an 'endangered' status.
This means that it can be hard to spot manatees out in the wild in Puerto Rico if you don't know where to look.
Despite these low numbers, visitors to Puerto Rico do often see the manatees in various places across the island.
There's also lots of conservation efforts across the island trying to protect them.
Here's the best places in Puerto Rico where you have a really good chance of seeing manatees:
1. Condado Lagoon
Condado Lagoon, is the best place to see manatees in Puerto Rico. It's located in Puerto Rico's capital city, San Juan so it's pretty easy to get to.
In this lagoon, it's actually pretty common to see manatees swimming around or eating the sea grass that can be found there.
The lagoon is a big place and it's harder to see the manatees from the shore so for the best chance of seeing them, I'd recommend getting out onto the water.
Luckily, there are lots of super fun ways to see the manatees in Condado Lagoon.
Renting the glass bottom kayak is the most popular way to see the manatees as you get the chance to row right alongside them.
This is the tour that I ended up doing and I can only say great things about it!
Within minutes of getting into the water, I saw a few manatees instantly and by the end I must have seen at least 10 to 15.
For something a bit different, you could also join a snorkeling experience like this one that gives you the chance of getting up close with the manatees.
These activities are not only super fun but they also give you the chance to swim with manatees in Puerto Rico and get really close to them in their natural habitat.
Check out the video below to see some manatees in Condado Bay (you could see them too!).
2. La Parguera
La Parguera is a small village located in the town of Lajas in southwestern Puerto Rico. This quaint village features a famous bioluminescent bay, mangrove forests and several nature reserves.
I actually visited this town mainly for the bioluminescent bay but I heard from a local that manatees are pretty common so I made it my mission to find some.
I found that the best place to see the manatees in this village was at the La Parguera Nature Reserve where you'll find a well-developed and extensive coral reef.
I saw a ton of manatees swimming around and looking for food in this area.
The best way to see the manatees in La Parguera is by joining a water bike tour. Not only is this activity super fun, you'll also be joined by an expert guide who knows where to find manatees without fail.
Whilst on the tour, you'll navigate through beautiful mangroves and pass by lots of wonderful marine life including manatees, sea turtles and iguanas too.
If you enjoy seeing manatees, you may also be interested in knowing where to swim with dolphins in Puerto Rico.
3. Vieques Island
Vieques Island is a small island that lies just off Puerto Rico's eastern coast that many people visit on a day trip from Puerto Rico.
This island is best known for being an excellent snorkeling location where you can observe lots of interesting marine life.
As Vieques Island isn't on the mainland, it can be tricky to get to on your own. Even if you do manage to get there, most of the beaches are only accessible by boat so it's difficult to navigate.
That's why I'd recommend booking onto this snorkeling tour as it includes transportation to and from the mainland. This is the tour I personally did and I really enjoyed it.
Your expert guide will also take you all around the island to the best snorkeling spots.
This tour is also a great chance to see a bit more of Puerto Rico as very few people ever visit Vieques Island so you'll be one of the few that have!
The manatees are most often seen at Bioluminescent Bay, Mosquito Pier and El Gallito (Gringo Beach).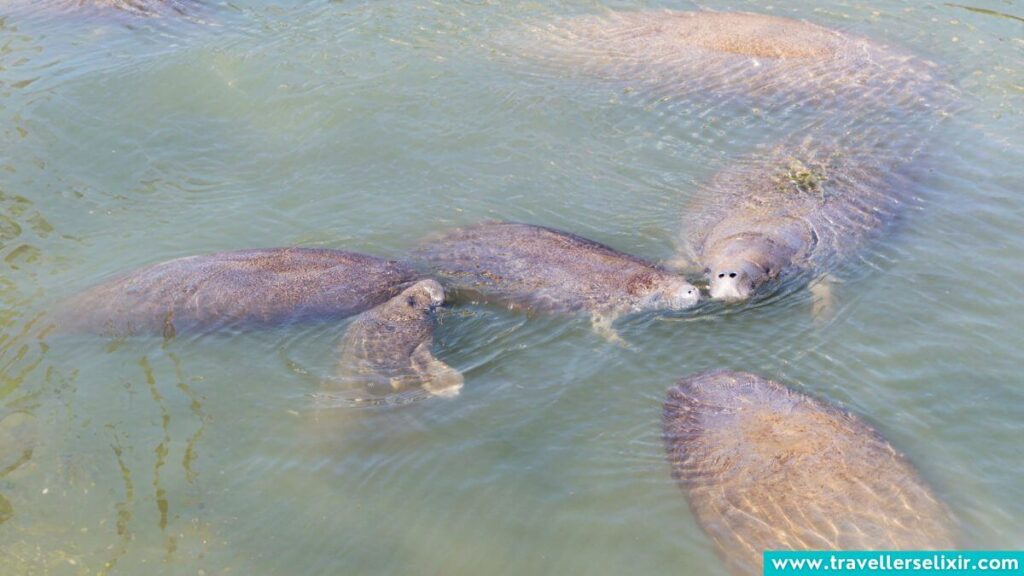 Mosquito Pier is a popular snorkeling site on the island where you can often spot several manatees swimming around. This pier is on the north side of the island.
I really enjoyed my time snorkeling around Mosquito Pier, it felt super secluded and there were barely any other people there.
I managed to spot a few manatees, a couple of turtles and maybe even a dolphin in the distance (I couldn't get close enough to figure it out).
​​4. Cabezas de San Juan Nature Reserve
Cabezas de San Juan Nature Reserve in Fajardo is a stunning nature reserve that features a blue lagoon, mangroves, coral reefs and sandy beaches.
The best way to see the manatees at the Cabezas de San Juan Nature Reserve is to get in the water and go snorkeling!
You can rent your snorkel gear in advance so it's ready and waiting for you when you arrive. This also comes with an information card that will help you find marine life in the area!
This experience actually allows you to be able to swim with the manatees which is definitely an experience you won't forget.
(Just remember that the manatees are wild animals and should be respected so don't get too close and never touch them.)
I found that the manatees are most commonly seen around the coral reefs and the rocky beaches of the nature reserve.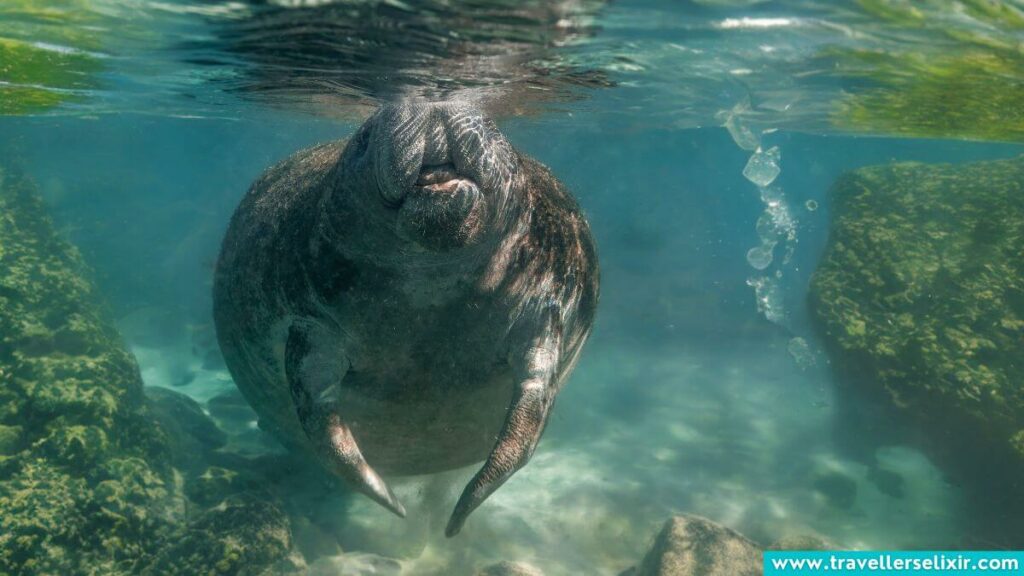 I saw a least 3 or 4 manatees here after just half an hour of snorkeling.
5. Jobos Bay Reserve
Another great place where you can see manatees in Puerto Rico is the Jobos Bay Reserve in Aguirre which is on the south side of the island.
This reserve is also known as the Jobos Bay National Estuarine Research Reserve.
The Jobos Bay Reserve is made up of mangrove forests, seagrass beds, coral reefs and lagoons. The reserve serves as an oasis for many marine species including manatees.
To see the manatees, most people hire a kayak at the bay. You can then paddle alongside the manatees in their natural habitat.
Check out the video below which shows a family of manatees happily swimming in the Jobos Bay Reserve:
Did you know that you can also see turtles in Puerto Rico?
6. Isla Verde
Another great place in Puerto Rico where you can see manatees is Isla Verde.
Isla Verde is a seafront area located just outside of San Juan mainly known for its stunning white sandy beaches.
Some of the best spots in Isla Verde to spot manatees are on Pine Grove Beach and Isla Verde Beach. I personally preferred Pine Grove Beach as it was much quieter that Isla Verde Beach.
You could hire a kayak or try paddleboarding whilst in the area and if you're lucky you might spot a manatee. Other popular activities in the area are snorkeling and scuba diving.
I hired a kayak and managed to spot around 4 manatees here. They were munching on some seagrass at the time.
Check out the below video of some manatees in Isla Verde spotted whilst snorkeling:
7. The Manatee Conservation Center, San Juan
A great place to learn more about manatees is at the Manatee Conservation Center in San Juan.
If you're interested in learning more about the conservation efforts aimed at protecting the manatee population of Puerto Rico you can do so by visiting the conservation center.
This center is also a research, rescue and rehabilitation center for the manatees.
Tours of the center are available in both English and Spanish.
As well as tours of the conservation center, you can also join the 'Manatee Caretaker for a Day' program where visitors help prepare and give food to the manatees. You will also be able to help out with daily care tasks too.
This is a unique experience where you get the opportunity to get up close and personal with the manatees and also help take care of them.
You can meet some of the manatees of the Manatee Conservation Center in the video below:
8. Cabo Rojo
Another area of Puerto Rico where you can sometimes see manatees is Cabo Rojo.
Cabo Rojo is a region on Puerto Rico's southwest coast which is known for having mangroves, coral reefs and beautiful beaches.
I actually spotted several manatees whilst relaxing on Playa Sucia, a stunning crescent-shaped beach. This secluded beach is an excellent place to relax and look for manatees.
At certain times of the year, Cabo Rojo becomes one of the best whale watching locations in Puerto Rico.
9. Palomino Island
Palomino Island, or Isla Palominos, is a small island that is located just 3 miles off the eastern shore of Puerto Rico.
The island is known for its white sandy beaches and crystal clear waters.
There are some coral reefs present which brings with it an abundance of marine life including fish, turtles, manatees and even the odd dolphin!
As the island is mostly uninhabited this means there isn't much to disturb the marine life so it's a great place to observe manatees in the wild.
10. Boquerón Bay
Another place you can see manatees in Puerto Rico is Boquerón Bay.
Boquerón Bay is located on the southwestern tip of Puerto Rico. The beaches lining the bay are a popular tourist destination with people coming from afar to enjoy them.
Manatees have made their home in the bay and you will often see them swimming in the water. One of the best ways to catch a glimpse of them is by heading out on a boat into the bay.
11. Guanica Bay
Guanica Bay, located on the southern side of the island, is another place where you can often see manatees in Puerto Rico.
Guancia Bay has a population of manatees that can often be seen when swimming in the bay.
I only managed to see one manatee when I visited the bay but I heard from a local on the beach that you can often spot way more. I guess I was just unlucky!
---
I hope you enjoyed reading my guide on where to see manatees in Puerto Rico and I hope you have the absolute best time on your trip!
Manatees are truly a wonder of nature and by taking a tour to see them, you'll not only have an unforgettable experience, but you'll also be supporting conservation efforts to protect these endangered animals.
Interested in going shelling in Puerto Rico? It's a great way to bring home a special souvenir from your trip.
Related Posts: