I recently discovered Vieques which is a secluded island known for its pristine beaches, wild horses and the world's brightest bioluminescent bay. It's the perfect day trip from Puerto Rico.
It's an ideal destination for travelers who want to escape the hustle and bustle of the mainland and immerse themselves in a secluded tropical paradise.
Luckily, it's just a short ferry ride away from the mainland but feels like a world apart with its laid-back vibe and stunning natural beauty.
In this post, I'm excited to share with you everything I learned about planning the perfect day trip to Vieques.
From where to go and what to do, how to get there and tips for making the most of your time on the island.
How To Get To Vieques
Getting to Vieques is actually super easy. There are two main ways that you can get there: either by plane or by ferry.
I personally prefer the ferry as it's so much cheaper than flying and it doesn't take much longer.
Here's a quick overview of the options:
By plane: 25 minutes, $94 – $150
By ferry: 30 minutes, $2
Guided tour: 4-hour tour includes ferry, $100
*these estimates assume you're departing from San Juan & are for a one-way ticket
Ferry to Vieques from Puerto Rico
If you're looking for an affordable way to get to Vieques then the ferry is the best option.
The ferry departs from Ceiba, a town located about an hour's drive east of San Juan.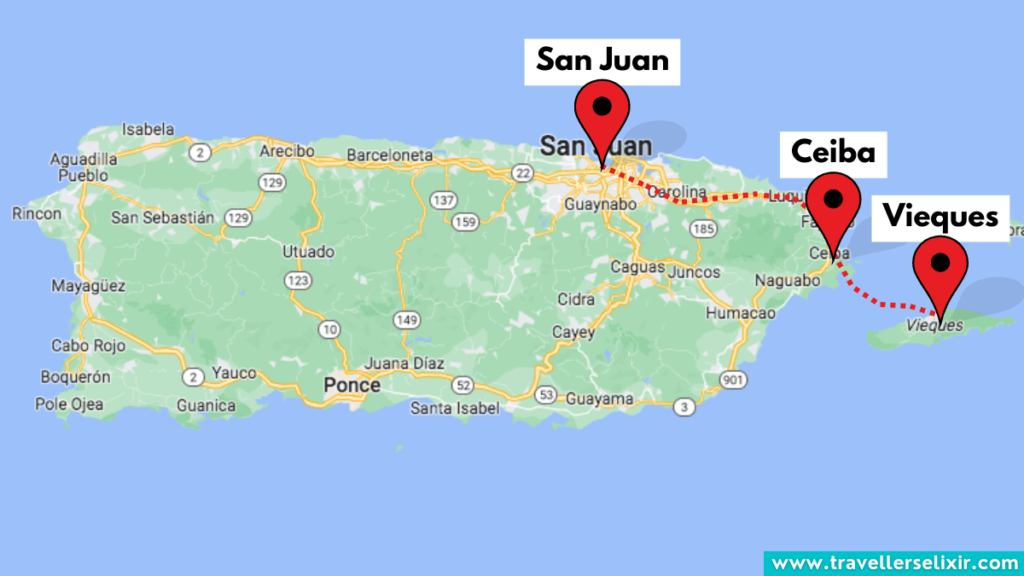 Getting to Ceiba from San Juan
The easiest way to get to Ceiba is by taking a taxi or renting a car.
Taking a taxi from San Juan to Ceiba will cost around $150 which is pretty expensive but could be cost effective if you're in a group.
A cheaper way to get from San Juan to Ceiba is renting a car. You can rent a car in Puerto Rico for as little as $67 for the day.
You can pick up the car in San Juan, leave it in Ceiba whilst you do your day trip to Vieques and then use it to get back to San Juan at the end of the day.
Taking the Ferry to Vieques
The ferry ride takes about 30 minutes each way and tickets cost just $2 each way making it the cheapest option by far.
You can either pre-book your tickets online or you can purchase your ticket at the ferry terminal.
It's worth knowing that only around 20% of the tickets are available online so if it says 'sold out' on the website then there will probably still be tickets available at the ferry terminal.
Here's the current ferry timetable:
Weekdays Ceiba -> Vieques: 4:30AM, 8:30AM, 1PM, 3PM, 5:30PM, 8PM
Weekdays Vieques -> Ceiba: 6AM, 10AM, 3PM, 4:30PM, 6:30PM, 9:30PM
Weekends Ceiba -> Vieques: 5AM, 5:30AM, 8:30AM, 10AM, 1PM, 4PM, 5PM, 7:30PM
Weekends Vieques -> Ceiba: 6AM, 7AM, 9:30AM, 12PM, 2:30PM, 5:30PM, 7PM, 8:30PM
Note: The ferry schedule does change from time to time so I'd recommend double checking the schedule here. There also may be some disruptions during bad weather.
Once you arrive at the ferry terminal, you can board the ferry and as you sail you'll be able to enjoy the scenic views of the Caribbean Sea and the beautiful coastline of Vieques.
Let me tell you, it's pretty spectacular! Make sure you look out for the wild horses that roam around Vieques freely.
Flying to Vieques from Puerto Rico
If you're looking for a faster and more comfortable way to get to Vieques then flying is the way to go. You can easily jump aboard a short flight from San Juan.
Flights depart from San Juan Airport (SJU) and arrive at Antonio Rivera Rodríguez Airport (VQS).
There are several flights from San Juan to Vieques every single day with several different airlines running the route including Cape Air, Vieques Air Link and JetBlue.
Prices for this flight have risen drastically recently and it will now cost you between $94 and $150 each way.
The flight from San Juan to Vieques takes just 25 minutes but you also need to factor in the time it takes to get to the airport, go through security and wait for your flight which will easily be a couple of hours.
When you add on the extra time spent at the airport, it won't be much faster to fly to Vieques than taking the ferry but it is a bit more convenient in my opinion.
You can pre-book your tickets online on the airline websites or use a service like Skyscanner to compare flight prices.
Once you arrive at the airport in Vieques, you'll find plenty of taxis outside the ferry terminal that can take you to wherever you want to go.
💡 Insider Tip: Ask your first taxi driver for their phone number so you can call them whenever you need a taxi throughout the day!
What To Do in Vieques For a Day
If you're doing a day trip to Vieques then you'll really want to make the most of your time on the island.
There's definitely a few must-do activities in Vieques that you won't want to miss so planning your time is super important.
Here is my ultimate 1 day Vieques itinerary:
Explore the Beaches
First up on your Vieques itinerary should be exploring some of the pristine beaches on the island.
Vieques is known for its idyllic and secluded beaches that feel much more untouched than the ones on Puerto Rico's mainland.
Some of my personal favorites include Playa La Chiva, Playa Navio and Red Beach.
Playa La Chiva
Playa La Chiva, also known as Blue Beach, is one of the most popular beaches on Vieques Island, and for good reason.
This stunning stretch of coastline boasts crystal clear waters, soft white sand and a relaxed atmosphere that makes it a favorite for both locals and tourists.
The beach is located on the south coast of the island and stretches on for nearly two miles, providing plenty of space for everyone to enjoy the sun, sand and sea.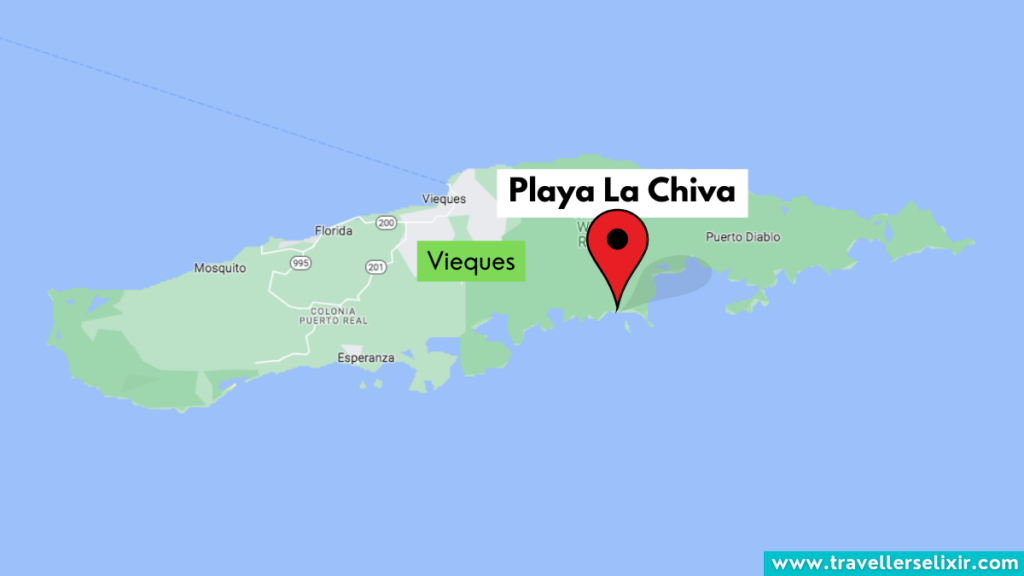 The water at Playa La Chiva is calm and inviting making it a great spot for swimming, snorkeling or just relaxing in the warm Caribbean sun.
If you're looking for a fun activity to do while at Playa La Chiva then you should consider renting a kayak or paddleboard from one of the vendors on the beach.
This will allow you to explore the waters around the beach and get a unique perspective on the stunning coastline.
Playa Navio
Playa Navio is a secluded and untouched beach located on the eastern end of Vieques Island, making it a hidden gem for anyone seeking a more peaceful and natural setting.
The beach is accessed by a dirt road that leads to a small parking lot from where you can take a short hike down to the beach.
One of the unique features of Playa Navio is the rugged and untouched feel of the beach.
Unlike some of the more popular beaches on the island, there are no facilities or vendors at Playa Navio.
Instead, you'll be greeted by a stunning natural landscape with dramatic cliffs, crystal-clear waters and pristine sand.
The beach is also a great spot for snorkeling and swimming with its clear waters providing excellent visibility of the diverse marine life in the area. Look out for dolphins and manatees.
For those seeking a bit of adventure, there are also some hiking trails that lead to stunning viewpoints of the beach and surrounding cliffs.
Red Beach
Red Beach, also known as Playa Caracas, is one of the most iconic beaches on Vieques Island. It's known for its unique red sand and turquoise waters.
As its name suggests, Red Beach gets its name from the red sand that lines its shore.
This unique feature is caused by the presence of iron oxide in the sand which gives it its distinctive hue.
Red Beach is also known for its excellent swimming and snorkeling opportunities with its calm and clear waters providing a great environment to explore the diverse marine life in the area.
Plan 2-3 hours for this activity.
Take a Hike
After a relaxing morning on the beach, it's time to get active by going on a hike to see some of the island's stunning natural beauty.
Vieques has several hiking trails that all offer stunning views of the island. My personal favorite hiking trail in Vieques is the Playa Negra Trail.
This trail is relatively easy and takes you through a beautiful forested area and finishes up on a unique black sand beach.
Playa Negra Trail – What To Expect
The trail begins at the entrance to the Wildlife Refuge on the south side of the island.
From there, it takes you through a dense forested area that's filled with lush vegetation, wildlife and trees that provide some shade during the hike.
As you make your way towards the beach, you'll first hear the sound of waves crashing in the distance, building anticipation for the beautiful secluded beach ahead.
When you arrive, you'll be rewarded with stunning views of the black sand and crystal clear waters of Playa Negra.
The beach is surrounded by cliffs on both sides which really adds to the secluded and peaceful feeling of the area.
The sand is covered in seashells, it's actually one of Puerto Rico's best shelling spots!
Playa Negra is also known for its great snorkeling opportunities so don't forget to bring your snorkeling gear if you want to explore the underwater world.
The water is calm and the visibility is usually good so you'll be able to see a variety of marine life including colorful fish, sea turtles and coral.
Plan around 2 hours for this activity.
Visit the Bioluminescent Bay
The final thing that should definitely make it onto your Vieques itinerary is a visit to the world famous bioluminescent bay.
Vieques is home to Mosquito Bay which is one of the world's only bioluminescent bays – in a nutshell, the water in this bay glows in the dark!
The water is basically filled with these tiny microorganisms that light up whenever the water is disturbed creating a surreal experience that doesn't even look real (but definitely is).
The bay is a protected area meaning you're only able to visit it as part of a tour.
I'd recommend joining this evening kayaking tour to experience the glowing waters for yourself. Honestly, this really is one of those once-in-a-lifetime experiences.
You'll get the opportunity to paddle around the bay and watch as the water illuminates around you creating a magical, sparkling trail.
I'd recommend booking the earlier kayaking tour at 7PM to ensure you have enough time to get back to the ferry terminal for the last ferry which leaves at 9:30PM.
Plan around 1.5 hours for this activity.
Try Local Cuisine
Make sure to stop for lunch and dinner during the day to keep you energized. This is a great time to try some of the island's local dishes.
Although it's a small island, Vieques has many restaurants that offer delicious local food so it's worth making a stop to try some.
Some popular dishes include mofongo, a mashed plantain dish, and seafood dishes like conch and lobster.
Some of my favorite restaurants on Vieques where you can try local food are Bili, Tin Box and Duffy's.
If you have any extra time in Vieques then you might want to look into horse riding along the beach!
How To Get Around Vieques
Getting around Vieques is pretty easy as there's a range of different options to suit different travelers. It's also a pretty small island so it doesn't take very long to get between places.
Here are some of the most popular ways to explore the island:
Rent a Car
Renting a car is a great option if you want to explore the island at your own pace.
There are several car rental companies in Vieques close to the ferry terminal and rates tend to be pretty reasonable.
Some reputable rental companies on the island include Maritza's Car Rental, Avis Rent-A-Car and Vieques Car Rental.
Keep in mind that some of the roads on Vieques are unpaved and rocky so you may want to rent a four-wheel-drive vehicle like a Jeep or SUV (these are readily available on the island).
Taxis
Taxis are super common on Vieques and they are a convenient way to get around if you don't want to rent a car.
Most taxis are open-air Jeeps so you can enjoy the island's scenery as you ride.
💡 Pro Tip: Make sure you negotiate the fare with the driver before you start your journey otherwise they might try to overcharge you.
Bicycle
Cycling is a fun and eco-friendly way to explore Vieques. There are several companies on the island that offer bicycle rentals and there are various bike paths and trails to explore.
Keep in mind that Vieques has some hilly terrain so be prepared for a workout.
Scooter
Renting a scooter is another fun and affordable way to explore Vieques.
Several companies on the island offer scooter rentals and they are a great way to get around if you don't want to rent a car.
Scooters For Rent is one of the most popular companies. They offer scooters, UTVs and golf cars for rent at a reasonable price.
Bear in mind that the roads on Vieques are often rocky and unpaved so I'd only recommend this option for experienced riders.
Publicos
Publicos are shared taxis that run on fixed routes around the island.
They are a cheap and convenient way to get around Vieques but keep in mind that they can be crowded and may not run on a set schedule.
How Much Time Do You Need In Vieques?
You'll need at least 2 days in Vieques to fully experience the island's beauty and charm.
Having said that, you can easily see most of the island's best attractions in just one day so if you're short on time, a day trip to Vieques can still be a great option.
If you follow the itinerary that I included above then you'll easily be able to tick off all of Vieques's best attractions in just one day.
---
And there you have it! That's everything you need to know to plan an unforgettable day trip to Vieques in Puerto Rico.
I hope this guide has inspired you to escape to this island paradise. From swimming in the bioluminescent bay to lounging on the pristine beaches, this island has it all.
Trust me, a day trip to Vieques is worth every moment and will leave you feeling refreshed, rejuvenated and ready to take on the world.
Related Posts: