Wondering if you can go shelling in Puerto Rico? You're in the right place.
Many people love to search beaches all over the world for unique treasures from the ocean.
Puerto Rico is a super popular destination but where is the best place to find seashells and sea glass in Puerto Rico?
Let's find out…
Are There Seashells in Puerto Rico?
Whilst Puerto Rico isn't known to be one of the world's best shelling locations, you will still be able to find some interesting seashells here.
Particularly after a storm, seashells often wash up onto the beaches of Puerto Rico waiting for avid beachcombers to come and collect them.
You may struggle to find large and rare seashells in Puerto Rico but there are plenty of smaller, more common ones.
It's not impossible to find rare shells though. Conch shells, sand dollars and murexes do show up from time to time.
So where are the best beachcombing spots in Puerto Rico?
Best Places to Find Seashells in Puerto Rico
Below I've listed the best spots and locations for shelling in Puerto Rico to help you find a range of interesting shells.
If you really want to find some seashells then these are your best bet.
Joyuda Beach
One of the best places to go shelling in Puerto Rico is at Joyuda Beach which is situated on the west coast of the island.
This beach is literally covered in seashells! Most of the shells that have washed up onto the shore are broken but you will find tons of whole ones if you look for them.
Vieques
Another great location for shelling in Puerto Rico is Vieques which is a small island that lies just off Puerto Rico's eastern coast. It's super easy to do a day trip to Vieques from the mainland.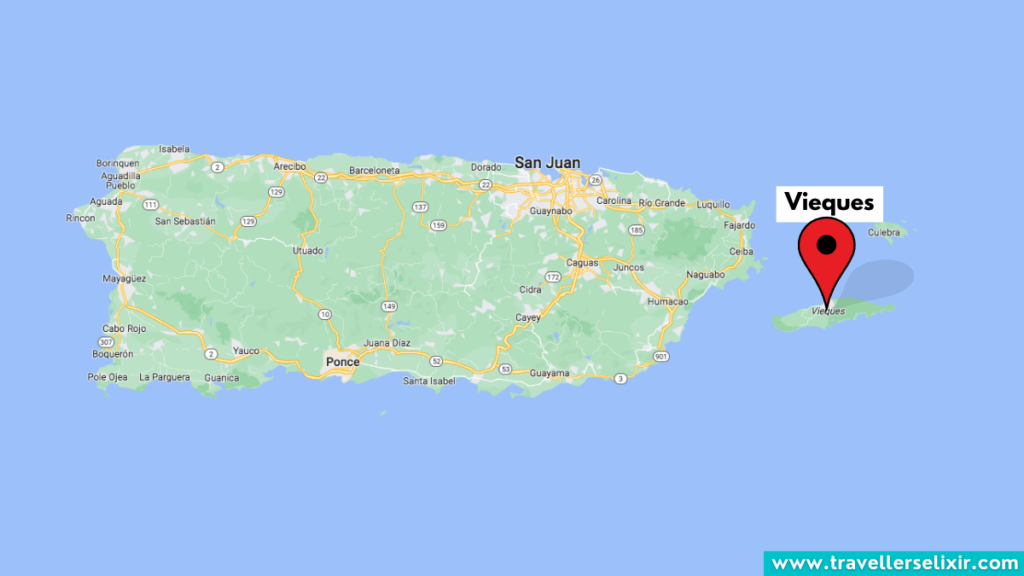 You can find a variety of seashells on most of the beaches in Vieques.
One of the best beaches in Vieques for shelling is Playa Negra which is actually famous for having black sand (the sand is magnetic too!).
You'll come across a variety of intact, large shells here including conchs, oyster drills, moon snails, whelks, cockle shells and more.
One of the best things about Playa Negra is that it is super quiet and never crowded. Not many people know about it so you'll likely have the place to yourself like I did!
Other beaches in Vieques which are great for shelling include Esperanza Beach and Playa Grande.
Isabela Beach
Another great location is Isabela Beach which is located on Puerto Rico's northwestern coast.
Isabela Beach is great if you love finding shells and exploring tidal pools.
Expect to find sea biscuits, sand dollars, anemones and lots of large tidal pools.
One popular activity along Isabela Beach is horseback riding! In fact, you could join a horseback riding tour like this one which includes a stop on the beach.
Icacos Island
Another place where you can find shells in Puerto Rico is on Icacos Island which is a small, uninhabited island which lies just off the coast of Fajardo.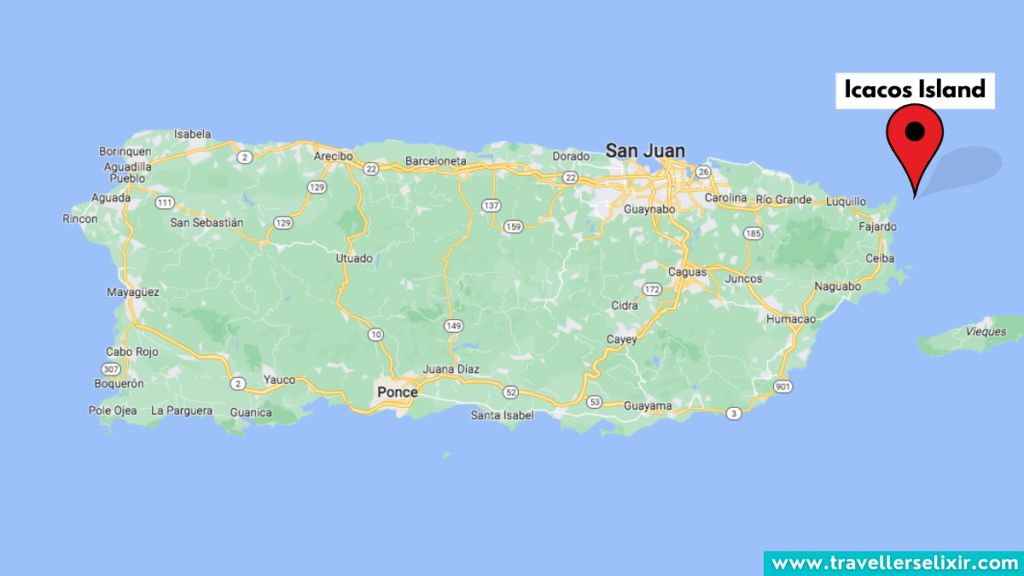 You'll find lots of shells on the beaches of Icacos including conch shells.
Icacos Beach in particular is the best spot so head there for shelling. You'll find that the soft white sand is decorated with an assortment of small shells. 
Culebra Island
Another place to go for shelling is Culebra which is a small set of islands that lies off the eastern coast of Puerto Rico.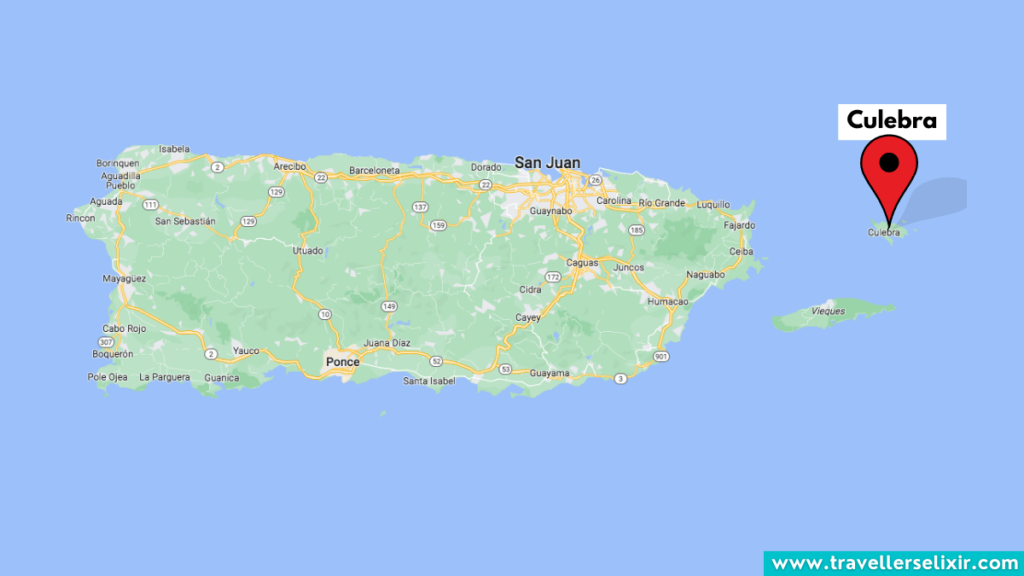 Culebra is excellent for shelling as you'll be able to find a variety of shells along it's shores including conch shells.
One of the best beaches for shelling in Culebra is Tamarindo Beach where you can commonly find pink conch shells, Triton's trumpets, murexes, banded tulips, amber pens and more.
Just take a walk along the shoreline and see what you can find! This beach is actually one of the best beaches in Puerto Rico for shelling.
Also check out Playa Larga too where it's pretty common to find conch shells.
Natural La Zanja
Another great place for shelling is at Natural La Zanja which is located on the northeastern most tip of Puerto Rico.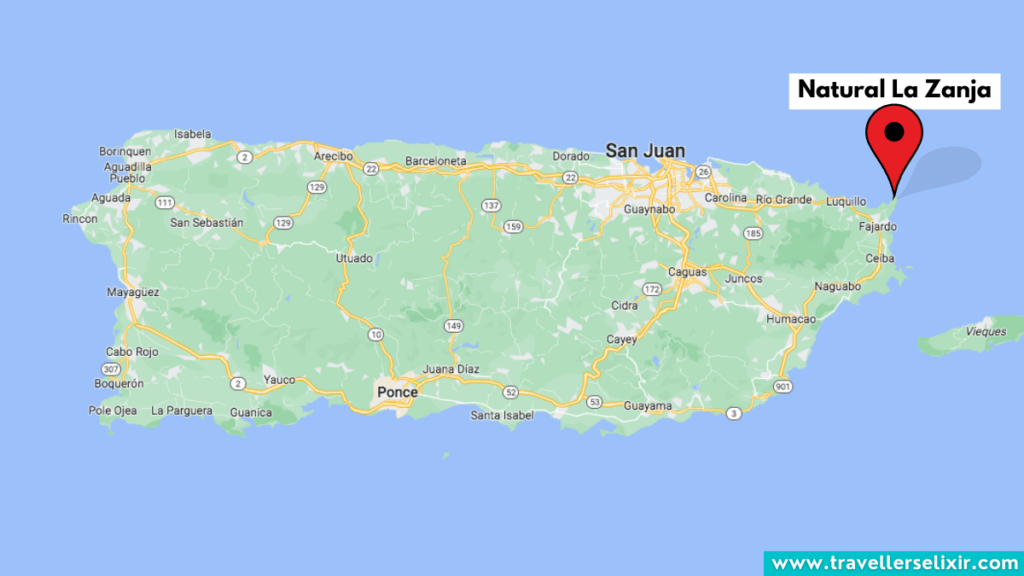 This area, which is part of the Las Cabezas de San Juan Nature Reserve, features a rugged coastline and a natural outdoor pool.
You'll find tons of seashells here including nerites, limpets, cowries, conchs, murexes and more.
Check out the sorts of seashells you can find at Natural La Zanja in the video below:
Where to Find Sand Dollars in Puerto Rico
Sand dollars are one of my favorite shells and the best place to find them in Puerto Rico is on the northern and eastern shore beaches.
Isabela Beach in particular is one of the best locations to find them. It's located on the northwestern coast.
Sand dollars can also frequently be found on the beaches in Carolina.
Best Sea Glass Beaches in Puerto Rico
From my own experience, I'd say that Old San Juan is the best place to find sea glass in Puerto Rico. 
Playa del Capitolio in Old San Juan is where you'll find the most perfect and smooth sea glass. This beach is situated just in front of the Capitol building.
The Aguadilla and Rincon areas on the western coast are also great for beachcombing.
You'll find that the beaches here are filled with lots of different colored sea glass including red, orange, yellow, blue, lavender and more.
The seaglass in Aguadilla and Rincon is super abundant so you'll have no trouble finding some.
There is also a popular beach on Vieques Island which is literally named Sea Glass Beach due to the abundance of sea glass that can be found there.
Can You Take Shells From Puerto Rico?
In general, you can take shells from Puerto Rico home with you but there are some important things you need to know.
Firstly, you cannot take any shells from beaches which are part of nature reserves. These are protected and you may get fined if you get caught.
Some travelers have also reported that conchs and other large shells have been confiscated by customs.
If you're planning your Puerto Rico vacation then you may be interested in my 2-week Puerto Rico itinerary (it's super detailed!)
Shelling Tips & Tricks
Here's some handy tips on shelling that should help you find the best shells.
Whether it's your first time shelling or you've been doing it for years, you might learn something useful.
Go early in the morning. This allows you to beat the crowds and get first pick of the seashells.
Use a hand sieve. Using one of these hand sieves can hugely increase your chances of finding interesting shells and speeds up the process.
Go just after a storm. Shelling just after a storm or strong winds is the best as this often brings new shells to the shore.
The best time for shelling is an hour before or after low tide. High tide brings seashells inland, low tide is when you can find them.
Wade into the water. You only need to go just a few feet into the water and you'll likely find some of the best shells.
Dig into the sand. Sometimes the shells get covered with sand so it's a good idea to bring a small shovel and dig a little.
Take your time. Finding the best shells takes time so don't be in a rush.
---
And that's it!
Hopefully this post gave you some tips if you want to try shelling in Puerto Rico so you can take home some special little treasures from the sea.
Did you know you can also swim with turtles in Puerto Rico?
Related Posts: