The idea of swimming with sharks may sound crazy to some, but trust me, it's an experience you'll never forget. I did it for the first time in Bora Bora and genuinely – I loved it!!
Bora Bora's crystal-clear waters are home to a variety of harmless shark species and getting up close and personal with these magnificent creatures is a once-in-a-lifetime opportunity.
I found that the best way to go swimming with sharks in Bora Bora is by joining a snorkeling tour as the expert guides know where to find the sharks without fail.
Not only will you get the chance to swim with blacktip reef sharks and lemon sharks, you'll also see manta rays, stingrays and over 700 different species of tropical fish.
In the rest of this post, I'll let you know what it's like to swim with sharks in Bora Bora and exactly how you can do it for yourself (safely).
Best Places To Go Swimming With Sharks In Bora Bora
French Polynesia is actually the largest shark sanctuary in the whole world making it the perfect place to go swimming with sharks!
Sharks!?? Yep, that's right! Don't worry, these aren't the human-eating type that you'll see on movies like Jaws.
Nope, the sharks you'll find in Bora Bora are harmless to humans. They don't want to eat your flesh – yuck!
In Bora Bora, you'll be swimming with reef sharks and lemon sharks which generally don't pose any threat to humans. They're considered to be friendly!
The number of sharks in Bora Bora is actually astounding and it definitely won't be hard to see them once you're in the water. I saw about 5 within minutes of getting into the water!
I was super shocked when I saw them for the first time (and a little intimidated). If you're nervous at all, then I'd strongly recommend you join a snorkeling tour like I did.
Going with an expert guide will put your mind at ease as they've been doing this for years and years.
They will take you to the exact locations where you'll definitely be able to swim with sharks and they'll keep you safe.
Best Bora Bora Swimming With Sharks Tours
Ok so the first thing to know is that you will have to book onto a guided tour to be able to swim with sharks in Bora Bora. You can't do it alone unfortunately.
The sharks don't just swim around everywhere in Bora Bora (don't worry, you won't find one swimming around your overwater bungalow).
This means you'll need to join a tour that will take you out to the specific reefs where the sharks like to hangout.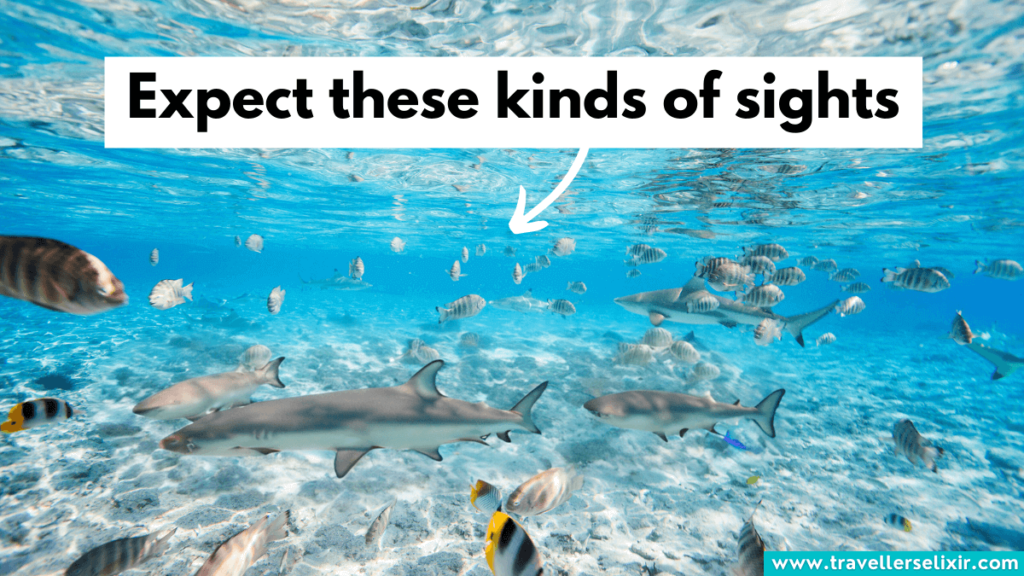 To help you choose the best tour for swimming with sharks, I've listed the most popular ones below.
These are all top-rated tours with experienced guides.
Best Bora Bora Shark Tours:
Jet Ski Tour – includes snorkeling with sharks, lunch & a jet ski activity
I personally ended up doing the eco snorkel cruise and loved it. I must have seen at least 15 sharks, tons of stingrays, a sea turtle and various species of tropical fish.
The guides were incredible and knew so much about the sharks, they really made the whole experience even more memorable.
There are few places in the world where you basically have a 100% chance of swimming with sharks and Bora Bora is one of them.
Make sure you book your tour ahead of time to ensure you don't miss out as these tours are super popular.
Snorkeling with Sharks in Bora Bora
If you're wondering exactly what it's like to go swimming with sharks in Bora Bora then here's the tea…
Most people who swim with the sharks head out on snorkeling tours. This is what I did.
During one of these tours, you'll be taken out to a snorkeling reef on a boat which gives you the chance to enjoy the stunning scenery.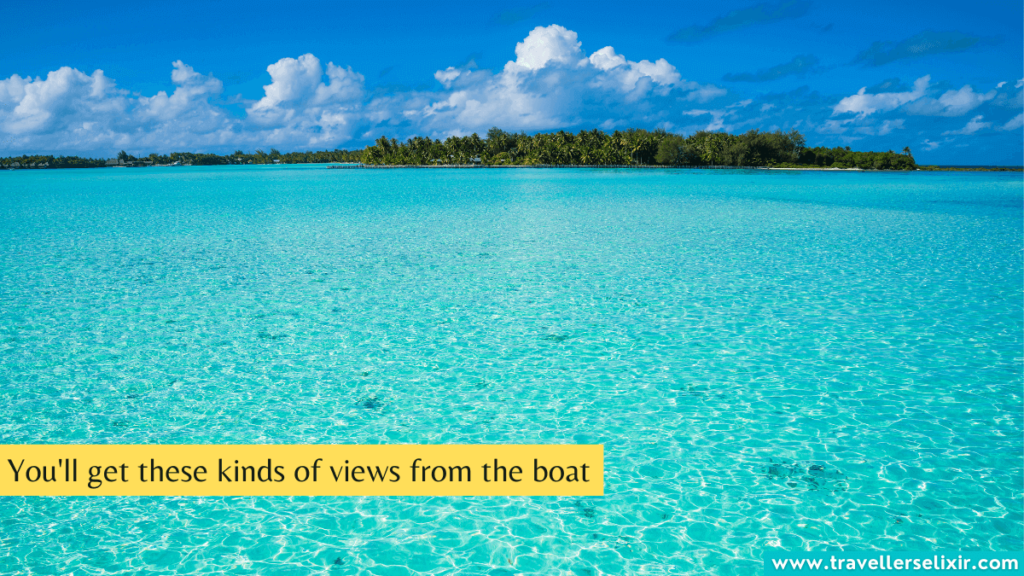 The boat ride to the snorkeling site is breathtaking. The crystal-clear waters are a vibrant turquoise and the surrounding mountains provide a stunning backdrop. I was in complete awe!
When you arrive at the site, your guide will give you a quick safety briefing and will instruct you to put on your snorkeling gear.
You'll then take a deep breath and jump into the water. The first thing I saw were schools of colorful fish swimming around me. It was like being transported into a real-life aquarium.
It won't be long until you see the sharks! My first sighting was of a blacktip reef shark, it was gracefully swimming towards me.
I couldn't believe how close I was getting to these creatures!
I couldn't believe how many sharks there were. You'll likely be able to see at least 12 or more whilst snorkeling (remember, they're not dangerous).
You'll continue to swim with the sharks, watching them do their thing. It's incredible to see these creatures up close in their natural habitat.
After a while, your guide will signal for you to return to the boat.
There's tons of different tours to choose from whether you just want to go snorkeling with the sharks or you want to extend your activity and go on a cruise or jet ski tour.
To make your experience even more special, you can book a private swimming with sharks tour just for you and your party.
This makes the day even more intimate as it's just you, your family and the sharks (and the guide of course).
Check out the sights you can expect whilst snorkeling in Bora Bora in the video below:
Related Post: Best Snorkeling Locations In Bora Bora
How Much Does it Cost to Swim with Sharks in Bora Bora?
There are many different snorkeling tours available at different price ranges.
Standard snorkeling with shark tours start off at around $100 per person.
This type of tour typically just includes the swimming with sharks experience (including an experienced guide and the snorkeling equipment).
For tours with extra activities like jet skiing or a boat cruise, you'll often pay between $150 – $270 per person.
If you're looking for a private swimming with sharks experience just for you and your party then prices start at around $515 for a group of up to 6 people.
If you have 4, 5 or 6 people in your group then it may actually work out cheaper to go for the private tour.
For more advice on costs, check out my full cost breakdown for a vacation in Bora Bora.
Are There Lots of Sharks in Bora Bora?
Yes, there are lots of sharks in Bora Bora as French Polynesia is actually the largest shark sanctuary in the world.
There's even a famous saying in Bora Bora that sharks outnumber the people in French Polynesia.
The most common shark species is the blacktip reef shark which lives in the lagoons present across Bora Bora.
You can usually find them hanging around the coral reefs. You'll know they're there because you can see their fin sticking up out of the water.
These types of sharks are very used to swimming amongst lots of people (as it's a super popular activity in Bora Bora) so they won't be afraid if you approach them.
The blacktip reef sharks tend to eat fish but do also occasionally eat sea snakes and sea birds. They definitely don't eat humans though.
You can also often see lemon sharks in Bora Bora which can grow up to 3 meters in length. You can easily spot a lemon shark due to its yellow skin.
The lemon sharks are a lot bigger than the reef sharks so they may shock you at first but, again, they're not dangerous and don't want to eat you.
Lemon sharks usually eat small fish, crustaceans and stingrays. Occasionally they indulge in a seabird or even a smaller shark (but no humans).
Other sharks you may come across in Bora Bora are whitetip sharks, hammerhead sharks and gray sharks.
I learned from my guide that sharks, or ma'o as they're known in Bora Bora, are actually respected and honored in this area of the world.
They are often seen as protectors and sometimes even the reincarnation of a loved one. Pretty cool right?!
Related Post: Can You Swim With Pigs In Bora Bora?
Is it Safe to Swim with Sharks in Bora Bora?
It is very safe to swim with sharks in Bora Bora as long as you follow the right guidance and go with a guide.
Sharks generally have a bad reputation so it's natural to feel a little apprehensive about the possibility of swimming right alongside them.
Don't worry, the shark species that are present in Bora Bora are not dangerous to humans.
The blacktip reef shark is the most common shark species found in Bora Bora and this type of shark isn't aggressive and it is perfectly safe to get up close.
There have been no deadly shark attacks this century (or for a very long time) so it's not something you need to worry about.
In fact, your chances of being the victim of an unprovoked shark attack is lower than the chance of being struck by lightning.
In French Polynesia, they say that you are much more likely to be injured from a coconut falling on your head than from a shark so there's really nothing to worry about.
*Disclaimer: You should still exercise caution and act within guidance from tour guides when swimming with the sharks. Read the section below for some tips.
Looking for other things to do in Bora Bora? I've written an entire guide on the best things to do at night in Bora Bora.
Swimming With Sharks Tips
First time swimming with sharks?
To ensure that both you and the sharks remain safe, there's a few key things to bear in mind when swimming with them in Bora Bora.
Always go with a guide. Never try to attempt swimming with sharks without an experienced guide.
Don't feed the sharks. They don't need help finding food and they may nip your hand as you try to feed them.
Don't try to pet the sharks. They are wild animals and should be respected.
Don't get too close. You don't want to scare them so try to maintain some distance.
Don't wear shiny jewelry. This could attract them and they may mistake it for fish scales.
Stay calm and relaxed. Avoid sudden movements or thrashing around as this may scare the sharks.
These key tips protect both you and the sharks.
If you do go swimming with sharks in Bora Bora, why not use these fun snorkeling Instagram captions for any photos you post to Instagram?
Best Time Of Year To See Sharks In Bora Bora
You can swim with sharks in Bora Bora at any time of year.
Sharks live in the lagoons surrounding Bora Bora all year round so there's no bad time to go.
Regardless of what time of year you visit, Bora Bora provides snorkelers and swimmers with warm temperatures ranging from 79ºF to 84ºF.
As the water is so clear in Bora Bora, you'll be able to spot the sharks easily and get a great up-close view.
---
And that's it!
Swimming with sharks in Bora Bora is an adventure that will leave you with memories to last a lifetime.
Not only will you have the chance to swim with sharks, but you'll also be surrounded by a diverse array of marine life, from colorful fish to majestic rays. It's a true underwater paradise.
Did you know that you can see giant tortoises in the Seychelles?
Related Posts: