If you are wanting to go swimming with sharks in Bora Bora then you're in the right place.
Nothing can beat that amazing feeling of seeing a shark up close and personal in their natural habitat!
Why not try it for yourself.
This post will tell you all of the best places to swim with sharks in Bora Bora and includes all the information you'll need for a fun day out.
Best Places To Go Swimming With Sharks In Bora Bora
French Polynesia is the largest shark sanctuary in the whole world making it the perfect place to go swimming with sharks!
The most popular way to swim with sharks in Bora Bora is by joining a snorkeling tour.
On a snorkeling tour, you'll get the chance to explore the underwater world in Bora Bora's stunning lagoons.
Not only will you get the chance to swim with blacktip reef sharks and lemon sharks, you'll also see manta rays, stingrays and over 700 different species of tropical fish.
The number of sharks in Bora Bora is actually astounding and it definitely won't be hard to see them once you're in the water.
Best Bora Bora Swimming With Sharks Tours
To help you choose the best tour for swimming with sharks, I've listed the most popular ones below.
These are all top rated tours with experienced guides. You will need to book a tour to be able to swim with the sharks in Bora Bora – you can't do it alone unfortunately.
There are few places in the world where you have a 100% chance of swimming with sharks and Bora Bora is one of them.
Make sure you book your tour ahead of time to ensure you don't miss out.
Snorkeling with Sharks in Bora Bora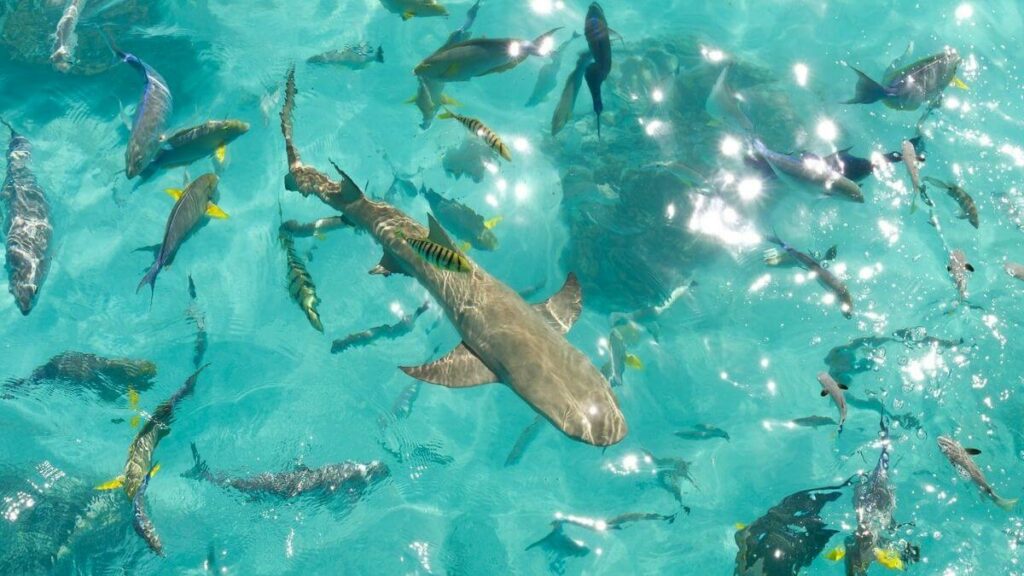 Snorkeling is hands down the most popular way to swim with sharks in Bora Bora.
It allows you to get up close and personal with the sharks, see them in their natural habitat and even feel like you're one of them for a while!
There's plenty of sharks in Bora Bora and you'll likely be surrounded by at least 12 or more whilst snorkeling (don't worry they're not dangerous).
There's tons of different tours to choose from whether you just want to go snorkeling with the sharks or you want to extend your activity and go on a cruise or jet ski tour.
There's so many options.
To make your experience even more special, you can book a private swimming with sharks tour just for you and your group.
This makes the day even more intimate as it's just you, your family and the sharks (and the guide of course).
Check out the sights you can expect whilst snorkeling in Bora Bora in the video below:
Related Post: Best Snorkeling Locations In Bora Bora
How Much Does it Cost to Swim with Sharks in Bora Bora?
There are many different tours on offer at different price ranges.
Standard snorkeling with shark tours start off at around $95 per person.
This type of tour typically just includes the swimming with sharks experience (including an experienced guide and the snorkeling equipment).
For tours with extra activities like jet skiing or a boat cruise, you'll often pay between $130 – $260 per person.
If you're looking for a private swimming with sharks experience just for you and your group then prices start at around $525 for a group of up to 6 people.
If you have 4, 5 or 6 people in your group then it may actually work out cheaper to go for the private tour.
Check out my post on if Bora Bora is expensive which includes a full cost breakdown for a vacation in Bora Bora.
Are There Lots of Sharks in Bora Bora?
Yes, there are lots of sharks in Bora Bora as French Polynesia is actually the largest shark sanctuary in the world.
There's even a famous saying in Bora Bora that sharks outnumber the people in French Polynesia.
The most common shark species is the blacktip reef shark which lives in the lagoons present across Bora Bora.
You can usually find them hanging around the coral reefs. You'll know they're there because you can see their fin sticking up out of the water.
They're very used to swimming amongst lots of people (as it's a super popular activity in Bora Bora) so they won't be afraid if you approach them.
The blacktip reef sharks tend to eat fish but do also occasionally eat sea snakes and sea birds.
You can also often see lemon sharks in Bora Bora which can grow up to 3 meters in length. You can easily spot a lemon shark due to its yellow skin.
Lemon sharks usually eat small fish, crustaceans and stingrays. Occasionally they indulge in a seabird or even a smaller shark.
Other sharks you may come across in Bora Bora are whitetip sharks, hammerhead sharks and gray sharks.
Sharks, or ma'o as they're known in Bora Bora, are actually respected and honored in this area of the world. They are often seen as protectors and sometimes even the reincarnation of a loved one.
Related Post: Can you swim with pigs in Bora Bora?
Is it Safe to Swim with Sharks in Bora Bora?
Yes, it is very safe to swim with sharks in Bora Bora as long as you follow the right guidance. (see further below.)
Sharks have a bad reputation so it's natural to feel a little apprehensive about the possibility of swimming alongside them.
Don't worry, the shark species that are present in Bora Bora are not dangerous.
The blacktip reef shark is the most common shark species found in Bora Bora and this type of shark isn't aggressive and it is perfectly safe to get up close.
There have been no deadly shark attacks this century (or for a very long time) so it's not something you need to worry about.
In fact, your chances of being the victim of an unprovoked shark attack is lower than the chance of being struck by lightning.
In French Polynesia, they say that you are much more likely to be injured from a coconut falling on your head than from a shark so there's nothing to worry about.
*Disclaimer: You should still exercise caution and act within guidance from tour guides when swimming with the sharks. Read the section below for some tips.
Looking for other things to do in Bora Bora? I've written an entire guide on the best things to do at night in Bora Bora.
Swimming With Sharks Tips
First time swimming with sharks?
To ensure that both you and the sharks remain safe, there's a few key things to bear in mind when swimming with them in Bora Bora.
Always go with a guide. Never try to attempt swimming with sharks without an experienced guide.
Don't feed the sharks. They don't need help finding food and they may nip your hand as you try to feed them.
Don't try to pet the sharks. They are wild animals and should be respected.
Don't get too close. You don't want to scare them, so try to maintain some distance.
Don't wear shiny jewelry. This could attract them and they may mistake it for fish scales.
Stay calm and relaxed. Avoid sudden movements or thrashing around as this may scare the sharks.
These key tips protect both you and the sharks.
If you do go swimming with sharks in Bora Bora, why not use these fun snorkeling Instagram captions for any photos you post to Instagram?
Shark Fun Facts
To get you prepared for your trip to Bora Bora where you'll hopefully see some beautiful sharks, here's some fun shark facts.
Sharks do not have bones.
Shark skin feels similar to sandpaper.
Sharks have been on Earth for more than 455 million years, even outliving the dinosaurs who became extinct 65 million years ago.
Female sharks tend to be much bigger than male sharks.
Sharks used to be bigger than buildings (these types of sharks are now extinct).
Sharks grow up to 50,000 teeth in a lifetime.
Sharks are silent – they don't have vocal chords.
Sharks don't have natural predators, their biggest threat is actually humans.
There are over 500 different species of shark.
Best Time Of Year To See Sharks In Bora Bora
You can swim with sharks in Bora Bora at any time of year.
Sharks live in the lagoons surrounding Bora Bora all year round so there's no bad time to go.
Regardless of what time of year you visit, Bora Bora provides snorkelers and swimmers with warm temperatures ranging from 79ºF to 84ºF.
As the water is so clear in Bora Bora, you'll be able to spot the sharks easily and get a great up-close view.
---
Thanks for reading this post on where to go swimming with sharks in Bora Bora.
Wherever you are in Bora Bora, there's plenty of options here to see sharks in their natural habitat.
Did you know that you can see giant tortoises in the Seychelles?
Related Posts: