Bora Bora is a dream destination for many people with its iconic overwater bungalows, crystal clear oceans and quiet, secluded paradise island feel.
I'd heard that Bora Bora was pretty expensive so when I began planning my trip, I ended up spending a ton of time researching it. Now that I've visited, I'd love to share the costs with you.
In this guide, I'll be covering the average cost of a trip to Bora Bora including a full cost breakdown and how you can travel there on a budget.
Is Bora Bora Expensive?
I'll start off by saying that Bora Bora is very expensive. In fact, it was recently ranked as the 5th most expensive destination in the world.
The reason why it's so pricey is because it's very exclusive and in an extremely secluded location which makes it very hard and expensive to get to.
There are actually only a few flights to the island per day.
Bora Bora is located in the South Pacific Ocean in French Polynesia. To put this into perspective, Bora Bora is over 4,000 miles away from Los Angeles.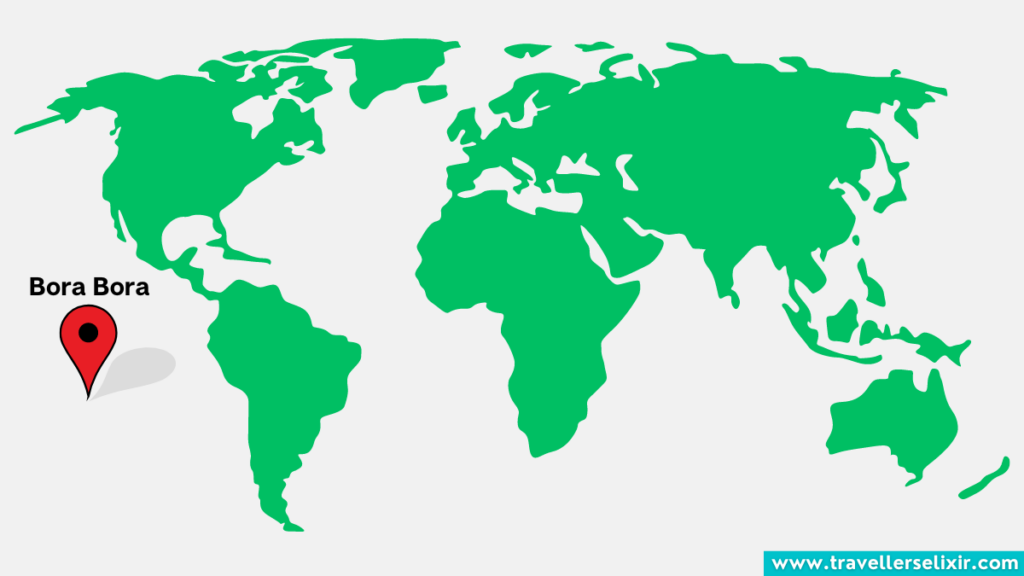 There is also very limited choice when it comes to hotels due to the small size of Bora Bora.
There just aren't that many hotels to choose from and most of them happen to be luxury 5-star hotels that come with a hefty price tag. 
There are definitely a few budget friendly places to stay and some ways you can save money (I'll cover that later in the post).
How Much Does An Average Trip To Bora Bora Cost?
The average cost for a week-long vacation in Bora Bora is around $11,000 for two people.
The above price includes a stay in an overwater bungalow. If you stay in a regular hotel instead then the average cost drops to around $7,900 for two people.
Me and my boyfriend personally ended up spending $11,534 on our Bora Bora trip.
We never ever spend anywhere close to this amount usually on our trips so this one was definitely a splurge.
We spent a three nights at the Four Seasons and 2 nights at the St Regis in overwater bungalows which made up most of the cost.
A Bora Bora trip definitely doesn't have to cost this much though as the Four Seasons & the St Regis are the most expensive resorts on the island.
Below I've listed the cheapest possible prices depending on if you stay in an overwater bungalow or not:
The cheapest possible cost for a week-long vacation in Bora Bora for two people is $5,500.
This price assumes you do minimal activities, don't stay in an overwater bungalow, stay in more basic accommodation and don't eat at fancy restaurants.
The cheapest cost for a week-long vacation for two people in an overwater bungalow is $8,600.
This price assumes you do minimal activities, stay in the cheapest overwater bungalow available and don't eat at fancy restaurants.
Traveling alone?
The average cost for a week-long vacation in Bora Bora for one person is $9,000 if you want to stay in an overwater bungalow.
If you stay in a regular hotel then the average cost will be around $5,700 for one person.
Full Cost Breakdown of a Vacation in Bora Bora
Accommodation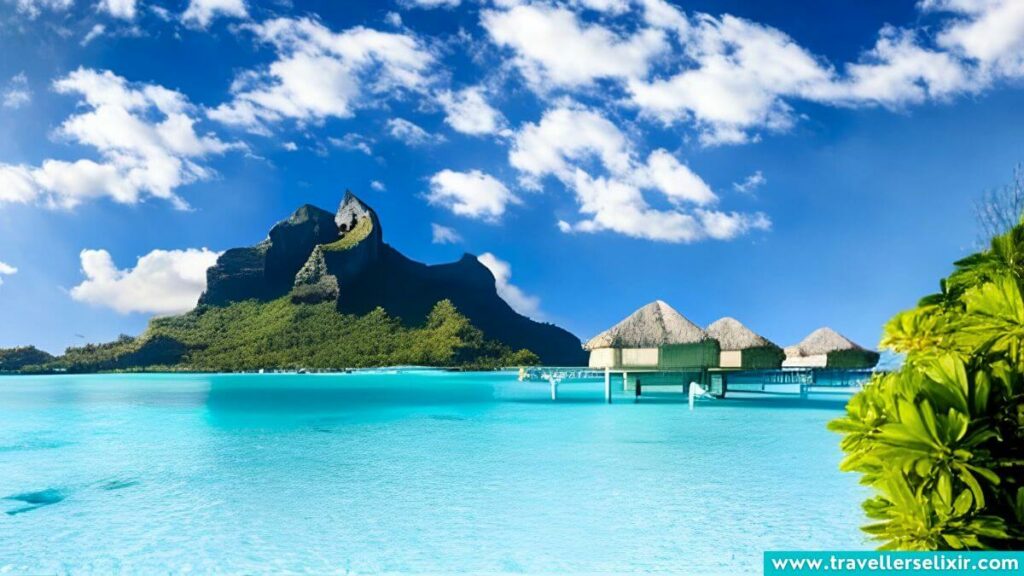 As Bora Bora is a small set of islands, there are only a small number of hotels to choose from and many of them are luxury resorts.
A hotel in Bora Bora can cost anywhere between $300 and $2,300 per night. It really depends on where you stay and what level of luxury you're looking for.
There are also a few small guesthouses that are a bit cheaper for those on a really tight budget. 
Overwater Bungalows
If you're wanting to stay in one of those iconic overwater bungalow then you'll pay a bit more. 
The average price for an overwater bungalow in Bora Bora is between $750 and $2,500 per night.
I stayed at the Four Seasons for 3 nights which cost around $2,000 per night and the St Regis for 2 nights which cost around $1,500 per night. 
The cheapest overwater bungalows you can find are at Maitai Bora Bora.
The most luxurious overwater bungalows in Bora Bora are at the St Regis Bora Bora Resort and also the Four Seasons Resort Bora Bora.
These two resorts do come with hefty price tags but offer an unforgettable, insanely luxurious experience that you'll never forget.
I personally really enjoyed my stay at both hotels. It was absolutely incredible and I'd love to go back. They did cost a lot but ultimately I felt the cost was worth it.
You may be able to get a slightly cheaper rate if you travel during the off season which is from December to March but be aware that during these months the weather can sometimes be cloudy and rainy.
Need more help deciding? Check out my ultimate list of the best overwater bungalows in Bora Bora (it's insanely detailed).
Flights
As Bora Bora is in a super secluded location, there aren't many flights each day.
The majority of flights to Bora Bora leave from either Los Angeles (LAX) or San Francisco (SFO).
The average cost for a flight to Bora Bora is between $1,100 and $1,800 per person for a round trip.
The above average cost assumes you are flying from either Los Angeles or San Francisco.
If you live elsewhere then you also need to factor in the cost of a flight to either Los Angeles or San Francisco from your location.
After doing a ton of research, I found that San Francisco was actually the cheapest place to fly from and gave the lowest flight cost to Bora Bora.
I actually flew out from London so I ended up booking a flight from London to San Francisco then San Francisco to Bora Bora which ended up working out cheaper than Los Angeles.
You can actually save a couple of hundred dollars by flying from San Francisco instead of Los Angeles.
All flights from either Los Angeles or San Francisco will arrive at Tahiti (PPT) where you'll take a short flight over to Bora Bora (BOB).
There are no direct flights to Bora Bora so you'll have to stop off in Tahiti.
I actually wrote detailed guide on how to get from Tahiti to Bora Bora for alternatives like ferries.
Check out my post on how to save money on flights for some awesome tips on how to get cheaper flights!
Cost of Excursions & Tours
Whilst in Bora Bora, it's likely that you'll want to do a couple of tours or excursions.
One of the most popular activities in Bora Bora is swimming with sharks (don't worry, it's not dangerous). I actually did this myself and really enjoyed it.
A snorkeling with sharks tour will cost around $95 per person. Snorkeling tours with extras like jet skiing or boat cruises cost between $130 and $260 per person.
Other popular excursions include:
Snorkeling in Bora Bora is super popular and probably the most common activity. You can do this for free or with a guide.
I often just jumped into the water from my overwater bungalow and snorkeled around there. Many of the resorts also have their own private lagoons that you can snorkel in too.
For something a bit different, you can go hiking.
I ended up doing the Mount Otemanu hike which was pretty challenging but also super rewarding as we got incredible views of the island from above.
You do need to go with a guide though which will cost a few hundred dollars.
Cost of Food
I actually wrote an entire guide on food prices in Bora Bora which goes into more detail but here's a quick overview.
For fancy, upscale dining the average dinner cost is around $160 to $210 per person.
If you stay in a luxury resort then you won't really have many other dining options as most of these hotels are on resort islands meaning the whole island is the resort so there's no other restaurants.
On the main island, there are cheaper restaurants and you can get dinner there for between $30 and $70 per person.
Breakfast and lunch tend to be a bit cheaper than dinner.
We tried to go to the main island whenever possible to save some money but you often have to pay for the shuttle boat across which can add up.
If you are just going to be eating in standard restaurants (no fine dining) then you can budget $100 to $150 per person per day for all meals.
Check out my post on what to wear in Bora Bora before you jet off!
Is It Cheaper To Go To Bora Bora Or Maldives?
I've actually been to both Bora Bora and the Maldives and I personally spent way less in the Maldives.
Bora Bora and the Maldives are very similar in many ways so they are often compared to each other.
They are both known for their overwater bungalows, turquoise waters, white sandy beaches and more.
Based on my own experience and after doing tons of research, I found that the Maldives is definitely way cheaper than Bora Bora.
Whilst the Maldives does also have lots of luxury resorts that can easily cost over $1,000 per night, they also have a lot more choice and a lot more budget options when compared with Bora Bora.
The Maldives also has around 9 times more hotels than Bora Bora so there's lots of choice at every price level.
You can easily do a vacation in the Maldives on a budget but this is virtually impossible in Bora Bora.
Flights to the Maldives are also a bit cheaper than Bora Bora. This is mainly because the Maldives isn't as secluded as Bora Bora and there are more daily flights.
You can get a return flight from San Francisco or Los Angeles to the Maldives for just under $1,000. You'd never be able to get this sort of price for Bora Bora.
---
And that's it!
Whilst Bora Bora is very expensive, it is also a once in a lifetime experience and makes the perfect honeymoon destination.
Who doesn't want to relax for a week in a water villa surrounded by nothing but deep blue ocean?
If you liked this post, you may also like:
Related Posts: