Welcome to the sunny shores of Malibu where the ocean kisses the sand and palm trees sway to a melody of beachy vibes.
If you're lucky enough to find yourself in this coastal paradise, capturing the perfect Instagram photo is an absolute must.
I've come up with the best Malibu Instagram captions that will make your posts shine brighter than the California sun.
Cute Malibu Captions For Instagram
The sky is more blue in Malibu
Feelin' salty and sweet in Malibu
Malibu? That's not a place, it's a dream
Malibu knows how to make waves, both in the ocean and in my heart
For as salty as the ocean is, every memory here is pretty sweet
Nothing but blue skies and heart eyes
Follow your heart even if it takes you all the way to Malibu
Malibu is always a good idea
If you can't find me, I'm probably sipping margaritas in Malibu
I miss being in Malibu and never knowing what day of the week it is
Malibu: where the ocean is my therapy and seashells are my souvenirs
I'm sorry for what I said when I wasn't in Malibu yet
From the mountains to the beach: Malibu
A dream come true in Malibu
Exploring Malibu like a boss with a floppy hat and a pineapple cocktail in hand
Warning: my Malibu glow may cause severe envy
Catch you on the next wave
Caught in a Malibu love triangle: me, the sun and the crystal-clear waters
Happier than a seagull who just scored a french fry
If you're not barefoot then you're overdressed
Sun, sand and questionable tan lines
BRB, going off to play in the Malibu sun
I want someone to look at me the way I look at Malibu
Malibu stole a piece of my heart but I'll let it slide because it's so darn beautiful
Malibu: where my worries get swept away faster than the tide
If you need me, I'll be over here pretending I'm a professional sandcastle architect
Up Next: Best Los Angeles Instagram Captions
Funny Malibu Captions & Malibu Puns
Baby 'Bu's
With my boo in Malibu
Seas the day
Sea-zing the day in Malibu
Don't worry, beach happy
Getting my daily dose of vitamin sea in Malibu
Zuma-ing around Malibu
Feeling fin-tastic in Malibu's waters!
Malibu is my sand-tuary
Shell yeah, I'm in Malibu!
Lost at sea? I'm not shore
Me and Zuma Beach have a sun-derstanding
Having a whale of a time in Malibu!
A-pier-antly you just can't tear me away from the beach!
I want to bring Zuma that Malibu sunshine home with me!
'Bu you wanna go to Zuma Beach?
Tropic like it's hot in Malibu!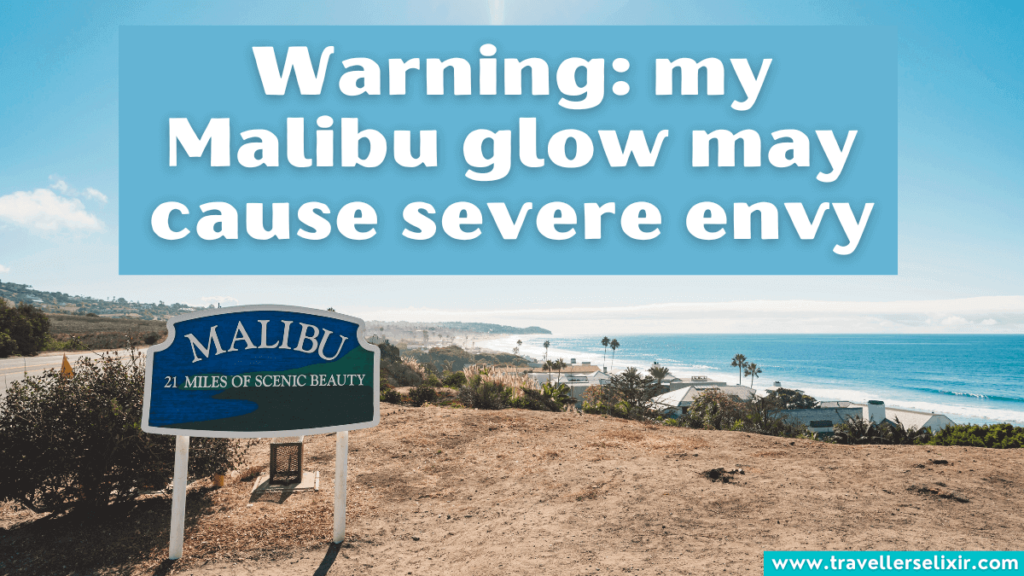 You May Also Like: Santa Monica Captions For Instagram
Short Malibu Captions
Next to you in Malibu
The Bu
Malibu on my mind
Malibu dreamin'
Seashells & sunshine
Beach therapy
Stay salty
Palm trees and ocean breeze
Saltwater soul
From Malibu with love
Find me where the waves are
Lost in Malibu
Malibu gives me butterflies
Once upon a time in Malibu
I go where the sunshine is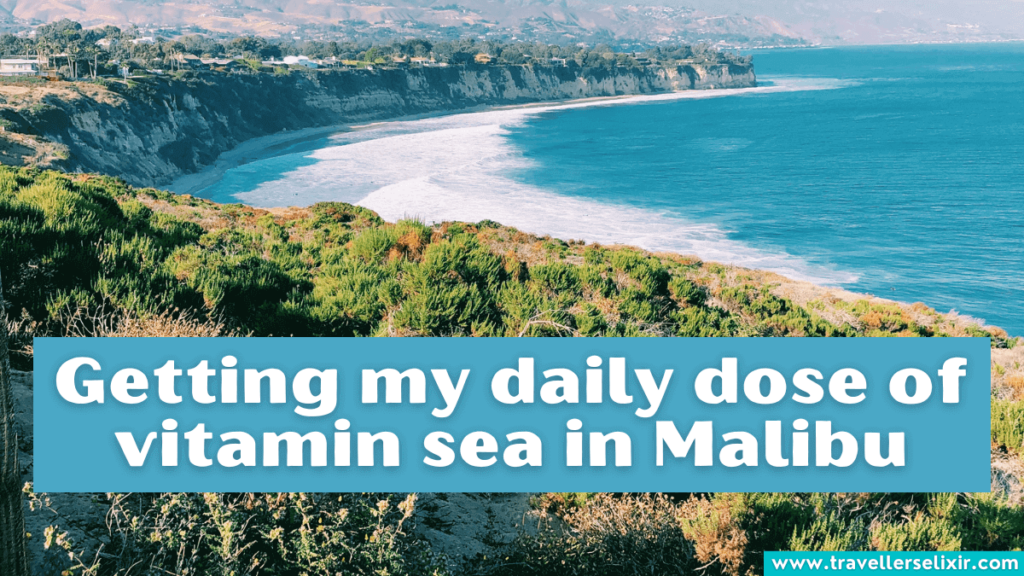 A real Malibu sunset
You, me, and the sea
Daydreaming in Malibu
Malibu magic in the air
Up Next: Hollywood Captions For Instagram
Beautiful & Inspirational Malibu Captions
Off to Malibu I go, to lose my mind and find my soul
All I want is to escape and sit quietly on the beach in Malibu
Malibu whispers secrets of joy, love and tranquility to those willing to listen
Salt air, cool breeze, adventure in my soul
Lost in the beauty of Malibu's coastline
Lost in the beauty of Malibu's shores and found my peace
Every corner of Malibu holds a story waiting to be discovered
I just can't help loving you, Malibu
Malibu's charm is irresistible like a love letter written in waves and seashells
Lost in the moment, found in Malibu's embrace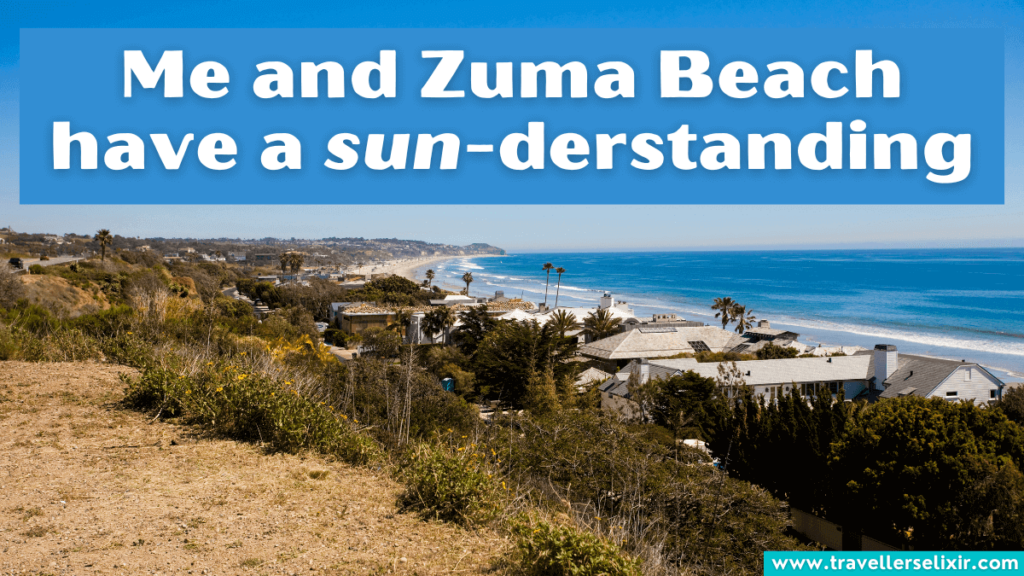 Sun-kissed and carefree, Malibu has a way of bringing out the best in me
In Malibu, every sunset feels like a warm hug from the ocean
Palm trees, ocean breeze, salty air, sun-kissed hair – California, take me there
Malibu has my heart
Visiting Malibu was like stepping into a dream, where reality feels like pure magic
In Malibu, I found a piece of heaven on Earth
Finding my paradise in the heart of Malibu
Sun, sand and serendipity in Malibu
Finding solace in the rhythmic dance of waves and the peaceful embrace of Malibu's shores
Exploring Malibu awakened my sense of wonder
Malibu's enchanting shores hold the power to ignite the spark of joy within us all
You May Also Like: Griffith Observatory Instagram Captions
Malibu Quotes For Instagram Captions
"I had big dreams when I was a boy. And I can't say that I never saw a beach house in Malibu in those dreams." – Pierce Brosnan
"Lost in the symphony of crashing waves, I found my soul dancing to the rhythm of Malibu's melody." – Traveller's Elixir
"But here I am, next to you. The sky is more blue in Malibu." – Miley Cyrus, 'Malibu'
"Malibu: With sounds of waves crashing, and the ocean at the doorstep, you feel like you are hours away from civilization, and with L.A. traffic, YOU ARE." – Jennifer Harrison
"Dance with the waves, move with the sea. Let the rhythm of the water set your soul free." – Christy Ann Martine
"Malibu whispered stories of serenity, painting my heart with shades of peace I never knew existed." – Traveller's Elixir
"Move to California. Malibu is paradise." – David Geffen
"Someone told me there's a girl out there, with love in her eyes and flowers in her hair." – Led Zeppelin, 'Going to California'
"Among Malibu's sun-kissed beaches, I found solace in the gentle embrace of nature's everlasting beauty." – Traveller's Elixir
"For me, a T-shirt, a pair of shorts, barefoot on a beach and I'm happy." – Yanni
"When I'm, like, 30, I want to go off the map, have a family and live in Malibu with a farm, and just raise my own chickens." – Kylie Jenner
"Malibu's sunsets painted the sky in hues of dreams, reminding me that beauty exists even in fleeting moments." – Traveller's Elixir
"We are tied to the ocean. And when we go back to the sea, whether it is to sail or to watch – we are going back from whence we came." – John F. Kennedy
"I swim a lot, almost every day. I just go out to the beach by my place in Malibu and jump into the ocean." – Michael Madsen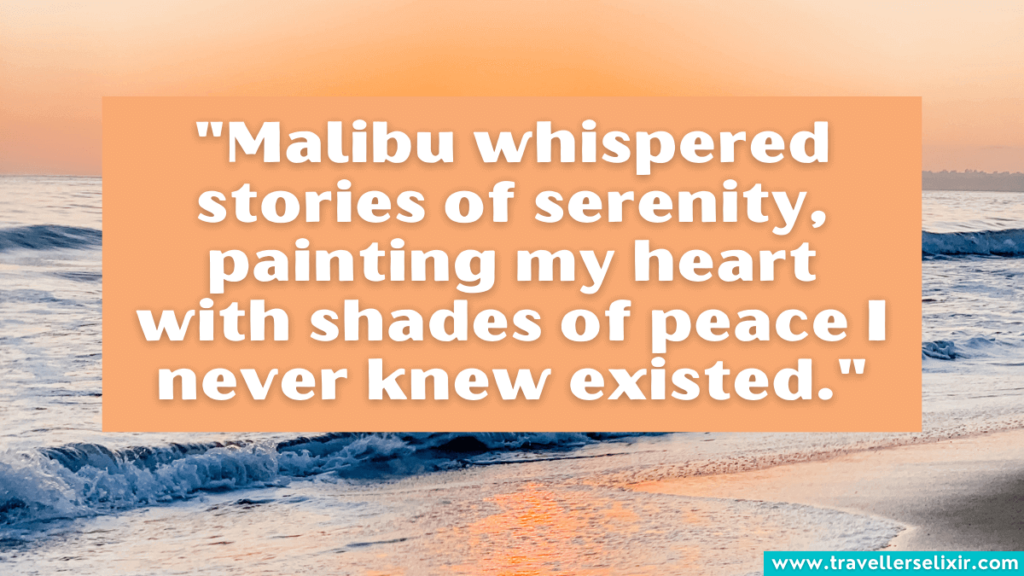 "Isn't it strange, the way time moves? I could stand here and watch the sea crash beneath me for hours and it would feel like only minutes had passed." – Sjana Elise Earp
"At the beach, life is different. Time doesn't move hour to hour but mood to moment. We live by the currents, plan by the tides and follow the sun." – Sandy Gingras
"Malibu awakened the nomadic spirit within, urging me to seek the extraordinary in every step I take." – Traveller's Elixir
Up Next: Beverly Hills Captions For Instagram
Malibu Hashtags For Instagram Likes
#malibu
#malibubeach
#malibucalifornia
#malibupier
#malibunights
#malibufarm
#malibustrong
#malibucafe
#malibubarbie
#maliburising
#malibumonday
#malibuhomes
#malibulife
#malibusurf
#malibuc
#malibuclub
#malibusunset
#malibucreek
#malibucanyon
You May Also Like: Santa Barbara Captions For Instagram
---
And there you have it, a collection of the best Malibu Instagram captions to elevate your beachside photos and capture the essence of this stunning coastal paradise.
From breathtaking sunsets to pristine sandy shores, Malibu offers a visual feast that is bound to make your Instagram followers envious.
Related Posts: