If you're visiting Hollywood then you're bound to have hundreds of stunning photos that you'll want to post to Instagram.
Nothing goes better with a beautiful photo than a cute caption. To save you the trouble of thinking up a caption yourself, I've put together this list of the best Hollywood Instagram captions including Hollywood puns, Hollywood quotes and more.
Just copy and paste the Hollywood caption straight into Instagram.
These captions work for any place you're visiting in Hollywood, including the Hollywood Sign, the Hollywood Walk of Fame and more.
Best Hollywood Instagram Captions
Cute Hollywood Captions For Instagram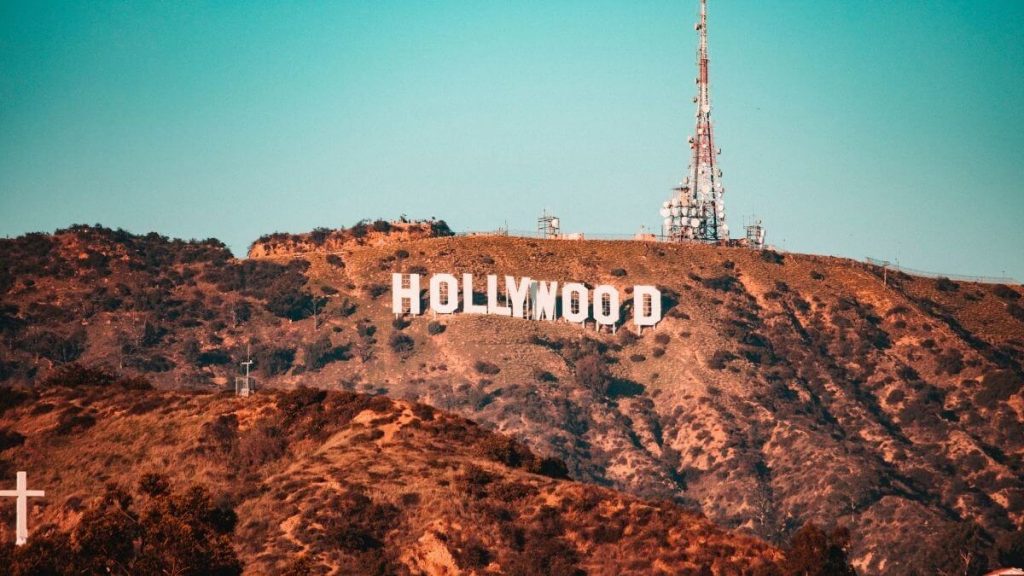 Once upon a time in Hollywood
Feeling so starstruck everywhere I go
Pretty soon, you'll find my name on one of these stars
Follow your heart, even if it takes you all the way to Hollywood
I'm in a good place right now. Not emotionally, I'm just in Hollywood
Look to my right and I see the Hollywood sign
Just here to get my star
Wonder who I'll bump into here!
Hollywood is not a place. It is a way of life
Somewhere between living and dreaming, there's Hollywood
When I see the Hollywood Sign, my eyes turn into little hearts
Hollywood is where dreams come true!
Today's forecast: 100% chance of stars
Meet you by the Hollywood Sign
The one where I go to the Hollywood Walk of Fame
Hollywood gives me butterflies
Oh darling, why don't we just stay in Hollywood
I can finally tick the Hollywood Walk of Fame off my bucket list
For more awesome Instagram captions, check out 71 Los Angeles Instagram Captions & Quotes.
Funny Hollywood Captions & Hollywood Puns
Why did the cow come to Hollywood? To make mooo-vies
Holly-wood you like to see the Walk of Fame with me?
Having a Jolie good time in Hollywood
I haven't got a Cloo-ney!
Tom Cruise-ing around Hollywood
Why did the fish come to Hollywood? He wanted to be a starfish
Things will never be the fame again
Jackie Chan you believe how amazing Hollywood is!?
Brad Pitt stop
T.Hanks a lot
Don't Bale! We're going to see the Hollywood Sign
Bruce Willis you come to the Hollywood Walk of Fame with me?
Heading over to Griffith Observatory? Check out these awesome Griffith Observatory Instagram captions.
Short Hollywood Captions
California dreamin'
Welcome to Hollywood
Land of Makebelieve!
A little place called Hollywood
From Hollywood with love
But first, let's go to California
Hollywood, let's do it!
Work hard. Stay humble
Hollywood, the city of stars
Daydreaming in Hollywood
Meanwhile, in Hollywood…
Palm trees & ocean breeze
The stars shine brighter with you
Hollywood Quotes For Instagram Captions
"Keep your eyes on the stars and your feet on the ground." – Theodore Roosevelt
"City of stars, are you shining just for me?" – La La Land, 'City of Stars'
"You only live once, but if you do it right, once is enough." – Mae West
"The biggest adventure you can take is to live the life of your dreams." – Oprah Winfrey
"Climb up the H of the Hollywood sign, in these stolen moments the world is mine." – Lana Del Rey
"We are all citizens of Los Angeles because we have seen so many movies." – D.J. Waldie
"In my mind, I've always been an A-list Hollywood superstar. Y'all just didn't know yet." – Will Smith
"In Los Angeles, everyone is a star." – Denzel Washington
"Dreams are the foundation of Hollywood. And dreams are the foundation of America." – Lupita Nyong'o
"I hopped off the plane at LAX with a dream and my cardigan." – Miley Cyrus, 'Party in the USA'
"So glad to meet you, Angeles." – Elliott Smith, 'Angeles'
"There's always – somehow a red carpet everywhere. And I think that, you know, it's a fantasyland out here, you know. It's beautiful. It's sunny all the time." – Debra Messing
"Everything moves a little quicker in Los Angeles." – Kyle Chandler
"I love Los Angeles. I love Hollywood. They're beautiful. Everybody's plastic, but I love plastic. I want to be plastic." – Andy Warhol
"Los Angeles is the Great Gatsby of American cities." – Kevin Starr
"Hollywood, it has treated me so nicely, I am ready to faint! As soon as I see Hollywood, I love it." – Carmen Miranda
"Hollywood is a very inspiring place." – Donatella Versace
"I've spent several years in Hollywood, and I still think the movie heroes are in the audience." – Wilson Mizner
---
Hopefully this list gave you plenty of ideas for cute Hollywood Instagram captions.
There's a caption here for any photo, from Hollywood puns to beautiful Hollywood quotes.
Feel free to copy and paste these Instagram captions for your Hollywood photos.
Related Posts: