If you've ever strolled down Rodeo Drive or caught a glimpse of the iconic Beverly Hills Hotel, you know that this exclusive neighborhood is a mecca for the rich and famous.
Whether you're a visitor or a resident, I've got you covered with the best Beverly Hills Instagram captions that will make your posts shine brighter than the Hollywood sign itself.
Get ready to channel your inner celebrity and add a touch of Beverly Hills magic to your social media feed.
P.S. Follow me over on IG (@travellerselixir) and tag me in your photo! I'd love to see it.
Best Beverly Hills Instagram Captions
Cute Beverly Hills Captions For Instagram
Once upon a time in Beverly Hills
So I kinda fell in love with Beverly Hills
Dream while you're wide awake
Just a casual day house hunting in Beverly Hills…
When in Beverly Hills, even the dogs have better outfits than you
Me and Beverly Hills: Love at first sight
Pink mood at the Pink Palace
In Beverly Hills, brunch is a verb and mimosas are a way of life
Living that Beverly Hills Barbie life
Meet me on Rodeo Drive
When in doubt, go shopping in Beverly Hills
Channeling my inner Kardashian in Beverly Hills. Where's my reality TV show deal?
Find me under the palms
I think Beverly Hills looks pretty good on me
Today's forecast: 100% chance of palm trees
Is that Jennifer Aniston!?
A little place called Beverly Hills
Making my way down Sunset Boulevard
Warning: entering Beverly Hills may cause a sudden urge to max out your credit cards
I came, I saw, I shopped 'til I dropped
Up Next: Hollywood & Hollywood Sign Captions For Instagram
Funny Beverly Hills Captions & Beverly Hills Puns
A day of shopping? That will Beverly nice!
Keep palm and carry on
Beverly Hills: where even the dogs have their own personal trainers
I'm in a good place right now. Not emotionally, I'm just in Beverly Hills
Beverly Hills isn't just funny, it's hill-areas!
What kind of tree can fit in your hands? A palm tree
I've been a very bag girl today at the mall…
Beverly Hills: where even the parking meters wear designer labels
Just let me shop and no one gets hurt
Beverly Hills: where casual means wearing a $10,000 outfit on a grocery run
You May Also Like: Los Angeles Captions For Instagram
Short Beverly Hills Captions
Take me back to paradise
Endless summer
Luxury on every corner
Livin' it up in Beverly Hills
Chasing the Hollywood dream
Shop 'til you drop
Meet me in Beverly Hills
90210
Sun, style and Beverly Hills
Palm trees and 80 degrees
The one where I go to Beverly Hills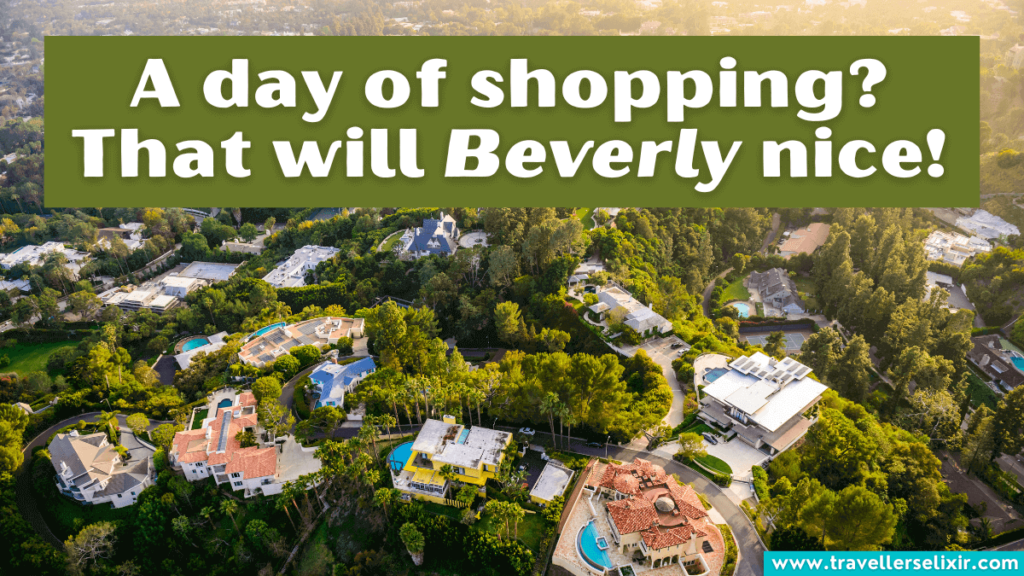 Where dreams come true
Making memories in the 90210
The epitome of luxury living
I have a degree in shopping
Falling hard for Sunset Boulevard
Everyone is a star in Beverly Hills
Wanderlust meets Beverly Hills
Glitz and glamour galore
Up Next: Malibu Captions For Instagram
Inspirational & Beautiful Beverly Hills Captions
The biggest adventure you can take is to live the life of your dreams
Follow your heart, even if it takes you all the way to Beverly Hills
YOU are the most beautiful and expensive thing you're ever going to own
Living out my Hollywood dreams in the beautiful streets of Beverly Hills
Somewhere between living and dreaming, there's Beverly Hills
All I need are palm trees and this little slice of paradise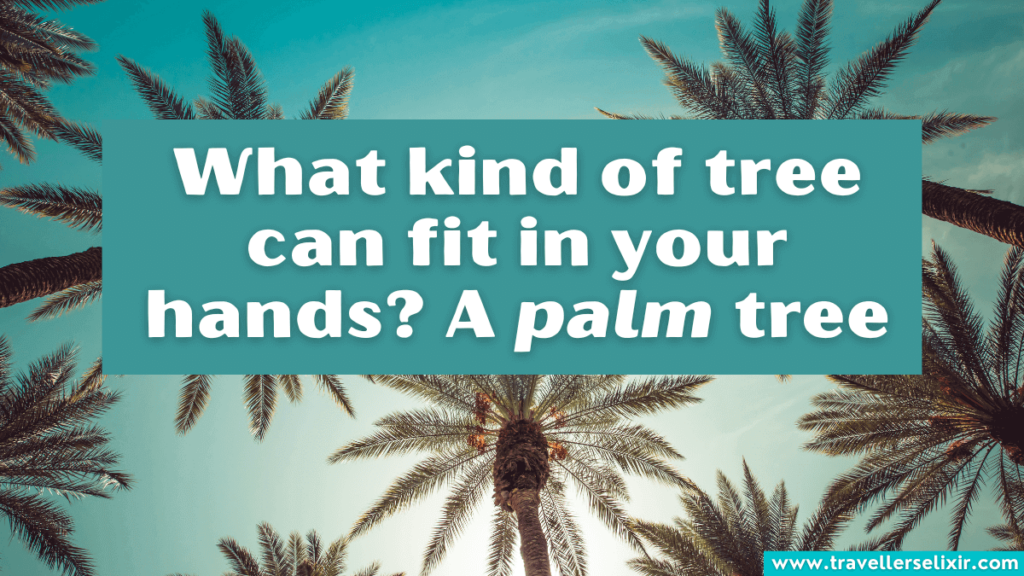 Shopping in Beverly Hills is the best medicine
Exploring Beverly Hills felt like stepping into a fairytale
Making memories in the land of glitz and glamour
Feeling like a star in the heart of Beverly Hills
Beverly Hills, you've officially won me over with your charm and beauty
You May Also Like: Santa Barbara Captions For Instagram
Beverly Hills Quotes For Instagram Captions
"Beverly Hills, that's where I want to be." – Weezer, 'Beverly Hills'
"Beverly Hills, where dreams are not just pursued, but fearlessly embraced. It's a place that reminds us to live boldly and chase our passions." – Traveller's Elixir
"You can take the girl out of Beverly Hills but you can't take the Beverly Hills out of the girl." – Kim Richards
"In Los Angeles, everyone is a star." – Denzel Washington
"Beverly Hills taught me that luxury isn't just about extravagance, it's about appreciating the finer details that make life extraordinary." – Traveller's Elixir
"Rollin' like a celebrity." – Weezer, 'Beverly Hills'
"I know they have palm trees in Southern California. I mean I'm not a complete moron, I've watched 90210 and everything." – Meg Cabot
"In Beverly Hills, dreams are crafted with every step you take." – Traveller's Elixir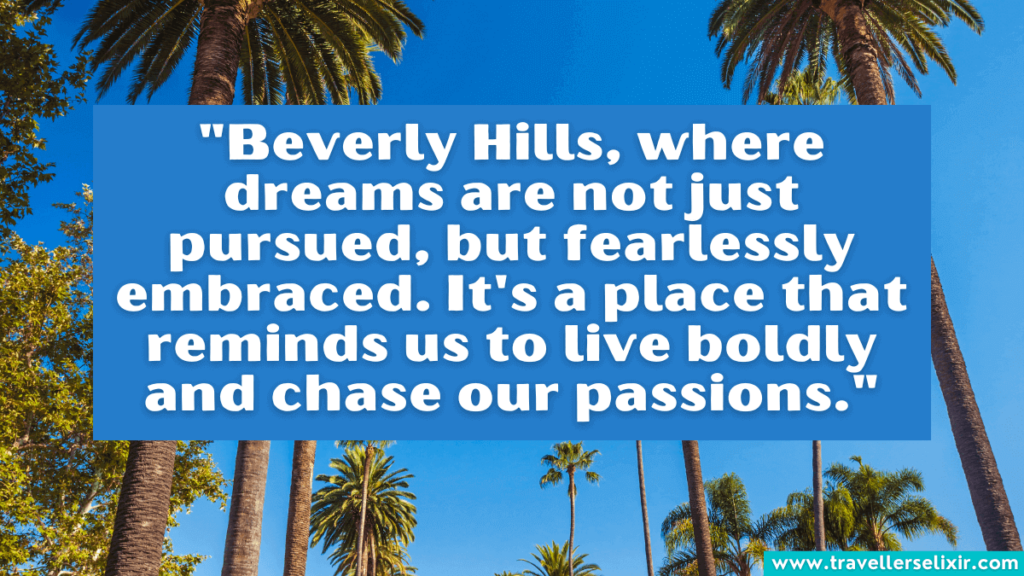 "I haven't bought a yacht or an island or even a palm tree." – David A. Siegel
"Beverly Hills showed me that no dream is too big, no goal is out of reach if you believe in yourself and work relentlessly." – Traveller's Elixir
"I'm just, like, totally normal. The fact that any of this has happened, that we're sitting here at the Beverly Hills Hotel just gets me going, like, 'What?'" – Gwen Stefani
"Celebrities, the beach, and Coachella, that's what everyone thinks about when they think of Los Angeles. Then you see these people living in Bel-Air and Beverly Hills, and they're so chic and have so much style." – Michael Bastian
"Visiting Beverly Hills taught me that the pursuit of beauty and excellence is an art form in itself." – Traveller's Elixir
You May Also Like: Griffith Observatory Instagram Captions
Beverly Hills Hashtags For Instagram Likes
#beverlyhills
#beverlyhills90210
#beverlyhillshotel
#beverlyhillshomes
#beverlyhillscalifornia
#beverlyhillslifestyle
#rodeodrive
#90210
#beverlyhillscenter
#beverlyhillslife
#bh90210
#90210forever
#rodeodrivebeverlyhills
#rodeodrivebaby
Up Next: Death Valley Captions For Instagram
---
I hope you've discovered the perfect words to accompany your glamorous snapshots.
Whether you're soaking up the sun by the pool, savoring a delightful brunch or exploring the luxurious streets, these captions will help you capture the essence of this iconic destination.
Related Posts: