Welcome to the dazzling paradise of Santa Barbara, where palm trees sway and Instagram-worthy moments are waiting to be captured at every turn.
Whether you're strolling along the pristine beaches or indulging in the region's renowned wine scene, Santa Barbara offers a treasure trove of picture-perfect opportunities.
To help you elevate your Instagram game and make your feed the envy of all your followers, I've come up with the best Santa Barbara Instagram captions.
P.S. Follow me on Instagram (@travellerselixir) and tag me in your photo! I'd love to see it.
Best Santa Barbara Instagram Captions
Cute Santa Barbara Captions For Instagram
Cheers to beach hair, tanned skin, flip flops and sandy toes
Left my heart in Santa Barbara, better go back and get it
Gone to the beach. Be back never
Santa Barbara officially has my heart
I googled my symptoms… turned out I just needed to go to Santa Barbara
The answer may not be in Santa Barbara. But shouldn't we at least check?
Sorry for what I said when I wasn't relaxing on a beach in Santa Barbara
If it requires a bikini, my answer is yes
Find me under the palms
All you need is love and a vacation in Santa Barbara
Somewhere between living and dreaming, there's Santa Barbara
Santa Barbara: as close to heaven as you can get
The smell of the ocean never gets old
I have salt in my veins and sand in my heart
You can leave Santa Barbara but it will never leave you
Sky above, sand below, peace within
Santa Barbara? That's not a place, it's a dream
From now on sweet dreams are made of beach days in Santa Barbara
Today's forecast: 100% chance of beaches
Up Next: Santa Monica Captions For Instagram
Funny Santa Barbara Captions & Santa Barbara Puns
Neither Santa nor Barbara were here, but I still had fun
Life is better in sandals, and that's one opinion I'll never flip-flop on
Shell yeah!
This is my resting beach face
Beach you to it
Don't get tide down
Feeling Santa-mental in Santa Barbara
All you need is a good dose of vitamin sea
Wow, did you see that beautiful wave? I was overcome with em-ocean
Long tide, no sea
Talk to the sand
You May Also Like: Los Angeles Instagram Captions
Short Santa Barbara Captions
Daydreaming in Santa Barbara
Santa Barbara dreamin'
Serenity by the sea
Palm trees & ocean breeze
Living the Santa Barbara dream
Wine, waves and wonder
A little place called Santa Barbara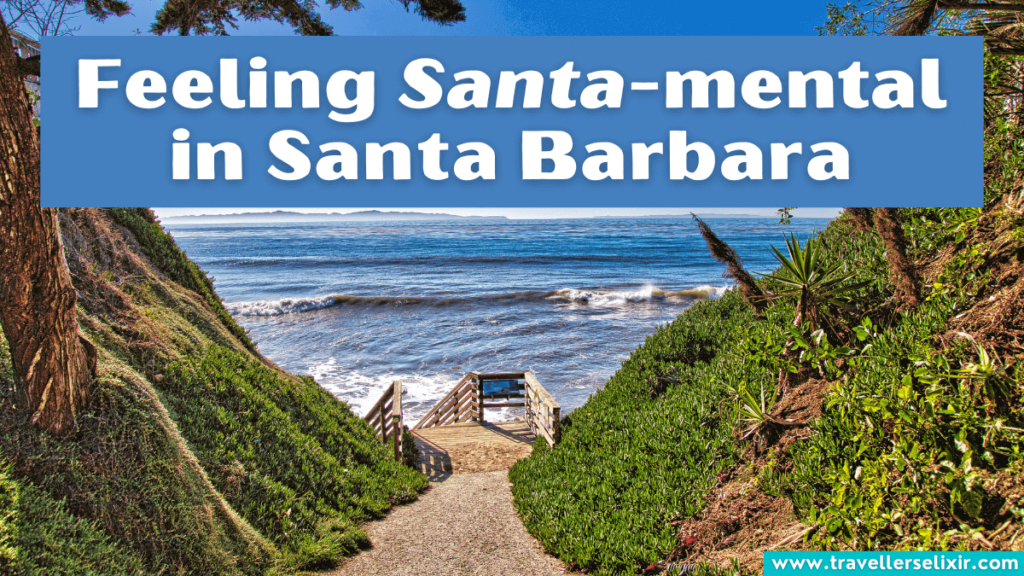 Sun, sand, the sea and me
Take me away to Santa Barbara
Coastal bliss captured
Wild, barefoot & free
Santa Barbara, I'm yours!
Where sunsets paint dreams
Up Next: Hollywood Instagram Captions
Santa Barbara Quotes For Instagram Captions
"Lost in the whispers of the ocean, I found my soul in Santa Barbara." – Traveller's Elixir
"Santa Barbara is pleasant. It's heaven, but with a bit more traffic." – Matt Hai
"I love California. It definitely represents wild freedom." – Jenny O.
"In the embrace of Santa Barbara's beauty, I discovered the art of falling in love with a place." – Traveller's Elixir
"Santa Barbara is a paradise." – Jean Baudrillard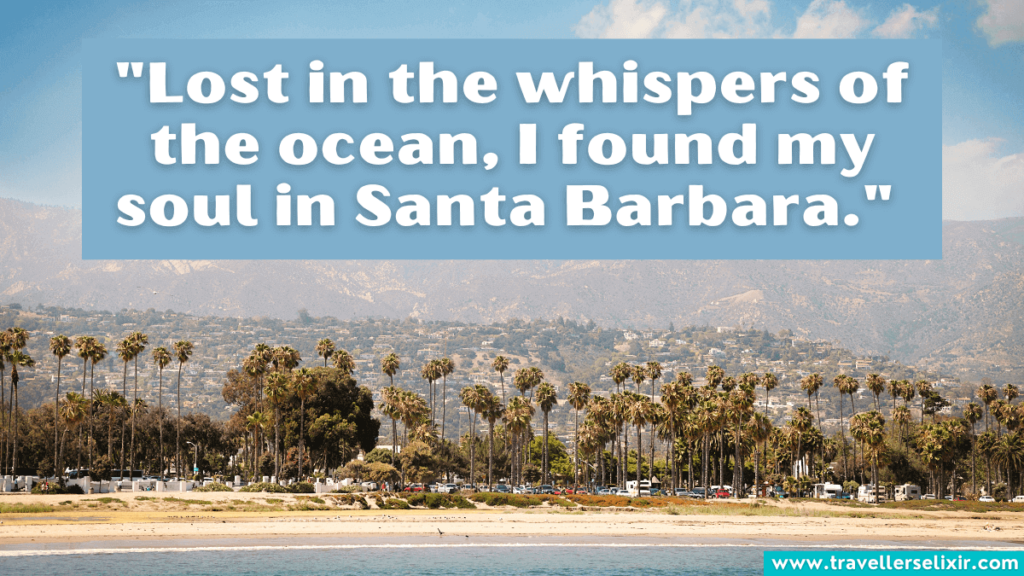 "Where the sea meets the sky, and dreams come alive. Santa Barbara, my heart's desire." – Traveller's Elixir
"They say home is where the heart is. For most people, that consists of four walls and a welcome mat. But for me, it's the ocean." – Unknown
"Santa Barbara is my hood. I mean, it's not much of a hood but it is definitely like my hood. I claim Santa Barbara like I claim my family. I'm going to be married and buried there." – Katy Perry
"Sun-kissed moments and salty air, Santa Barbara, a love affair beyond compare." – Traveller's Elixir
"Every time I slip into the ocean it's like going home." – Sylvia Earle
"With every wave that kisses the shore, Santa Barbara whispers stories of love and more." – Traveller's Elixir
You May Also Like: Beverly Hills Captions For Instagram
---
I hope my original collection of Santa Barbara Instagram captions has inspired you to capture the essence of this remarkable city in all its glory.
Whether you're a local resident or a wanderlust-filled traveler, Santa Barbara offers endless beauty and enchantment that deserve to be shared with the world.
Related Posts: