Are you ready to unleash the sun-soaked allure of Santa Monica on your Instagram feed?
Whether you're strolling along the iconic Santa Monica Pier or soaking up the golden rays on the sandy beaches, this coastal haven offers endless picture-perfect moments.
I've spent hours coming up with the best Santa Monica Instagram captions to help you capture the essence of this captivating place.
P.S. Follow me on IG (@travellerselixir) and tag me in your photo! I'd love to see it.
Best Santa Monica Instagram Captions
Cute Santa Monica Captions For Instagram
All you need is love…and the beach
Happier than a seagull with a French fry
You can find me on the ferris wheel
Once upon a time in Santa Monica
Sorry for what I said when I wasn't eating French fries by the Santa Monica Pier
BRB, going off to play in the Santa Monica sun
Santa Monica? That's not a place, it's a dream
Sunset vibes at Santa Monica Pier
I'm all about palm trees & 80 degrees
There's something about that ocean air
You can find me where the sand meets the water
Up Next: Los Angeles Captions For Instagram
Funny Santa Monica Captions & Santa Monica Puns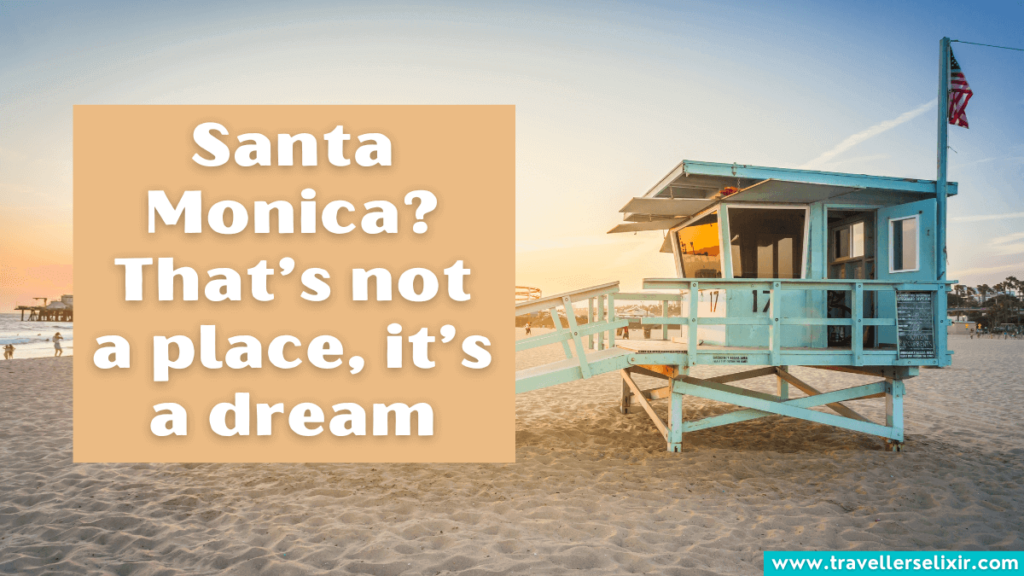 Neither Santa nor Monica were here but I still had fun
Californyeah
Water you doing? Come to the pier with me
I'm in a good place right now. Not emotionally, I'm just in Santa Monica
Sea you soon Santa Monica!
Avoid pier pressure
Don't get tide down
'Tis the sea-son to hang out at Santa Monica Pier
Yeah, buoy, I'm at the beach
I made a vow to sea more this summer and it led me here
I'm not shore if you know this but I'm in Santa Monica
Be shore of yourself
It's aboat time we made it to the pier
Having one shell of a good time in Santa Monica
You May Also Like: Beverly Hills Captions For Instagram
Short Santa Monica Captions
Catch waves not feelings
Neon lights & sunsets
Paradise at the pier
Let's get lost in Santa Monica
Decks, docks, and flip flops
Paradise is at the pier
Santa Monica stole my heart
On top of the world
Sandy toes, freckled nose
Wild hearts can't be tamed
Cotton candy skies & ferris wheel highs
A little place called Santa Monica
Daydreaming in Santa Monica
Up Next: Santa Barbara Captions For Instagram
Inspirational & Beautiful Santa Monica Captions
Dear Santa Monica, thank you for making us feel tiny, salty, humble, and inspired, all at once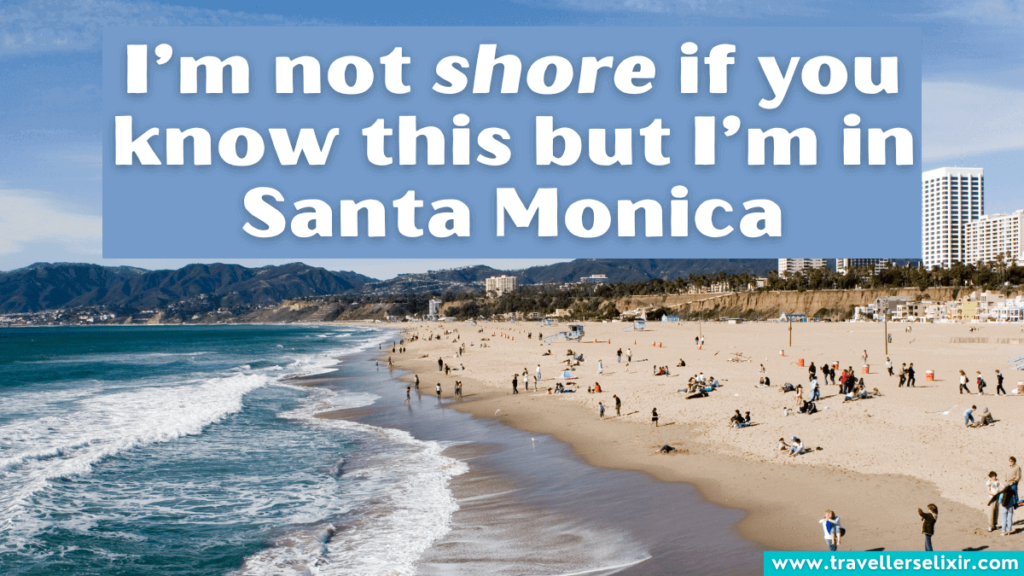 Seashells are love letters in the sand
This is what dreams are made of
Free admission to those who dream
Follow your heart, even if it takes you all the way to Santa Monica
All I need are palm trees and this little slice of paradise
Somewhere between living and dreaming, there's Santa Monica
Don't let the colors fade to gray
You May Also Like: Malibu Captions For Instagram
Santa Monica Quotes For Instagram Captions
"I could never in a hundred summers get tired of this." – Susan Branch
"Amidst the vibrant colors of Santa Monica, I found my own hue of happiness." – Traveller's Elixir
"Under the boardwalk, we'll be havin' some fun." – The Drifters, 'Under the Boardwalk'
"Santa Monica, where dreams are woven into the salty breeze and footprints dance upon the golden shore." – Traveller's Elixir
"I see nothing in space as promising as the view from a ferris wheel." – E.B. White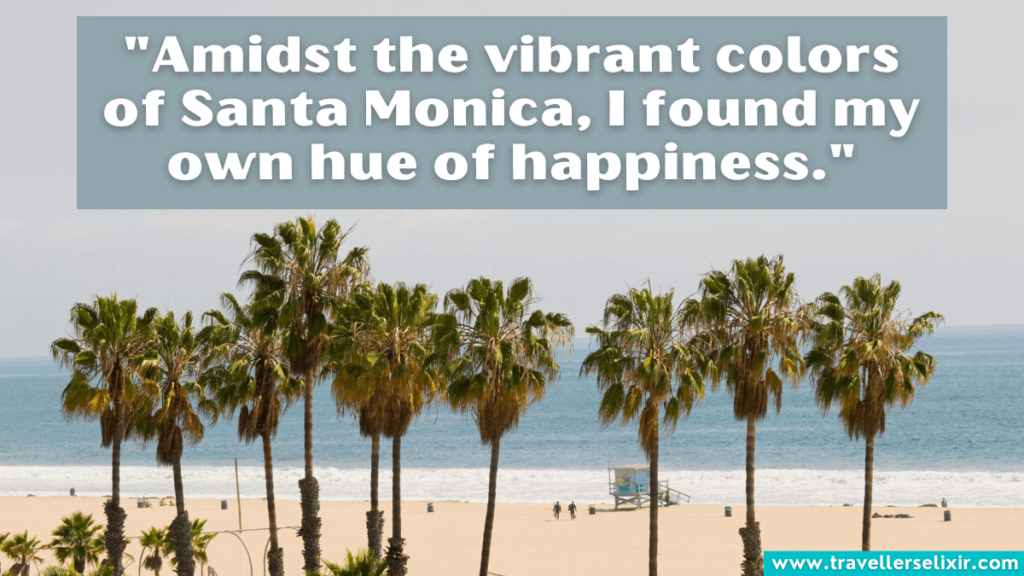 "In Santa Monica, the sun kisses your skin, the ocean serenades your soul and every moment becomes a memory to treasure." – Traveller's Elixir
"At the beach, life is different. Time doesn't move hour to hour but mood to moment. We live by the currents, plan by the tides and follow the sun." – Sandy Gingras
"Reaching for the moon on a ferris wheel." – Richard Vallance
"I have to at least get a couple weekends in where I can just be on Santa Monica beach or Malibu and just ride the waves." – Jake T. Austin
"Every one of a hundred thousand cities around the world had its own special sunset and it was worth going there, just once, if only to see the sun go down." – Ryu Murakami
"Life isn't fair. A fair's a place where you eat corn dogs and ride the ferris wheel." – Jennifer Brown
"Santa Monica's melodies of laughter and crashing waves compose the symphony of a perfect day." – Traveller's Elixir
"Visiting Santa Monica is like stepping into a storybook, where adventure and wonder blend seamlessly with every turn." – Traveller's Elixir
Up Next: Griffith Observatory Captions For Instagram
---
And there you have it, fellow Instagrammers!
Santa Monica, with its stunning coastal views, vibrant atmosphere and picture-perfect spots, provides an abundance of stunning backdrops that are just begging to be shared.
Until next time, keep exploring, capturing and sharing the joy of Santa Monica!
Related Posts: