Welcome to the sunny paradise of Key west where the warm waters are home to some of the most gentle and fascinating creatures on earth – manatees!
I've been to Key West several times now and every time I visit, I always seem to find a new spot with tons of manatees.
Based on firsthand experience, the best place to see manatees in Key West is at Cow Key Marina where you'll find a large population of manatees.
I'd recommend booking onto a kayaking tour from the marina to drastically up your chances of seeing a manatee! You'll get an up close & personal view.
In the rest of this article, I'll cover all of the exact locations where you can see manatees in Key West.
Best Places To See Manatees In Key West
You actually have a really great chance of seeing manatees in Key West as they love to hang out here due to the abundance of seagrass (their favorite snack). 
You'll often see them poking their heads out of the water in several spots across Key West.
Cow Key Marina
Hands down, the best place to see manatees in Key West is at Cow Key Marina. 
Cow Key Marina is located between Stock Island and Key West. It's a known location where manatees love to hang out so it's almost guaranteed that you'll spot one in the area. 
Every time that I've visited Cow Key Marina, I've seen at least 6 manatees swimming around!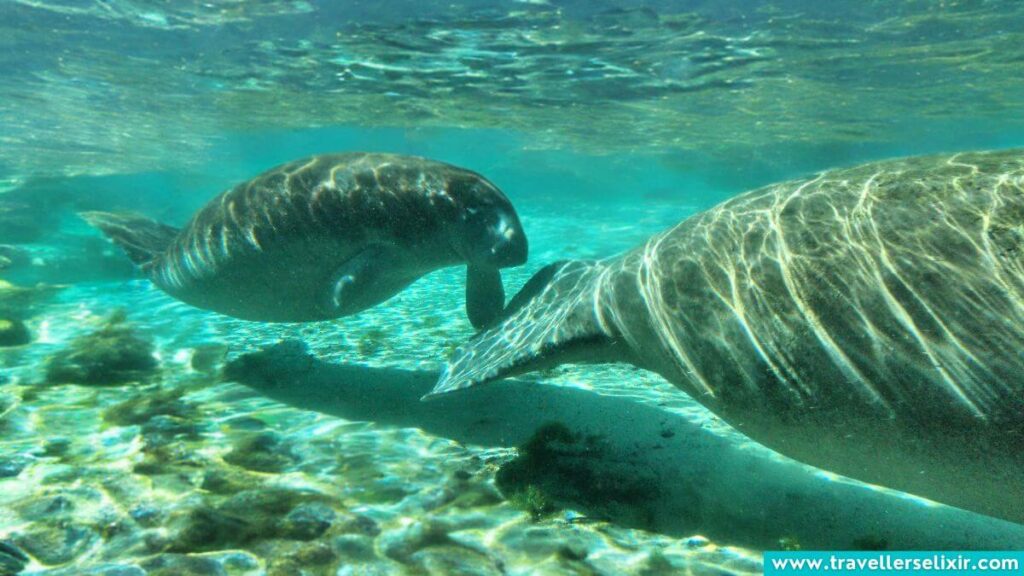 There are many resident manatees that live in the marina and they even have cute names like Marshal, Big Moe, Speedy, Pete and Little Rich. They are all named after their unique personalities.
The best way to see them is to get out onto the water itself.
Best Tours From Cow Key Marina:
I love the stand-up paddle boarding tour because it's a super fun way to explore the area – don't worry if you've never done it before as the experienced guides will show you how.
As you're paddling or kayaking through the mangrove forests in this area, you'll be able to see manatees as well as tropical fish, birds, small sharks, rays and more.
💡Top Tip: Bring along a GoPro to capture some super cool underwater footage of the manatees!
I'm so glad I did this when swimming with dolphins because the video always brings back the best memories.
Did you know you can also see manatees in Sarasota?
Key West Bight
This historic seaport features restaurants, bars, art galleries, museums, hotels and more.
I've often spotted manatees from the marina itself but for the best chance of seeing one, I'd recommend getting out onto the water.
There are tons of fun water activities that you can do in the marina. One of my favorite activities in this area is jet skiing!
You can book a jet ski tour from Key West Bight where you'll be taken out into the ocean on your jet ski.
Watch out for manatees, dolphins, stingrays, sea turtles and more as the experienced guides take you through the various tropical waterways of Key West.
The last time I visited Key West Bight, I saw a family of manatees gliding around together and I saw a dolphin too.
This is a super popular tour so I recommend booking in advance as it often sells out.
Check out this glorious manatee having their lunch in the video below. This manatee was spotted at one of the docks in Key West.
Dry Tortugas National Park
If you have time, I'd recommend heading over to Dry Tortugas National Park to see manatees.
This national park is a series of islands that sits around 70 miles from Key West and makes for the perfect day trip if you love history, white sandy beaches, turquoise waters and marine life.
It also features the impressive Fort Jefferson, an enormous octagonal-shaped fort which occupies one of the islands.
Only around 60,000 people visit this national park every year which is minuscule compared to other US national parks so it feels like an untouched haven that few people know about.
How To Get To Dry Tortugas National Park
The only way to get to Dry Tortugas National Park is by either boat or seaplane.
I'd recommend pre-booking this day trip from Key West as it includes a boat transfer to and from the island. This is the tour that I personally did and I can only saw great things about it!
It's a stunning 2 & a half hour journey to the island where you'll likely glide past manatees, sharks, rays and sea turtles.
Key features of the tour:
On-board naturalist who will tell you about your surroundings
Transport to and from Key West aboard a luxury catamaran
Swim & snorkel around a coral reef (chance to see dolphins & sea turtles)
Breakfast & lunch provided
Visit tropical beaches, a historic fort & a national park
Just a quick heads up, this tour often sells out as it's super popular so I'd recommend pre-booking online in advance to ensure you get a spot.
If you opt for the seaplane option, you'll get there much quicker (45 minutes) but it will cost a lot more.
When I first arrived on this island, I was amazed at the white sandy beaches and the untouched coral reefs where you'll find the manatees! I saw at least 4 or 5 manatees here.
Garrison Bight
This marina, which is centrally located in the heart of Key West, has fresh water which often attracts manatees.
Whilst you can often see the manatees from the marina, you'll have a better chance of seeing them if you get out into the water itself.
I've always managed to spot at least 2 or 3 manatees here every time I've visited.
If you want to get out onto the water, there's tons of water activities that you can join when you get there. You could also try this super fun sunset and cocktail cruise.
Climb aboard the Catamaran boat with an open bar and look out for manatees in the surrounding waters as you glide along, enjoying the scenic Floridian coast.
Best Time Of Year To See Manatees
It's possible to see manatees in the waters of Key West year round as there's a resident population of manatees that live there.
Whilst you can see them at any time of year, the best time is during the winter months when more manatees arrive from up north.
During the winter, water temperatures drop so manatees who usually live in places like Fort Lauderdale migrate south to Key West and Miami to stay in the warmer waters during the winter months (November to March).
The West Indian species of manatee, which lives in Key West, only breeds in warm waters.
In fact, they die in water colder than 60 degrees so they wouldn't survive in the winter further north.
What Is The Best Time Of Day To See Manatees?
You can see manatees at any time of day in Key West but the best time is in the morning.
In the morning, manatees often move around in groups and are very playful. You'll often be able to see them eating and playing.
The manatees spend about half of their day eating and half sleeping. You'll often spot them throughout the day when they're looking for food.
Manatee Spotting Tips
Manatees are still considered to be an 'endangered' species so it's important that we do all we can to protect them.
Unfortunately manatee numbers are declining due to a variety of factors including habitat loss, collisions with boats, entanglement in fishing gear and climate change.
It is illegal to touch or feed the manatees in Florida so follow these simple tips to keep them safe:
Don't feed the manatees.
Don't touch the manatees.
Try not to be too loud as this could startle them.
Don't get too close. Give them enough space to move.
If you are in a boat or on a jet ski, stay a safe distance so the manatees do not get injured.
These simple guidelines help keep both you and the manatees safe.
If you enjoy seeing manatees, you may also be interested in knowing where to see stingrays in Florida.
Can You Swim With Manatees In Key West?
Unfortunately, you are not able to swim with manatees in Key West or anywhere in the Florida Keys.
Don't worry though you can take part in lots of other fun activities involving the manatees including kayaking, stand-up paddle boarding and jet skiing.
This rule is designed to protect the manatees and luckily it doesn't stop you seeing them out in the wild.
---
And that's it!
Thanks for reading this post on where to see manatees in Key West.
You should now have all the information you need to get out there and spot some manatees!
Why not use these fun Key West Instagram captions, puns & quotes for any photos you post to Instagram from your stay in Key West?
Related Posts: