Welcome to Miami where the warm waters are home to some of the most gentle and fascinating creatures on earth – manatees!
I've been to Miami many times now and every time I visit, I always seem to find a new place where you can see manatees out in the wild.
In my experience, the best place where you are almost guaranteed to see manatees is at Biscayne Bay.
My favorite way to see manatees at Biscayne Bay is to hire a kayak or paddleboard as this gives you the chance to get up close to the manatees.
If you don't want to get wet then you can join this private sailing tour around Biscayne Bay and spot manatees from the boat.
In this article, I'll be revealing all of the exact locations where you can see manatees in Miami.
Where To See Manatees In Miami
Manatees can often be spotted in Miami in the shallower waters of the beaches or in the canals and creeks.
Below I've summarized the best spots where you'll have a high chance of seeing a manatee and I've also included handy links to the best rated tours.
1. Biscayne Bay
Manatees, as well as dolphins, are frequently spotted in Biscayne Bay.
Biscayne Bay is a very large lagoon that extends most of the length of the Miami area.
How To Explore Biscayne Bay:
If you want to see manatees in Biscayne Bay then I'd recommend booking onto this private sailing tour just for you and your party (it's super reasonably priced).
The tour takes you on a cruise along the coastline where you'll visit sandbars, mangroves and small islets along the way.
You'll be able to look out for manatees and dolphins as you sail and the trip also includes an optional swimming and snorkeling experience.
For something a bit more adventurous, you can join this jet skiing tour around Biscayne Bay.
Not only is jet skiing super fun (it's one of my favorite activities), it also gives you a great chance to look out for local wildlife like manatees.
Remember not to get too close to the manatees with your jet ski as you could injure them.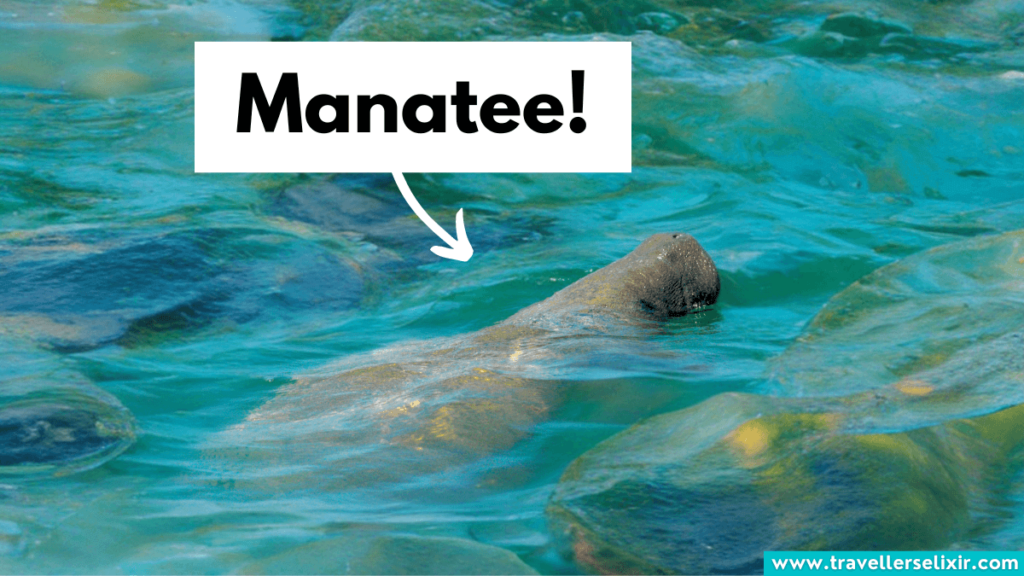 You can also hire a kayak and explore the bay by yourself and at your own pace. I've done this several times as I love heading out on my own.
Every time I've visited Biscayne Bay, I've always seen a ton of manatees! On my last visit, I must have seen about 15, it was amazing! Once I even saw a dolphin too.
The best place to see manatees in Biscayne Bay is in the harbor just north of the Visitor's Center.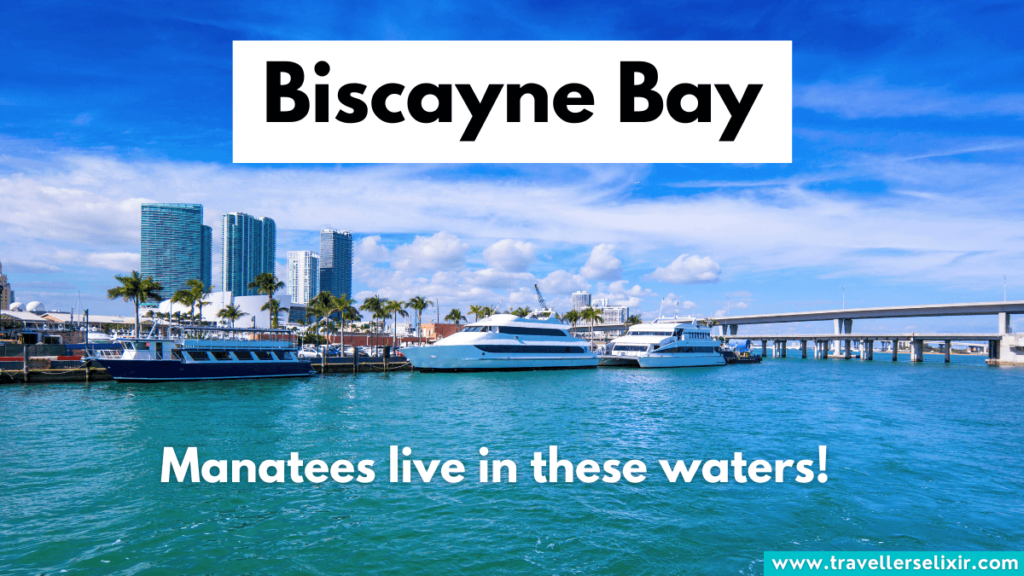 2. Virginia Key
Virginia Key is an 863-acre island located in Biscayne Bay. You can easily access it from the mainland via the Rickenbacker Causeway.
To explore the key, you can rent a kayak or a paddleboard. This is one of my favorite activities and is the best way to see the manatees up close.
It is the closest thing to being able to swim with manatees in Miami and you'll often find dozens of manatees swimming around your kayak or paddleboard.
The last time I visited, I saw around 6 manatees here! They just keep popping up, I was so shocked.
As you glide around the creek, you'll be able to spot manatees, iguanas, pelicans and sea birds too.
I've also found that the water is so calm here and the water is super clear making it easy to see the manatees.
Check out the sort of sights you can expect whilst kayaking at Virginia Key in the video below:
3. Waterways of Coral Gables
If you don't want to get wet then another great place where you can see manatees in Miami is in the waterways of Coral Gables.
Head up to the bridges that pass over the waterways within Coral Gables. These waterways pass through several residential areas as well as the University of Miami.
Manatees often come into these waterways to seek refuge in the warm waters when it is colder.
It's not guaranteed that you'll see manatees here but sightings are frequent. I visited twice and only saw manatees on one of the visits.
You have the best chance of seeing them here when the days are cooler.
Did you know you can also see manatees in Sarasota?
4. Black Point Marina
Black Point Park & Marina is located close to Biscayne National Park.
The marina is nestled in a mangrove preserve directly on Biscayne Bay so it's an ideal spot for manatees.
Look out for the manatees poking their noses out of the water. They usually do this every 2 to 5 minutes but can stay submerged for up to 20 minutes so be patient.
I found that the best spot for seeing manatees here is in the canal that leads from Black Point Marina to Biscayne Bay. I recently saw 3 manatees foraging for food here.
There's lots to do at Black Point Marina including exploring the nature trails, fishing, canoeing and sandbar hopping.
Check out the family of manatees spotted at Black Point Marina in the video below:
5. Manatee Bend Park
Manatee Bend Park sits on the banks of Little River towards the northeast side of the city, along the shore of Biscayne Bay.
This park sits just where the Little River bends and it is at this point where you can often find hordes of manatees hanging out.
I'm not joking, I saw a group of at least 10 here when I visited on my last trip to Miami.
The park provides an open green space with lots of grass areas and trees. You can take a walk along the trail which runs by the river edge to get a good view of the manatees.
6. Oleta River State Park
Another place with frequent sightings of manatees is at Oleta River State Park.
This 1,043-acre state park sits on Biscayne Bay in northern Miami and is actually Florida's largest urban park.
At Oleta River State Park you can hire kayaks, paddleboards and canoes from the outdoor center.
Head out onto the water and keep your eyes peeled for manatees in this protected river estuary covered in tangled mangroves.
Manatees love hanging out in this park due to the warm waters which run into Biscayne Bay.
Find out where to see manatees in Marco Island.
Best Time Of Year To See Manatees
The best time of year to see manatees in Miami is from November to March.
Whilst you can sometimes see manatees at any time of year, the best time to see manatees is during the winter months.
During the winter, water temperatures drop so manatees migrate south from places like Fort Lauderdale to Miami to stay in the warmer waters during the winter months.
The West Indian species of manatee, which lives in Miami, only breeds in warm waters. In fact, they die in water colder than 60 degrees so they wouldn't survive in the winter further north.
Best Time Of Day To See Manatees
You can see manatees at any time of day in Miami but the best time to see them is in the early morning.
In the morning time, the manatees tend to move around in groups and are actually very playful. You'll often be able to spot them eating and playing.
The manatees tend to spend about half of their day eating and half sleeping. You'll see them throughout the day when they're looking for food.
Where Can I Swim With Manatees in Miami?
Unfortunately, you are not able to swim with manatees in Miami as it's actually illegal in Florida.
Don't worry though, you can still take part in lots of other fun activities involving the manatees including kayaking, stand-up paddle boarding and boat trips.
I've done all of these in the past and you still get a pretty up close view of the manatees.
This rule is designed to protect the manatees and luckily it doesn't stop you seeing them out in the wild.
Manatee Spotting Tips
Manatees are an endangered species so it's really important that we do all we can to protect them.
Unfortunately manatee numbers are still declining. This is due to a variety of reasons including habitat loss, collisions with boats/jet skis, entanglement in fishing gear and climate change.
It is actually illegal to touch or feed the manatees in Florida so follow these tips to keep them safe:
Don't feed the manatees.
Don't touch the manatees.
Try not to be too loud as this could startle them.
Don't get too close. Give them enough space to move.
If you are in a boat or on a jet ski, stay a safe distance so the manatees do not get injured.
These simple guidelines help keep both you and the manatees safe.
---
And that's it!
Thanks for reading this post on where to see manatees in Miami.
You should now have all the information you need to get out there and spot some manatees!
Why not use these fun Miami Instagram captions, puns & quotes for any photos you post to Instagram from your stay in Miami?
If you liked this post, you may also like this:
Related Posts: