Welcome to the sunny paradise of Fort Lauderdale where the warm waters are home to some of the most gentle and fascinating creatures on earth – manatees!
When I visited Fort Lauderdale last year, I made it my personal mission to find as many manatees as I could. I ended up searching the entire city for these incredible creatures.
I found that the best way to spot manatees in Fort Lauderdale is to book a kayaking tour which will allow you to witness these magnificent creatures up close and personal.
In the rest of this article, I'll cover all of the exact locations in Fort Lauderdale where you have a chance of seeing manatees.
Best Places To See Manatees In Fort Lauderdale
There are many different places across Fort Lauderdale where you can see manatees out in the wild.
I visited as many of these as I could when I spent a few days in Fort Lauderdale last year!
Best Manatee Tours in Fort Lauderdale
The most popular way to see manatees in Fort Lauderdale is to join a kayaking tour as this gives you the chance to get up close to the manatees and it's the least disturbing way to see them.
This is exactly what I did and I wasn't disappointed. I saw around 7 manatees just going about their business – it was incredible!
There are several different kayaking tours available in Fort Lauderdale however the tour below is the best rated:
I'd recommend booking in advance as it often sells out especially in the summer.
Other great tours available in Fort Lauderdale which give you the chance to see manatees up close are:
Stand-up Paddleboarding Tour – one of the guides is literally a dog that heads out with you on a paddleboard (don't worry, you get a human guide too)
Anyway, without further ado, here's exactly where you can find manatees in Fort Lauderdale….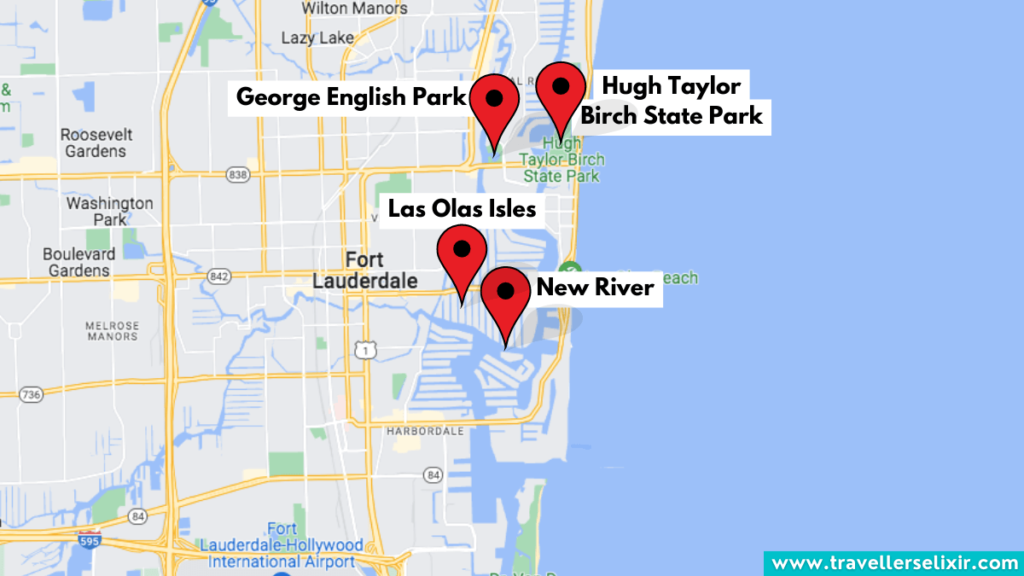 1. George English Park
I'd personally say that the best place to see manatees in Fort Lauderdale is at George English Park.
George English Park is a large recreational park with so many different things to do. It's perfect for the whole family.
They have athletic fields, a basketball court, fishing, tennis courts, walking paths, a pavilion, picnic tables and more.
I found that the best way to spot manatees in this park was to get out onto the water. I only saw a few from the land but once I got onto the water, I saw around 7!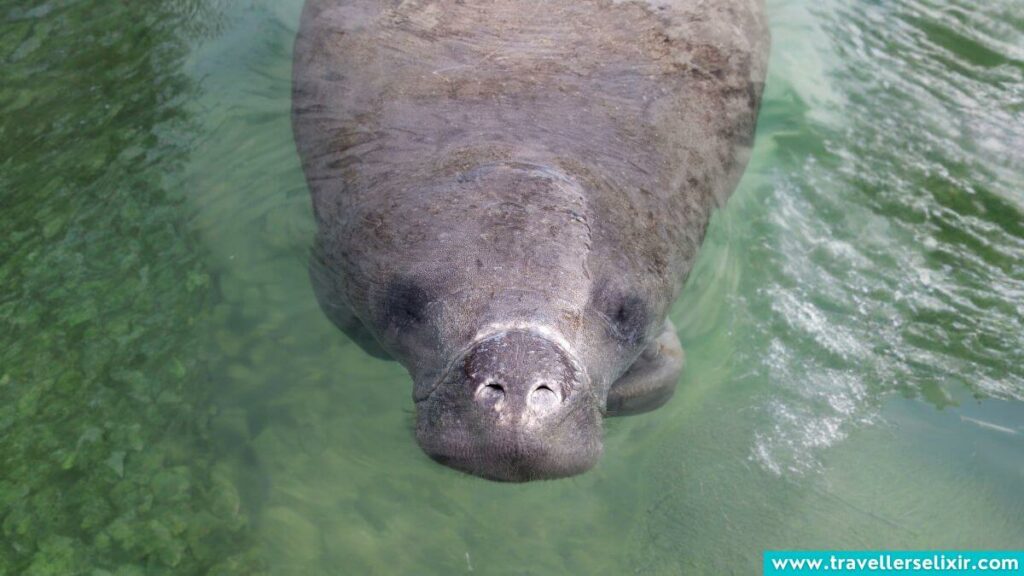 I'd recommend booking this guided kayak tour as it will give you the best possible chance of seeing a manatee in the flesh. This is the tour I did and I really recommend it!
Manatees can be hard to find so going with an expert guide is the best way to ensure you see one.
On the kayak tour we glided past mansions, yachts, mangroves, sea grapes and saw a wide range of wildlife including manatees, birds and more.
2. New River
New River isn't actually a river, it is a tidal estuary that winds through Fort Lauderdale and connects to the Everglades. Manatees can often be spotted at several points across the estuary.
I made a stop here just before heading back to the airport to go home and I'm so glad I did as I saw several manatees within minutes of arriving!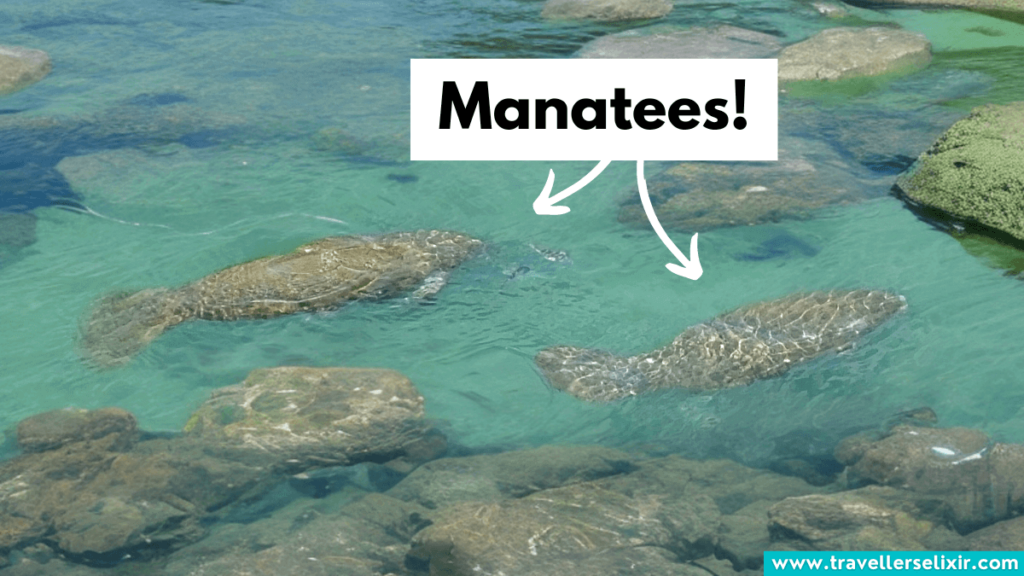 The best way to see manatees is to get out onto the waters of the New River but I did also manage to see a few from the shore.
I'd recommend joining a sailing tour along New River for the best chance of seeing a manatee.
During the sailing tour, you'll be taken out onto the estuary, you can either relax on the boat or you can jump into the water for a swim or snorkel.
As well as manatees, you'll also likely see dolphins, turtles and porpoises swimming alongside you.
3. Everglades National Park
If you're looking for a fun day trip from Fort Lauderdale then head over to the Everglades National Park.
Well-known as one of the most beautiful and unique places on Earth, you won't be disappointed with the Florida Everglades.
Especially as it's teeming with marine life including the famous Floridian manatees!
When I began planning my Fort Lauderdale trip, a visit to the Everglades was right at the top of my list. I saw so many incredible creatures whilst I was there including manatees and dolphins!
To make things super easy for you, you can book an Everglades Adventure Tour which includes a hotel pickup and drop off in Fort Lauderdale. This is the one I did and I can only say great things about it.
During the Everglades Tour, they take you to all the best spots including the famous Ten Thousand Islands which is the 2nd largest mangrove forest in the world.
Ten Thousand Islands is a labyrinth of water and mangroves and is home to a wide range of animals including manatees, dolphins, sea turtles and more.
Take a look at this super cute manatee spotted at the Everglades:
Did you know you can also see manatees in Miami?
4. Las Olas Isles 
Las Olas Isles is a neighborhood that sits along the water. You'll find tons of waterfront homes with boat docks here.
To see manatees you'll need to get out onto the water, I only managed to see one in the distance from the land but when I got out on the water, I saw tons of them!
One of the most fun things to do in Las Olas Isles is stand-up paddleboarding. This was my first ever time stand-up paddleboarding and I really enjoyed it.
It was actually way easier than I expected and spotting manatees whilst I did it made the whole experience even more special.
This stand-up paddleboarding tour is one of the most unique experiences in Fort Lauderdale as you'll not just be accompanied by a human guide but a dog as well!
Yep, one of your guides is Mr Beaches who is a dog. He comes out with you on the tour and rides his own paddleboard.
It's super fun and perfect for families with kids who love Mr Beaches.
Don't worry if you've never done stand-up paddleboarding before, your experienced guide will show you how.
During the tour, your guides will take you along the canals of Las Olas Isles searching for marine life.
If you're lucky you might spot a manatee swimming around, searching for something to eat.
5. Hugh Taylor Birch State Park
Another great place for manatee viewing in Fort Lauderdale is at Hugh Taylor Birch State Park.
Fort Lauderdale's 'Central Park' is an oasis for relaxation and exciting activities. There's tons of things to do here including cycling, fishing, swimming, roller blading, hiking, camping, snorkeling and more.
Hugh Taylor Birch State Park is a great place to hangout and see some nature. You can often see groups of manatees swimming along the seawall.
I spent a good half an hour stood by the seawall admiring the manatees! There was a group of around 4 manatees there when I visited.
6. Miami Seaquarium
You can also see manatees in captivity at the nearby Miami Seaquarium which is just a 35 minute drive from Fort Lauderdale. 
I didn't get a chance to visit the Seaquarium on this trip but I've heard from friends who've been that it's great.
The Miami Seaquarium is a 38-acre oceanarium located in Biscayne Bay on the island of Virginia Key.
They have a wide range of animals in the aquarium including manatees, penguins, dolphins, seals and more.
Their manatee exhibit teaches guests all about the manatees and how we can try to save them. They are a featured part of the rescue and rehabilitation program at the seaquarium.
Address: 4400 Rickenbacker Causeway, Miami, FL 33149
Opening Hours: Monday to Sunday, 10am to 5pm
Best Time Of Year To See Manatees
The best time to see manatees in Fort Lauderdale is between April and October.
The manatees that live in Fort Lauderdale only breed in warm waters. From April to October, the water is warm so the manatees eat, sleep, socialize and hang around in the toasty waters of Fort Lauderdale.
During the winter months it gets too cold for them in Fort Lauderdale so they migrate further south to places like Key West.
In fact, the manatees would die in water that is colder than 60 degrees so they wouldn't survive in Fort Lauderdale during the winter.
If you want to see manatees in the winter then head over to Key West, I have a guide on the best places to see manatees in Key West.
What Is The Best Time Of Day To See Manatees?
You can see manatees at any time of day in Fort Lauderdale but some times are better than others.
The manatees spend about half of their day eating and half sleeping. You'll often spot them throughout the day when they're looking for food.
The best time of day to see manatees is in the early morning. In the morning, manatees often move around in groups and are very playful. You can often see them eating and playing.
About Manatees In Fort Lauderdale
You have a really good chance of spotting manatees in Fort Lauderdale as they actually live in many of the canals and rivers.
You'll often see them poking their heads out of the water in several spots across Fort Lauderdale.
Interesting Fact: These large, slow-moving 'sea cows' can weigh up to 1,000 lbs and grow up to 10 ft!
Manatee Spotting Tips
Manatees are actually considered to be an endangered species so it's important that we do all we can to protect them.
Unfortunately manatee numbers are declining due to a variety of factors including habitat loss, collisions with boats, entanglement in fishing gear and climate change.
It is actually illegal to touch or feed the manatees in Florida so to make sure you are keeping them safe, follow these simple tips:
Don't feed the manatees.
Don't touch the manatees.
Try not to be too loud as this could startle them.
Don't get too close. Give them enough space to move.
If you are in a boat or on a jet ski, stay a safe distance so the manatees do not get injured.
These simple guidelines help keep both you and the manatees safe.
Can You Swim With Manatees In Fort Lauderdale?
Unfortunately, you are not able to swim with the manatees in Fort Lauderdale.
Don't worry though, you can take part in lots of other fun activities involving the manatees including kayaking, stand-up paddle boarding and boat trips.
I did kayaking and stand-up paddle boarding and was still able to get really up close views of the manatees.
This rule is designed to protect the manatees and luckily it doesn't stop you seeing them out in the wild.
---
And that's it!
Thanks for reading this complete guide on where to see manatees in Fort Lauderdale.
You should now have all the information you need to get out there and spot some manatees!
Why not use these fun Florida Instagram captions, puns & quotes for any photos you post to Instagram from your stay in Fort Lauderdale?
If you liked this post, you may also like this:
Related Posts: