I love seeing turtles out in the wild so I was super excited to learn that Pensacola has a large population of turtles along its shores.
I found that the best place to see turtles was on Pensacola Beach and I was lucky enough to see quite a few turtles here.
I ended up booking this boat cruise from Pensacola Beach and got the chance to see tons of turtles, rays and even a few dolphins.
In the rest of this guide, I'll go into more detail and cover all of the exact locations in Pensacola where you can see turtles. I even include where you can see baby turtles hatching.
Best Places To See Turtles In Pensacola
Pensacola is actually one of the best places in the US to see turtles.
Every year, several different sea turtle species return to Pensacola beaches to lay their eggs including green, loggerhead, kemp's ridley and leatherback turtles.
Around 45 days later, the eggs hatch and the baby turtles make their first ever run towards the ocean.
About 90% of all sea turtle nesting in the US takes place in Florida so you have a great chance of seeing turtles here.
Pretty much all of the places where you can see turtles in Pensacola are located along the Gulf Islands National Seashore.
1. Pensacola Beach
Based on my own experience, I'd say the best place to see turtles in Pensacola is on Pensacola Beach which sits on Santa Rosa Island.
Every spring, female sea turtles arrive on the sand of Pensacola Beach at night and lay their eggs.
Whilst the nesting turtles can only be spotted at certain times of year, sea turtles are actually present all year round in Pensacola Beach.
This resident turtle population can often be spotted around snorkel reefs, fishing piers and in the bays, usually rummaging for food or coming up for air.
For the best chance of seeing turtles, I'd recommend joining a boat tour like this one which will take you out into the bay to see turtles, dolphins and more.
I actually did the above tour when I visited and I saw a ton of turtles, some rays and even a couple of dolphins. It was really good fun and the guides were super knowledgable.
You could also book a private boat tour just for you and your party if you prefer.
You are highly unlikely to see one of the nesting turtles during the day because they usually lay their eggs at night.
You do, however, have a very high chance of spotting turtles out in the bay during the daytime so join a boat tour if you really want to see turtles.
2. Perdido Key
Perdido Key, which is located between Pensacola in Florida and Orange Beach in Alabama, sits on a narrow strip of white sandy beaches and crystal blue waters.
The turtles also come to the beaches on Perdido Key every year to lay their eggs.
After a short incubation period, the baby turtles will dig their way out of the sand and make their first ever run towards the ocean.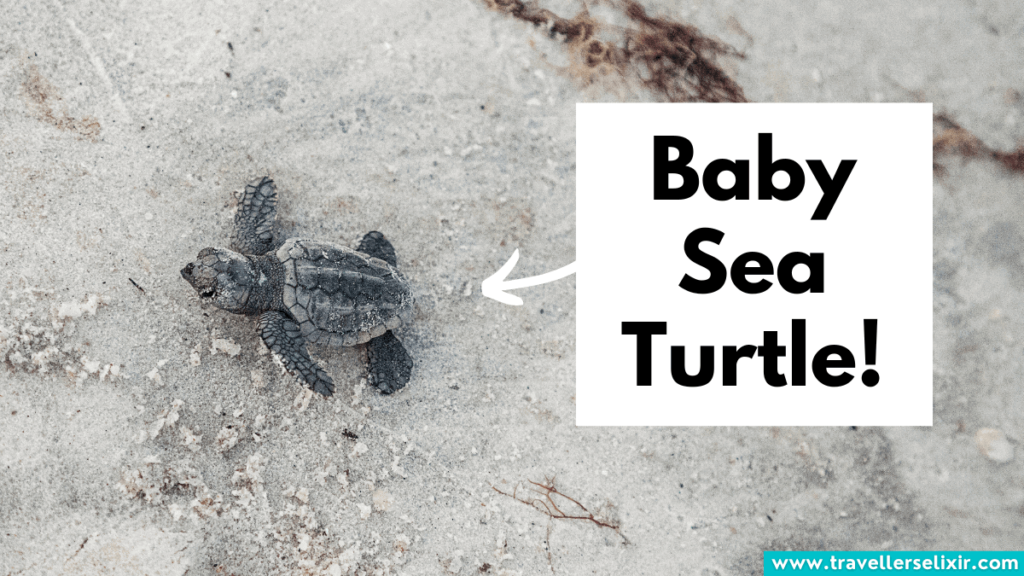 If you are lucky enough to see this, I promise it will be something you never forget.
The best place on Perdido Key to see the turtles is in the Perdido Key State Park which is a ​​protected area and a safe habitat for turtles and many other animals.
For the most part, this usually takes place at night so you probably won't spot any nesting turtles during the daytime.
If you are planning on visiting the beach at night to see the turtles, please avoid using lights or flash photography as this will confuse the turtles and could prevent them from reaching the ocean.
If you do need light, use a red flashlight like this one as this doesn't disorient the turtles.
It's also not uncommon to see turtles swimming in the ocean off the beach during the day. I spent a few hours swimming around in the ocean here and saw 2 turtles.
Snorkelers exploring the seagrass beds and reefs will likely catch a glimpse of the turtles as they forage for food.
You can see some baby turtles hatching in the video below:
3. Navarre Beach
Navarre Beach actually forms part of the Pensacola Beach area.
This small beach community features 12 miles of white sandy beaches making it an ideal spot for nesting turtles.
Navarre Beach is the place to be if you're interested in turtle conservation because it's home to a turtle conservation center.
All of the different species of turtle are actually endangered so it is so important that we do all we can to help their chances of survival.
Baby turtles face more challenges than ever including:
Eggs are often crushed by beach activities.
Birds take the eggs whilst looking for a meal.
Development on the beaches damage breeding grounds.
Ocean pollution.
It has also been reported that nearly 60% of turtle hatchlings become disorientated by artificial lights that cause them to wander away from the ocean.
This puts the baby turtles in huge danger as they risk becoming dehydrated, starving and being eaten by predators.
Some of these baby turtles struggle to make it to the ocean because of this and need extra help from volunteers. This is where the​​ Navarre Beach Sea Turtle Conservation Center comes in.
By visiting this center, you can explore their range of fascinating educational exhibits and meet their famous resident, Sweet Pea.
Sweet Pea is a green sea turtle who was found tangled in a fishing line in Alabama in 2016. Her flippers were seriously injured and she also had a damaged shell.
The conservation center took her in and reared her back to good health but unfortunately she can't be released back into the wild due to her injuries so lives permanently at the center in a 15,000 gallon saltwater pool.
Make sure you drop by to say hi.
Best Time Of Year To See Turtles
The best time to see turtles in Pensacola is between May and October.
Turtle nesting season in Pensacola starts in May. This is when female turtles begin coming to the beaches in Pensacola to lay their eggs.
The eggs start hatching between July and October. This is when the baby turtles will make their run towards the ocean.
Peak turtle hatching usually takes place in August so this is the best month to visit if you want to see the hatchlings (make sure you read my turtle spotting tips later in the post).
These are the best months to visit Pensacola if you want to see baby turtles hatching, however if you just want to see turtles swimming in the ocean then you can actually see this at any time of year.
Many turtles live in the waters surrounding Pensacola all year round and you have a great chance of spotting them, especially if you head out into the bay on a boat tour.
About The Sea Turtles in Pensacola
Most of the baby sea turtles which hatch along Pensacola beaches are actually males. Why, you may ask?
Well, interestingly, the gender of a baby turtle is actually determined by the temperature of the nest.
Warmer temperatures tend to lead to females whereas cooler temperatures tend to lead to males. The cooler temperatures in Pensacola mainly generate male turtles.
Another interesting feature of sea turtles is that they always return to the exact same beach that they were born on to lay their eggs. Cool, right!?
As all of the turtles which come ashore to lay eggs are females, it's actually a pretty big deal as very few female turtles are born on Pensacola beaches.
Male sea turtles actually spend the majority of their life at sea so most of the turtles which hatch and run into the ocean in Pensacola will never set foot on sand again.
The most common type of sea turtle found in Pensacola is the loggerhead sea turtle. This is also the most common type of turtle found in Florida as a whole.
Loggerhead turtles are named after their large armored head and huge jaws.
You can also find green, leatherback and kemp's ridley turtles in Pensacola too.
Kemp's ridley turtles are actually the rarest of all sea turtle species and, in contrast to other sea turtle species, lay their eggs during the daytime.
All the other turtle species actually lay their eggs at night.
Sea Turtle Spotting Tips
First time spotting turtles?
To ensure the baby turtles remain safe, there's a few key things to bear in mind when looking for them in Pensacola.
Remember that all of the different turtle species are endangered so it's important that we do all we can to help their chances.
Don't shine any bright lights or use flash photography. This will confuse the baby turtles who are trying to make their way to the ocean.
Use red lighting. If you do need light, use a red flashlight like this one. Red lighting is much less likely to attract the turtles and disorient them.
Don't disturb the turtles. Don't touch or pick up the turtles as they leave their nest. It is best to just sit back and watch them from a distance.
Fill in holes & knock down sand castles. After you are done on the beach make sure you fill in any large holes and knock down any obstacles like sand castles which could impede the path of the turtles.
Remove all items from the beach. Make sure you take your trash, sun beds, umbrellas, toys etc with you as this could serve as an obstacle to baby turtles.
Remember we need to give the turtles the best chance of survival possible. Practicing these easy tips can drastically increase the rate of survival for the turtles.
---
And that's it!
As one of the best locations in the whole of the United States to see turtles, you have a great chance of seeing turtles in Pensacola.
It truly is a magical and memorable experience if you happen to see the baby turtles making their first run towards the ocean and something you'll never forget.
Related Posts: