For such a small city, you'd be surprised at how many incredible attractions Coimbra has to offer.
From one of the oldest universities in the world to ancient Roman ruins, this city has something for everyone.
Ok, without further ado, here's my favorite things to do in Coimbra that would be perfect for a 1 or 2 day trip.
Summary – Best Coimbra Attractions
For anyone in a hurry, I've conveniently picked out the best things that you absolutely shouldn't miss.
Here's my top picks:
Joanina Library – one of the most beautiful libraries in the world, forms part of the university. This tour includes it.
Old Cathedral – see where Portugal's early kings were crowned.
Botanic Garden – see rare and exotic plants in this serene garden.
If your time in Coimbra is limited then I'd highly recommend joining this private walking tour of the city so you don't miss anything.
Now let's see what else Coimbra has to offer! I've conveniently arranged the activities into a handy 1 to 2 day itinerary depending on how much time you have in the city.
Getting To Coimbra
You'll likely be arriving into either the bus or train station – both of which are within walking distance of the city center.
I visited Coimbra on a day trip from Porto by taking the bus so I arrived at the bus station then walked around 10 minutes into the center of town.
Coimbra is well connected by bus and train to most major cities in Portugal. I'd recommend booking your tickets on Omio as they offer fantastic prices and a great service.
I used Omio to book my ticket and it cost just €4!
1. Igreja de Santa Cruz
The first stop on your Coimbra itinerary should be Igreja de Santa Cruz which is a breathtaking church located right in the center of the city. It dates back to the year 1131.
It's actually the final resting place of the first two Kings of Portugal, Afonso I and Sancho I. You'll find their tombs on either side of the altar (most people miss these!).
The inside of the church is beautifully decorated with blue and white 'azulejo' tiles which tell the story of Portugal's history.
Look out for the giant organ that apparently only 4 people in the world know how to play due to how complicated it is!
I particularly loved the intricate details on the outside of the building.
2. Porta de Barbacã
Porta de Barbacã is an old archway that used to form part of the ancient city wall which surrounded Coimbra in medieval times.
It's actually one of the only surviving parts of the wall.
This archway used to be the main entrance into the city when it was held by the North African Moors who ruled Coimbra for over 300 years.
It was actually built in the 12th century and has survived pretty well.
3. Old Cathedral
I hope you've had a good rest because next you'll need to start on a steep uphill walk (don't worry, you can rest along the way).
Feel free to take a taxi or tuk tuk if you don't feel like walking.
Coimbra is a walkable city but it features a large hill right in the center. The hill is pretty steep but walking up it is doable for most people.
About halfway up the hill, you'll find the Old Cathedral which is also known as Sé Velha.
This impressive cathedral was built back in the 12th century and was used to crown several of Portugal's early kings.
It's super well preserved and has stayed relatively intact over the years. In fact, it's actually the only Romanesque-style cathedral which has survived the passage of time.
It's also enormous in person, let me tell you!!
4. New Cathedral
Now that you've had a bit of a rest at the Old Cathedral, it's time to walk uphill once more to the top of the hill where you'll find the New Cathedral, also known as Sé Nova.
Although it's known as the New Cathedral, it was actually built back in 1598 making it over 400 years old but it's pretty new compared to the old one.
It was originally built by the Jesuits (a religious group) who were eventually banned from Portugal in 1759 by the prime minister.
The building still retains a lot of the original Jesuit features though. You'll even notice some Jesuit saints looking at you from the facade!
5. University of Coimbra
The New Cathedral is located right by Coimbra's most famous attraction – the 700 year old University of Coimbra.
This place is pretty important historically as it's the oldest university in Portugal and the 7th oldest university in the world.
You'll want to plan in at least 2 hours to explore the university grounds as there's a lot to see here.
Here's a few highlights that you won't want to miss:
Joanina Library – often considered to be the most beautiful library in the world.
Chapel of São Miguel – ornate chapel with large organ and delicate tiles.
The Tower – tall tower with a great view of the city. Climb to the top if you're not claustrophobic.
Royal Palace – former home of the Portuguese royal family, later purchased by the university.
Science Museum – interesting museum with a huge collection including a 20m whale skeleton.
Visiting the university is just a must – it's one of the main reasons why people come to Coimbra.
In particular, the Joanina Library is just breathtaking. This elaborate library features over 60,000 books, 2 colonies of bats, detailed wooden carvings and an intricately painted ceiling.
Insider Tip: To visit the library, you need to book a time slot so I'd recommend doing this before you arrive to ensure you get to view it. Last minute bookings aren't always possible.
I'd highly recommend booking this University of Coimbra guided tour as it features small group sizes and all the tour guides are former students of the university.
The guides are literal experts and they're so enthusiastic about the university. It's a great way to ensure you don't miss anything.
Look out for the students in their traditional long black capes. They look like they belong in Hogwarts – many people say that the university actually inspired J.K. Rowling's Harry Potter series.
I recommend this tour of the University of Coimbra.
6. Statue of King Dinis
Make sure to stop by at the colossal statue of King Dinis which lies on the grounds of the university.
He was the guy who founded the university way back in 1290 so without him, Coimbra would be a very different city.
Aside from establishing the country's first ever university, he did a lot of other great things for Portugal like improving the economy, agriculture and reducing the power of the church.
Apparently he was even a poet!
7. Penedo da Saudade
Just to the side of the university, you'll find this scenic hilltop garden that looks out onto the surrounding mountains and valley.
Look out for the poems that have been carved into the large stone slabs which are scattered throughout the garden.
This garden also has an important place in history as it was reportedly the place where Prince Pedro (later King Pedro I of Portugal) came to grieve for his lost love, Inês de Castro.
Pedro fell in love with Inês but his father disapproved and wouldn't let them marry. Eventually, his father sent some men to end Inês's life as the two continued to meet in secret.
It is said that Pedro visited this scenic garden to grieve for her.
8. Botanic Garden
Next up on the itinerary is my personal favorite thing to do in Coimbra – the stunning Botanic Garden which is actually the largest of its kind in Portugal.
This impressive garden was founded back in 1772 as a place for the students at the university to study botany, natural history and medicine.
I absolutely adored this garden – it was super tranquil and peaceful. Inside you'll find a huge variety of tropical plants, large greenhouses and a glorious fountain.
9. Aqueduct of São Sebastião
You'll find this ancient aqueduct right at the entrance to the Botanic Garden.
It dates back to 1570 and is built on the site of a former Roman aqueduct that used to supply water to the upper part of the city.
It was once part of a larger aqueduct but now this is all that remains. It's absolutely huge in person so pretty impossible to miss.
10. Ponte Pedro e Inês
This vibrant multi-colored bridge may not look like anything special – it actually looks pretty out of place in Coimbra.
I mean, as I walked up to it I thought it looked like it belonged in a children's playground in the 90s.
Don't be tricked though, this bridge actually provides one of the best views in the city! Just head out into the middle and see for yourself.
You'll get a glorious view of the entire city of Coimbra, the enormous Alcaçova Hill and the University of Coimbra that sits right on top like a crowning jewel.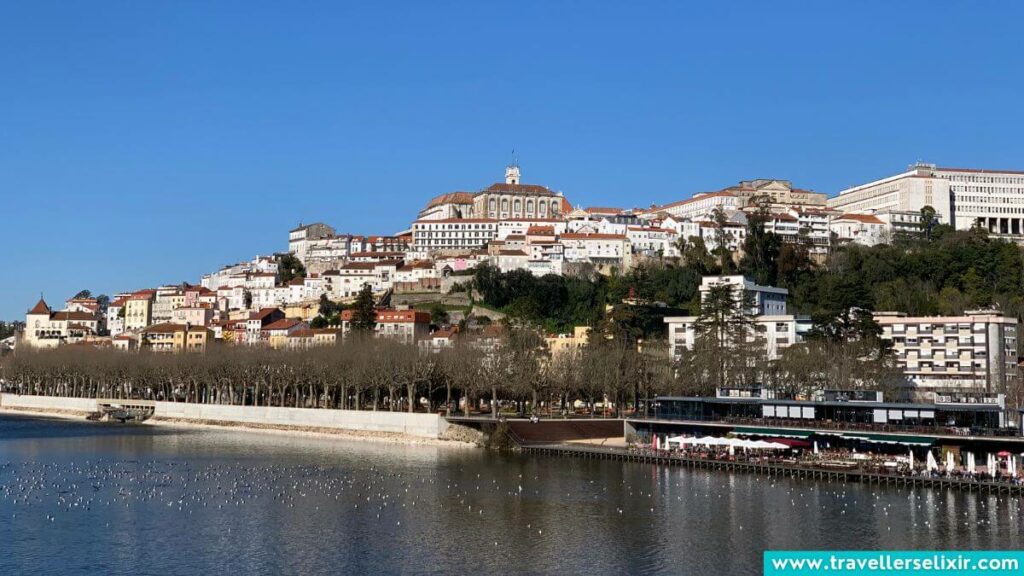 When I visited, there was also a huge flock of birds sitting on the river and I got to watch as they rose up from the water and flew away. It was incredible!
11. Monastery of Santa Clara-a-Velha
After you've crossed the Ponte Pedro e Inês Bridge onto the other side of the Mondego River, you'll be just a short walk away from the old Monastery of Santa Clara-a-Velha.
This 14th century abandoned monastery now lies in ruins but it was once filled with nuns.
You'll notice instantly that the monastery is situated right next to the river which unfortunately meant that it used to flood often.
Ultimately the nuns decided to abandon it in the 17th century and moved to a new monastery on higher ground (you can actually see the new monastery from the grounds of the old one).
Despite being in ruins, the monastery is actually pretty well preserved and it's open to visitors who want to have a look around.
12. Ponte de Santa Clara
After you're done at the monastery, you can head back across the river on the Ponte de Santa Clara Bridge which is just a short walk away.
This bridge also offers breathtaking views of the city and is lined with flags.
13. Largo da Portagem
I actually didn't know about Largo da Portagem until I stumbled across it whilst I was exploring the city.
This beautiful square actually ended up being one of my favorite parts of the city!
Apparently it was once the official gateway to the city which is likely why it's surrounded by such pretty buildings and features an impressive statue in the center of a local politician.
It's literally located right at the end of the Santa Clara Bridge so you can't miss it.
14. Rua Ferreira Borges
By this point in the day, you're probably a bit hungry so head over to Rua Ferreira Borges which is one of the city's main pedestrian streets.
It's filled with cafes, restaurants and shops.
I stopped by here for dinner and had a delicious cheese omelet whilst my boyfriend had bacalhau (dried salted cod).
This street is completely pedestrianized making it super safe and easy to walk around.
I also found that it wasn't super busy like similar streets in Lisbon and Porto so it made for a calmer atmosphere.
15. Conímbriga
If you're lucky enough to spend a second day in Coimbra then you should definitely head over to Conímbriga which is the largest Roman settlement in Portugal.
These ancient ruins lie just a 20-minute drive out from the city center so it's pretty easy to do a half-day trip.
Take this half-day tour to Conímbriga as it includes round-trip transportation from Coimbra and a private guide of the ruins. It's super highly rated so you'll be in for a real treat.
The video below gives a quick tour of the ruins:
Conímbriga is actually one of the best preserved ancient Roman sites in the region. It even features some pretty impressive mosaics which have held up pretty well over the years.
I recommend this tour to Conímbriga from Coimbra.
16. Schist Villages
After you've finished at Conímbriga, head over to the remote Schist Villages which lie in the Lousã Mountains (just a 30-minute drive from Coimbra).
You can book onto this afternoon tour into the Schist Villages as it features round-trip transportation from Coimbra and includes both off-roading and hiking in the mountains.
The Schist Villages are essentially a series of small, remote villages made entirely of stone that lie high up in the mountains.
They're super scenic and traditional looking! You'll also notice some fairytale-like castles dotted around in the mountains too.
Talasnal is one of the most scenic villages as it's surrounded by nature and offers sweeping views of the mountains and valley below.
Here's what Talasnal looks like:
I recommend this tour to the Schist Villages from Coimbra.
17. Á Capella Bar
Finally, after a long day of exploring Coimbra and the surrounding area, you'll want to stop by at the Á Capella Bar for some tapas and a few drinks.
It's located in the old town area of the city.
This unique venue actually used to be a chapel and was built in the 14th century but it's since been converted into a bar.
The main reason why I'd recommend visiting this bar is because they have a daily fado show that starts around 9.30PM/10PM.
In case you didn't know, Coimbra actually has its own style of fado music and this bar is one of the only places in the city where you can hear it for yourself.
Have a quick listen:
Traditionally, Coimbra fado music is only sung by men that are students at the university. It's always accompanied by guitar and the singer wears a long black cape.
Fado music is traditionally very expressive and always has a sad theme – the singers always sing about their biggest woes.
---
And that's it!
Thanks for reading my ultimate guide on the best things to do in Coimbra.
If you're planning on staying overnight in Coimbra then I'd say the best place to stay is right in the heart of the city. Hotel Mondego is a top choice.
Related Posts: