I recently spent a couple of months traveling around Portugal and was lucky enough to visit the central Portuguese gem that is Coimbra.
Whilst Coimbra isn't quite as famous as Lisbon and Porto, I think that it is still absolutely worth visiting if you have the time.
Below I've picked out the key reasons why I think Coimbra is worth adding to your Portugal itinerary…
1. Incredible Views
Let's start off with my personal favorite thing about Coimbra – the picturesque views.
Coimbra features a large hill right in the middle of the city which, as you can imagine, provides some incredible viewpoints. There's also a river flowing right alongside it too.
I found some wonderful views from the top of the hill (where you'll find the university) but also throughout the city.
My personal favorite viewpoint in Coimbra was on the multi-colored Ponte Pedro e Inês Bridge which looks back onto the city.
I randomly came across this bridge when I was exploring the city and I'm so glad I did as it was the best view I found.
You get a great view of the university which sits atop the hill as well as the entire city from here.
When I visited, the river was also filled with birds which made it even more breathtaking.
2. One Of The Oldest Universities In The World
The city of Coimbra is home to the University of Coimbra which was founded in the year 1290 making it one of the world's oldest universities.
That's over 700 years ago and the university has been up and running ever since!
It's the oldest university in Portugal and the 7th oldest university in continuous operation in the world. Yep, it's right up there with Oxford University.
Today though, it's way more than just a university – it's also a world famous tourist attraction although it does still serve as a place of study for over 20,000 students.
I loved just wandering around the grounds and gazing at the impressive buildings and architecture. It was truly mesmerizing.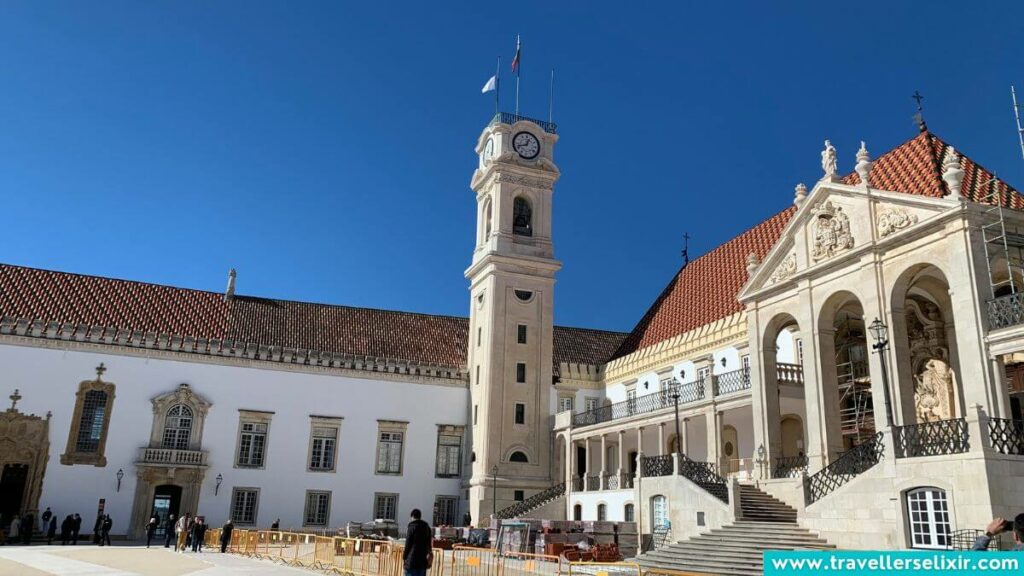 Some parts of the university are free to walk around but you do have to pay a fee to see all the really good stuff like the Joanina Library.
I'd recommend booking this guided tour of the university to see it in all its glory. This ticket will allow you to skip the queue which can be long and learn about the history of the place.
Alternatively, you can book onto this super highly rated guided tour which includes tickets to the university and a guided tour of the entire city.
The university itself is built on top of a hill in the middle of the city and is built on the grounds of a former palace. It's pretty hard to miss to be honest.
To reach the university, you'll need to get to the top of the hill. You can do what most people do and take a taxi or you can do what I did and walk.
I'm not gonna lie, walking up the hill was pretty tiring but I really enjoyed it as I came across tons of winding alleyways, old churches and hidden cafes.
3. So Much History
Another thing that really drew me to Coimbra was the huge amount of history that is packed into its streets.
Coimbra actually used to be the capital city of Portugal so it's a pretty important city historically. It was chosen as the capital by the first ever King of Portugal, Afonso I.
Coimbra remained the capital of Portugal for 124 years before it was passed over to Lisbon.
As well as the impressive university, there are tons of other super interesting historical things to see including several Roman era sites.
If you're interested in Roman history then I'd recommend booking onto this half day Roman history tour which takes you to the ruins which lie 20 minutes outside of the city.
It includes round-trip transport from Coimbra and a private guided tour of all the sites.
The Old Cathedral of Coimbra, also known as Sé Velha, was built in the 13th century and was used to crown the early Kings of Portugal.
The cathedral is well worth a visit as it's the only Romanesque-style cathedral in Portugal to have survived the passage of time. It's colossal in person!
Another one of my favorite historical sites in Coimbra was the Monastery of Santa Clara-a-Velha.
This monastery was originally built in the 14th century but was abandoned in the 17th century due to flooding.
Unfortunately, as the monastery was built along the Mondego River, it flooded often and was eventually abandoned by the nuns who used to live there.
Today, it's just ruins but it's really interesting to look around and imagine what life used to be like.
4. Extremely Walkable
I'm a big fan of walkable cities as I hate having to take transport between each tourist attraction. It just wastes so much time!
You'll be glad to know that Coimbra is really walkable and you can easily walk between all of its main tourist attractions.
It's a fairly small city and I found that you only really need just one day to cover the entire city.
The only thing I will say is that Coimbra features a large hill and some of its attractions, like the University of Coimbra, are placed on top of it.
I actually climbed up the hill myself when I visited but it was pretty tiring so if you're not super fit or have mobility issues, you may want to get a taxi to the top and walk down.
I'd definitely recommend walking back down the hill if you take a taxi to the top as you'll find some other attractions along the way like the Old Cathedral.
There's also tons of hidden cafes and winding streets that I'd have missed if I didn't walk up and down the hill.
To make sure you don't miss anything, I'd recommend joining this guided tour of Coimbra as it includes a private tour guide and tickets to the University of Coimbra.
5. Easy To Visit From All Over Portugal
Coimbra is located in the central region of Portugal so it's pretty easy to get to from all over the country.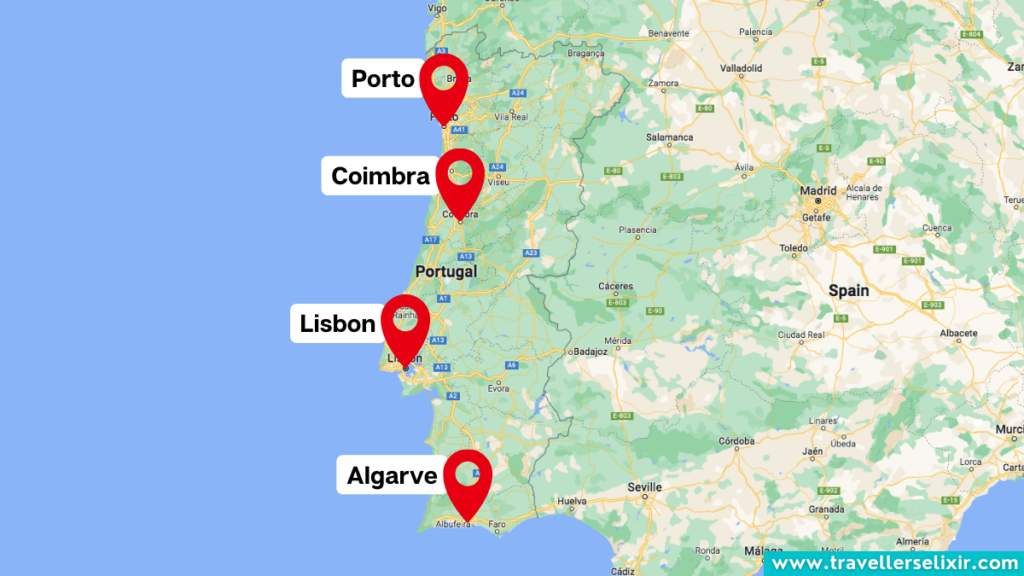 I visited from Porto and it only took 1 hour and 15 minutes to drive there meaning a day trip would be pretty easy.
I actually booked a ticket with FlixBus and it cost just €4 each way! It was a super comfortable, modern coach with lots of legroom so I felt like that was a pretty good deal.
I booked my ticket on Omio as I've found they always have the best prices and I've used them to travel all over Europe.
Here's how long it takes to get to Coimbra from all over Portugal:
Lisbon: 2 hrs by car, 1 hr 45 mins by train
Porto: 1 hr 15 mins by car, 1 hr 15 mins by train
Faro (Algarve): 4 hrs by car, 4 hrs 45 mins by train
Braga: 1 hr 50 mins by car, 1 hr 50 mins by train
Evora: 2 hrs 45 mins by car, 3 hrs 45 mins by train
Aveiro: 50 mins by car, 25 mins by train
6. Own Genre Of Fado Music
If you've ever spent any time in Portugal then you'll probably have seen signs for fado music shows.
In case you don't know, fado is a Portuguese music style that is traditionally very expressive and usually sounds very sad.
Fado musicians sing about their biggest woes like a broken heart or lack of money. They put a lot of feeling and soul into the music which is what makes it such a joy to watch.
Coimbra actually has its own style of Fado music that originated in Coimbra which is distinct from the type of fado you'll find in places like Lisbon.
In Coimbra, fado is only sung by students of the University of Coimbra and is traditionally only sung by men. It's always accompanied by guitar and the singers wear long black capes.
You'll be in for a real treat if you happen to come across a performance but, I'll be honest with you, finding a fado performance in Coimbra isn't the easiest.
You'll often find singers in random cafes/bars at nighttime and in May, fado singers take to the steps of the Old Cathedral for a public performance where they say goodbye to student life.
By far the best place to catch a fado show is at the À Capella bar which stands on the site of a former synagogue. They have daily fado shows that start at 9:30pm/10pm.
7. Architecture
As well as epic views and interesting history, Coimbra also features really impressive architecture that will have your jaw permanently dropped.
As I wandered around the city, I literally felt like I was on a movie set as some of the buildings were just unreal.
One of my favorite spots in the city was the University of Coimbra courtyard. This vast open space was lined with impressive buildings which themselves were intricately carved.
I must have spent a good half hour just wandering around the courtyard taking in every single building and all its beauty.
I'd also recommend heading off the beaten track and into the alleyways of Coimbra. This is where I found some true hidden gems that few other tourists get to see.
8. Not Super Busy
As Coimbra isn't super famous worldwide, it's not a crowded destination at all. The photo below is of one of Coimbra's main walking streets (in February).
I actually spent a month living in Lisbon and let me tell you, the crowds there got boring pretty quick.
In Lisbon, I was constantly walking on the road itself alongside the traffic as the sidewalks were just too full. Every tourist attraction was jam-packed which made it difficult to enjoy at times.
Coimbra was a huge contrast and sometimes I felt like I was the only one there.
I will say though that I did visit in February which is the low season but I was still surprised at how quiet it was.
As I wandered along the streets of Coimbra there were often only a few other people there and the main tourist attractions were equally as quiet.
Even in the peak summer months, I would expect that Coimbra will be miles quieter than Lisbon and Porto.
9. Beautiful Gardens
Another highlight from my trip to Coimbra was the beautiful botanical garden that officially forms part of the University of Coimbra.
These gardens were located right in the heart of the city and serve as a miniature tropical wonderland. It felt so peaceful and quaint, I could have sat there all day.
Bear in mind that I visited in February when the trees were bare and the flowers weren't in bloom and I still loved it. I can't even imagine how gorgeous this place must look in the summer!
The gardens also have a lot of history to them as they were originally built in 1772 for the students of the university so that they could study plants, natural history and medicine.
At that time, the gardens were considered to be one of the world's best of its kind.
I also loved that there was a large aqueduct running through the gardens as well as tons of rare and exotic plant species.
The aqueduct is actually much older than the gardens and dates back to 1570. It was built on the site of an ancient Roman aqueduct that used to provide water to parts of Coimbra.
10. Inspiration For Harry Potter
There's a ton of rumors flying around that J.K. Rowling took a lot of inspiration from Portugal for her world famous Harry Potter series.
It's pretty hard to say which ones are true and which are false. Although the rumors surrounding Coimbra have never been confirmed by Rowling herself, they do make a lot of sense.
In case you didn't know, J.K. Rowling actually lived in Portugal for a few years when she began writing the first Harry Potter book.
After wandering around Coimbra for myself, I couldn't help but notice tons of similarities between the University of Coimbra and Hogwarts.
Come on, I feel like this door belongs in Hogwarts…
Even the students look like they belong in Hogwarts as they often walk around in traditional long black capes just like the students of Hogwarts do.
I was just waiting for one of them to whip out a wand and shout 'Expelliarmus!'.
11. Very Safe
Another reason to visit Coimbra is that it's super safe. It has an extremely low crime rate so you should feel pretty safe and secure at all times.
According to Numbeo, it's perfectly safe to walk around outside day or night (of course, I'd still recommend taking basic safety precautions just in case).
I genuinely never had even a single moment where I felt any kind of fear or worry whilst in Coimbra. All the locals were super friendly and nobody bothered us at all.
To be honest, I didn't even come across any annoying tourist traps either, which is usually pretty common in these kinds of tourist towns.
In fact, Portugal as a whole is actually one of the world's safest countries. It is currently 7th on the Global Peace Index which is way safer than the US (131st) and the UK (37th).
---
And that's it!
That's all the reasons why I think you should visit Coimbra, based on my own personal experience.
Coimbra really was a highlight of my Portugal trip and I'm so glad I managed to fit it in. It did remind me a lot of Porto but without the crowds.
Related Posts: