I actually lived in Portugal for a while and felt pretty safe most of the time but I definitely found that certain cities were safer than others.
After visiting Coimbra for myself, I'd love to share with you my personal experience!
In this guide, I'll be covering how safe I found Coimbra to be, the official crime statistics and some handy safety tips.
Is Coimbra Safe?
I'd say that Coimbra is a pretty safe place to visit. Not only did I feel very safe and secure as I wandered around the city all day, Coimbra also has really low crime statistics.
I genuinely didn't feel unsafe or worried even once whilst I was in Coimbra, both in the day and the evening.
In fact, I actually found the locals to be super friendly and welcoming.
Obviously you should take all basic safety precautions in any place that you visit including Coimbra.
This includes things like not leaving your valuables unattended, avoiding flashing cash and not walking around dimly lit areas late at night.
You'll be glad to know that Portugal as a whole is actually one of the world's safest countries. It currently ranks 7th on the Global Peace Index.
The Global Peace Index is the world's leading measure of how peaceful and safe a country is.
Portugal ranks much higher than the USA (131st) and the UK (37th).
This means that it's pretty safe to walk around in Coimbra, day or night, and you shouldn't really worry too much about being the victim of a crime.
Coimbra Crime Statistics
Coimbra actually has one of the lowest crime rates in the whole of Portugal.
Numbeo, which collects data on crime/safety from real people who live there, rates Coimbra to be very safe.
They say that it's very safe to walk around in the day and it's safe to walk around at night.
They also collected data on how worried people are about various crimes (like theft, robbery etc) and every single one is rated as low or very low.
Additionally, their data says that Coimbra is 18% safer than Porto and 11.5% safer than Lisbon. It's actually one of the safest cities in the whole of Portugal.
Coimbra received a score of 20.95 on the crime index which is thankfully considered very low.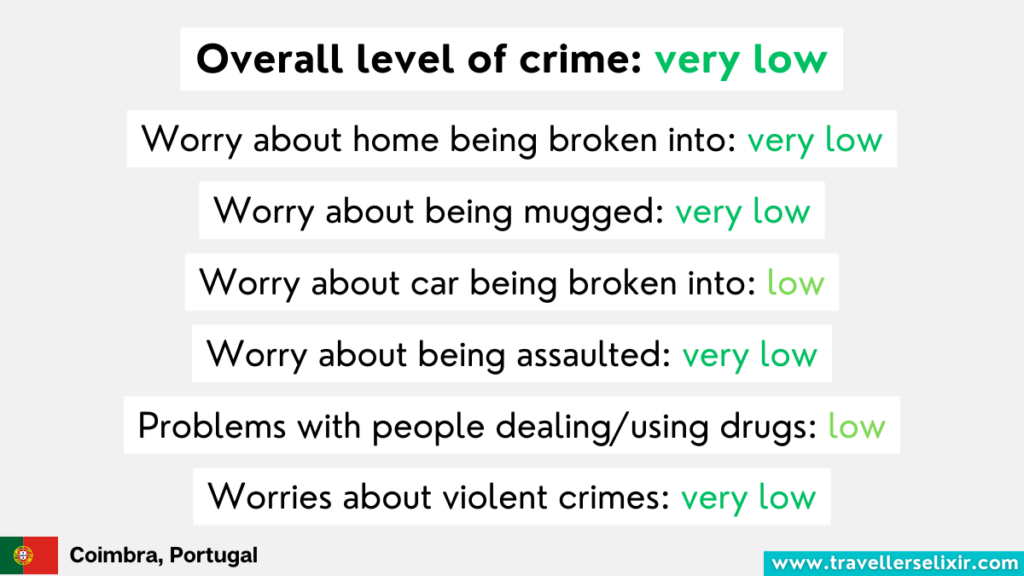 Crime in Coimbra
I actually couldn't find many news articles on crime in Coimbra indicating that there just isn't much to talk about.
The main thing I found was one shooting incident which occurred in May 2023 but it didn't occur in the city center, it was located 20-minutes out of town in a quiet suburb.
It also wasn't targeting tourists so I don't think it's particularly something you need to worry about.
There were also reports of a gang that were targeting ATMs back in 2019 but, again, they weren't targeting tourists and this gang has since been put behind bars.
The main thing you'll want to watch out for in Coimbra is pickpocketing. Pickpockets often operate in busy tourist areas so keep an eye on your surroundings at all times.
In particular, you should be wary when visiting the University of Coimbra as it is one of Coimbra's main things to do.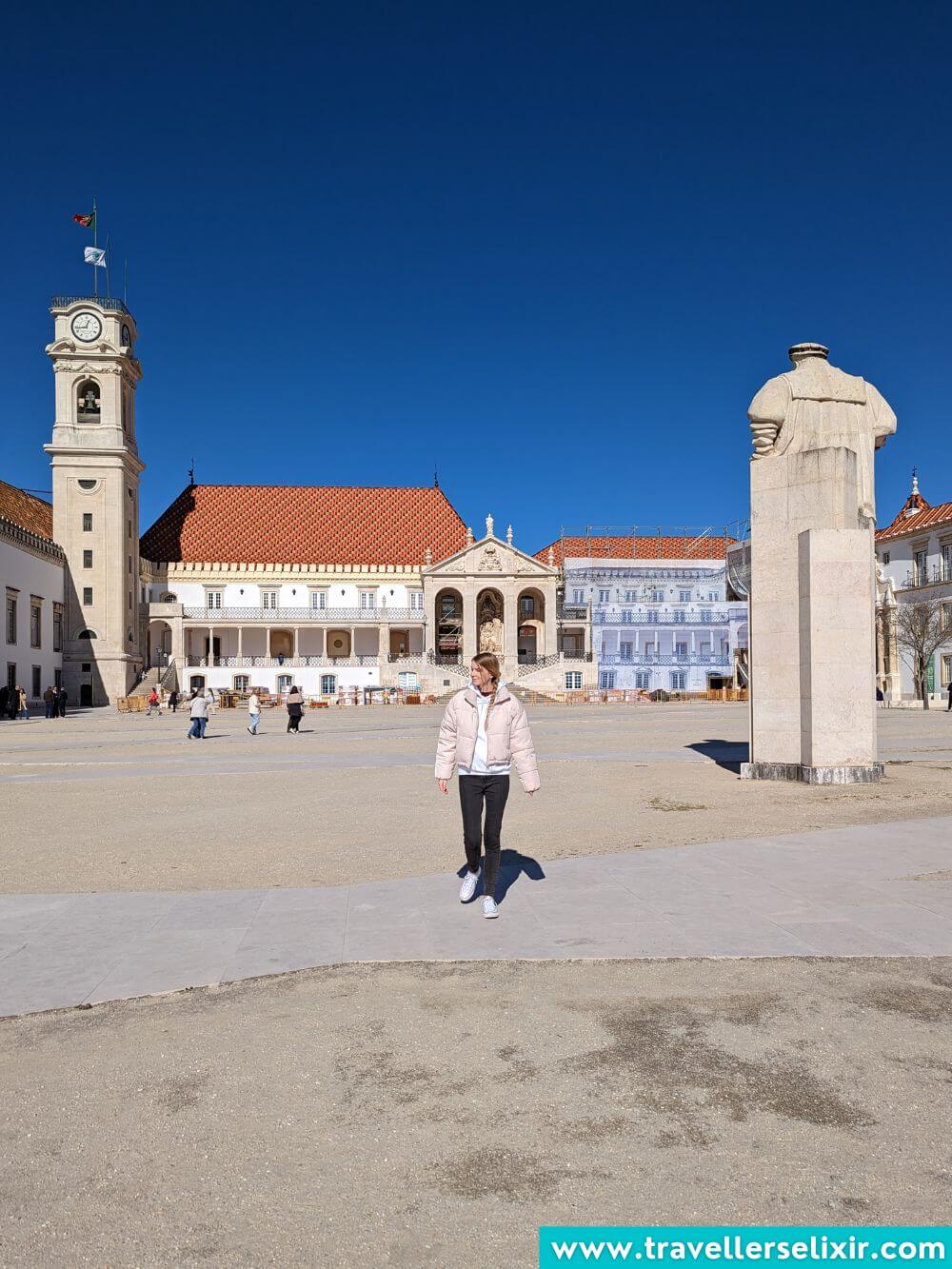 As I said, I didn't feel unsafe in Coimbra and didn't see anyone that looked dodgy but you never know.
Some pickpockets are really skilled and try to blend in with tourists so keep your valuables out of sight just in case.
I couldn't find any reports of violent crime against tourists or muggings. Again, this isn't to say that it never happens but it's clearly incredibly rare.
Coimbra Safety Tips
Although Coimbra is pretty safe, it's still worth taking out some basic safety precautions just in case.
No city is ever 100% safe.
Safety Tips:
Don't leave any items unattended, particularly valuables.
Try to keep cash and other valuables hidden and out of sight.
Keep your valuables in a money belt worn under your shirt.
Avoid walking alone at night on dark streets.
Leave your important documents (like passport) in your hotel room. Carry copies instead.
Be aware of your surroundings when walking & avoid listening to loud music.
Avoid using ATMs in quiet or dimly lit areas.
Don't look like you're lost (even if you are).
Avoid looking like an obvious tourist e.g. camera slung around your neck, guidebook in hand, large map of the city etc.
A good way to avoid walking around late at night is by booking a hotel right in the center of the city close to the main tourist spots.
In particular, Baixa is one of the best places to stay in Coimbra as it's super central and doesn't require a steep uphill walk to get to. Hotel Mondego is a top choice.
Emergency Numbers
112 is the emergency number in Portugal so make a note of this number in case you need it.
You should call this number if you need an ambulance, the police or fire rescue. 112 is essentially the equivalent of 911/999 so only call it in a life-threatening situation.
Most operators speak English but I'd recommend speaking slowly and having Google Translate downloaded on your phone just in case.
It's also a good idea to note down the phone number of your country's embassy as they will definitely speak English and can help you out if you're in trouble.
I've included the most common ones below.
Embassy Phone Numbers:
US Embassy in Portugal: +351 21 727 3300
UK Embassy in Portugal: +351 21 392 4000
Canadian Embassy in Portugal: +351 21 316 4600
Australian Embassy in Portugal: +351 21 310 1500
German Embassy in Portugal: +351 21 881 0210
The embassy's are all located in Lisbon but they can still help you out if you come into trouble in Coimbra.
---
And that's it!
Thanks for reading this guide on how safe Coimbra is to travel to.
Coimbra is definitely worth visiting if you have the time as it's filled with interesting history, incredible views and vibrant culture.
Related Posts: