I recently stayed at the St Regis Bora Bora which cost me just over $1,900 per night.
Given such a hefty price tag, you might now be wondering if that's an all inclusive package or not…
Is St Regis Bora Bora All Inclusive?
Unfortunately, St Regis Bora Bora does not offer any all inclusive packages.
This means you will have to pay for food and drinks yourself on top of the nightly rate.
After staying there myself, I can tell you that the food is also eye-wateringly expensive. We ended up paying well over $150 per person for each meal.
Below I've covered the average prices of food and drinks at St Regis Bora Bora to give you an idea of what to expect.
How Expensive are Drinks?
At the time of writing, these are the current average prices for drinks at St Regis Bora Bora:
Alcoholic cocktails range between $18 – $28.
Non-alcohol cocktails cost around $14.
A glass of wine costs between $12.50 – $16.
A milkshake costs around $9.
The St Regis Bora Bora resort has 2 different bars to choose from. Additionally you can get drinks from one of their 4 restaurants. 
One of the bars, Aparima Bar, is a swim-up bar which you'll find in their main pool. It was one of my favorite places to chill out during the day.
Quick Tip: Save money on drinks by bringing your own! Each person traveling to Bora Bora is able to bring 2L of liquor or wine (that's around 3 bottles).
Don't worry about this looking rude. Lots of people do this at St Regis and the staff will even offer to put it in ice for you.
How Expensive is the Food?
At the time of writing, these are the current prices for food at St Regis Bora Bora:
Breakfast costs $50 per person per day. This is for a breakfast buffet.
A 3 course dinner costs around $115 per person per day.
One standard main course costs between $30 and $50.
They have 4 different restaurants on-site to choose from and also offer 24-hour room service.
Quick Tip: To save money on food, head over to the main island and dine at a restaurant there.
We dined on-site most nights but did venture off to the main island once to save some money.
We used the St Regis's free shuttle service to get over to the main island and ended up spending half as much!
Check out my complete guide on food and restaurant prices in Bora Bora for more information.
St Regis Bora Bora Nightly Cost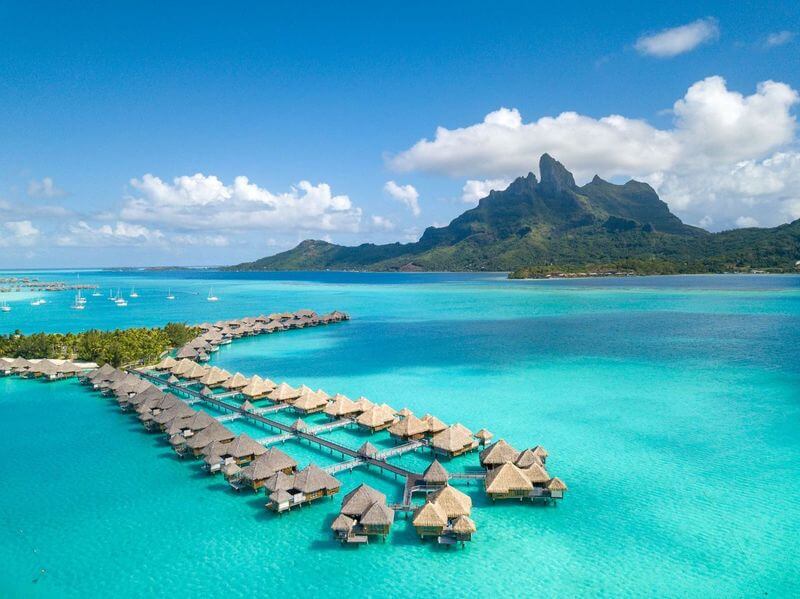 To give you an idea of the nightly cost to stay at St Regis Bora Bora, I've listed the average prices below.
I personally spent $1,900 per night and got the standard overwater bungalow.
Bear in mind that prices do vary depending on which time of year you visit, which specific day and more.
The nightly cost of a standard overwater villa at St Regis Bora Bora for 2 people is between $1,700 and $3,000.
This cost varies depending on which time of year you visit. High season runs from May to October when rates tend to be higher.
The nightly cost of a deluxe overwater villa at St Regis Bora Bora for 2 people is between $1,850 and $3,200.
Again this cost varies depending on the time of year you visit. These types of overwater villas are slightly bigger than the standard ones.
The overwater royal villa which features a private pool suspended over the lagoon is more expensive.
Expect to pay between $5,600 and $6,250 for the overwater royal villa per night for 2 people.
For a beachside villa, expect to pay between $1,650 and $2,350 per night for 2 people.
Beachside villas are not overwater which is why they tend to be one of the cheapest options at St Regis.
To check the pricing for your specific dates, check St Regis Bora Bora on Booking.com.
I actually also wrote an entire post on how much it costs to vacation in Bora Bora which includes a full cost breakdown of a trip to Bora Bora.
What is Included at St Regis Bora Bora?
I did pay a lot of money to stay at the St Regis but I also did get a lot for the money besides just the breathtaking views and serene atmosphere.
Although food and drink are not included in the nightly price at St Regis, many other things are.
Check out my list of the best overwater bungalows in Bora Bora to compare St Regis to other resorts.
Here's an overview of what you'll get if you choose to stay at St Regis Bora Bora.
Your own dedicated butler.
Butlers take care of almost anything including making restaurant reservations, excursion bookings, spa appointments and other random things like having a cake sent to your room for a birthday.
They'll also unpack and pack your luggage for you. Your butler will be available 24/7 to service any requests you may have.
My butler was so attentive and really couldn't do enough for us. He was constantly offering to do things that I'd never dream of asking (like unpacking my luggage).
Everything was so perfectly arranged and organized that I really felt like I was getting my moneys worth.
Complementary clothes pressing (2 items per person per day).
Panoramic views of the lagoon.
Overwater bungalows feature glass panel floors so you can see turquoise waters and tropical fish beneath you.
Related Post: How Deep Is The Water Around The Villas In Bora Bora?
Air-conditioning is available in all rooms and villas.
Some villas offer a private pool, a whirlpool hot tub or an outdoor shower.
Free use of snorkeling and windsurfing equipment, beach side cabanas and sun umbrellas.
2 pools to choose from. One of the pools is adults-only and the other has a swim-up bar.
Access to the private Lagoonarium which is an underwater sanctuary for a range of tropical fish and coral. There are several pontoons which allow easy access for snorkeling.
An on-site spa. You do need to pay to use the services here which include massages, facials, manicures, pedicures, waxing, steam room and more.
Check out my post on massage prices in Bora Bora to budget for this.
A shuttle service available from the airport for an additional cost of $60 per person for one-way.
Free shuttle service to the main island.
On-site fitness center which is open 24 hours a day and free to use.
24-hour room service available.
Turndown service available.
Free tea and coffee in every room.
4 restaurants and 2 bars on-site.
Of course, there's tons more that you'll get access to if you choose to stay at St Regis Bora Bora but these are my favorite aspects that I think you'll use the most.
Every room also comes with everything you'd expect including a hairdryer, free toiletries, a TV, a kettle, bathrobes, slippers, an iron, a desk, towels, a tea/coffee maker and so much more.
Book your stay at St Regis Bora Bora now
Does Bora Bora Have All Inclusive Resorts?
There are actually no official all inclusive resorts at all in Bora Bora.
My preference always tends to be all inclusive as I love not having to think about anything when on vacation.
Typically, all inclusive resorts include a room, 3 daily meals, soft drinks, most alcoholic drinks and sometimes other services/activities.
Unfortunately, Bora Bora doesn't have any resorts like this at all. I know because I spent hours searching for one but couldn't find any.
In Bora Bora, the nightly price you pay usually only includes your accommodation cost. You will then have to pay for your meals and activities in addition.
Taking everything into account, St Regis Bora Bora is one of the best resorts in Bora Bora.
Although it is very pricey, it's also one of the most luxurious hotels in Bora Bora and includes tons of fantastic amenities.
This includes your own personal butler who will service your every request including unpacking your bags. Cool right!?
You also get that once in a lifetime opportunity to vacation in an overwater villa in one of the most exclusive locations in the world.
At the end of the day, that's what you're paying for and for many people, it's worth it!
I know that for me it was totally worth it and I'll definitely be dreaming about that vacation for a long time.
Check out what you can expect from the St Regis Bora Bora resort in the video below which features a tour of the resort.
---
And that's it!
Although it isn't an all inclusive resort, hopefully this post sheds some light on how much it costs to stay at St Regis in Bora Bora.
Need more help planning your Bora Bora vacation?
Related Posts: