Are you planning a trip to Hoi An and wondering about how expensive Hoi An is?
Let's be honest, budget is always a consideration when planning a trip so in this post, I'll be breaking down all the Hoi An prices you need to know.
From accommodation and food to transportation and activities, this post will help you plan your dream trip without breaking the bank.
Let's get started, shall we?
Hotel Prices In Hoi An
When it comes to accommodation, Hoi An is fairly cheap.
As you can imagine, prices do vary significantly depending on your budget but you can easily get a decent hotel room for under $50 per night.
Here's a few suggestions…
Budget Hotels In Hoi An
Top Choice: Bill Ben Homestay Hoi An
For a budget hotel, prices start at $14 per night. This would be for an actual hotel room with an ensuite and not for a hostel.
Weirdly, I actually found that booking a budget hotel is cheaper than a hostel. Hostel prices are around $20 per night but I found several great hotels for a similar price.
You can easily find a cheap hotel room for under $25 per night.
The absolute best choice would be Bill Ben Homestay Hoi An which is an excellent budget hotel with private and clean air-conditioned rooms and free wifi. Prices start at $23 per night.
Another good choice would be Green Sand Homestay which is located right in the heart of Hoi An near to the Japanese Covered Bridge. Prices start at just $14 for a private hotel room.
Mid-Range Hotel
Top Choice: Almanity Hoi An Wellness Resort
For a mid-range hotel in Hoi An, you can expect to pay between $30 and $50 per night which really is a bargain.
Here's some top picks:
3-star
If you still wanna keep costs low but stay somewhere really nice then The Blue Alcove Hotel is perfect.
Prices start at just $31 per night and you'll get a private air-conditioned room, a free bike and access to the outdoor pool.
4-star
Shining Riverside Hotel & Spa is a top rated hotel that is perfectly located in the center of Hoi An with excellent facilities and amenities. Prices start at just $50 per night.
Another great option is the Eco Lux Riverside Hotel & Spa which is located close to Thanh Ha Village and features both a restaurant and a spa. Prices start at $51 per night.
Luxury Hotel
Top Choice: Anantara Hoi An Resort
For a luxury 5-star hotel in Hoi An, you can expect to pay between $99 – $300 per night. This is actually super reasonably priced for what you get!!
Almanity Hoi An Wellness Resort is a super modern resort located in the heart of Hoi An that sits around the hotel's central purified salt-water swimming pool and luscious zen garden. 
It has a spa, yoga classes, a sauna and much more. Prices start at just $99 per night.
Another great choice is La Siesta Hoi An Resort & Spa  which has 2 pools and is split into 2 wings with each offering air-conditioned rooms and a balcony overlooking the pool. Prices start at $101 per night.
If you've got the budget then the Anantara Hoi An Resort is certainly the most luxurious resort in Hoi An.
It is set upon the Thu Bon River and features French colonial architecture. The hotel offers a range of fun activities for its guests including Vietnamese lessons or yoga classes.
Each room also has impressive views and a private porch. This one is a little bit more pricey than the others with prices starting at $276 per night but it's really worth, I promise you!!
Airbnb
If you're a digital nomad or just looking to stay in Hoi An for a longer period then Airbnb might be your best option.
You can easily get a private villa or apartment in Hoi An for under $500 for a whole month.
There are tons of great options for under $50 per night but you tend to get a huge discount (like 50% off) if you book an entire month.
I've selected a few great Airbnb's that are all clean, comfortable and reasonably priced.
Take a look:
Cost Of A Meal In Hoi An
It's pretty cheap to eat out in Hoi An but as it's a very famous and touristy place, eating out costs a bit more than it does in other areas of Vietnam.
If you're on a strict budget and want to keep costs low then street food will be your best option as you can easily get full meals for under $1.
Eating in restaurants will cost a bit more but you can still get a full meal for just a few dollars at most.
Street Food & Local Restaurants
You can get cheap Vietnamese meals such as a banh mi and pho for between 15,000 and 30,000 VND ($0.65 – $1.30). These would tend to be local restaurants or street food vendors.
You'll pay a higher price in the big tourist areas so my advice for getting the best price would be to venture away from these areas.
If you go to an indoor local restaurant you may pay a little more, for example, a large bowl of pho may cost between $1.30 – $1.70 in a sitdown indoor restaurant.
Restaurants
If you opt to go to a higher end restaurant then you will pay a lot more.
For a meal and drink in a decent restaurant, you'll pay between 100,000 and 200,000 VND ($4.30 – $8.60). This is pretty standard pricing for most restaurants in the main touristy areas in Hoi An.
You're looking at around $15 for a meal out for 2 people.
Alcoholic Drinks
Alcoholic drinks are pretty cheap in Hoi An with prices ranging from $0.60 to $3.50 for most drinks.
Beer is by far the cheapest alcoholic drink. The local brand, La Rue, is the cheapest option costing between $0.60 – $2 depending on where you buy it from.
Imported beers cost a bit more with prices ranging $1 to $3. You may pay a higher price if you go to a really fancy bar though.
Cocktails are also pretty cheap in Hoi An and tend to cost around $4 but could be a bit more in a fancy bar up to $8.
Many bars have a happy hour so look out for these to save even more money.
Other Drinks e.g. coffee, water
A coffee costs between $0.65 and $2 and depends largely on where you buy it from.
You can get a coffee as cheap as $0.65 from a local vendor but if you opt for a nice coffee house, you'll pay up to $2.
A can of soda will cost between $0.40 and $0.65 in Hoi An.
Unfortunately you can't drink water straight from the tap in Vietnam so you will have to buy bottled water.
Luckily bottled water is really cheap in Hoi An, you can get a 1.5 liter bottle for around $0.40.
How Much Does A SIM Card Cost In Hoi An?
If you want to get a SIM card whilst out in Vietnam then expect to pay around $9 to $10 per month.
This should give you about 4GB per day which should be more than enough.
Generally, the best place to purchase your phone plan would be in the airport when you arrive in Vietnam but there's plenty of places all over where you can buy a SIM.
Mobifone is a reliable company to use and you'll see their stores all around the country.
Cost Of Transport In Hoi An
Getting around Hoi An is also relatively cheap. The cheapest way to get around is by hiring a motorbike or bicycle.
You can also use Grab, which is basically Asia's version of Uber. I personally use Grab all the time whenever I'm in Southeast Asia and it always offers really cheap prices.
Motorbike/Bicycle Hire
If you want to hire a motorbike in Hoi An then expect to pay around $5 to $6 per day.
You tend to get a discount if you rent the bike for a longer period. For example, it'll only cost you around $40 to rent a motorbike for a month.
If you want to hire yourself a bicycle instead of a motorbike then the daily rate is around $1.30.
Grab
Grab is a ride-sharing app that works the same as Uber so it's essentially an alternative to taking a taxi.
I've found that the prices on Grab tend to be a bit cheaper than taking a regular taxi. Another bonus is that you don't have to haggle or be worried about being overcharged as the rates are set.
There are 2 main options with Grab, either Grab Car or Grab Bike.
Grab Car is exactly what it sounds like – you get picked up by a car. With Grab Bike, you get to jump on the back of a motorbike instead.
Grab Bike is much cheaper than Grab Car so is a great option if you're on a budget.
An an example, if you took a Grab Car from the old town to An Bang Beach which is 4.8km away, you'd pay around $3.
This price would drop to $1.20 if you opt for the Grab Bike option rather than a car.
A Grab Car from the old town to Cam Thanh, which is 4.4km away, would cost around $2.80. With Grab Bike, this would only cost $1.
You'll pay under $1.50 for most rides around the old town with Grab Car but, of course, this varies depending on the distance traveled. With Grab Bike, you're looking at around $0.50 for most journeys.
I'd suggest downloading the Grab app onto your phone and you then can input your location and destination and the app will generate a price for you before booking.
Taxi
Regular taxis tend to be more expensive than Grab and you'll often find that drivers try to overcharge tourists so you almost always have to haggle.
The best way to avoid being overcharged is by insisting that the driver uses the meter. If they refuse to or say that it's 'broken' then refuse the ride as they're just trying to rip you off.
The meter will usually start at 10,000 VND ($0.42) and go up by 15,000 VND ($0.64) every kilometer traveled.
Mai Linh (the green taxis you'll see all over Hoi An) are the most popular taxis in Hoi An as they are a very reputable company.
To get from the old town to An Bang Beach, which is 4.8km away, you'll pay around $3.50. For the same journey, you'll pay $2.80 with Grab Car and just $1 with Grab Bike.
Traveling from Da Nang to Hoi An (29 miles) by taxi will cost between $15 and $20. This would be slightly cheaper with Grab and you'd be paying between $11 and $13.
How Expensive Are Activities In Hoi An?
Tours and activities are also relatively cheap in Hoi An.
Some of the most popular things to do in Hoi An are wandering around the old town and relaxing on An Bang Beach, both of which are completely free.
If you want to rent a sunbed on the beach then you're looking at paying between 15,000 and 40,000 VND ($0.65 – $1.70) for the day.
Another popular activity is hiring a bicycle and exploring both the old town and the surrounding area. As mentioned above, you will pay around $1.30 to hire a bicycle for the day.
A traditional cooking class in Hoi An will cost around $33 per person and a lantern making class will cost around $16 per person.
Hoi An Tailor Prices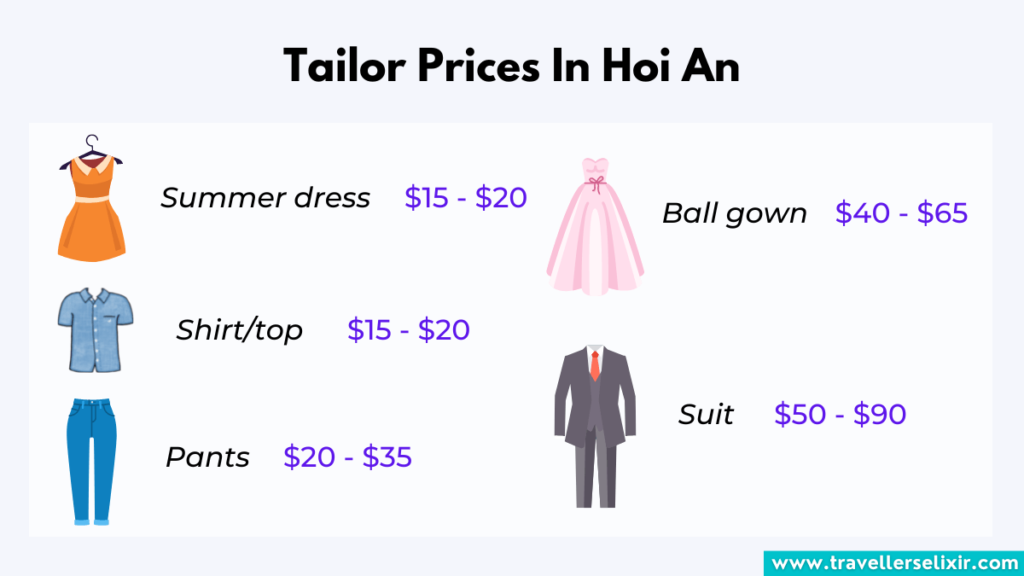 Something that Hoi An is very famous for is its tailor made clothing.
Many travelers who visit Hoi An want to purchase custom-made clothing as Hoi An is actually one of the cheapest places in the world to buy custom-made clothes.
Prices for tailor made clothing vary quite significantly depending on the item of clothing and the shop you go to. There are many high end tailors that cost a lot but there's also lots of cheaper places too.
You also need to be careful as some places will try to overcharge you so haggling is a must.
For example, if you went to a casual clothing tailor shop you would pay between $15 and $20 for a simple summer dress, shirt or blouse. You'll pay a little bit more if it's more detailed.
Pants will cost a bit more between $20 and $35. Prices are similar for both men and women.
If you're looking to get an evening dress/gown or a tailor made suit then you'll pay a lot more.
At one of the cheaper stores, you'll pay $40 and $65 for a woman's gown and between $50 and $90 for a men's 3 piece suit.
You'll pay a bit more at a higher end store.
---
And that's it!
Thanks for reading this guide on prices in Hoi An. I hope that it helped you budget for your upcoming trip.
Many people actually have a hard time trying to choose between Hoi An and Da Nang.
If you've got the time then I'd recommend visiting both but if time is tight then you might wanna check out my guide on Da Nang vs Hoi An which compares the two.
Related Posts: