Welcome to the stunning island of Crete where the crystal clear waters are home to some of the most captivating and ancient creatures on earth – turtles!
I've been to Crete numerous times now and each time, I'm always on the lookout for new snorkeling spots where I can meet marine creatures!
From my own experience, the best place to spot turtles in Crete is at Elafonissi Beach where you can witness these magnificent creatures up close and personal.
I'd recommend joining this day tour to Elafonissi Beach for the best possible chance of seeing the turtles for yourself.
In the rest of this article, I'll be revealing all of the exact locations where you can go swimming with turtles in Crete and where you can see baby turtles hatching.
Best Places To See Turtles in Crete
Crete is a popular turtle breeding ground meaning that sea turtles return every single year to lay their eggs on the beaches. Just 45 days later, the baby turtles hatch!
As turtles nest in Crete every year without fail, you have an insanely high chance of seeing turtles and, during the summer, you can actually go swimming with turtles in Crete.
The most common species of turtle present in Crete is the rare Loggerhead turtle which are known locally as the 'caretta caretta' sea turtles.
Below I've listed the exact locations where you'll have the best possible chance of seeing a turtle including some handy links to the most top rated sea turtle tours.
1. Elafonissi Beach
The best place to see turtles in Crete is at Elafonissi Beach which is located on the southwestern corner of the island.
Head over to Elafonissi Beach during turtle nesting season to see the mother turtles laying their eggs and the baby turtles hatching!
I was lucky enough to see this for myself last year and boy was it amazing! I kept my distance to allow the turtles to do their thing but I couldn't help but thing how beautiful the whole thing was.
To make things super easy for you, you can join an Elafonissi Beach Full-Day Trip which will take you to the beach from Chania. This is what I did and I can only say great things about it.
This beach is very famous, not only for its nesting turtle population, but also for its pink sand! Yep, you read that right – this beach is pink.
The pink color comes from the thousands of broken seashells which form part of the sand.
2. Lake Kournas
Lake Kournas is a freshwater lake located near the village of Kournas.
This 3.5km wide lake is teeming with marine life and the water is insanely clear so you'll have a hard time not spotting turtles.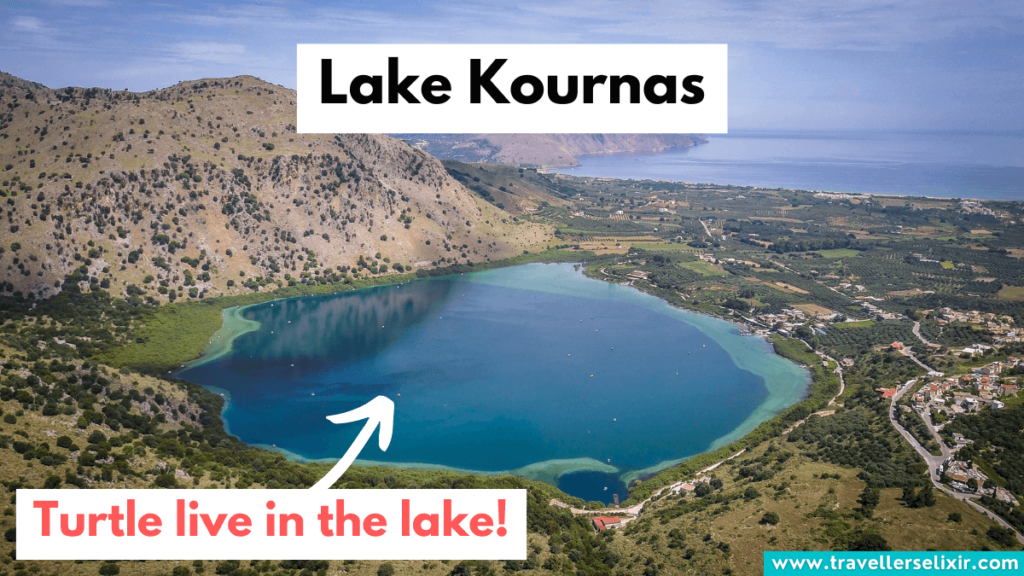 I'm so glad I made the effort to visit this lake as I got the chance to swim with at least 5 or 6 turtles! I was only in the water for a few minutes before I spotted one.
To reach this lake (which is a bit out of the way), I'd recommend joining this West Crete day tour from Heraklion like I did.
The knowledgeable guides will take you to the best spots in western Crete including the magnificent Lake Kournas for a dip in the lake with the turtles.
Lake Kournas is actually Crete's only freshwater lake and it is truly one of Crete's best kept secrets with turquoise waters and a mountainous backdrop…what more could you need.
I took a plunge into the lake and went swimming with the turtles here, watching them glide peacefully through the water searching for food or coming up for air.
💡Tip: Bring a waterproof camera like the GoPro Hero 10 to get some photos and videos of you with the turtles.
Check out what you can expect from Lake Kournas in the video below:
3. Mirabello Bay
Mirabello Bay is located on the northeastern side of the island.
The best way to explore this bay and spot turtles is by joining a boat tour around Mirabello Bay.
Whilst on the boat tour, you will be able to spot a range of colorful fish species as well as turtles, seals and dolphins!
I was lucky enough to spot all of these creatures but the turtles were by far the most numerous. I saw at least a dozen!
This serene bay is one of the most beautiful spots on the island. With crystal clear waters, impressive mountains and soft white sand, you won't be disappointed.
Snorkeling is also a super popular activity here and gives you the chance to get in the water and swim with the turtles. It's actually one of the best places to go snorkeling in Crete.
Check out the sea turtle spotted whilst snorkeling in Crete at Mirabello Bay in the video below:
4. Rethymnon Beach
Rethymnon Beach is located on the northern coast of the island. I first visited many years ago as I child and now I always make sure I stop whenever I'm in Crete.
Rethymnon Beach is a long, sandy beach with crystal clear waters.
Turtles return to Rethymnon Beach every single year without fail to lay their eggs and these eggs eventually hatch into cute baby hatchlings.
You may see small wooden structures on the beaches. These are placed over turtle nests to protect them. Several charities work in this area to protect the turtles.
There are usually opportunities to volunteer with these charities and help the baby turtles' chances of survival (more on this later in the post).
Check out these super cute baby sea turtles spotted on Rethymnon Beach in the video below:
5. Chania
Chania is a city located on the northwest coast of Crete.
It is a vibrant city known for its 14th century Venetian harbor, narrow streets and waterfront restaurants.
The beaches of Chania are another super popular turtle breeding ground with female turtles coming here every year to lay their eggs.
Head to one of the many beaches of Chania to see a turtle nest but remember not to disturb them! I visited recently and spotted at least 5 or 6 turtle nests.
Turtles can also very commonly be spotted in the ocean at Chania too so keep your eyes peeled. 
You also have the opportunity to go swimming with turtles here which is truly an incredible experience!
Check out the huge sea turtle spotted in Chania in the video below:
6. Messara Bay
There are several beaches that line this expansive bay which play host every year to female turtles who come to lay their eggs.
This area is another hotspot for turtle activity.
I haven't had the chance to visit Messara Bay for myself yet but I heard from a friend that they saw several turtles in the area.
Turtle Hatching in Crete
Crete is actually one of the most important breeding grounds for caretta caretta turtles as hundreds of loggerhead turtles lay their eggs on the island's sandy beaches every single summer.
The charity Archelon works in the area to protect turtles by placing small wooden structures over the nest to let people know they are there.
If you ever see these structures then be careful and ensure you don't mess with it.
It is also advised that you avoid evening walks on the beach when it's dark as you may step on a nest without realizing.
The work that charities like Archelon do is vital as the baby turtles face more challenges than ever including:
Eggs are often crushed by beach activities.
Birds take the eggs whilst looking for a meal.
Development on the beaches damage breeding grounds.
Ocean pollution.
Some of these baby turtles struggle to make it to the ocean because of this and need extra help from volunteers.
Luckily for you, the charity Archelon allows volunteers to join them and will take you to the exact beaches where the turtles lay their eggs.
You can help the baby turtles' chances of survival by taking care of their nest, protecting them until birth and then helping them reach the ocean after hatching.
Volunteering with Archelon allows you to make an environmental impact whilst on vacation, learn about the baby turtles and is also a super fulfilling experience and something you can tell all your friends about.
Check out one of these beautiful baby turtles in the video below:
When Can You See Turtles in Crete?
Sea turtle nesting season in Crete runs from late May through to August. This is when the mother turtles come onto the beaches to lay their eggs.
Baby sea turtles tend to hatch around 45 days after their egg has been laid and then they make their way into the ocean to begin their life.
This means that from May to August you will actually be able to see the turtles nesting.
The baby turtles start hatching from late July until October so if you're lucky you might even spot a baby sea turtle hatching from an egg!
Now that would be a sight you wouldn't forget in a hurry.
Tips For Swimming With Turtles
First time swimming with turtles?
To ensure the turtles remain safe, there's a few key things to bear in mind when swimming with them in Crete.
Remember that all of the different turtle species are endangered so it's important that we do all we can to help their chances.
Don't be too loud. Try to be as quiet as possible when swimming up to a turtle as loud noises will scare them away.
Do not touch the turtle. Turtles are wild animals and should be respected.
Do not get too close. This might scare the turtle and they could bite you if they get really scared (don't worry this is super rare!).
Do not feed the turtles. They don't need help finding food.
Always approach a turtle from the side. This gives them a clear view of you and a clear path ahead of them if they want to swim onwards.
Don't disrupt the turtle's natural behavior. You can enjoy the turtles by watching them do their thing but try not to disturb them.
These key tips protect both you and the turtles.
---
And that's it!
Thanks for reading this post on where to see turtles in Crete.
Crete is one of the best locations in the whole world for seeing the rare Loggerhead sea turtles (or caretta caretta turtles) up close and personal.
You may even get the chance to see baby sea turtles hatching too which is truly a once in a lifetime experience.
Did you know that turtles can be found all over Greece. Check out my post on where to see turtles in Greece for more information.
If you liked this post, you may also like this:
Related Posts: