Both Steamboat Springs and Breckenridge are popular mountain towns located in Colorado.
This post will look at the differences between them to help you decide where to visit on your next trip! It covers hotels, activities, atmosphere, nightlife and more!
Summary – Steamboat Springs vs Breckenridge
Steamboat Springs
Breckenridge
Less busy
More busy
Lower altitude
Higher altitude
Authentic,
laid-back town
More commercial,
touristy town
3 hours from Denver
1 hour 30 mins
from Denver
More isolated
Easy to take day trips
Less range of
restaurants & shops
Wider range of
restaurants & shops
Cheaper
More expensive
Top Picks For Steamboat Springs
Best Hotel In Steamboat Springs
Top Activities In Steamboat Springs:
Skiing
Hot springs
Hiking & biking
Top Picks For Breckenridge
Best Hotel In Breckenridge
Top Activities In Breckenridge:
Steamboat Springs is an authentic mountain town nestled in the Rocky Mountains of Colorado. It is famous for its Western hospitality and wonderful ski resort.
Breckenridge, on the other hand, is a town that sits at the base of the Rocky Mountains' Tenmile Range and is well-known for it's world-class ski resort and it's interesting gold rush history.
Whilst Steamboat Springs is a more laid-back, authentic mountain town found off the beaten track, Breckenridge is more easily accessible from Denver and is a busy, ski focused town.
Skiing is by far the most popular activity in both Steamboat Springs and Breckenridge. Breckenridge does tend to get slightly more snowfall each year however Steamboat Springs has more ski slopes.
Steamboat Springs sits at a much lower altitude of 6,900ft compared with Breckenridge which sits at 9,600ft. If you suffer with altitude sickness or are traveling with someone who isn't used to high altitudes then Steamboat Springs may be a better choice.
Both Steamboat Springs and Breckenridge have fun towns that have a wide range of restaurants and shops.
The town at Steamboat Springs feels a bit more authentic compared with Breckenridge which comes across as more commercial and touristy. Steamboat Springs also feels more laid-back and relaxed.
Steamboat Springs is a lot further from Denver than Breckenridge. Breckenridge is just a 1 hour 30 minutes drive whereas Steamboat Springs is just under 3 hours so if you'll be flying into Denver this may be something to consider.
Although it's closer this does mean that Breckenridge gets a lot of day skiers from Denver which does make it much more crowded. As Steamboat Springs is further out and off the beaten path, it's much quieter and always less busy.
Breckenridge is great if you want to take day trips to other areas and it's also close to Silverthorne which has fantastic shopping options. Steamboat Springs is a bit more isolated and not close to any other towns.
Which Is Bigger? Steamboat Springs or Breckenridge
Steamboat Springs is slightly bigger than Breckenridge in terms of area. Steamboat Springs covers 25.6km2 whereas Breckenridge covers just 15.6km2.
Steamboat Springs also has a larger population of just under 13,000 people. Breckenridge has just under 5,000 residents.
Despite Breckenridge being smaller, it's still a lively and buzzing town filled with a range of things to do and a vibrant main town area.
The only con to the size is that it can get very busy and crowded especially on weekends when Breckenridge gets a wave of visitors from nearby Denver.
Which Has Better Activities? Steamboat Springs or Breckenridge
You'll find that there's more options for things to do, restaurants, shops and day trips in Breckenridge compared with Steamboat Springs.
The most popular activity in both locations is skiing and both locations have fantastic ski resorts.
Steamboat Springs does also have hot springs which is something Breckenridge doesn't have.
Activities In Steamboat Springs
Steamboat Springs is an idyllic mountain town steeped in Western tradition. It's the perfect place for outdoor lovers and adrenaline junkies.
From skiing & snowboarding to relaxing in a hot spring or biking through the valley, there's something for everyone in Steamboat Springs.
Best Activities In Steamboat Springs:
Hot springs
Skiing
Horseback riding
Hiking
Biking
Skiing is by far the most popular activity in Steamboat Springs. You'll find 169 trails with 3,000 acres of skiable area across 6 peaks filled with bumps, steeps, meadows and trees. Ski lift queues are also incredibly rare here.
You can experience real 'champagne powder' at Steamboat Springs – this refers to the incredibly dry snow that the area receives. Dry snow is the best for skiing.
They even have night skiing so the fun doesn't have to end when the day does.
There's also a huge range of other fun winter activities including snowshoeing, snowmobile tours, ice skating, tubing and more.
After a long day of skiing, stop off at one of the historic hot springs for a relaxing soak or a refreshing dip. The Old Town Hot Springs is located in the heart of downtown Steamboat whilst the Strawberry Park Hot Springs is at the edge of the Yampa Valley.
There are also lots of fun family-friendly activities available in Steamboat Springs. Why not take part in this super fun scavenger hunt whilst hiking along the Yampa River which is fun for both kids and adults.
Hiking is another popular activity in Steamboat Springs. Stretch your legs and take a walk to Fish Creek Falls where you'll be greeted by some beautiful waterfalls. This is actually one of the most popular hikes in the area.
For scenic views, take a ride on the gondola and enjoy the picturesque views of Mount Werner and the Yampa Valley from above. You can also enjoy a delicious lunch when you get to the top.
Another popular activity is to float along the Yampa River especially if you're visiting during the summer. You can rent a tube and ride along the river, enjoying the scenery as you go.
Activities In Breckenridge
Breckenridge was once a thriving gold mining town in the 1800s and many of the original buildings still remain giving it a Old Western vibe.
As well as skiing, you can explore Breckenridge's history with a variety of activities. You'll also find a wide range of great restaurants and shops downtown.
Best Activities In Breckenridge:
Breckenridge is well-known for its world class ski resort which is suitable for every level of skier. With a wide range of well groomed slopes that span over five peaks of the Tenmile Range, the area also receives lots of snow every year (over 300 inches).
The Breckenridge ski resort offers incredible views, on a clear day you can see many of the highest peaks around with some reaching altitudes of over 4,000ft.
Breckenridge also has a top rated ski school so it's a great place for beginners, who have never skied before, to learn the ropes.
Save time and avoid long queues for ski and snowboard rental by renting your equipment beforehand. This service includes delivery to your hotel room or vacation rental.
There's also lots of other winter activities available in Breckenridge including cross-country skiing, snowshoeing and more.
The old mining town of Breckenridge is full of character and charm. The Victorian Main Street is lined with shops, restaurants and lively wild west bars. This street is known for its fantastic dining scene but also serves as a central hub for events, festivals and music.
Connect with Breckenridge's gold rush heritage by joining this popular gold mine tour. You'll descend underground to explore the historic gold mining tunnels and you'll even get the opportunity to do some gold panning yourself!
There are lots more fun family-friendly activities in Breckenridge. Some of the best include an outdoor gold mine escape room which will test your puzzling skills and you'll have to work together to solve the mystery. 
Biking is another great activity available in Breckenridge. Pedal and sip your way through the town on a bike and beer tour. You'll stop off along the way to try some of Breckenridge's best craft beers. 
Other popular activities that you can do in Breckenridge include mountain biking along the ski trails in the summer, hiking, fly fishing, paddle boarding, kayaking and rafting.
Which Has Better Accommodation? Steamboat Springs vs Breckenridge
Both Steamboat Springs and Breckenridge have plenty of hotels and lodges to stay in with Breckenridge having a slightly larger range.
If luxury is your thing then you'll be happy to know that both locations have an impressive range of luxury hotels however Breckenridge's come with a much higher price tag.
Accommodation In Steamboat Springs
There's lots of great places to stay in Steamboat Springs, all within easy reach of the skiing slopes.
You'll also find a good range of luxury hotels which will make your stay in Steamboat Springs just that little bit more special and memorable.
Best Hotels In Steamboat Springs:
Accommodation In Breckenridge
Breckenridge also has plenty of places to stay including an impressive range of luxury hotels that come with a hefty price tag.
Best Hotels In Breckenridge:
Which Is Better for Nightlife? Steamboat Springs or Breckenridge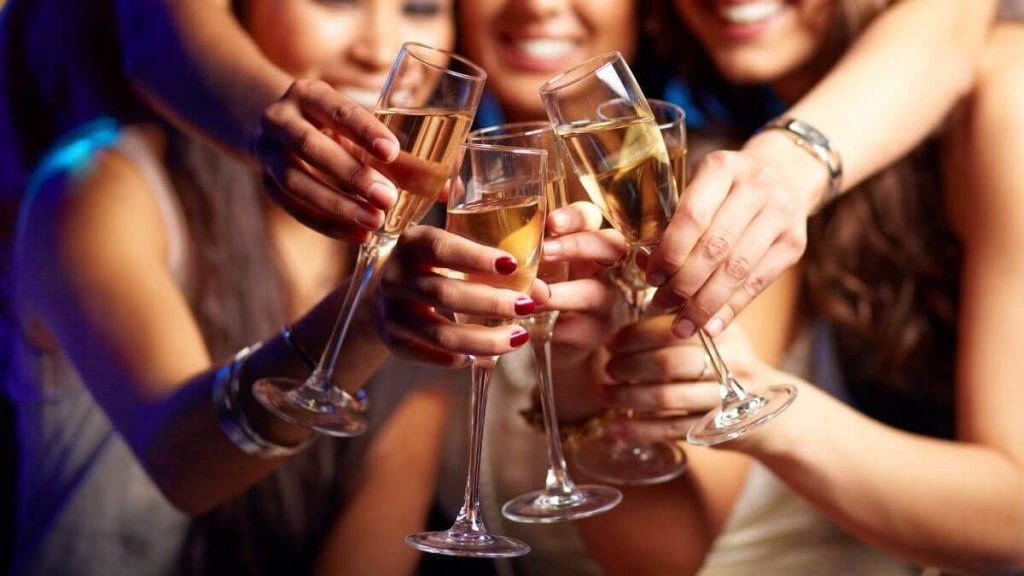 Breckenridge has a much more vibrant and lively nightlife compared with Steamboat Springs.
Both have a great range of après ski options to help you relax and wind down after a long day on the slopes from live bands to a quiet drink.
Nightlife In Steamboat Springs
There are plenty of nightlife options available in Steamboat Springs.
If you want to dance and party all night long then head over to lively Lincoln Avenue where you'll find an array of dance party options.
The Old Town Pub is a great option as is Schmiggity's Dance Bar which has live music every day of the week.
If performing arts is more your thing then head over to Perry-Mansfield which offers weekend performances of classic plays and dance.
There's also a great range of bars and breweries for a quiet drink after a long day of skiing. Some of the best include the Mahogany Ridge Brewery & Grill, Storm Peak Brewery and The Barely Tap & Tavern.
Nightlife In Breckenridge
The nightlife in Breckenridge is super lively and vibrant – the town really comes alive after-dark with a range of bars and over 100 eateries.
Dancing, live music, games, craft cocktails and so much more is available in this buzzing town.
Breckenridge also has fantastic après ski options. This refers to the social activities that take place after skiing.
Some of the best bars in Breckenridge include the Gold Pan Saloon, where you can bust out some moves on the dancefloor, and The Briar Rose, which has the best cocktails in town.
The Rocky Mountain Underground is another great place to be. It's popular backyard beer garden is always busy and they have beer and cocktails on tap. There are also many bars that feature live bands including The Blue Stag Saloon.
On the mountain itself, you can grab yourself a drink slopeside at Robbie's Tavern and TBar.
Which Is More Affordable? Steamboat Springs or Breckenridge
Accommodation is much cheaper in Steamboat Springs compared with Breckenridge. You will pay significantly more for a hotel in Breckenridge.
If you're flying into Denver then you will likely spend slightly more on travel to Steamboat Springs compared with Breckenridge as Breckenridge is much closer.
The drive from Denver to Breckenridge is just 1 hour & 30 minutes whereas it will take you 3 hours to get to Steamboat Springs, costing a bit more.
Despite the added cost of travel, overall you'll likely spend much less in Steamboat Springs due to the cheaper accommodation.
---
Both Steamboat Springs and Breckenridge are fantastic vacation destinations.
I hope this article was helpful in highlighting the main differences of Steamboat Springs vs Breckenridge.
Related Posts: