Both Steamboat Springs and Vail are popular ski resort towns located in Colorado.
I've actually visited both of these ski towns and so today I'd love to share with you my thoughts!
This post will look at the differences between them to help you decide where to visit on your next trip! It covers hotels, activities, atmosphere, ski resorts, nightlife and more!
Summary – Steamboat Springs vs Vail
Steamboat Springs
Vail
3 hours from Denver
2 hours from Denver
Rustic, laid-back
atmosphere
Sophisticated feel
Western theme
European theme
Doesn't get crowded
Doesn't get crowded
Smaller ski area
Larger mountain
& ski area
More isolated
Easy to take day trips
Lower altitude
Higher altitude
I loved both of these ski resorts but if I had to pick a favorite, I'd choose Vail.
To me, Vail just felt a bit more premium compared to Steamboat Springs which came across as more rustic and less polished.
Top Picks For Steamboat Springs
Best Hotel In Steamboat Springs: Sheraton Steamboat Resort Villas
Top Activities In Steamboat Springs:
Skiing
Hot springs
Hiking & biking
Top Picks For Vail
Best Hotel In Vail: Four Seasons Resort and Residences Vail
Top Activities In Vail:
Steamboat Springs is an authentic mountain town nestled in the Rocky Mountains of Colorado. It is famous for its Western hospitality and wonderful ski resort.
Vail, on the other hand, is a small European-themed town located at the base of Vail Mountain. It's known for its massive ski resort and upscale amenities.
Steamboat Springs offers a casual, laid-back vacation with a good ski resort and great dining options whilst Vail offers a more sophisticated vibe and the biggest ski resort in Colorado.
The main difference that I noticed between Steamboat Springs and Vail was the atmosphere.
Vail felt a lot more sophisticated and felt exactly like a European village, whilst Steamboat Springs had more of a rustic, western feel to it.
You'll find an unbeatable range of impressive luxury hotels in Vail. Steamboat Springs does have a good range of hotels too, but nothing quite as luxurious as the ones in Vail.
I did notice though that hotels were much cheaper in Steamboat Springs though.
Vail is slightly closer to Denver than Steamboat Springs which makes it easier to access if you'll be flying into Denver. The drive from Denver to Vail is 2 hours whereas the drive to Steamboat Springs is 3 hours.
Neither location gets super busy – I actually found both resorts to be fairly quiet and relaxed.
The Vail Ski Resort is very large so it doesn't get too crowded as people are more spread out and Steamboat Springs is more isolated and located far from Denver so less people make the trip.
When it comes to skiing, Vail has a much bigger skiable area and has more slopes than Steamboat Springs. It also sits at a higher altitude.
Vail is close by to other popular skiing locations so you can easily take day trips to places like Beaver Creek and Breckenridge. Steamboat Springs is much more isolated so you won't be able to take day trips.
Which Is Bigger?
Steamboat Springs town is slightly bigger than Vail in terms of area. Steamboat Springs covers 25.6km2 whereas Vail covers just 12.2km2.
Steamboat Springs also has a larger population of just under 13,000 people. Vail has just under 4,800 residents.
Even though the town at Steamboat Springs is bigger in terms of area, Vail actually has the biggest ski resort and largest ski mountain in Colorado.
Vail Ski Resort, located just outside of Vail Village, is 21.4km2 and is actually the third-largest single-mountain ski resort in the US. Steamboat Springs Ski Resort is just 12km2.
Vail also has a wider range of shops, restaurants and other amenities.
Which Is Better For Skiing?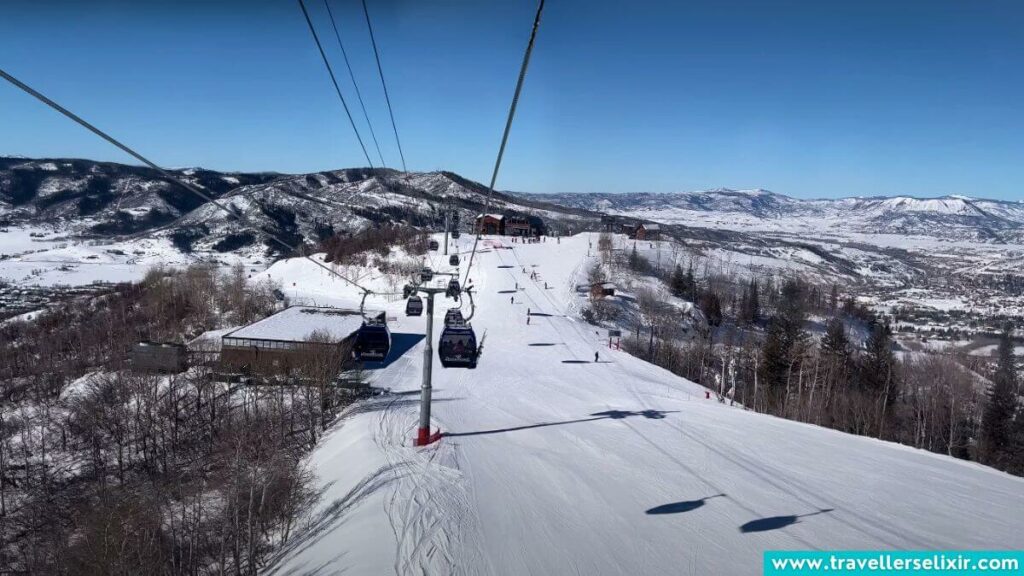 Both Steamboat Springs and Vail are excellent ski locations and I really enjoyed skiing at them both.
The mountain and ski area at Vail is much bigger and easier to get around compared with Steamboat Springs.
I also noticed that Vail also had way more ski slopes than Steamboat Springs and a better variety of slopes overall.
Whilst Steamboat Springs has around 3,000 acres of skiable terrain, Vail has over 5,000 acres.
Both locations get really reliable snow each year which is great for skiers and snowboarders however Steamboat Springs does generally get more early season snow than Vail.
One advantage of Vail is that you can ski in other areas located close by such as Beaver Creek, Keystone and Breckenridge. All of these are within a 30 minute drive from Vail.
As Steamboat Springs is more isolated, you can't easily get to any other towns.
Steamboat Springs sits at a much lower altitude of 6,900ft compared with Vail which sits at 8,120ft.
If you suffer with altitude sickness or are traveling with someone who isn't used to high altitudes then Steamboat Springs may be a better choice.
Which Has Better Activities?
I did find that there were more options for restaurants, shops and day trips in Vail compared with Steamboat Springs.
Vail was all about skiing and there wasn't not much else to do besides skiing or snowboarding there.
Steamboat Springs, however, had a wider range of fun activities as well as excellent ski slopes.
My favorite thing about Steamboat Springs was the hot springs which is something Vail doesn't have.
Activities In Steamboat Springs
Steamboat Springs is an idyllic mountain town steeped in Western tradition. It's the perfect place for outdoor lovers and adrenaline junkies.
From skiing & snowboarding to relaxing in a hot spring or biking through the valley, there's something for everyone in Steamboat Springs.
Best Activities In Steamboat Springs:
Hot springs
Skiing
Horseback riding
Hiking
Biking
Skiing is by far the most popular activity in Steamboat Springs. You'll find 169 trails with 3,000 acres of skiable area across 6 peaks filled with bumps, steeps, meadows and trees. Ski lift queues are also incredibly rare here.
You can experience real 'champagne powder' at Steamboat Springs – this refers to the incredibly dry snow that the area receives. Dry snow is the best for skiing.
They even have night skiing which I tried out for the first time.
There's also a huge range of other fun winter activities including snowshoeing, snowmobile tours, ice skating, tubing and more.
After a long day of skiing, you can stop off at one of the historic hot springs for a relaxing soak or a refreshing dip.
My favorite one was the Old Town Hot Springs which is located in the heart of downtown Steamboat whilst the Strawberry Park Hot Springs is at the edge of the Yampa Valley.
Steamboat Springs is also very family-friendly. You can take part in this super fun scavenger hunt whilst hiking along the Yampa River which is fun for both kids and adults.
I took a walk to Fish Creek Falls to see some of the beautiful waterfalls in the area. This is actually one of the most popular hikes in the area.
For scenic views, take a ride on the gondola and enjoy the picturesque views of Mount Werner and the Yampa Valley from above. You can also enjoy a delicious lunch when you get to the top.
Another popular activity is to float along the Yampa River especially if you're visiting during the summer. You can rent a tube and ride along the river, enjoying the scenery as you go.
Activities In Vail
Vail is a winter-lover's paradise, it is pure heaven for skiers and snowboarders with the 3rd biggest single-mountain ski resort in the US.
Best Activities In Vail:
Betty Ford Alpine Gardens
Ice skating
Snowmobiling
Hiking
Skiing and snowboarding are the main things that attract tourists to Vail as it is the home of Colorado's largest ski resort.
With a wide range of slopes, perfect for every ability level of skier, Vail is the place to be for anyone serious about skiing.
Save time and avoid long queues for ski and snowboard rental by renting your equipment beforehand like I did. This service includes delivery to your hotel room or vacation rental.
Although skiing and snowboarding is the most popular thing to do in Vail, the magic of the mountains is not confined to the slopes.
There are lots of other winter activities available in Vail including snowmobiling, ice skating, snowshoeing, snow tubing and more.
I also really enjoyed exploring Vail Village. This little town was inspired by the European ski towns that Vail's founders fell in love with whilst abroad, in winter time the village looks like something out of a Christmas card.
Admire the mountain and forest backdrops of Vail Valley, discover hidden sights and cruise around the European-style Vail Village by joining this fun segway tour.
I found that there was a fair amount to do in Vail Village from visiting shops and art galleries to restaurants, movie theaters and even an ice skating rink.
You can also take a ride in the gondola up the mountain for sweeping views of Vail's epic mountainous scenery. It's a sight not to be missed even if you're not interested in skiing.
For something a bit different, head over to Betty Ford Alpine Gardens located within Vail Village. Located over 8,000ft above sea level, these botanical gardens are actually the highest botanical gardens in the US.
I loved sitting up here as the gardens provided a scenic respite from the hustle and bustle of the town allowing you to escape into nature for a while.
If you're visiting Vail in the summer then take advantage of the miles and miles of scenic hiking trails that zig-zag across the mountains.
From meadows of wildflowers to vast vistas and wildlife, you won't be disappointed.
Which Has Better Accommodation?
There's a wide range of accommodation options available in Steamboat Springs and Vail with Vail having a slightly larger range.
Vail's range of luxury hotels are unbeatable with some of the best hotels in the state. They do come with a large price tag though.
I personally stayed at the Sheraton Steamboat Resort Villas in Steamboat Springs and the Four Seasons Resort in Vail and loved both accommodations.
Accommodation In Steamboat Springs
There's lots of great places to stay in Steamboat Springs, all within easy reach of the skiing slopes.
You'll also find a good range of luxury hotels which will make your stay in Steamboat Springs just that little bit more special and memorable.
Best Hotels In Steamboat Springs:
Accommodation In Vail
When it comes to luxury hotels, nothing beats Vail.
Vail has a fantastic range of hotels and places to stay. Make your trip more special by staying in one of their luxury, 5-star hotels.
Best Hotels In Vail:
Which Is Better for Nightlife?
Both Steamboat Springs and Vail have a lively nightlife scene and a range of fun après ski options.
Après ski refers to the social activities that take place after a day of skiing.
Nightlife In Steamboat Springs
There are plenty of nightlife options available in Steamboat Springs but I found the town still retained a laid back, relaxed vibe.
If you want to dance and party all night long then head over to lively Lincoln Avenue where you'll find an array of dance party options.
The Old Town Pub was my favorite place to spend the evening as was Schmiggity's Dance Bar which has live music every day of the week.
If performing arts is more your thing then head over to Perry-Mansfield which offers weekend performances of classic plays and dance.
There's also a great range of bars and breweries for a quiet drink after a long day of skiing. Some of the best include the Mahogany Ridge Brewery & Grill, Storm Peak Brewery and The Barely Tap & Tavern.
Nightlife In Vail
I noticed that Vail really came alive in the evenings and had tons of wonderful après ski options.
Relax after a long day of skiing with live music, cocktails and that laid-back mountain ambiance that is so unique to mountain towns.
Some of the best spots in town include Garfinkel's which has the best view of the slopes as well as cheap craft beer and Pepi's, named after one of Vail's founders, which has live music, pretzels and, of course, beer.
If you're looking for a fun dive bar then The George is the place to be. I loved this place as it had cheap drinks, a fun atmosphere and good food.
For something more upscale, head over to The Remedy Bar which is located in the Four Seasons lobby. They often have live music and superb craft cocktails. You can relax by the fire pit and admire the mountain scenery.
Which Is More Affordable?
I found that almost everything was cheaper in Steamboat Springs compared with Vail. Vail had more of an upscale feel and this was definitely reflected in the price.
For example, my ski rental and lift passes were a few dollars cheaper in Steamboat Springs.
Shops and dining in particular are more expensive in Vail as is accommodation. Hotels in Vail are extremely expensive especially during high season, you'll find much cheaper lodging in Steamboat Springs.
---
And that's it!
Both Steamboat Springs and Vail are fantastic vacation destinations and I'm sure you'll have an incredible time no matter which you choose.
If you're still not sure where to visit then you might like these guides:
Related Posts: