Both Telluride and Aspen are popular resort towns located in Colorado's Rocky Mountains.
I've actually visited both Telluride and Aspen so today I'd love to share with you the differences I noticed between the two.
This post will look at the differences between them to help you decide where to visit on your next trip! It covers hotels, activities, atmosphere, nightlife and more!
Summary – Telluride vs Aspen
Telluride
Aspen
Small, compact
town
Larger, busy town
Less shopping,
dining & activities
Wide range of shops,
restaurants & activities
Quiet, relaxed
Busy, crowded
Less upmarket
More upmarket
Local shops
High end shops
Real, authentic
feel
More commercial
Relaxed nightlife
Vibrant & lively
nightlife
It's really difficult for me to pick a favorite between these two as I absolutely adored them both!
Top Picks For Telluride
Best Hotel In Telluride: The Hotel Telluride
Top Activities In Telluride:
Top Picks For Aspen
Best Hotel In Aspen: Residences at The Little Nell
Top Activities In Aspen:
Skiing
Maroon Bells
Horseback riding
Telluride is a charming former Victorian mining town that rests in a valley tucked deep into the San Juan Mountains. It offers picturesque mountain views, an amazing ski resort and a quaint historic town.
Aspen, on the other hand, is an upmarket ski town that features 4 mountains, a historic glamorous downtown full of shops, restaurants, luxury hotels, art, music and much more.
As Telluride is much smaller than Aspen I found that it was much quieter and not as busy. It had a quaint, small town feel.
Aspen, however, was much more busy and it felt way more commercial.
As Telluride is more isolated it is more difficult to get to compared with Aspen. The main airport close by, Montrose Airport, is a 1 & a half hour drive from Telluride.
Whilst it is a trek, it does mean that Telluride gets less busy though so it is definitely still worth the effort as you won't be swamped with crowds. I loved never having to queue for the ski lift.
There is a small airport in Telluride itself but it's not always operational due to weather conditions and so few people fly into it.
I also found that Aspen had way more amenities available compared with Telluride so it was much better for shopping and dining. There was also a wider variety of things to do in Aspen.
When it comes to skiing, Aspen has 4 separate mountains perfect for every level of skier. In contrast, Telluride has just one ski area so there's less variety in terms of slopes.
Aspen definitely had more of an upmarket, luxury feel compared with Telluride. In Aspen, you'll find excellent cosmopolitan fine dining options and high-end shops.
In Telluride, there was less fine dining and more places where you can eat ramen, tacos or french fries and you can shop at a range of local stores. This suited me perfectly so I loved it.
Which Is Bigger?
Telluride is much smaller than Aspen which gives it a quaint, small town feel that Aspen doesn't have. It's so small in fact that downtown Telluride is just 6 blocks wide by 12 blocks long.
In terms of area, Telluride covers just 5.7km2 and has a small population of just 1,900 people. Aspen is bigger, covering 9.9km2 with a much higher population of 7,400.
You can definitely feel the difference in size when walking around these towns as Aspen has much more amenities, shops, restaurants and hotels to choose from.
Telluride felt much more remote and quaint with less choice of places to eat, shop and stay.
Telluride did have a more authentic feel to it and it came across as a 'real' ski town rather than a commercial center. Aspen felt much more commercial.
Which Has Better Activities?
There's a wide range of activities available in both Telluride and Aspen. Both towns are famous for being excellent skiing locations and the slopes in both towns do not disappoint.
Overall I definitely found that there were more activities available in Aspen but I'd say that Telluride's scenery was slightly better.
Activities In Telluride
Telluride is best known for its epic ski resort but there are also lots of other things you can do in Telluride to pass the time.
Best Activities In Telluride:
Skiing
The Gondola
Hiking
Stand-up paddle boarding
One of my favorite things to do in Telluride is to take a ride on the The Gondola. These cable cars provide unforgettable views of the snow-capped San Juan Mountains.
On a clear day, riders can even see all the way to the La Sal Range in Utah!
The Telluride region receives on average more than 300 inches of snow annually and offers more than 2,000 acres of skiing space perfect for all ability levels.
The Telluride Ski Resort is the place to be if you want to go skiing or snowboarding and this is where I spent most of my time.
After skiing, hiking is the next most popular recreational activity in Telluride. Head out to one of Telluride's most popular hiking trails, Bear Creek.
I loved this hike as the trail begins in town then it takes you up a scenic hike to Bear Creek Falls which overlooks the town of Telluride.
The San Miguel River runs the length of Telluride. Experience its incredible scenery whilst rafting on the San Miguel River. Paddle through the rapids and take in the red rock walls and pines as you go.
Head over to Trout Lake and try your hand at stand-up paddle boarding! Nothing beats paddling in a clear blue lake with those giant mountains looming in the background.
For something a bit different, you can try out ice climbing which I did for the first time recently in Telluride.
This fun activity is suitable for the whole family, the experienced instructors will teach you how to scale an icy mountain!
Another popular activity in Telluride is fly fishing. This is a great way to enjoy the outdoors at any time of year. Head over to the San Miguel, Gunnison, and Uncompahgre Rivers where you'll find the best fishing spots in town.
Activities In Aspen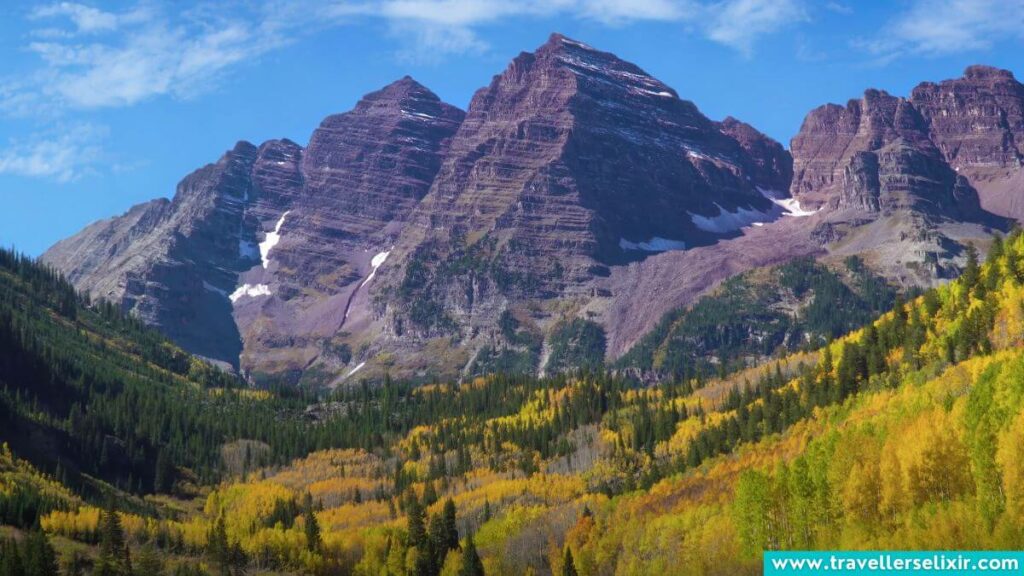 Whilst Aspen is super well known for its incredible ski slopes, there's so much more to Aspen than just it's mountains.
Aspen has a wide range of activities available for the whole family.
Best Activities In Aspen:
Skiing
Hiking
Horseback riding
Maroon Bells
John Denver Sanctuary
Independence Pass
Aspen is one of the best choices when it comes to skiing as it has 4 separate mountains and a good transportation system connecting them.
With 4 different ski areas there's slopes perfect for every level of skier from beginner to advanced. Buttermilk is perfect for beginners. If you're more advanced you'll really enjoy skiing in Ajax.
The slopes at Aspen were just incredible and had fantastic range of amenities. Save time and avoid long queues for ski and snowboard rental by renting your equipment beforehand like I did.
If you're visiting in the spring or summer then horseback riding is a great activity. Ride through the Aspen Grove and get lost in nature.
Hiking is another one of my favorite activities in Aspen as there's so many trails to choose from.
One of the most popular routes leads up to the Smuggler Mountain Observation Deck. This 3-mile hike is worth the effort as the views from the top are amazing.
I also absolutely loved visiting the breathtaking Maroon Bells. These 14,000-ft high peaks are touted as the most photographed spot in the whole of Colorado and you can certainly see why!
These mountain-capped peaks are located just 10 miles west of Aspen and you can easily spend a full day hiking this stunning area. There are numerous trails and campsites surrounding the mountains.
Which Has Better Accommodation?
You'll have more choices of places to stay in and around Aspen compared with Telluride, however Telluride does still have a plentiful supply of cosy ski lodges and comfortable hotels.
Aspen has more 5-star, luxury hotels and accommodations.
I loved both of the hotels I stayed at. Residences at The Little Nell in Aspen was super luxurious and up market, I kinda felt like a celeb staying there but it was very pricey.
I stayed at the The Hotel Telluride in Telluride and rate it super highly. It was really cozy and felt like I was staying over at a friends house.
Accommodation In Telluride
The main ski runs and lodges are up the mountain itself so this is one of the best places to stay in Telluride.
There are also lots of hotels in the town below. Don't worry, if you choose to stay here you can easily get up the mountain by taking the incredible Gondola ride which connects the upper and lower towns.
Best Hotels In Telluride:
Accommodation In Aspen
Aspen is known for being a luxury and exclusive vacation destination so it's hotels and accommodation options reflect this.
If luxury, 5-star hotels are your thing then you'll love Aspen.
Best Hotels In Aspen:
Which Is Better for Nightlife?
Aspen has a far more lively and vibrant nightlife compared with Telluride, however you'll find a range of places to spend the evening in both locations.
Nightlife In Telluride
If nightlife is important to you then you'll want to book your accommodation in the town (rather than in the Mountain Village).
This is because the Gondola lift closes at midnight so you'll have to leave before midnight to make it back to your hotel if it's in the Mountain Village.
I found that Telluride certainly comes alive when the sun goes down. In downtown Telluride you'll find a range of bars, whether you're looking for a quiet drink, live music or even dancing, there's somewhere perfect for you.
I loved visiting the Sheridan Hotel's epic rooftop bar (order their specialty watermelon margarita). The views from here were just unreal and if you go at the right time you might just catch a glorious sunset behind the mountains.
Nightlife In Aspen
Aspen has a vibrant and well known nightlife scene and the town really comes alive after dark. With more than 100 bars, night clubs and restaurants, you're spoilt for choice!
There's something for everyone, from jazz clubs to billiards and even dance clubs. Aspen also has an incredible live music scene year-round with both indoor and outdoor venues dotted around the town.
As Aspen is a very upmarket town, you'll find a range of high end luxury bars and clubs. The Caribou Club is often considered to be the top private club in town and is a super prestigious venue.
Other top bars that I loved in Aspen were Chair 9 at The Little Nell which serves great cocktails and the Mountain Social at St. Regis Aspen Resort.
Which Is More Affordable?
Both of these locations are super expensive however a trip to Aspen will cost a lot more than a trip to Telluride. I think I spent around twice as much in Aspen.
Both ski towns have gondolas that drop skiers off right in town, but Telluride's is completely free which saves you a bit of cash.
When it comes to hotels and accommodation, Aspen is significantly more expensive. Aspen is well known as being a vacation spot for the rich and famous so it's filled with 5-star luxury hotels.
I definitely whimpered a little bit when it was time to pay my hotel bill in Aspen but it was a really really nice hotel.
There aren't really many budget options in Aspen. You'll find much cheaper hotels and accommodation in Telluride.
I also found that food was quite a bit more expensive in Aspen compared with Telluride. Telluride has tons of budget friendly options whereas Aspen has more fine dining options that come with a hefty price tag.
---
And that's it!
Both Telluride and Aspen are fantastic vacation destinations and you'll definitely have a great time no matter which one you choose.
Still stuck on where to visit? You may like these guides:
Related Posts: