I recently did a road trip across the US. Whilst in Texas, I stopped off at two charming coastal towns, South Padre Island and Port Aransas.
I know a lot of people have trouble choosing between them so, seeing as I've been to both, I thought I'd put together this guide comparing them.
This post covers all the differences between hotels, activities, atmosphere, nightlife, beaches and more!
Summary – South Padre Island vs Port Aransas
I loved visiting both of these locations but if I had to choose a favorite, I'd pick South Padre Island.
I just loved that there was so much to do there and the whole place had a really nice bustling feel to it. It felt so alive plus I just loved the scenery.
I did also love Port Aransas but it was much quieter and there was less things to do.
South Padre
Port Aransas
Busy & built up
Quiet & laid-back
Lots of water sports
& activities
Less activities available
Newer, beachfront
hotels
Slightly older hotels
& less choice
Clear, blue beaches
Nice beaches (less blue)
Great nightlife
Not much nightlife
Great for young people,
couples & families
Great for couples
& families
South Padre Island is a resort town located on Texas's southern tip. It's known for its beautiful blue beaches and calm waters.
As well as stunning beaches, South Padre Island has tons of activities to keep you busy all day from dolphin watching to parasailing. It's a great vacation spot for couples and families.
I found that this bustling beach town was much more tourist oriented compared to Port Aransas and had the best nightlife.
Port Aransas is a small town located on Mustang Island, right on Texas's eastern coast. It's known for it's delightful beaches that overlook the Gulf of Mexico and amazing wildlife opportunities.
Port Aransas felt more like a fishing village and I'd say it's perfect for families and older couples. This town was a lot more quiet and laid back compared with South Padre Island which had a more commercial feel.
South Padre Island tends to be a longer drive for most people as it sits right on the southern tip of Texas.
If you're coming from San Antonio, Austin or Houston then you'll save around 2 hours of travel time (if driving) by heading to Port Aransas instead of South Padre Island.
Which Is Bigger?
South Padre Island is smaller in area, covering just 9.7km2 with a population of 2,800. Port Aransas is 4 times as big, covering 36.4km2 with a higher population of 4,100.
Despite the fact that Port Aransas covers more area, South Padre Island was actually way more built up with lots of hotels, restaurants and activities.
I also noticed that South Padre Island tended to be much more busy than Port Aransas. This is mainly due to the fact that it's more popular with tourists.
Which Has Better Activities?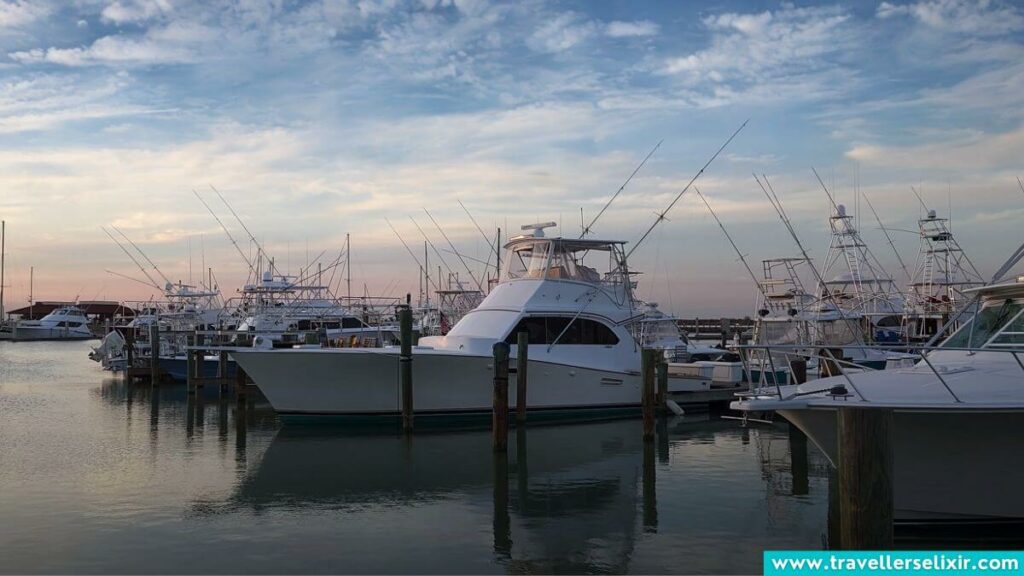 There's tons to do in both locations but based on my personal experience, South Padre had way more choice.
Activities in South Padre Island
There were so many activities available in South Padre Island that I struggled to choose what to do next – you'll find everything you could possibly want here.
Popular activities in South Padre Island include:
Kiteboarding
Bird watching
Jet skiing
Horse riding along the beach
As you can see, there's a wide range of water sports available along with lots of other activities. There's definitely something for everyone in South Padre Island.
One of the highlights of my trip was visiting the South Padre Island Birding & Nature Center where I got to see incredible views of birds migrating. I found that the 5-story watchtower had the best views.
I spent the rest of my time relaxing on the beach, swimming in the ocean and taking part in a few water sports like jet skiing. It was all super fun and really relaxing.
South Padre Island is also one of the best locations in Texas to see wild dolphins in the ocean. You can join a dolphin watching tour for the best chance of seeing them.
Activities in Port Aransas
Whilst there are some activities available in Port Aransas, you can drive into Corpus Christi for more choice.
In Corpus Christi, you can visit the aquarium, various museums and all the best restaurants.
Corpus Christi is just a 45-minute drive from Port Aransas which isn't too bad. I ended up visiting on a day trip and it was a really enjoyable day.
Port Aransas itself does have great fishing and birding opportunities. There's lots of opportunities to see wildlife in Port Aransas, from dolphins to birds.
The Leonabelle Turnbull Birding Center is a great place to see alligators and spoonbills as it stretches over an area of wetlands.
Which Has Better Accommodation?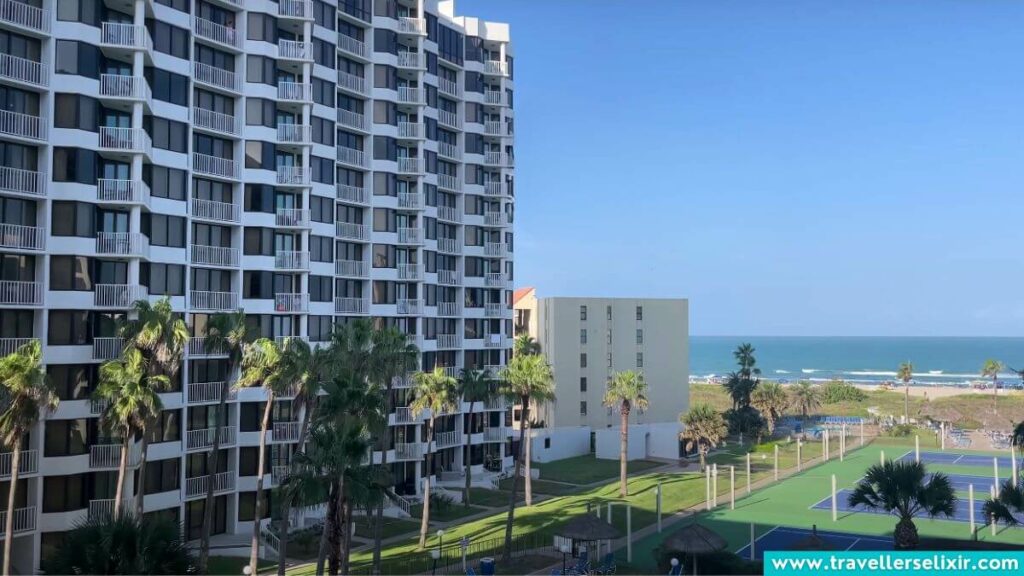 In general, I found that South Padre has way more newer hotels available than Port Aransas.
There were some decent hotels in Port Aransas but I did find that many of them felt dated and in need of a refresh.
In South Padre, I stayed at the Margaritaville Beach Resort which was really lovely. It was super close to the beach too which was really handy.
I ended up staying at the Best Western in Port Aransas as there just weren't any other good options. It was pretty decent, the rooms in particular were really nicely done.
Accommodation in South Padre Island
There was so much choice when it came to where to stay in South Padre Island. You can choose from a wide-range of top hotels.
I personally opted for a beachfront hotel with epic views of the ocean. Most hotels are situated directly on the beach in South Padres Island.
Best places to stay in South Padre Island:
Accommodation in Port Aransas
There are some great places to stay in Port Aransas however there are less options available to choose from.
The accommodation in Port Aransas felt a bit older and not quite as nice as the ones in South Padres but I was still able to find a comfortable and clean hotel.
Best places to stay in Port Aransas:
Which Has Better Beaches?
The beaches were really the highlight of both trips for me. I do think that the beaches in South Padre were a little bit better as the ocean was bluer and they just generally looked prettier.
Beaches in South Padre Island
Based on my own experience, I thought that the beaches in South Padres Island were better than those in Port Aransas in terms of sand quality and water clarity.
In fact, South Padres beaches are known to be some of the best in the whole of Texas!
You'll find much clearer and bluer oceans in South Padre Island. The beaches are also cleaner and they don't get as crowded as the ones in Port Aransas.
I also noticed that the beaches in South Padres Island didn't get as crowded as the ones in Port Aransas because they were much longer so there was more room for everyone.
South Padres has 34 miles of beach area but Port Aransas has just 6.3 miles. The result of this is that the beaches in Port Aransas become very busy and I found it difficult to find space.
I also noticed that the waters on the beaches of South Padre were really calm so they're perfect for families with children.
You'll find plenty of beach front hotels and apartments in both locations, all with great views of the beach and ocean however you'll likely have a better view in South Padres.
Beaches in Port Aransas
Port Aransas has a long stretch of beach that looks out onto the Gulf of Mexico. Whilst it's not quite as blue as the water in South Padres, the views are still really beautiful.
I saw lots of people on the beaches here surfing and paragliding.
The beaches in Port Aransas were super popular with families who come to play, sunbathe and go fishing.
Sandcastles were a common sight and I had to be very careful when walking along the beach not to crush any.
Cars are actually permitted on the beach in Port Aransas (something I've never seen before) so many people drive and park right on the beach. It costs $12 to park your car on the beach.
I did notice that the beaches in Port Aransas weren't as clean as the ones in South Padres and reports of tar on the beaches is common.
Which Is Better for Nightlife?
Based on firsthand experience, the nightlife was way more limited in Port Aransas compared to South Padre Island.
Nightlife in South Padre Island
In South Padre Island, it got very busy in the evenings around the main strip area. During spring break, I heard that it gets incredibly crowded and busy.
There are plenty of bars and clubs to choose from. From open-air live music venues to nightclubs where you can party all night long – South Padres has it all.
Clayton's Beach Bar was my personal favorite place to hang out, I think I went there pretty much every single evening. They often have live bands playing right on the beach itself.
Nightlife in Port Aransas
I found that there were only a few bars in Port Aransas so there wasn't much choice on where to go. The bars were also pretty pricey here due to it being a tourist spot.
If nightlife isn't important to you then you'll probably prefer Port Aransas as it doesn't get loud and rowdy in the evenings. Port Aransas was super calm and quiet.
Which Is More Affordable?
Overall I found that prices were pretty similar in both locations. South Padre Island was slightly more expensive due to being a major tourist spot but nothing major.
I did spend a little bit more on my hotel in South Padre compared with Port Aransas. Having said that, the quality of the accommodation was way better in South Padres so you get what you pay for.
If you're driving, you may spend more money on fuel getting to South Padre Island as it is 2 hours south of Port Aransas.
South Padre Island is also a really popular spring break destination so prices tend to skyrocket during this time. To save money, avoid going to South Padres Island during spring break.
---
And that's it!
Thanks for reading my guide comparing Port Aransas with South Padre Island. I hope you've decided where to go.
Related Posts: