Mosquitos are super annoying and can be dangerous so it's always worth checking what you need to do before traveling to somewhere new.
I absolutely hate getting bug bites (especially on vacation) so I'd love to share with you my thoughts after visiting Bora Bora for myself.
This ultimate guide on bugs in Bora Bora covers the types of insects you'll find in Bora Bora and how you can protect yourself.
Are There Mosquitoes in Bora Bora?
Mosquitoes are present in Bora Bora so you should wear a good insect repellent whilst you're there.
This one is my favorite as it has a high percentage of DEET which is proven to be the most effective against bugs. I wore this one in Bora Bora and didn't get a single bug bite!
According to the CDC, mosquitoes in Bora Bora can transmit dengue fever and zika virus and other diseases but these are extremely rare.
Most mosquito bites will simply result in an annoying, itchy rash.
The amount of mosquitoes you'll see partly depends on where you stay.
Luxury Resorts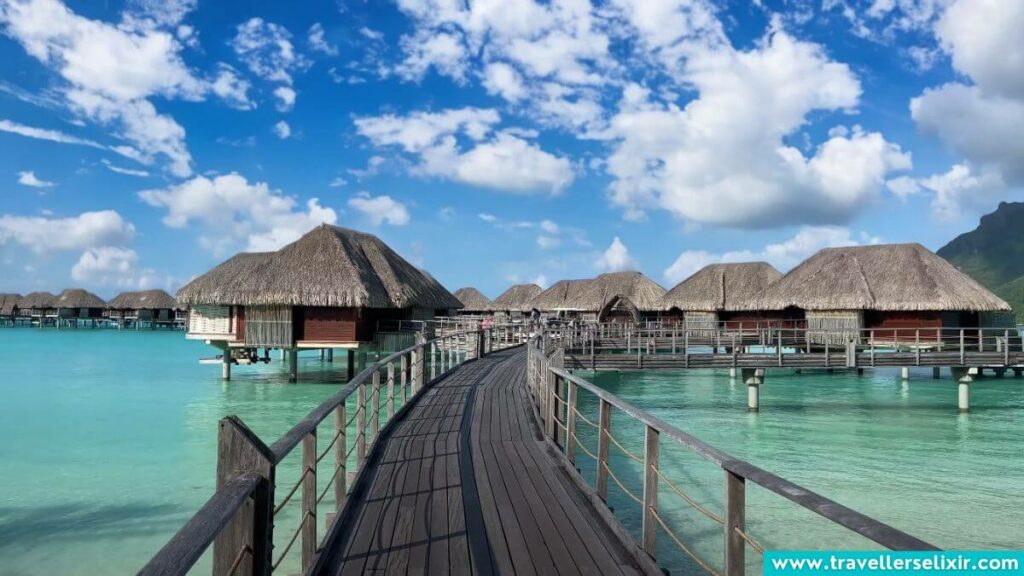 If you're staying at one of the fancy 5-star resorts then you have little to worry about as the hotel staff regularly spray mosquito repellent all over the resort.
This includes hotels like the St Regis, the Four Seasons, Conrad Bora Bora Nui and InterContinental Bora Bora & Thalasso Spa.
I personally stayed at both the Four Seasons and the St Regis and maybe saw 1 or 2 mosquitoes total! They are extremely rare around the resort.
Remember though to wear insect repellent if you leave the resort or head over to the main island.
Whenever I left the resort, I noticed almost instantly how much worse the mosquitoes were.
Additionally, mosquitoes are also not as bad in the overwater bungalows compared to the rooms on land. 
This is because these bungalows are away from the shore and mosquitoes tend to be found inland.
Non-Luxury Resort
If you're not staying at one of the fancy resorts or an overwater bungalow then you might want to take some extra precautions.
The non-luxury hotels don't usually spray mosquito repellent regularly so more mosquitoes will be present and you may be bitten.
Additionally, if you plan on doing any inland treks or hiking, then make sure you bring some insect repellent.
Bora Bora's airport is known as a hotspot for mosquitoes so I'd also recommend wearing repellent when you arrive and leave from here.
Which Time of Year is Worse for Mosquitos?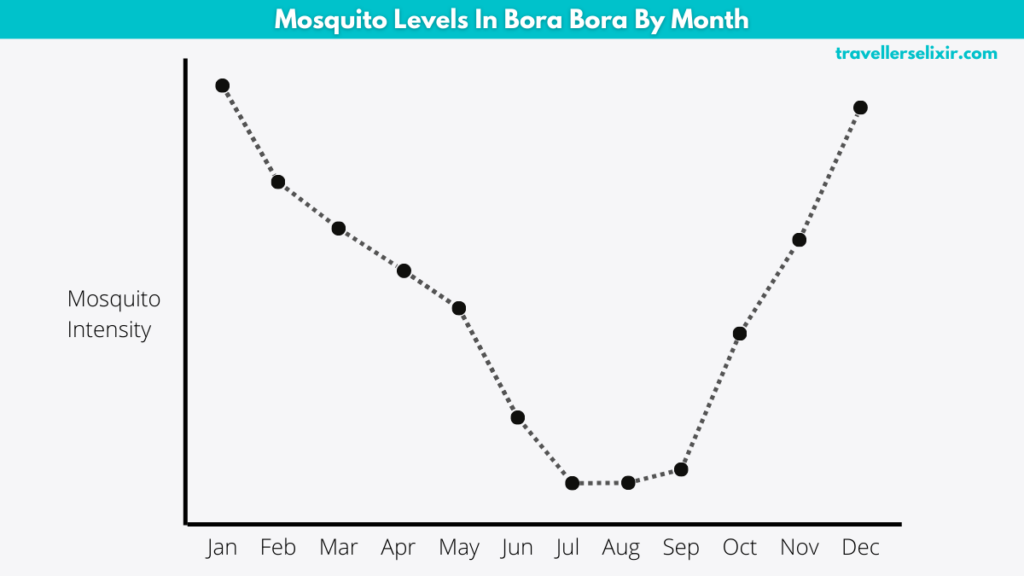 If you're visiting Bora Bora during June, July, August or September then mosquitoes will be less of a problem.
This period Bora Bora's dry season so they get very little rain which means you'll find less mosquitoes present during this time.
Mosquitoes tend to be worse during the rainy season which runs from November until April. 
During these months it's more humid and it rains frequently which attracts more mosquitoes.
No matter what time of year you're visiting, I'd still recommend bringing some insect repellent but especially if you're visiting during the rainy season.
If you do visit during these months, make sure you check out my list of things to do when it rains in Bora Bora.
Types of Bugs in Bora Bora
You won't really find many other bugs in Bora Bora other than mosquitoes.
You will sometimes spot a small sand fly known locally as the no-no but other than that the islands are relatively bug-free.
During my visit to the island, I don't recall seeing any other bugs at all in Bora Bora other than mosquitos and the odd sand fly.
It's great to know that there are no snakes or poisonous spiders in Bora Bora at all. I did see the odd lizard from time to time though.
How to Prevent Bug Bites
Bugs, like mosquitoes, can spread several diseases if they happen to bite you whilst you're on vacation in Bora Bora.
Whilst dangerous diseases, like Dengue fever and Zika virus, are rare, they can happen so it's worth protecting yourself.
At a minimum you'll be left with an itchy red bite so it's worth preventing it if you can.
Here's some tips on how to prevent bug bites in Bora Bora:
Cover any exposed skin by wearing long-sleeved tops and long pants.
Sleep in an air-conditioned room or use a mosquito net.
You can also opt to stay in an overwater bungalow at the resort you stay at. Mosquitoes are not as bad in the overwater bungalows compared to the rooms on land.
You can also opt to stay at one of the fancier resorts which spray all of their rooms regularly with insect repellent to keep the bugs at bay.
These fancy resorts also have air-conditioning in the rooms and will provide you with a mosquito net if necessary.
Need help packing for your trip? I wrote a super detailed list of everything you should pack for Bora Bora.
What Type of Insect Repellent Should I Use?
Always use an insect repellent that contains 20% or more DEET. The higher the percentage the better.
DEET is one of the most effective ingredients and is proven to prevent bug bites.
It works against both mosquitoes and ticks.
If you want something that will definitely keep the bugs away then try this bug repellent which contains 40% DEET. You'll only need a small amount and the bugs won't even touch you.
Also look for an insect repellent that is EPA-registered. This means that the spray is proven to be both safe and effective for everyone, including pregnant and breastfeeding women.
The insect repellent mentioned above (this one) is EPA-registered. This is the one that I used in Bora Bora and I didn't get bitten at all.
Always apply your insect repellent after your sunscreen and reapply throughout the day.
In Bora Bora, make sure you apply insect repellent if you're going trekking, hiking, traveling to the main island and also when you're attending the airport.
You should also wear it regularly if you're not staying in a large resort or an overwater bungalow.
How to Deal with Bug Bites
If you do end up getting bitten, don't worry. There's a few things you should do:
Avoid scratching the bite. Even though it's tempting, this will make it worse.
Apply a soothing cream like this one to reduce the itching. A hydrocortisone cream works best for this.
Monitor any symptoms. The vast majority of bug bites will not harm you but make sure you seek medical attention if you get any strange symptoms.
---
And that's it!
Hopefully you now know what to expect when it comes to bugs in Bora Bora and how to protect yourself.
Wondering what to wear in Bora Bora? I wrote a full guide covering what you should wear in Bora Bora (it includes tips for both men & women).
Related Posts: