From lush green mountains to golden temples, Laos offers an endless array of experiences that are sure to leave a lasting impression.
In this post, I've put together 27 bucket list-worthy things to do in Laos that will help you discover the country's hidden gems and uncover its secrets.
From trekking through the jungle to kayaking down the Mekong River, this list has it all.
So get ready to add some amazing experiences to your Laos bucket list!
Things To Do In Luang Prabang & Nong Khiaw
1. Take a slow boat down the Mekong River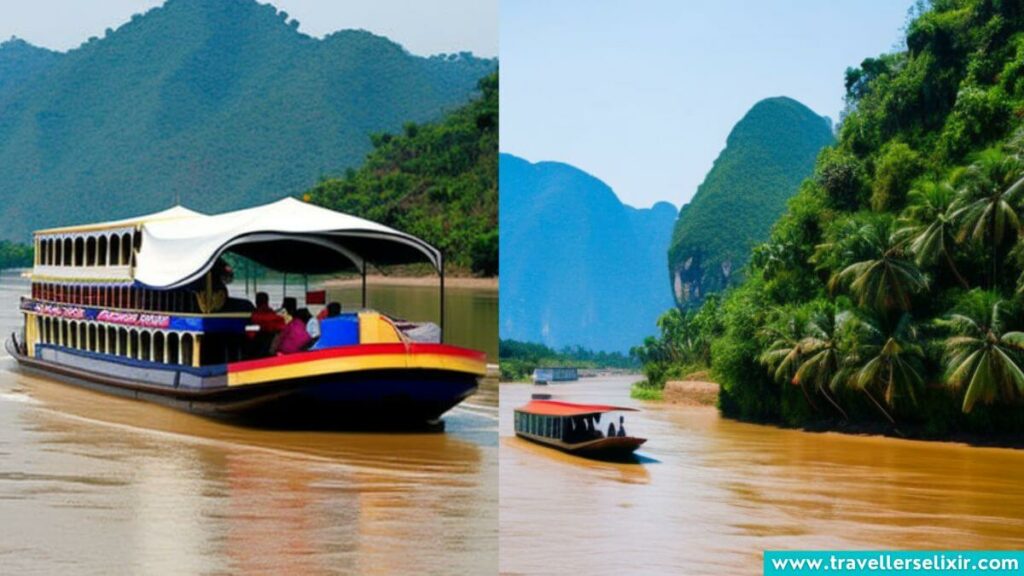 The slow boat journey usually starts in the town of Huay Xai on the border with Thailand and takes two days to reach the town of Luang Prabang.
The boats are long, narrow and wooden and usually accommodate dozens of passengers.
You don't have to do the full 2 days if that sounds like too much. A great alternative is booking a Mekong River cruise like this one.
It includes a boat ride along the Mekong River but also stops at many of Laos's most famous attractions including Kuang Si Falls and Pak Ou Caves.
It's a much better option if you don't wanna stay overnight on the boat.
As you make your way down the Mekong River, you'll be treated to stunning scenery that changes with every twist and turn of the river.
You'll see towering mountains, lush green forests and small villages nestled along the banks of the river.
You can see exactly what it's like to cruise down the Mekong River in the video below:
2. Explore the town of Luang Prabang
This entire town is actually a UNESCO World Heritage Site so it's pretty special.
It's known for its rich cultural heritage and stunning Buddhist temples.
This place is pretty famous because every morning, Buddhist monks stroll through the streets collecting money for the poor.
The easiest way to explore Luang Prabang is on a guided tour like this one. 
It includes an air conditioned car, small group sizes and you'll get to visit all of the town's top attractions.
3. Swim in Kuang Si Waterfall
This cascading emerald waterfall is one of the most beautiful places in the whole of Laos so really should make it onto your Laos itinerary.
What makes Kuang Si Falls special is the fact that you can swim in the crystal-clear pools at the bottom of the falls.
It's like jumping into a natural swimming pool with the freshest water you've ever seen.
Plus, there's a bear sanctuary nearby where you can see rescued black bears enjoying their new home.
The waterfall is a bit out of the way so I'd recommend joining this Mekong River cruise which includes a stop at the falls.
Check out how stunning the waterfall is in the video below:
4. Visit Luang Prabang's night market
The night market is located on Sisavangvong Road and it's the perfect place to get yourself a souvenir.
It's open every single day from 5PM until 10PM.
5. Hike to the Sleeping Woman Viewpoint in Nong Khiaw
The Sleeping Woman Viewpoint is known for its stunning panoramic views of the surrounding mountains, lush greenery and Nam Ou River below.
It gets its name from the shape of the mountain which apparently looks like a sleeping woman.
You can easily get from Luang Prabang to Nong Khiaw by bus and it takes just 3.5 hours.
6. Visit the Buddhist temple, Wat Xieng Thong
Wat Xieng Thong in Luang Prabang is the country's most important Buddhist temple.
It's known for its exquisite architecture, intricate carvings and stunning mosaics. Make sure you check my guide on what to wear in Laos as the temple does have a strict dress code.
Built in 1560, it has survived centuries of wars and invasions, making it one of the oldest and most important temples in the whole country.
To see the temple for yourself, I'd recommend joining this Luang Prabang day tour which includes a visit to the temple as well as an air conditioned car and small group sizes.
You can learn a bit more about the temple in the video below:
7. Try the local food on Buffet Street
Indulge in some Lao cuisine on Buffet Street in Luang Prabang where you simply pay for a bowl and pick what you want!
Some must try dishes in Laos are laap (a salad made with minced meat & herbs), khao soi (noodle soup) and tam mak hoong (papaya salad).
8. Watch the sunset from Mount Phousi
This towering hill stands 100 meters tall and offers an incredible panoramic view of the surrounding city and the mighty Mekong River.
There are also several beautiful temples and shrines located along the way to the summit.
You'll get 360 degree views over Luang Prabang and the sunset here is just enchanting!
You can see what the hike is like in the video below:
9. Go bamboo rafting along the Nam Ou River
This river flows through the town of Nong Khiaw which is incredibly scenic and mountainous.
Getting out onto the river itself is the best way to enjoy the views of the countryside.
10. Visit Wat Manorom
Wat Manorom is one of Laos's oldest temples making it hugely significant.
It's known for its stunning architecture, intricate carvings and beautiful gardens.
The temple was originally built in the 14th century, making it over 600 years old!
It's been through a lot over the centuries including wars, fires and restorations but it still stands strong.
11. Climb The Pha Daeng Peak
This stunning mountain is known for its breathtaking views and incredible hiking trails. From up here you'll get a panoramic view of the countryside and Nong Khiaw.
It's definitely one of the top spots in Laos for adventure seekers and nature lovers alike.
The hike itself isn't for the faint hearted as it takes 2 – 3 hours but you definitely don't need to be an athlete. It's suitable for most people.
You can see what the hike is like in the video below:
12. Witness the Luang Prabang alms giving ceremony
Every single morning in Luang Prabang, you have the chance to see the alms giving ceremony.
Hundreds of monks walk through the city barefoot collecting money and food for the poor.
The ceremony is known for its peaceful and spiritual atmosphere and it's a great way to experience traditional Lao culture. 
Fun fact: the alms giving ceremony has been happening in Luang Prabang for over 600 years!
This Luang Prabang day tour starts off by watching the alms giving ceremony and your knowledgeable guide will be able to tell you pretty much everything about it.
Things To Do In Vang Vieng
13. Take a hot air balloon ride in Vang Vieng
Vang Vieng is known for its beautiful scenery as it is surrounded by towering limestone cliffs and lush green forests. The Nam Song River also winds its way through the valley.
The best way to take in all that stunning beauty is by booking a hot air balloon ride.
They often take place at sunrise when the mist is still hanging low and the sun is just starting to peek over the horizon which makes the views even more unforgettable.
Here's exactly what you can expect from a hot air balloon ride in Vang Vieng:
14. Take a dip in Blue Lagoon 1
Blue Lagoon 1 is known for its gorgeous turquoise waters that are perfect for a refreshing swim on a hot day.
But that's not all, there's also a swinging rope and a treehouse that make it extra fun.
The lagoon is surrounded by lush green trees and towering limestone cliffs, it feels like a hidden oasis in the jungle.
Fun fact: The water in the Blue Lagoon 1 is so clear that you can see schools of fish swimming around your feet.
The best way to visit the Blue Lagoon 1 for yourself is by joining a Vang Vieng day tour like this.
It includes several other activities including a visit to the lagoon. It's the easiest way to get around town and enjoy all that Vang Vieng has to offer.
15. Check out the Tham Nam underwater cave
Tham Nam is an incredible underwater cave in Laos, known for its stunning natural beauty with crystal-clear waters that reflects the cave's dramatic rock formations.
You can explore it by tubing, kayaking or swimming. It's really fun to explore and there's actually a lot of history to it.
You'll get to visit the cave as part of this Vang Vieng tour which also includes a visit to the Blue Lagoon 1 and several other attractions. It's the easiest way to explore Vang Vieng.
16. Watch sunset from Nam Xay Viewpoint
Perched high on top of a mountain, this viewpoint offers sweeping panoramic views of the lush, green landscape below.
You will have to trek through a dense forest, climb steep hills and cross a rickety bamboo bridge to get there but, trust me, it's worth it for the breathtaking views.
The Nam Xay Viewpoint is also known as the 'Eagle's Nest' as you can often see eagles flying above you.
Check out the video below to see what this hike looks like:
17. Go tubing in Vang Vieng
Ah, tubing in Vang Vieng – where do I even start? It's a must-do activity for any backpacker visiting Southeast Asia.
You'll hop on a tube and float down the Nam Song River, taking in the stunning limestone cliffs that tower above you as you go.
It has a really relaxed and chilled out vibe with plenty of opportunities to stop at riverside bars to buy some cheap booze.
Be warned, it's known for its party scene so you'll find plenty of backpackers letting loose.
You can head out onto the Nam Song River to enjoy the views on this Vang Vieng day tour. It includes a kayaking activity as well as a stop at many other famous sights.
Here's what it's like to go tubing in Vang Vieng:
18. Visit the Tham Phu Kham Cave
Tham Phu Kham is one of the most sacred caves in the whole of Laos so it's definitely worth adding to your Laos bucket list.
This incredible limestone cave system is known for its stunning stalactites and stalagmites.
Inside the cave, you'll also find a hidden lagoon with crystal-clear waters that's perfect for taking a refreshing swim.
Things To Do In Vientiane
19. Visit the Patuxai Victory Monument in Vientiane
The Patuxai Victory Monument was built to commemorate the country's victory in gaining independence from France.
Interestingly, it was actually inspired by the Arc de Triomphe in Paris.
It's known for its stunning architecture and intricate carvings that depict Laos' history and culture. The best part? You can climb to the top for an amazing view of the city!
You can see this awesome monument for yourself by joining a Vientiane city tour. This one includes all of your transport, a knowledgeable guide and a tour of the whole city.
20. Admire Wat Ho Phra Keo
Wat Ho Phra Keo is a beautiful Buddhist temple in Vientiane that dates back to 1565.
It was actually originally built to house the Emerald Buddha which you'll now find in the Grand Palace in Bangkok.
The Emerald Buddha lived in Wat Ho Phra Keo for 200 years before it was moved to Thailand but you'll still find a small replica of the statue inside the temple today.
You can visit the temple for yourself as part of this Vientiane city tour which also includes stops at all of the city's best attractions.
21. Visit the Buddha Park
The Buddha Park, also known as Xieng Khuan, is a quirky park in Vientiane that is filled with over 200 Buddhist and Hindu statues including a 40-meter-long reclining Buddha.
The park is known for its unique sculptures including a giant pumpkin-shaped structure with three levels that represents heaven, earth and hell. You can even climb inside it.
Here's a fun fact – the Buddha Park wasn't actually created by the ancient Lao people as you might assume.
It was actually built in 1958 by a priest who wanted to combine Buddhism and Hinduism into one philosophy.
You can visit the Buddha Park as part of this Vientiane city tour which I'd recommend. You'll see all that the city has to offer and you'll learn a lot from your expert local guide.
Take a tour of the Buddha Park in the video below:
22. Visit Pha That Luang in Vientiane
No visit to Laos is complete without seeing the Pha That Luang as, not only is it the national image of the country, it's also one of Laos's most sacred spots.
Pha That Luang is basically a massive golden stupa that is believed to contain a relic of the Buddha himself (apparently a breastbone).
It is also known for its beautiful architecture and intricate details like the four corners that represent the four truths of Buddhism.
Oh, and did I mention it's covered in over 6,000 kilograms of gold leaf?
You can see Pha That Luang for yourself on this Vientiane city tour which includes all your transport and an expert guide who'll tell you everything there is to know about the city.
Things To Do In Southern Laos
23. Chill out on the 4,000 islands
This area is known for its laid-back vibe, gorgeous scenery and outdoor activities like kayaking and biking.
One of the most special things about the 4,000 Islands is the chance to see the rare Irrawaddy dolphins swimming in the Mekong River.
Don Det Island is home to a lively party scene with bars and music that lasts all night long!
You can learn more about Laos's 4,000 islands in the video below:
24. Take a boat ride through the Kong Lor Cave
The Kong Lor Cave is a natural wonder that stretches for over 7 km long!
The best way to explore it is by boat which takes you straight through the middle.
The Kong Lor Cave is known for its breathtaking stalactites and stalagmites. It's also home to a variety of unique and rare species.
25. Marvel at Khone Phapheng Falls
This is actually the widest waterfall in the world at 10,873m wide.
The Khone Phapheng Falls are actually made up of a series of waterfalls. That's right! It's not just one big waterfall, it's a whole bunch of them all in one spot.
These waterfalls are the largest in Southeast Asia and they're known for their incredible power and force.
The water crashes down from a height of 21 meters and creates a thunderous sound that can be heard for miles around.
26. Explore Wat Phu
Wat Phu really is one of Laos's hidden gems that very few people know about or ever visit.
It's actually an ancient Khmer temple that is nestled within the mountains of southern Laos and is known for its stunning architecture and impressive size.
The temple was built between the 11th and 13th centuries and is a UNESCO World Heritage Site.
Wat Phu is actually one of the oldest temples in Southeast Asia and is actually even older than the famous Angkor Wat in Cambodia!
The views from the top of the mountain are pretty spectacular too!
You can learn more about the Wat Phu temple in the video below:
27. Visit Tad Fane Waterfalls
These twin waterfalls cascade down from a height of over 100 meters making them some of the tallest falls in the country.
They're also surrounded by lush jungle, making for some seriously stunning views.
But here's the fun fact: the Tad Fane Waterfalls are located near the Bolaven Plateau, which is famous for its coffee plantations!
So after you've hiked around the falls and taken in all the natural beauty, be sure to grab a cup of coffee and taste the flavors of Laos.
---
And that's it!
Thanks for reading this post which covers all of the best things to do in Laos.
One way to really put a huge smile on the faces of the locals in Laos is to learn a few key words and phrases in Lao! I guarantee you'll make a few locals very happy.
Related Posts: