I recently spent some time road tripping around the US and two of the best places I visited were Lake Tahoe and Mammoth Lakes.
I know it can be tough to pick between these so, seeing as I've been to both, I thought I'd put together this guide comparing them.
This post will look at the differences to help you decide where to visit on your next trip! It covers hotels, activities, atmosphere, nightlife and more!
Summary – Lake Tahoe vs Mammoth Lakes
Lake Tahoe
Mammoth Lakes
More busy
Less busy
Lower elevation,
less snow
Higher elevation,
more snow
Wider range of
activities & restaurants
Less choice for
activities & restaurants
Lots of water sports
Less water sports
More expensive
Less expensive
Skiing, kayaking,
cycling
Skiing, snowboarding,
fishing
I loved visiting both Lake Tahoe and Mammoth Lakes but if I had to choose one to go back to, it'd be Lake Tahoe.
There was just so much to do there and such a varied landscape that I'd love to go back and explore more of it.
Top Picks For Lake Tahoe
Best Hotel In Lake Tahoe: Edgewood Tahoe
Top Activities In Lake Tahoe:
Top Picks For Mammoth Lakes
Best Hotel In Mammoth Lakes: The Westin Monache Resort
Top Activities In Mammoth Lakes:
Lake Tahoe, located on the northern border between California and Nevada, is a large freshwater lake that is known for its sandy beaches and ski resorts. You can spend your time kayaking, parasailing or relaxing by the beach (or on the slopes in winter).
Mammoth Lakes, on the other hand, is a town in California's Sierra Nevada mountains. It's known for the Mammoth Mountain ski area and nearby hiking trails.
Whilst Lake Tahoe has a range of fun things to do all year round from water sports and cycling in the summer to skiing in the winter, Mammoth Lakes is more well known for its winter activities including skiing.
Both locations are well known for their ski resorts. Mammoth Mountain sits at a higher elevation so gets more snow than Lake Tahoe. Mammoth Lakes also has more open terrain compared with Lake Tahoe.
In terms of variety of slopes, Mammoth Lakes has one huge mountain whereas Lake Tahoe has several towns and smaller mountains that are more spread out.
I found that Lake Tahoe was way busier than Mammoth Lakes, especially along the south shore where most of the restaurants and shops are located.
Mammoth Lakes was much quieter when I visited and didn't get anywhere near as busy.
I also found that there was a much wider range of things to do in Lake Tahoe compared with Mammoth Lakes. Lake Tahoe had a huge range of activities, restaurants and shops to keep you occupied.
Mammoth Lakes still had lots of things to keep me occupied but I found that there was way less choice compared with Lake Tahoe.
There aren't many water sports available in Mammoth Lakes, however you'll find tons of water sport options in Lake Tahoe from kayaking to parasailing and boat sailing.
Which Is Bigger?
Lake Tahoe is much bigger than Mammoth Lakes in terms of area. Whilst Mammoth Lakes covers 65.5km2 of area, Lake Tahoe covers a huge 496.2km2 making Mammoth Lakes seem tiny in comparison.
Lake Tahoe also has a much higher population of 22,000 people compared with Mammoth Lakes which only has 8,000 residents.
I could definitely feel the difference in size when wandering around the towns as Lake Tahoe had much more to do and a wider range of restaurants and shops compared with Mammoth Lakes.
That being said, Lake Tahoe was also much busier than Mammoth Lakes and I found it harder to escape the crowds.
Which Has Better Activities?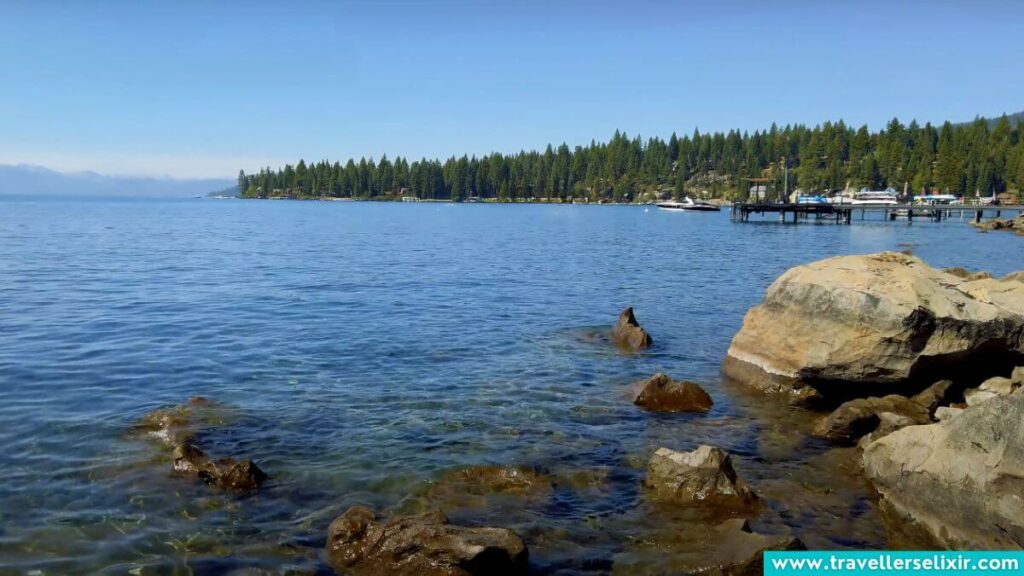 As I said, Lake Tahoe has way more to do with compared with Mammoth Lakes.
That being said, there is still plenty of fun things to do in Mammoth Lakes but you will find less choice.
Activities In Lake Tahoe
The activities available in Lake Tahoe vary depending on which time of year you visit – I personally visited in the summer but it's also a great winter destination.
Best Activities In Lake Tahoe:
Hiking
Parasailing
Fishing
Sand Harbor
Lake Tahoe is best known for its lake, where you can swim, kayak, fish, and hike around its crystal clear waters.
I actually headed out on an electric bike tour on my first day to explore the area and see what it area had to offer. This was super fun and helped me get aquatinted with the lake.
Alternatively you can circle around the lake on a shuttle bus if you still want to see the area but want something less active.
Lake Tahoe is much more than just a lake as there are numerous towns that surround the water. Within these towns there are tons of options for restaurants, cafes, shops and boutiques.
I spent most of my time out on the lake itself. The best way to do this is to head out on a sailing cruise. This eco-friendly voyage allows you to experience Lake Tahoe's beauty from the water.
The list of recreational activities available in Lake Tahoe is endless. This kayaking tour was one of my highlights as I got to paddle through Lake Tahoe's crystal clear waters in a completely transparent kayak.
For an unforgettable experience, join a helicopter tour over Lake Tahoe. During this once in a lifetime opportunity, you'll get an incredible birds eye view of Lake Tahoe from above as well as nearby lakes, mountains and waterfalls.
In the summer, I also spent an entire day by the beach at Sand Harbor. With crystal clear waters, long sandy beaches and rocky coves, Sand Harbor is the perfect place to spend a hot summer's day.
In the winter, Lake Tahoe transforms itself into a winter wonderland covered in snow. Skiing is a popular activity in Lake Tahoe during this time.
Hit the slopes by getting yourself a ski rental package in advance to save time. 
Whilst Lake Tahoe is not a national park, it does have a national forest that was the perfect place to take a hike. It's actually the most visited national forest in all of California.
Activities In Mammoth Lakes
Although Mammoth Lakes is mostly known for its incredible ski resort, there's plenty of fun things to do year-round.
I actually visited in the summer an still found that there was plenty to do.
Most activities are outdoors giving you the chance to escape life for a while and get lost in nature.
Best Activities In Mammoth Lakes:
Fishing
Hiking
Rainbow Falls
Devils Postpile National Monument
Convict Lake
Hiking was by far my favorite thing to do in Mammoth Lakes. There were several stunning trails to choose from including the Crystal Lake Hike and the Duck Pass Trail which both offer incredible views of the surrounding scenery.
If you're visiting Mammoth Lakes during the winter then why not hit the slopes! With the highest peak of any ski resort in California, thousands of acres of terrain, and over 100 runs for skiers of all ability levels, Mammoth Lakes is a great place to ski.
Save time and avoid long queues for ski and snowboard rental by renting your equipment beforehand. This service includes delivery to your hotel room or vacation rental.
Other fun winter activities available in Mammoth Lakes include ice skating, sledding, snowboarding and even snowmobiling.
Another activity I tried out in Mammoth Lakes was rock climbing which turned out to be really fund.
I booked myself onto this rock climbing session which includes guidance from an experienced instructor. Whether you're a beginner or more advanced, there's perfect terrain for you here.
One of my favorite things to see in the area is the Devils Postpile National Monument which is an incredible natural rock formation. These interesting columns were formed naturally around 82,000 years ago from cooled lava.
Nearby to Devils Postpile is the magnificent Rainbow Falls which is a 101-ft waterfall, known for the colorful rainbow that its mist creates.
The best thing about this waterfall is that not only can you see the waterfall from the top, you can also hike down to the bottom of it too which I really enjoyed.
There are also lots of lakes around Mammoth Lakes (as the name suggests). My favorite lake in the area was Convict Lake as it was just so charming.
This magnificent lake is surrounded by tall mountains and trees which are a perfect place to go on a hike whilst admiring the beauty of the lake.
You can even book a night in one of the cabins around the lake. In the daytime, you can enjoy fishing, kayaking and paddleboarding in the lake's crystal clear waters.
For the best views in town, head up to the Minaret Summit Vista. At an elevation of 9,000ft, I was amazed at the incredible views of the surrounding mountains.
I also found that this spot was the best place in Mammoth Lakes to watch the sunset – you won't be disappointed.
Which Has Better Accommodation?
Lake Tahoe has a much wider range of hotels and accommodations perfect for every budget including a good range of luxury hotels.
There's less choice in Mammoth Lakes but still plenty of comfortable places to stay.
In Lake Tahoe, I stayed at the Edgewood Tahoe which was so stunning and had amazing views of the lake from all around!
In Mammoth Lakes, I stayed at The Westin Monache Resort which was also super cozy and comfortable. I loved that each room came with a fireplace (not that I needed it).
Accommodation In Lake Tahoe
There is a wide range of hotels and accommodation available in Lake Tahoe, ranging from basic to 5-star.
Lake Tahoe has an impressive range of luxury 5-star hotels that will make your trip even more special.
Best Hotels In Lake Tahoe:
Accommodation In Mammoth Lakes
There are plenty of great places to stay in Mammoth Lakes too including an impressive range of cosy lodges, perfect for if you're visiting in the winter.
Best Hotels In Mammoth Lakes:
Which Is Better for Nightlife?
I was surprised to find that both Lake Tahoe and Mammoth Lakes have vibrant nightlife scenes with Lake Tahoe having slightly more choice and options.
Both have excellent après ski options so you can relax and wind down after a long day on the slopes.
Nightlife In Lake Tahoe
Based on firsthand experience, I can say that the nightlife scene in Lake Tahoe is one of the best things about this destination.
South Lake Tahoe in particular has a really vibrant and fun nightlife. Here you'll find casinos, theaters, bars and nightclubs to keep you entertained all evening.
I found that most of the bars and venues in Lake Tahoe were super laid-back and relaxed, however there are a few dance clubs if you want to party the night away.
Try the Vex Nightclub at Harrah's or the Opal at MontBleu Resort Casino & Spa.
When it comes to bars, you'll find everything from dive bars to wine bars and much more in Lake Tahoe.
The Idle Hour was my favorite as it offers incredible sunsets on Tahoe's stunning lakefront. The Loft Theatre is also a top choice as it features a lounge bar, restaurant and nightly magic show!
Nightlife In Mammoth Lakes
Whilst the nightlife isn't quite as vibrant as in Lake Tahoe, Mammoth Lakes does still have a decent nightlife scene with a range of things to do.
In the winter time, head to one of the bars at the day lodges after a long day of skiing. The Grizzly Bar at Canyon Lodge is often packed and it offers lovely views up the mountains as well as live reggae music.
I also loved the Dry Creek Bar in the Mammoth Mountain Inn which is in an upscale rustic setting and it offers the most amazing view of the mountains.
If you want to dance the night away, head over to Lakanuki which attracts a younger crowd and turns into a dance club after dark.
For something fun, try the Mammoth Rock N Bowl, a bar which doubles up as a bowling alley.
Which Is More Affordable?
When it comes to cost, I spent way more in Lake Tahoe compared to Mammoth Lakes. I found pretty much everything to be slightly more expensive in Lake Tahoe.
This is mainly due to Lake Tahoe being a more upscale and popular location.
I spent more per night on my hotel room and spent slightly more on activities and food.
If budget is a problem for you then Mammoth Lakes will be a better option as you'll spend less overall.
---
And that's it!
Thanks so much for reading this guide and hopefully you've decided where to go.
If you still need some help, check out these handy guides:
Related Posts: