I spent some time exploring California recently and two places that I was lucky enough to visit were Lake Tahoe and Yosemite National Park.
These two vacation spots are drastically different so I thought I'd put together this guide to help you decide which to visit.
This post will look at all the differences like hotels, activities, atmosphere, weather and more!
Summary – Lake Tahoe vs Yosemite
Lake Tahoe
Yosemite
Less busy
Crowded during
summer
Can visit year
round
Spring & summer
are best
Wide range of
restaurants & bars
Few restaurants
& bars
Wider range of
activities
Less activities
available
Kayaking, beach,
fishing, skiing
Walking, hiking,
camping
Lots of places to stay
Few hotels
Nice views &
atmosphere
Epic scenery &
views
I feel so lucky to have been able to visit both Lake Tahoe and Yosemite National Park as it really did feel like a dream come true.
I adored both locations but if I had to pick a favorite, I'd choose Lake Tahoe mainly because there was just so much to do and so many varied landscapes.
Yosemite was epic and awe-inspiring but after a few days, I feel as though you'd run out of new things to do.
Top Picks For Lake Tahoe
Best Hotel In Lake Tahoe: Edgewood Tahoe
Top Activities In Lake Tahoe:
Top Picks For Yosemite
Best Hotel In Yosemite: Evergreen Lodge at Yosemite
Top Activities In Yosemite: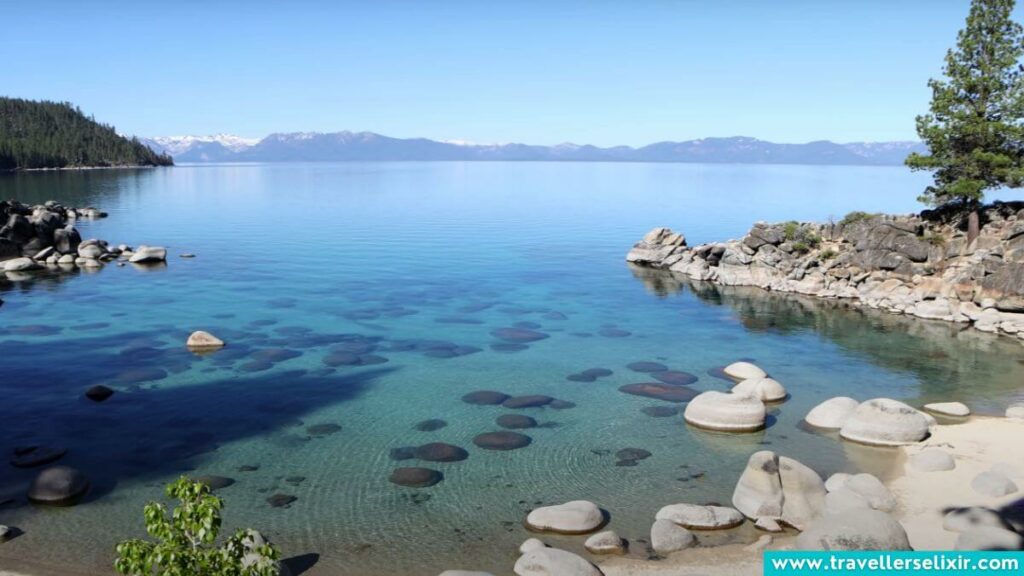 Lake Tahoe is located on the northern border between California and Nevada. The lake itself is actually split between the two states.
Yosemite National Park is located 124 miles south of Lake Tahoe, nestled deep in the heart of the Sierra Nevada Mountains.
Lake Tahoe is a large freshwater lake that is known for its sandy beaches and ski resorts. You can spend your time kayaking, parasailing or relaxing by the beach (or on the slopes in winter).
Meanwhile, Yosemite National Park is a national park that spans over 3,000km2 of scenic parkland and mountain peaks.
It offers vast, breathtaking landscapes, incredible rock formations and extraordinary waterfalls. You can explore this colossal area on a hiking tour if you like.
I noticed that Yosemite was a lot more crowded than Lake Tahoe. Yosemite will be particularly crowded between June and September as this is the peak season.
I was in awe when I visited Yosemite as it had unbelievable sights that just can't be found anywhere else.
Whilst Lake Tahoe did also have stunning views, they just did't compare to Yosemite in my opinion.
I did find though that Lake Tahoe had so much more variety when it came to accommodation, dining, nightlife and activities compared with Yosemite.
Yosemite is a natural paradise though where you can just bask in nature and escape life for a while.
Which Is Bigger?
Yosemite National Park is much bigger than Lake Tahoe in terms of area. Whilst Lake Tahoe covers 496.2km2 of area, Yosemite covers a colossal 3,027km2 making Lake Tahoe seem tiny in comparison.
Despite the drastic difference in size, I did notice that Yosemite National Park was a lot more busy and crowded compared to Lake Tahoe.
The park averages between 4 and 5 million visitors in a typical year, making it one of the most visited national parks in the US.
As most people visit during the summer months between June and September, it gets incredibly crowded during this time. I visited in July so it was peak season.
It can be very difficult to get hotel reservations last minute and parking can be extremely time consuming too.
Lake Tahoe is a popular year-round vacation town and has a range of activities to keep visitors occupied in all seasons. For this reason, it doesn't get as busy as Yosemite does.
Which Has Better Activities?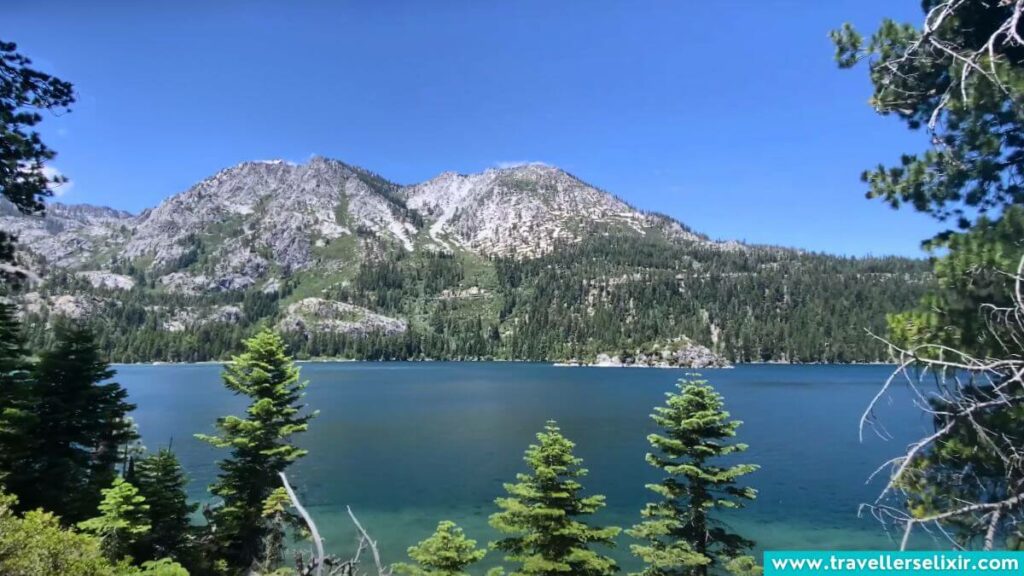 I definitely found that Lake Tahoe had a much wider range of activities available compared with Yosemite National Park.
Activities In Lake Tahoe
The activities available in Lake Tahoe vary depending on which time of year you visit. I went in the summer so I spent most of my time on the beaches and enjoying the lake itself.
Best Activities In Lake Tahoe:
Hiking
Parasailing
Skiing
Fishing
Sand Harbor
Lake Tahoe is best known for its gorgeous lake where you can swim, kayak, fish, and hike around its crystal clear waters.
I started my trip in Tahoe by joining this electric bike tour to get to know the area. It was super useful as the lake is a big place.
Alternatively you can circle around the lake on a shuttle bus if you still want to see the area but want something less active.
Soon after arriving, I quickly realized that Lake Tahoe was so much more than just a lake as there are numerous towns that surround the water. Within these towns there are tons of options for restaurants, cafes, shops and boutiques.
I spent most of my time out on the lake itself. I loved this sailing cruise as it's eco-friendly and allows you to experience Lake Tahoe's beauty from the water.
The list of recreational activities available in Lake Tahoe is endless. You can join a kayaking tour and paddle through Lake Tahoe's crystal clear waters in a completely transparent kayak or go parasailing and enjoy the natural beauty of the region.
For an unforgettable experience, join a helicopter tour over Lake Tahoe. During this once in a lifetime opportunity, you'll get an incredible birds eye view of Lake Tahoe from above as well as nearby lakes, mountains and waterfalls.
I also loved spending a day at the beach, in particular Sand Harbor was my favorite. With crystal clear waters, long sandy beaches and rocky coves, Sand Harbor was the absolute perfect place to spend a hot summer's day.
In the winter, Lake Tahoe transforms itself into a winter wonderland covered in snow. Skiing is a popular activity in Lake Tahoe during this time. Hit the slopes by getting yourself a ski or snowboard rental package.
Whilst Lake Tahoe is not a national park, it does have a national forest that is the perfect place to take a hike. It's actually the most visited national forest in all of California.
Activities In Yosemite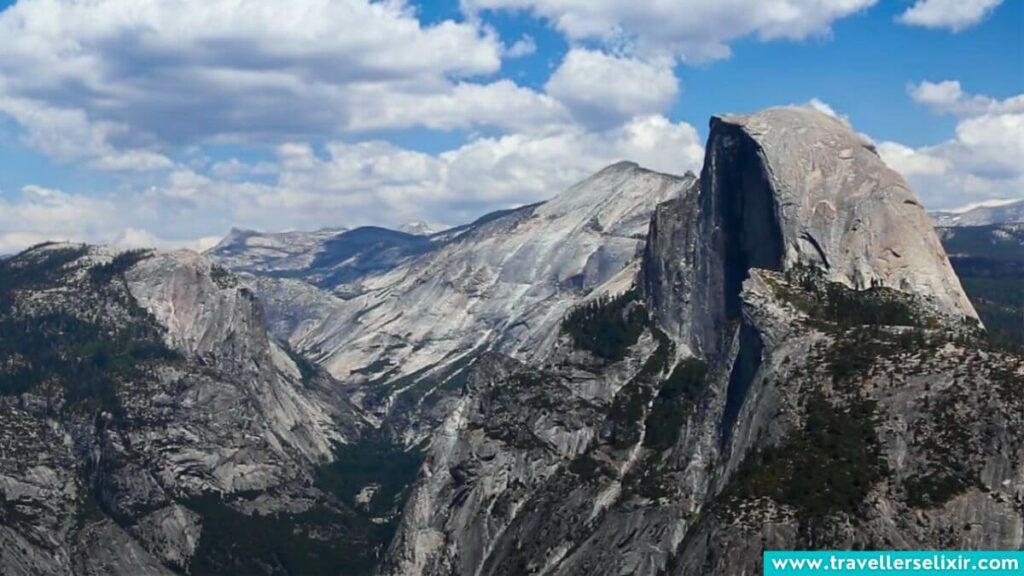 I'd say that Yosemite is a top choice for anyone that wants to hike, camp, rock climb and admire scenic vistas and waterfalls.
I spent a couple of day hiking around and genuinely fell in love with this place!
Best Activities In Yosemite:
Rafting
Rock climbing
Flight tour
Yosemite Valley is filled with glorious views, walking trails, waterfalls, rivers, cliffs and so much more.
My absolute highlight was heading up to Glacier Point as the views were just jaw-dropping. This epic viewpoint sits above Yosemite Valley at an elevation of 7,214 feet!
The best way to see Yosemite National Park is by booking onto a guided tour. This is what I did as I was kinda overwhelmed with home big the park was and I had no idea where to begin.
You can also explore Yosemite by 4X4 if you prefer – this would be way less tiring.
For something less active but equally as beautiful, you can book onto a flight tour and see the incredible Yosemite National Park from above.
When it comes to food, I didn't find a ton of options within the park itself. As Yosemite's main focus is the parkland, there are very few places to eat. There were a few places to eat near the Half Dome.
Although Yosemite National Park doesn't have a lot of amenities and has very few restaurants (no fine dining), you don't come to Yosemite for these reasons.
Yosemite allows you to connect with nature and escape from modern society for a while.
Which Has Better Accommodation?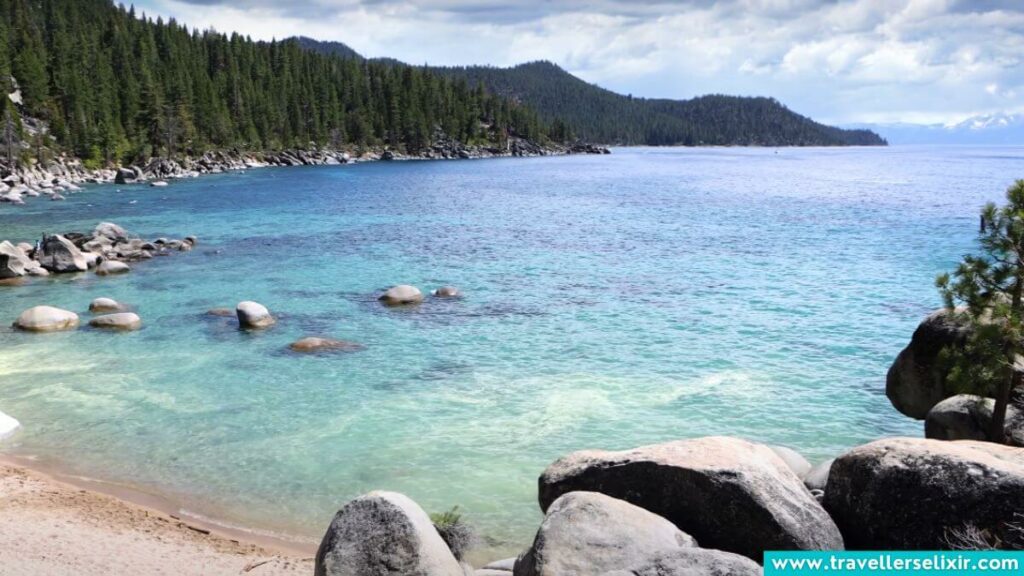 When it comes to hotels and places to stay, you'll find a much wider range of hotels in Lake Tahoe compared with Yosemite.
I found that Yosemite had very few places to stay and they tended to be much more basic. Lake Tahoe has everything from budget accommodation to 5 star luxury hotels.
In Lake Tahoe, I stayed at Edgewood Tahoe which I absolutely adored. The place was so modern and had stunning views of the lake from every angle.
In Yosemite, I stayed at the Evergreen Lodge at Yosemite which was super cozy.
It was definitely nowhere near as fancy at the Edgewood Tahoe but I struggled to find much else available!
Accommodation In Lake Tahoe
There is a wide range of hotels and accommodation available in Lake Tahoe, ranging from basic to 5-star.
Lake Tahoe has an impressive range of luxury 5-star hotels that will make your trip even more special.
Best Hotels In Lake Tahoe:
Accommodation In Yosemite
There's much less choice when it comes to accommodation in Yosemite. Many of the hotels and accommodations in Yosemite are quite rustic and fairly basic.
In fact, there's only 1 luxury hotel in Yosemite, The Ahwahnee.
Accommodation in Yosemite tends to get booked up very far in advance due to high demand so make sure you book early to ensure you get a room.
I struggled to find anything that was available which is why I ended up staying in one of the nearby towns instead.
Due to the limited availability within the Yosemite National Park itself, many people also opt to stay in the nearby towns such as El Portal.
Best Hotels In Yosemite:
For a much better range of hotels, try staying slightly outside of Yosemite Valley in a nearby town.
These hotels are still close enough to Yosemite and will provide comfortable accommodation for you.
Best Hotels Close To Yosemite:
Which Is Better for Nightlife?
The nightlife is much more lively and varied in Lake Tahoe compared with Yosemite. Nightlife in Yosemite is virtually non-existent.
Nightlife In Lake Tahoe
From firsthand experience, I'd say that the nightlife scene in Lake Tahoe is one of the best things about this destination.
South Lake Tahoe in particular has a vibrant and fun nightlife. Here you'll find casinos, theaters, bars and nightclubs to keep you entertained all evening.
I found that most of the bars and venues in Lake Tahoe were super laid-back and relaxed however there are a few dance clubs if you want to party the night away.
Try the Vex Nightclub at Harrah's or the Opal at MontBleu Resort Casino & Spa.
When it comes to bars, you'll find everything from dive bars to wine bars and much more in Lake Tahoe.
My favorite evening spot was The Idle Hour as it offers incredible sunset views of Tahoe's stunning lakefront. The Loft Theatre Is also a top choice as it features a lounge bar, restaurant and nightly magic show!
Nightlife In Yosemite
As you may have guessed, there's not much of a nightlife inside Yosemite National Park, however that doesn't mean that there's nothing to do at night.
Many of the hotels surrounding Yosemite have bars where you can spend the evening.
Within Yosemite Valley itself you can go to the Majestic Hotel Bar, the Half Dome Village Bar or the Mountain Room.
There's not much choice when it comes to bars in Yosemite as there's only 3 bars total within the park.
If you're looking for somewhere with a nightlife then Yosemite probably isn't the best place for you.
Which Has Better Weather?
Lake Tahoe is a great place to visit all year round. In summer you can go hiking or kayaking and in winter, skiing is a super popular activity.
The summer gets hot in both locations with Yosemite getting slightly hotter. In Lake Tahoe, expect highs of around 80ºF (27ºC). In Yosemite, you can expect a high of 90ºF (32ºC) in the peak summer months.
Yosemite isn't as accessible year-round as Lake Tahoe so the majority of visitors go during the spring and summer. June to September is peak time in Yosemite and it can get extremely crowded during this time.
I visited during July and the park was jam-packed!!
You can still visit Yosemite in the winter time, in fact the winter is a magical time to visit Yosemite as you can spend the days hiking and playing in the snow.
It does get quite cold in the winter in Yosemite so make sure you wrap up tight. In January and February, the average high temperatures in Yosemite Valley are around 50°F (10°C) and the average lows are around 30°F (-1°C).
Which Is More Affordable?
In general, you'll likely spend more money in Yosemite than in Lake Tahoe.
I found that the average cost of a hotel was higher in Yosemite compared with Lake Tahoe. I also ended up spending slightly more on food and transportation in Yosemite.
---
And that's it!
Thanks for reading this guide, I hope you've managed to choose between Yosemite and Lake Tahoe.
If you're still stuck then you might find these guides useful:
Related Posts: